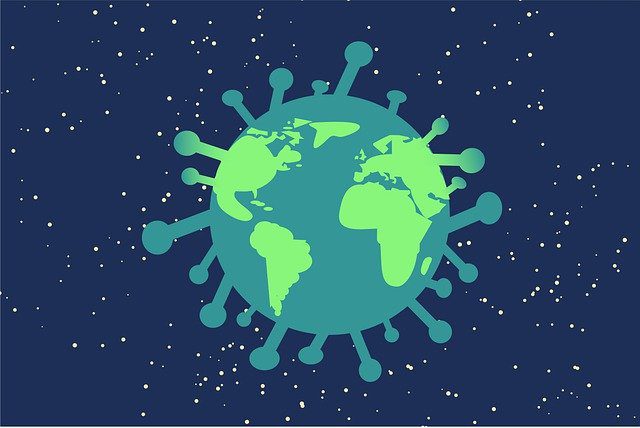 Virus Covid-19 varian B117 Tidak Menyebabkan Kasus Parah (Gambar: Pixabay/MiroslavaChrienova)
Kehadiran varian virus Covid-19 varian B117 yang berasal dari Inggris, sempat mengundang kekhawatiran peneliti. Hal ini lantaran varian baru ini lebih mudah menyebar dan saat ini mendominasi kasus Covid-19 di Eropa. Keefektivitasan vaksin dan tingkat fatalitasnya pada pasien masih menjadi perdebatan beberapa bulan ini.
Namun, mungkin para ahli saat ini bisa sedikit bernafas lega mengenai hal tersebut. Terdapat dua penelitian yang dipublikasikan oleh The Lancet Infectious Disease dan satu jurnal di The Lancet Public Health. Kedua penelitian tersebut menyatakan bahwa tidak ada bukti bahwa strain virus B117 beresiko membuat pasien lebih parah, seperti yang dikutip dari Science Alert (13 April 2021).
Penelitian tersebut justru mengungkap hal yang lebih penting saat ini untuk ditangani, yaitu melonjaknya kasus infeksi. Hal ini dikarenakan mereka menemukan bahwa strain B117 menyebar lebih cepat dikarenakan reproduksi mutasi virus yang lebih tinggi ketimbang varian lainnya.
 Virus Covid-19 B117 Tidak Menyebabkan Kasus Fatal: Kronologi
Pada studi pertama yang dipublikasikan oleh The Lancet Infectious Disease, para peneliti melihat data dari sekitar 341 pasien positif Covid-19. Pasien tersebut merupakan orang yang terinfeksi virus Corona strain B117 maupun varian strain lainnya yang berdomisili disebelah tenggara Inggris, tempat pertama varian ini ditemukan.
Lalu selanjutnya para peneliti menemukan bahwa seseorang yang terinfeksi Covid-19 strain B117 memiliki tingkat keparahan sakit keras atau meninggal sebesar 36%. Sedangkan mereka yang tidak terserang strain B117 memiliki 38% tingkat keparahan atau meninggal. Hasil ini menunjukkan tidak ada bukti bahwa strain B117 lebih berbahaya ketimbang strain virus Covid-19 lainnya.
Catatan lainnya dari penelitian ini adalah strain virus ini terdapat banyak pada orang dengan usia lebih muda. Selain itu penyebaran virus ini lebih banyak terjadi pada etnis minoritas. Dari hasil uji PCR menunjukkan peningkatan kuantitas virus Covid-19 strain B117 ketimbang jenis lainnya pada saat uji SWAB kepada pasien.
Sedangkan penelitian kedua yang dipublikasikan oleh The Lancet Public Health mengungkap menganalisa kecepatan penyebaran virus Covid-19 varian B117. Ada sekitar 36.920 orang Inggris yang menjadi objek penelitian ini, yang juga merupakan orang-orang yang terinfeksi positif Covid-19. Data pasien positif yang diambil ini merupakan kasus yang terjadi dalam kurun waktu 28 September 2020 sampai 27 Desember 2020.
Mereka menemukan bahwa strain virus B117 memiliki reproduksi 1.35 kali lebih tinggi ketimbang strain lainnya. Namun mereka juga menemukan bahwa tidak ada bukti mengenai tingkat keparahan pasien terhadap strain virus ini.
Keunggulan Penelitian
Hasil penelitian ini sangatlah kontras dengan tiga penelitian awal yang menyatakan strain virus B117 lebih mematikan. Namun menurut peneliti yang mengomentari dalam penelitian pertama, penelitian kali ini memiliki keunggulan.
Dalam penelitian yang pertama dianggap memiliki pengurutan hasil genom yang menyeluruh, sehingga lebih baik dari penelitian sebelumnya. Selain itu penelitian ini juga memiliki data variasi pasien dan penyakit yang ditimbulkan oleh virus tersebut.
"Penemuan turunan pada strain B117 menunjukkan tidak adanya koneksi bertambahnya dengan tingkat keparahan pasien dan kematian pada kelompok beresiko tinggi. Namun masih dibutuhkan penelitian lebih lanjut dalam skala besar", ujar peneliti yang tidak terlibat dalam penelitian ini.
Sumber:
Science Alert
AFP
https://www.thelancet.com/journals/laninf/article/PIIS1473-3099(21)00201-2/fulltext
https://www.thelancet.com/journals/lanpub/article/PIIS2468-2667(21)00055-4/fulltext