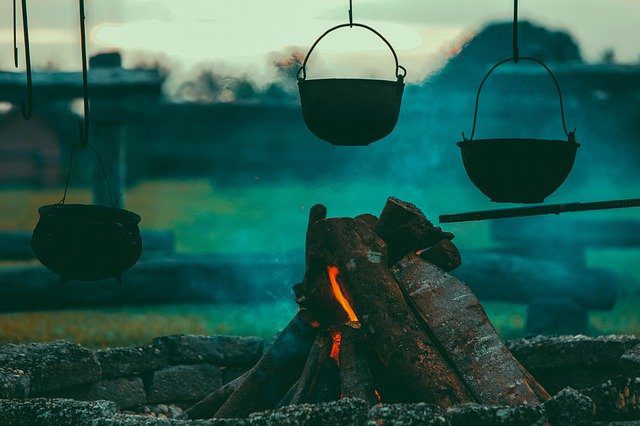 Memasak Menggunakan Kayu dapat Menyebabkan Kerusakan Paru-Paru (Gambar: Pixabay/Pexels)
Apakah anda masih sering atau biasa memasak menggunakan kayu ketika di rumah? Jika iya, mungkin anda harus membaca penelitian satu ini. Karena peneliti dari Masyarakat Radiologi Amerika Utara (RSNA) baru saja merilis temuan bahwa memasak menggunakan kayu dapat merusak paru-paru.
Dilansir dari halaman Science Daily (25/11/2020), RSNA mengadakan pertemuan tahunan yang diantaranya ada peneliti yang mempresentasikan temuan tersebut. Hal ini ditemukan pada hasil CT scan yang memperlihatkan kerusakan paru-paru akibat polutan dan racun berbahaya.
Penelitian ini dipimpin oleh Eric A. Hoffman, Ph.D dari University of Iowa, peneliti Amerika Utara serta peneliti dari Periyar Maniammai Institute Science and Techonology. Penelitian ini bersifat multidisipliner keilmuan.
Memasak Menggunakan Kayu Berbahaya, Mengapa?
Penelitian ini menyelidiki dampak penggunaan kompor minyak/gas dan kayu daur ulang di wilayah Thanjavur, India. Ada 23 orang yang dijadikan objek dalam penelitian ini.
Mereka mengukur tingkat polutan di rumah serta paru-paru individu penghuninya. Mereka mengonsentrasikan pada fungsi dari paru-paru individu menggunakan alat berupa spirometri dan CT scan.
Ukuran yang digunakan adalah ketika individu tersebut menghirup dan menghembuskan nafas. Setelah itu mereka mengukur perbedaan gambar dari hasil spirometri dan CT Scan tadi untuk melihat fungsi paru-paru dari 23 individu tersebut.
Hasil analisis menunjukkan bahwa paru-paru mereka telah terkontaminasi polutan dan bakteri endotoksin. Penggunaan kayu daur ulang yang menghasilkan asap biomassa disinyalir menjadi penyebabnya. Hal ini dikarenakan kayu daur ulang ketika dibakar memiliki konsentrasi lebih tinggi ketimbang penggunaan minyak.
Para ilmuwan juga menemukan udara yang terjebak di paru-paru dalam konsentrasi tinggi yang disebut dengan Air Trapping. Sering diasosiasikan sebagai penyebab dari penyakit paru-paru. Bahkan peneliti menemukan subset yang lebih kecil namun dengan tingkat perangkap udara sangat tinggi.
Hal ini membuat mekanisme jaringan paru-paru mereka menjadi abnormal. Pada sekitar sepertiga kelompok, lebih dari 50% udara yang mereka hirup terjebak di paru-paru mereka.
"Perangkap Udara (Air Trapping) terjadi ketika paru-paru tidak bisa secara efisien bertukar udara dengan lingkungan. Jadi pada saat anda menghirup udara, anda tidak mendapatkan cukup oksigen di wilayah itu dan menghilangkan karbon dioksida," kata Dr. Kizhakke Puliyakote, peneliti pasca doktoral di sekolah kedokteran University of California, San Diego seperti yang dikutip dari Science Daily.
Pengaruh Asap Kayu dalam Paru-Paru
Penelitian ini juga menunjukkan pengaruh asap biomassa dalam paru-paru. Terdapat temuan yang tidak bisa dilihat menggunakan alat konvensional, namun peneliti menemukannya menggunakan CT Scan.
Hasil CT Scan menunjukkan bahwa terdapat kekurangan emfisema yang mempengaruhi saluran udara kecil di paru-paru, menurut Dr. Kizhakke Puliyakote. Menurutnya penelitian lebih lanjut dibutuhkan untuk memahami proses penyakit tersebut.
"Untuk orang yang sudah terpapar asap biomassa lama, sangat penting untuk memiliki penilaian lengkap fungsi paru oleh perawatan kesehatan profesional untuk memastikan bahwa setiap cedera (kerusakan paru-paru dapat diatasi dengan intervensi yang tepat," kata Dr. Kizhakke Puliyakote.
Temuan mengenai paparan asap biomassa ini penting untuk mengetahui mengenai dampaknya kepada paru-paru manusia. Tidak menutup kemungkinan bahwa studi ini menurut peneliti akan berlanjut termasuk paparan asap dari kebakaran hutan dan sumber lainnya.
Sumber:
Science Daily
RSNA (Radiology Society of North America)