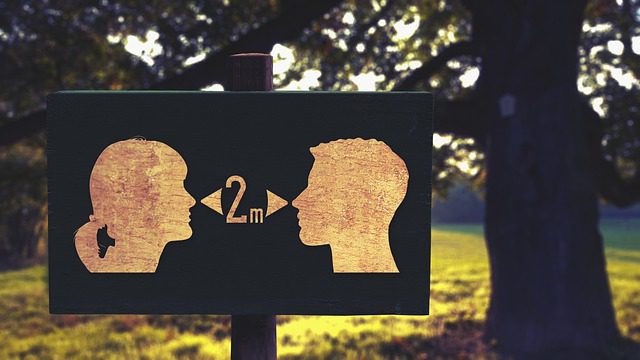 Virus Covid-19 Menginfeksi Lebih Cepat di Dalam Ruangan: Penelitian Terbaru (Gambar: Pixabay.com)
Seberapa cepat virus Covid-19 menyebar? Baru-baru ini peneliti di Amerika Serikat menemukan jawaban atas pertanyaan tersebut. Virus Corona atau Covid-19 dapat menginfeksi lebih cepat di dalam ruangan. Hal ini didasarkan pada penyebaran virus tersebut di negara bagian Tennessee dan Wisconsin
Melansir dari halaman LiveScience (30/10/2020), peneliti menemukan bahwa seseorang dapat terinfeksi dalam lima sampai tujuh hari sejak orang pertama yang terinfeksi menularkannya di dalam rumah. Hasil ini dimuat dalam penelitian yang dipublikasikan Centers for Disease Control and Prevention (CDC).
Hasil penelitian tersebut termuat dalam jurnal berjudul "Transmission of SARS-COV-2 Infection in Households – Tennessee and Wisconsin, April – September 2020". Penelitian ini ditulis oleh Dr. Carlos Grijalva (Venderbilt University, Nashville) beserta peneliti lainnya.
Virus Covid-19 Menginfeksi Lebih Cepat di Dalam Ruangan: Kronologi
Penelitian ini melibatkan 191 orang yang terinfeksi virus Covid-19 yang tersebar di dua kota, Nashville (Tennessee) dan Marshfield (Wisconsin). Dari jumlah tersebut, sebanyak 102 orang atau 53% terinfeksi dari orang kedua yang tertular dalam waktu tujuh hari.
Namun hasil lain di penelitian itu juga menunjukkan terdapat 75% dari responden tersebut yang tertular dari orang pertama dalam waktu lima hari. Bisa disimpulkan bahwa kemungkinan seseorang dapat tertular lebih cepat ketika ada salah satu anggota keluarga menunjukkan gejala Covid-19.
Penelitian ini agak berlawanan dengan yang terjadi di Eropa ataupun Asia dimana tingkat infeksi dari orang kedua yang lebih rendah (30%). Hal itu menurut peneliti mungkin disebabkan oleh kebiasaan penggunaan masker yang berbeda.
Misalnya, di Asia atau Eropa adalah hal yang jamak lumrah menggunakan masker di rumah ataupun di luar rumah ketika sakit. Utamanya ketika kita sedang flu dan batuk. Kebiasaan ini agak berbeda di Amerika Serikat dimana mereka cenderung tidak menggunakannya meski di dalam rumah.
Para peneliti juga mengungkapkan bahwa sebetulnya penularan antara orang kedua yang terinfeksi baik anak-anak maupun dewasa di dalam rumah sama saja besarnya. Penularan dari anak-anak sebesar 53% sedangkan dewasa 55%.
Studi ini juga menunjukkan bahwa setengah lebih dari responden tidak menunjukkan gejala ketika dilakukan tes dan positif Covid-19 pada saat yang sama. Bahkan 18% responden tetap tidak menunjukkan gejala apapun (assymptomatic) setelah tujuh hari tes. Artinya "penularan secara cepat dan diam" ini menguatkan indikator sebelumnya yang menyatakan tingkat infeksi di dalam rumah lebih besar.
Dr. Carlos Grijalva mengatakan "Infeksi terjadi secara cepat, tidak peduli apakah orang pertama di dalam rumah itu orang dewasa atau anak-anak".
Implikasi Penelitian
Hasil penelitian ini cukup bisa menjawab mengapa ada beberapa klaster yang terkait dengan lingkungan rumah atau tetangga. Di Indonesia, belakangan ini sering ditemukan klaster "arisan" yang sebetulnya masih ada kaitannya dengan hal tersebut. Selain itu penelitian ini juga cukup menjawab seberapa cepat penyebaran virus Covid-19 di klaster indoor.
Penelitian ini juga berimplikasi pada penggunaan masker di dalam rumah atau ruangan. Ya, untuk kita mungkin kedengarannya cukup aneh dan tidak terbiasa jika menggunakan masker di dalam rumah. Namun dengan adanya penelitian ini mungkin bisa jadi pertimbangan, terutama ketika anda atau ada anggota keluarga anda sedang sakit.
Sumber:
Berita mengenai penelitian ini bisa dilihat disini dan penelitian terkait bisa dilihat disini.