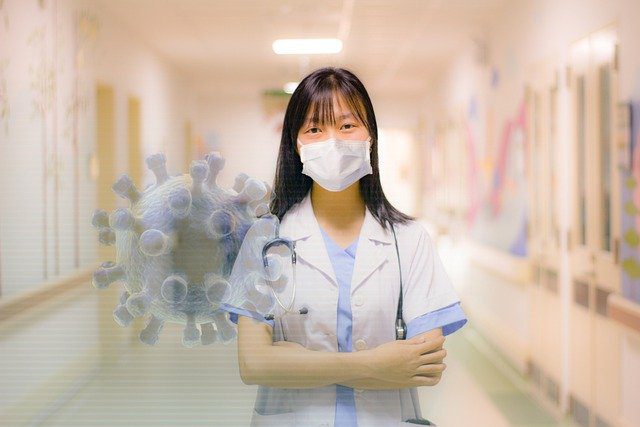 Menggunakan Masker yang "Pas" Lebih Berguna (Gambar: Pixabay/mohamed_hassan)
Ada sejumlah perdebatan dalam menggunakan masker, utamanya ketika menggunakan masker kain sebagai perlindungan dari Covid-19. Pasalnya masker kain memiliki perlindungan yang berbeda-beda sesuai dengan jenis kainnya. Meskipun begitu di negara kita dianjurkan untuk menggunakan masker tiga lapis yang diklaim dapat memberi perlindungan sampai 70%.
Belakangan, ada sebagian dari kita yang menggunakan dua masker kain sekaligus ketika beraktivitas. Asumsinya tentu saja "lebih baik dua daripada satu" atau dengan kata lain bisa memberikan perlindungan lebih baik. Asumsi ini sah-sah saja dan memang terdengar masuk akal mengingat satu masker memang tidak menjamin perlindungan seseorang. Jadi wajar jika ada orang yang menggunakan dua masker sekaligus.
Akan tetapi, mungkin anda tidak benar-benar membutuhkan dua masker sekaligus. Berdasarkan penelitian terbaru, anda mungkin hanya membutuhkan masker yang pas ketika dipakai. Hal ini dikarenakan satu masker yang pas dapat memberikan perlindungan lebih baik dalam hal penyaringan.
Mengapa Menggunakan Masker yang Pas lebih Berguna?
Menurut Centers of Disease Control and Prevention (CDC) di Amerika Serikat, memakai dua masker sekaligus dapat melindungi anda 50%. Penggunaan dua masker sekaligus ini sebetulnya juga didukung oleh beberapa peneliti, termasuk Dr. Anthony Fauci kepala CDC.
Sedangkan di Indonesia nampaknya hal ini hanya dilakukan secara individual. Terlebih kesadaran akan penggunaan masker yang belum dipatuhi secara penuh membuat hal tersebut lebih sulit untuk disarankan.
Namun begitu peneliti dari University of North Carolina-Chappel Hill telah membuat penelitian mengenai hal tersebut. Mereka membandingkan penggunaan satu masker kain dengan penggunaan dua masker bedah dengan ukuran fit atau pas.
Mereka menemukan bahwa menggunakan satu masker kain yang pas dengan ukuran muka atau hidung lebih melindungi ketimbang dua masker bedah. Para peneliti berargumen bahwa penggunaan masker kain lebih aman dikarenakan peningkatan perlindungannya.
"Hal ini membuat kita memahami bahwa masker ganda paling efektif dikarenakan kecocokannya, bukan karena penambahan perlindungannya," kata Emily Sickbert-Bennett yang menulis penelitian tersebut.
Masker bedah pada dasarnya merupakan masker terbaik, termasuk diantaranya masker N95 yang memiliki perlindungan sampai 95%. Namun bagi beberapa orang masker jenis ini mungkin kurang pas dengan bentuk wajah dan dalam beberapa hal cenderung sempit. Hal inilah yang membuat beberapa orang menggunakan masker ganda.
Jadi, Satu Masker atau Dua Masker Sekaligus?
Berdasarkan studi di atas baik yang disarankan CDC di Amerika Serikat maupun peneliti di University of North Carolina-Chappel Hill menyarankan penggunaan keduanya. Khusus untuk penggunaan dua masker, lebih efektif jika terdapat dua orang yang berinteraksi menurut peneliti.
Lebih lanjut kedua lembaga tersebut menyarankan penggunaan masker yang pas. Mengingat kedua hal tersebut sama baiknya.
Sumber:
Business Insider
Science Alert
https://jamanetwork.com/journals/jamainternalmedicine/fullarticle/2778913