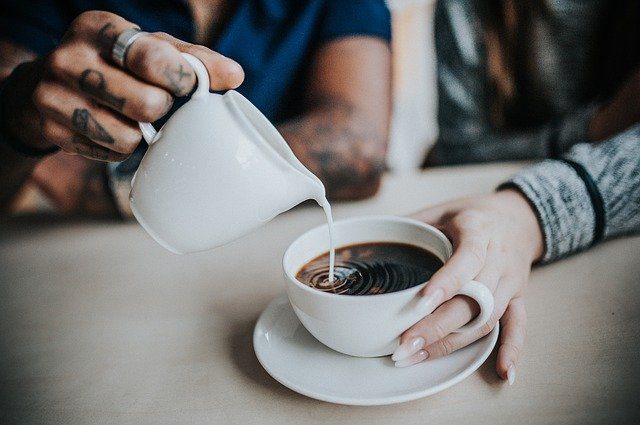 Minum Kopi (Gambar: Pixabay/Pexels)
Apa jenis kopi yang anda sukai? Cappucino, Robusta atau mungkin Latte? Semua memang tergantung pada diri anda. Kopi yang disukai biasanya lebih terkait rasa dan aroma yang dipengaruhi secara subjektif, yang berarti tergantung pada masing-masing. Ada yang menyukai kopi jenis tertentu, ada pula yang ingin kopi manis, pahit dan sebagainya.
Jika anda termasuk penikmat kopi harian, anda pasti paham akan hal ini. Meminum kopi secara rutin apalagi kopi kesukaan anda akan membuat anda dalam kondisi yang lebih baik. Perasaan dan tubuh anda juga lebih positif jika anda memang benar-benar menikmatinya.
Namun perkara kopi ini juga bisa dihubungkan dengan kondisi beserta cairan dalam tubuh anda. Sejumlah peneliti dari University of South Australia menemukan bahwa minum kopi justru ditentukan oleh kesehatan kardio. Faktor kesehatan ini sangat terkait dengan tekanan darah dan kesehatan jantung anda.
Jadi singkatnya ketika anda mengonsumsi kopi, itu dipengaruhi oleh tekanan darah dan kesehatan jantung anda sewaktu memilihnya. Hal ini juga dipengaruhi apakah tubuh anda membutuhkan banyak kopi atau tidak, seperti yang dikutip dari Science Daily (28 April 2021).
Penelitian ini berjudul "Cardiovascular Symptoms Affect the Patterns of Habitual Coffee Consumption". Penulisnya adalah Profesor Emilia Hyppönen dan Ang Zhou dari University of South Australia. Studi berkenaan dengan nutrisi ini dipublikasikan dalam jurnal The American Journal of Clinical Nutrition.
Bagaimana Minum Kopi dapat Menjadi Tolak Ukur seberapa Sehat Jantung dan Tekanan Darah?
Studi ini melibatkan big data yang didapat dari lembaga UK Biobank. Mereka telah merekam data dari responden sebanyak 390.435 orang dari seluruh dunia yang berisikan data kebiasaan orang-orang yang minum kopi.
Selanjutnya para peneliti yang berasal dari Australia tersebut melakukan komparasi data dengan membandingkan data tekanan darah sistolik maupun dialostik. Selain itu data yang banyak tersebut juga dibedah peneliti berdasarkan data detak jantung.
Peneliti berasumsi sebelumnya bahwa kopi dapat meningkatkan tekanan darah dan detak jantung. Namun menurut peneliti kebutuhan akan konsumsi kopi lebih dikarenakan kebutuhan tubuh, sehingga konsumsinya sangatlah bervariasi.
"Orang-orang banyak minum kopi karena banyak alasan ringan, sebagai pembangkit diri ketika mereka merasa lelah, dikarenakan rasanya bagus, atau sederhana dikarenakan itu bagian dari kebiasaan sehari-hari," kata Profesor Emilia Hyppönen penulis utama penelitian ini.
"Tapi apa yang kita tidak akui adalah orang-orang tidak sadar bahwa mereka mengukur sendiri level aman kafein dalam bagaimana tingginya tekanan darah mereka, dan kemungkinan besar ini (dipengaruhi) oleh mekanisme proteksi dalam genetik."
Hasilnya peneliti menemukan bahwa seberapa banyak kopi yang kita minum dapat menjadi indikasi bahwa kesehatan kardionya baik. Hal ini tidak berpengaruh sebanyak apa anda minum kopi atau tidak.
" Apakah kita minum kopi banyak, sedikit atau menghindarinya, studi ini menunjukkan bahwa genetik memandu anda untuk menentukan perlindungan terhadap kesehatan kardio anda," ujar Profesor Emilia Hyppönen. "Jika tubuh anda memberitahu anda untuk tidak minum kopi lebih, ada alasan mengapa (hal itu tidak dibutuhkan). Dengarkan tubuh anda, itu lebih anda butuhkan untuk kesehatan anda lebih daripada yang anda pikirkan," tambahnya.
Kegunaan Penelitian
Menurut peneliti hal tersebut cukup menjawab mengapa beberapa orang tidak membutuhkan untuk mengonsumsi kopi secara reguler. Hal tersebut salah satunya dipengaruhi oleh tekanan darah yang tinggi, salah satu penyebab mengapa orang tertentu tidak minum kopi.
Penelitian juga dapat menjawab berapa banyaknya porsi kopi yang mencukupi kebutuhan setiap orangnya. Artinya itu tergantung dari tubuh anda mengenai seberapa banyak anda minum kopi atau ketika anda mencoba untuk menguranginya.
Sumber:
Science Daily
http://www.unisa.edu.au/
http://dx.doi.org/10.1093/ajcn/nqab014