Pernah nge-tweet? Mudahkan?
Kita hanya di sajikan pertanyaan oleh pihak Twitter, "Apa yang Anda pikirkan?"
Nah, kali ini  kita akan mambahas terkait skripsi. Tugas akhir yang sering dianggap sebagai monster bagi mahasiswa. Di tulisan ini, kami juga akan menyajikan secara santai namun tetap memenuhi kaidah-kaidah yang berlaku. Ya, sesantai nge-tweet, senang, ceria dan membuat ketagihan hehe…
Bagi Anda semester 5, tentu Anda sudah bersiap-siap untuk mempersembahkan karya terakhir bagi almamater. Bagi Anda yang sering mengikuti pertukaran pelajar di luar negeri, event-event pendidikan, lomba dan kompetisi internasional atau berwirausaha, Anda perlu berhenti sejenak dan fokus dengan skripsi Anda. Ya, fokus.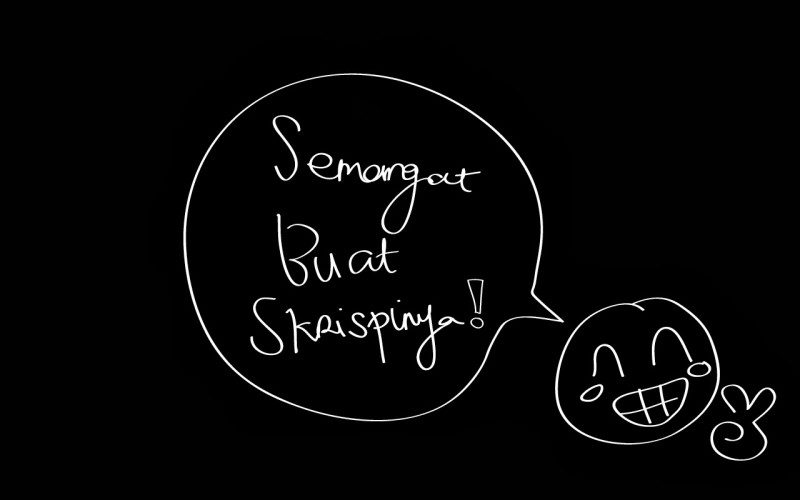 Di bawah ini ada sepuluh point mengenai bagaimana cara membuat skripsi semudah nge-tweet;
1. Kuasai Seluk Beluk Skripsi
Skripsi adalah buah karya tulis yang lahir dari kegelisahan suatu masalah. Karena karya tulis, maka ciri-ciri utamanya runtut, sistematis dan sesuai kaidah ilmiah.
Ciri-ciri skripsi yang baik
Haram plagiat
Sistematis, artinya sesuai urutan yang telah ditentukan (runtut)
Bahasa menggunakan bahasa baku sesuai EYD
Tema skripsi lebih spesifik lebih baik.
Model-model orang yang mengerjakan  skripsi
Banyak mahasiswa yang terjebak di sini. Namun, penulis menganggap hal ini adalah baik, maksud saya terjebak di jalan benar (bila segera insyaf hehe). Kaum muda apalagi mahasiswa memang sudah menjadi ciri-cirinya, yakni idealis. Idealis  biasanya terbentuk dari organisasinya, ataupun dari hasil-hasil bacaan-bacan bukunya selama ini.
Bagi mahasiswa idealis, ia pasti menginginkan sebuah karya skripsi yang paling sempurna. Tak peduli seberapa ukuran kemampuan, selagi tekad dan niat untuk menghasilkan karya terbaik masih bisa diusahakan, tentu itu baik dan tak ada yang melarangnya.
Hanya saja, ada beberapa hal yang perlu diingat. Diantaranya bahwa skripsi adalah karya tulis pertama yang diajarkan kepada mahasiswa. Nah, bila hal itu benar-benar baru pertama, bagi Anda yang begitu menggebu mengejar karya yang sempurna, barangkali bisa disesuaikan kembali sesuai kemampuan.
Kemampuan tersebut dapat diukur dari seberapa jauh jam terbang dalam membaca buku, menulis, mengikuti lomba-lomba dan penguasaan teorinya. Bila Anda saja belum paham apa pengertian teori, penulis sarankan agar lebih memilih untuk menikmati proses terlebih dahulu.
Model yang kedua adalah mode yang mengerjakan skripsi secara apa adanya atau yang sering disebut "yang penting lulus". Tipe-tipe mahasiswa seperti ini biasanya kuliah bukan bertujuan menuntut ilmu, namun mungkin lebih melihat ilmu. Ya, mahasiswa seperti ini biasanya hanya duduk, ngantuk lalu pulang. Dari gelas yang kosong, pulang pun masih kosong. Tak ada barter maupun filter ilmu yang di dapat.
Tak jarang, mahasiswa seperti ini adalah mahasiswa yang kebiasaannya copy paste tugas. Ia benar-benar kurang bergairah untuk menuntut ilmu. Begitu pula skripsinya, bisa jadi karya yang dihasilkan pun kurang memuaskan sebab dari niat awal sudah terlalu keliru "yang penting lulus".
Model mahasiswa seperti ini, biasanya pembuatan skripsinya pun asal-asalan. Dari judul misalnya, ia mungkin hanya mengganti objek dari skripsi-skripsi sebelumnya. Dengan demikian,  dalam perjalanan analisisnya hanya berisi plagiat KW. Ya, yang seperti ini adalah menulis ulang dengan gubahan yang di buat-buat.
Model ketiga adalah model mahasiswa yang baik. Mahasiswa yang aktif berorganisasi namun juga tahu kapasitas diri. Model mahasiswa seperti ini bisa mengukur kemampuan diri, sehingga skripsi yang dikerjakan tuntas, hasilnya juga baik. Orang-orang seperti ini biasanya akan lulus tepat waktu, dalam artian ia tidak terlalu lama untuk tinggal di kampus karena telah terlebih dahulu dari awal menyusun master plan yang harus segera dipenuhi.
2. Judul
Judul skripsi berkisar antara 8 sampai 12 kata. Saat membuat judul skripsi, usahakan seseorang yang membaca judul skripsi Anda bisa langsung paham apa masalah yang akan Anda cari penjelasannya. Hal ini perlu diperhatikan karena skripsi mempunyai karakter bahasa ilmiah, dengan demikian bahasanya pun harus ilmiah, yakni to the point.
Adapun lawan kata ilmiah adalah non-ilmiah atau bahasa popular. Bahasa popular biasa digunakan oleh para penulis fiksi maupun penulis-penulis yang gaya tulisannya santai.
Oleh sebab itu, dalam pembuatan skripsi jangan membuat judul skripsi yang mengundang penasaran pembaca, penguji, bahkan diri Anda sendiri pun tak mengerti apa maksud dari judul yang Anda buat (ini lebih parah).
3. Latar Belakang
Tulislah latar belakanbg sesuai apa yang Anda pikirkan. Semakin Anda menulis sesuai apa yang Anda pikirkan dan raasakan, tulisan Anda akan semakin hidup. Cara ini dapat menambah nilai skripsi Anda karena Anda benar-benar menguasai latar belakang skripsi Anda.
Selain ritme tulisan yang mengalir, Anda juga akan mendapatkan berbagai kemudahan ketika latar belakang skripsi Anda berasal dari perenungan diri sendiri. Dalam artian, skripsi Anda adalah skripsi yang terlahir dari buah pikiran Anda, Anda peka terhadap apa yang ada dalam hidup Anda.
4. Proses Cari Ide (Rumusan Masalah)
Ini lho yang di maksud masalah adalah anugrah. Ya, dalam menulis masalah adalah anugerah. Dengan ada masalah, penulis dituntut untuk menyelesaikan sesuai pandangannya.
Masalah sendiri, di dalam skripsi mempunyai bobot 50 persen,  maksudnya, tanpa masalah ya karya tulis tak bisa disebut skripsi. Masalah adalah nyawa dari skripsi. Semakin matang masalah Anda, maka semakin jelas pula spesifik penelitian Anda.
Jangan jauh-jauh. Seorang penulis pemula, biasanya terlalu jauh memikirkan apa yang akan ditelitinya. Padahal tak harus begitu juga. Coba renungkan sebentar saja kegiatan apa saja yang rutin Anda jalani selama iini.
Atau, Anda perlu mengingat berbagai hobi Anda selama ini, list-lah satu persatu. Bila sudah ada yang paling diminati, atau menemukan hobi yang paling disukai, sekarang saatnya menginterkoneksikan dengan keilmuan jurusan yang saat ini Anda ambil.
Perlahan-lahan namun pasti secara tak sadar Anda pasti akan berteriak sambil bilang "Wow, ternyata disekitarku banyak masalah penelitian".
Mengapa harus yang dekat-dekat? Ide atau masalah yang dekat biasanya akan lebih Anda kuasai. Itu pertama. Anda bisa menggerakkan jari-jemari Anda seleluasanya. Inspirasi akan selalu mengelir karena mungkin orang-orang yang berada di lingkaran hidup Anda pun paham terkait masalah yang Anda tuliskan.
Dengan mengambil yang dekat-dekat, Anda secara tidak langsung menyelamatkn diri Anda sendiri. Mengapa demikian, sebab yang dekat-dekat biasanya yakin pasti jadi, tidak ngambang dan tidak ada halang merintang yang berarti. Ya, Anda paling menguasai.
5. Kajian Pustaka
Kajian pustaka adalah kegiatan melihat mengamati dan menyimpulkan hasil dari skripsi-skripsi sebelumnya. Kegunaan Anda melakukan kajian pustaka  ini bukanlah untuk menjiplak skripsi yang sudah ada, mengganti objek penelitian atau hanya sekedar meniru referensi buku.
Bukan itu, kajian pustaka digunakan unutk mengetahui penelitian sejenis yang akan kita lakukan, belum atau sudahkah di bahas. Bila sudah, sejauh mana pembahasannya.
Setelah mengetahui skripsi-skripsi lalu yang masih relevan dengan skripsi kita, maka tugas kita adalah masih dalam tahap yang sama atau melakukan lebih yakni mengembangkan penelitian.
Bila penelitian sebelumnya kita merasakan sudah tepat, maka tugas skripsi yang sebaiknya dilakukan adalah mengembangkannya. Dengan demikian, tri dhrama perguruan tinggi yang berbasis penelitian dan pengembangan dapat terus berjalan dan ilmu akan mengalami perkembangan.
Namun kembali ke awal, bila skripsi sebelumnya dirasa belum tepat, maka lebih baik kita mengganti objek penelitian dengan pisau analisis yang sama sehingga dapat dijadikan pembanding skripsi siapa yang lebih mendekati kebenaran.
6. Kuasai Landasan Teori
Teori, tak jarang beberapa mahasiswa sudah terlebih dahulu pusing mendengar kata teori. Padahal bila kita kaji secara mendalam, akan menghasilkan kesimpulan-kesimpulan sederhana.
Teori bisa diibaratkan sebuah rencana besar terstruktur namun tetap fokus terhadap sebuah fenomena tertentu. Nah, rencana-rencana itulah yang akan mengantarkan seseorang pada tempat tujuan (masalah) yang ingin di tuju (ingin di selesaikan).
Teori bukanlah sebuah kata yang harus dibenarkan. Maka, di dalam dunia ilmiah pun bagi para akademis yang terlalu mendewakan teori itu juga tidak baik. Teori tetaplah sebuah pemikiran yang tak terlepas dari asumsi manusia, asumsi bisa saja kurang tepat atau rapuh karena sudah tidak sesuai dengan zamannya.
Namun, jangan pula terlalu meremehkan sebuah teori. Kata pepatah, "Berilah aku satu teori, akan aku ciptakan seribu solusi!", Ya, dengan teori seseorang dapat mengerti secara luas, komprehensif seluk beluk masalah yang ada.
Skripsi S1 sendiri jenis ragam pengerjaannya ada yang meneliti untuk membutikan kebenaran sebuah teori, apakah teori tersebut masih relevan, atau sudah expaired. Jenis penelitian membuktikan teori seperti ini banyak dilakukan mahasiswa S1 sebab tataran mahasiswa dalam mengerjakan skripsi memang masih tataran membentuk habbits keilmiahan.
Ada pula mahasiswa S1 skripsinya bertujuan untuk mengembangkan teori. Namun dalam tataran ini sangat jarang dilakukan. Bukan hanya tingkat kesulitannya, namun juga membutuhkan data yang benar-benar valid dan lengkap.
Mengingat skripsi adalah medan pertama yang harus ditempuh, maka skripsi adalah pemanasan atau pengenalan bagi mahasiswa untuk menjelajahi ilmu menyempurnakan nalar konsep.
Nah, bila nanti Anda lanjut S2, ataupun S3, Anda bisa menulis tesis atau disertasi Anda bukan hanya menerapkan atau menguji kebenaran sebuah teori, namun Anda bisa mengkritik, mengembangkan atau bahkan membuat teori baru yang lebih relevan dengan keadaan zaman.
7. Metode penelitian
Seperti ketika Anda sedang menuju perjalanan, agar sampai di tempat tujuan, Anda memerlukan rute perjalanan yang tepat. Rute itulah yang disebut sebagai metode. Rute yang akan mengantarkan Anda pada tujuan ataupun goal yang hendak dicapai.
Berbicaramengenai metode penelitian, sebaiknya Anda menuliskan metode-metode yang riil. Maksud saya, metode yang benar-benar dapat dilakukan saat melakukan penelitian.
Kebanyakan dari mahasiswa menulis metode penelitian dengan tulisan yang bertele-tele. Belum mempunyai alur atau metode yang runtut dan jelas.
Kenanglah, bahwa yang dinamakan metode penelitian intinya terletak pada runtutan yang mengarah pada bisakah sebuah metode tersebut mengantarkan hasil penelitian. Jika metode terkesan ribet dan bertele-tele namun tak ada substansi, itu hanya tulisan yang sebenarnya belum ada pemahaman. Bukankah tulisan yang sederhana menandakan ia benar-benar paham?
8. Seminar Proposal
Bila Anda sudah yakin dengan penelitian Anda, sudah saatnya proposal skripsi Anda di ACC. Tahap selanjutnya Anda bisa mempersiapkan hal-hal yang perlu dilakukan. Adapun hal-hal yang perlu dipersiapkan antara lain: Terkait bagaimana cara presentasi yang baik, Anda bisa menambah wawasan terkait presentasi di artikel selanjutnya yang akan membahas bagaimana cara presentasi memukau.
Sebelum penulis mengakhiri tulisan ini, ada satu hal yang perlu digarisbawahi. Di dalam dunia akdemik, kritik, saran maupun masukan adalah hal yang baik, bahkan sangat baik. Di luar negeri, para presentator yang mempresentasikan proposal skripsinya mereka merasa senang dan bahagia bila skripsinya di berikan masukan, saran masukan.
Mengapa demikian? Hal ini karena semakin banyak masukan, saran yang membangun terkait skripsi yang kita tulis maka akan semakin sempurnalah skripsi kita. Kita menjadi lebih paham, spesifik dan mengerjakan skripsi sebaik-sebaiknya. Bukankah hanya orang yang menguasai masalah-lah yang bisa menyelesaikan masalah?
Ayo kuasai masalah!