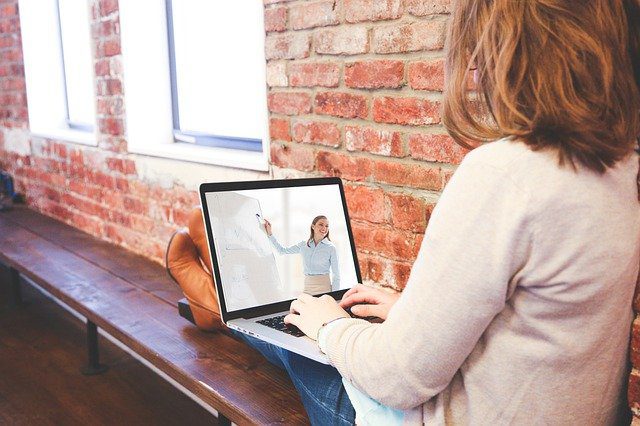 Beberapa perguruan tinggi negeri maupun swasta akan memulai perkuliahannya pada pertengahan bulan September. Ada perasaan dilematis di kalangan para dosen dan mahasiswa yang menjalankan perkuliahannya lewat perkuliahan daring atau online.
Hal tersebut bisa dimaklumi dikarenakan sebuah alasan klasik bahwa kuliah lewat online masih dirasa susah menggantikan kuliah model klasikal. Saudara saya yang berkuliah di salah satu PTS swasta pun juga tak kalah pusing. Ia mengeluh, kuliah biasa saja terkadang materi belum tentu bisa diserap dengan baik, apalagi sekarang harus online.
Namun jika anda memperdebatkan kuliah online dengan kuliah biasa juga sama saja mencari mati. Ada banyak faktor dimana keduanya tidak bisa diperbandingkan begitu saja. Salah satunya adalah interaksi yang juga terbatas. Dalam kuliah online, Dosen memberikan materi bersamaan dengan tugas secara langsung untuk menggali pemahaman mahasiswa. Namun proses ini sering dikeluhkan mahasiswa dengan alasan bahwa materi yang ada dirasa masih kurang terserap.
Entah karena pembawaan materi dosen yang dirasa kurang atau mahasiswa yang memang masih membutuhkan pikiran panjang, dua hal ini saling bertolak belakang yang bisa berakibat tugas mahasiswa yang tidak maksimal atau malah jatuhnya jadi asal-asalan dan mood kuliah berkurang. Disaat itulah frustasi melanda dan malas mengancam.
Itulah mengapa saya ingin membagikan tips ini. Cara ini hanya bisa dilakukan jika anda benar-benar sudah capek, malas dan ujung-ujungnya tidur di tengah perkuliahan. Karena ini adalah "cara malas", lebih baik yang rajin tidak usah membaca karena sebetulnya anda tidak membutuhkannya.
Melihat Garis Besar
Saat ini rata-rata perkuliahan online menggunakan dua platform, yaitu teks dan video conference. Teks yang disampaikan biasanya berupa materi biasa lewat WA dengan format berupa dokumen atau presentasi. Namun pada satu sisi membosankan untuk dilihat apalagi dibaca. Saya pun terkadang mengantuk untuk sekedar scrolling teks yang ada.
Cara yang paling dapat dilakukakan untuk mengatasi hal tersebut adalah melihat apa yang bisa anda tangkap dari sebuah materi yang disajikan. Materi perkuliahan biasanya akan berkutat pada defenisi, pengertian, konteks isi dan komparasi dari sebuah fenomena dan teori yang tersaji. Dalam hal ini koreklah bagian-bagian tersebut untuk melihat garis besar materi lalu. Ketika anda mengerti pengertian dan konteks materi, anda dapat menguasai materi secara cepat.
Jika cara ini agak susah, lebih baik anda merekam atau meminta materi yang ada. Setidaknya anda bisa membaca lagi, itupun kalau anda sudah berniat jadi mahasiswa yang rajin.
Diskusi dengan Teman
Jika anda cukup jeli, manfaatkan teman anda yang memang menguasai materi perkuliahan untuk berdiskusi. Ya berdiskusi, bukan untuk mengerjakan tugas anda apalagi mencari contekan. Setidaknya cara ini adalah cara malas namun "sehat" untuk dilakukan. Cara ini juga merupakan cara yang paling logis apabila anda tidak tertarik untuk berbicara atau berdiskusi dengan dosen bersangkutan.
Cara malas satu ini juga bisa digunakan untuk mencari materi perkuliahan yang mungkin terlewat atau karena saking malasnya anda mencatat materi. Setidaknya anda memiliki cara "berkualitas" untuk mendapatkan dan memahami materi perkuliahan dengan baik. Selain itu cara ini masih lebih baik daripada memahami materi perkuliahan secara letter leg alias tertulis mengingat diskusi justru menggunakan logika yang sebaliknya, abstrak dan otodidak.
Jangan lupa minum kopi dan traktir makanan apapun itu dengan teman diskusi anda. Karena logika tanpa logistik itu hanyalah omong kosong, percayalah.
Buat Gambar
Mempelajari perkuliahan online tanpa ilustrasi itu seperti ibarat gula tanpa sendok. Bukan hanya kurang, tapi justru bikin tambah pening. Alih-alih mau menyerap perkuliahan dengan efektif, yang ada malah kebingungan membayangkan konteks materi, teori dan kasus nyatanya.
Membuat gambaran sederhana di catatan perkuliahan anda tentu membuat cara malas ini dapat menggairahkan sekaligus sedikit bernostalgia masa kecil anda. Kegiatan ini boleh juga dilakukan pada halaman belakang catatan anda yang masih jauh dari kata kosong.
Cara ini juga dapat anda gunakan untuk mengolah hasil penangkapan materi perkuliahan online dengan lebih imajinatif dan tidak ada batas gambar seperti apa yang anda mau. Bisa dibuat mapping teori, dipadukan dengan simbol, kartun, anime atau mau gambar pocong sekalian juga boleh selama itu masih nyambung dengan materi kuliah anda.
Disarankan juga untuk menggambar dengan pensil 2B supaya terbaca di komputer. Keep study and have fun!.