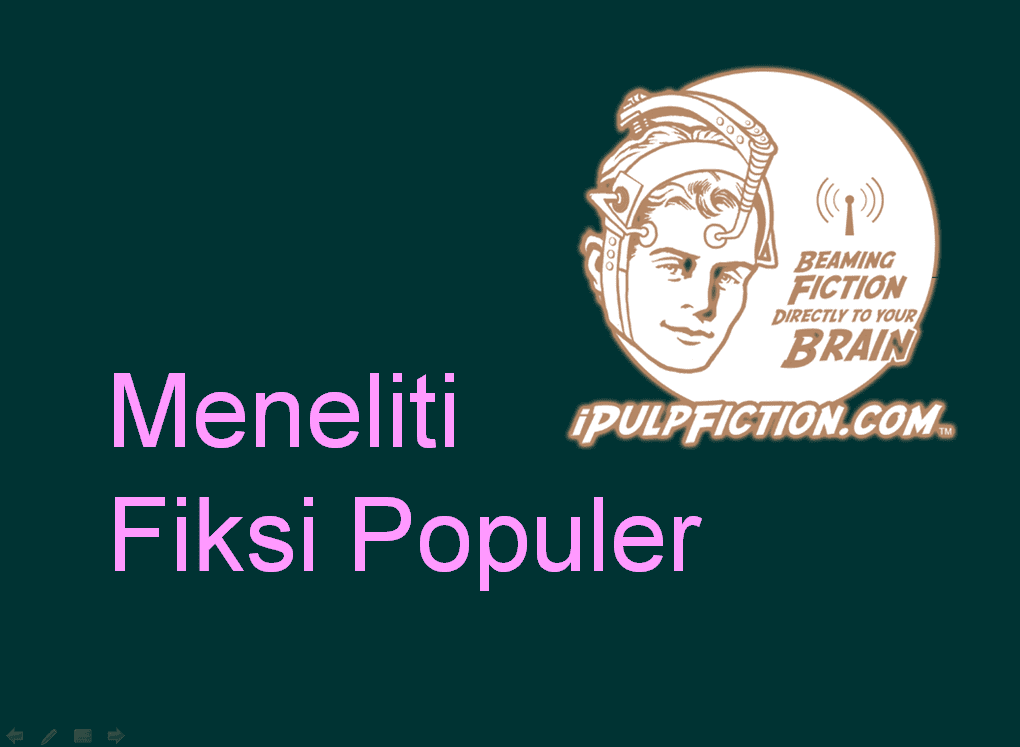 Meneliti fiksi populer
1. Meneliti Fiksi Populer
2. Fiksi populer atau sastra populer? Istilah sastra pop(uler) membawa berbagai persoalan: sastra = karya dengan standar estetis dan fungsi tertentu Apakah bacaan pop itu sastra? Lebih aman/netral menggunakan istilah fiksi populer.
3. 1. Fiksi populer itu apa, apa bedanya dengan Sastra? 2. Bagaimana kita mesti menilai dan menyikapinya? 3. Ada kemungkinan apa saja dalam menelitinya? 4. Apa wacana publik tentangnya, dan bagaimana wacana itu bisa diteliti?
4. Fiksi populer vs Sastra Ken Gelder, Popular Fiction: The Logics and Practices of a Literary Field fiksi populer dan Sastra itu beroposisi, dan sering ditulis dan dibaca sebagai beroposisi
5. beberapa perbedaan Sastra fiksi pop kreatifitas, orisinalitas kerajinan (craft) inspirasi kerja keras author writer jumlah karya terbatas produksi cepat, tujuan: laku kerumitan, membaca butuh sederhana, mudah dipahami, skil exiting menulis demi seni, demi sastra menulis untuk pembaca
6. genre fiction batas genre yang relatif ketat pembaca mengekspektasikan jenis teks tertentu
7. Bagaimana kita mesti menilai dan menyikapi fiksi populer? Cerita ini sering direndahkan atau diremehkan karena – tidak punya mutu sastrawi (tidak orisinal, hitam- putih, …) – kelewat melayani selera pasar – melanggar moral, atau malah terlalu moralis – kurang punya daya kritis (ideologinya mainstream) Pembacanya ikut direndahkan, dipandang tidak punya selera tinggi, sekadar mencari hiburan murahan.
8. Saat kita mau mendekati secara akademis, sikap merendahkan itu mesti kita apakan?
9. Matthew Arnold 1822-1888 Culture and Anarchy (1869) Obat penawar/pencegah anarki adalah budaya. (dalam arti: budaya "tinggi", terutama sekali karya sastra yang dianggap masterpiece)
10. One must, I think, be struck more and more the longer one lives, to find how much in our present society a man's life of each day depends for its solidity and value upon whether he reads during that day, and far more still on what he reads during it. (Culture and Anarchy)
11. Rakyat Inggris diajari membaca sastra sambil: • dibuat merasa tidak kompeten membacanya, sehingga membutuhkan tuntunan (kritik sastra) • • dibuat memandang rendah apa yang mereka •konsumsi (budaya massa) • Artinya ini adalah persoalan kelas. Budaya tinggi milik elit, apresiasi dan pemaknaannya diajarkan oleh elit pada rakyat, dengan tujuan mencegah "anarki".
12. Kajian Budaya (Cultural Studies) lahir sebagai perlawanan terhadap pemahaman seperti itu. – semua teks layak dikaji, termasuk yang populer – budaya massa memang bermasalah (membawa ideologi kapitalis), tapi konsumen tidak bisa begitu saja diasumsikan menerima ideologinya secara pasif dan patuh.
13. Saat kita mau mendekati secara akademis, sikap merendahkan itu mesti kita apakan? – Penilaian mutu estetis tidak relevan, karena memang fungsinya tidak sama dengan sastra. – Waspada terhadap sikap elitis kita sebagai intelektual: pilihan bacaan dan kenikmatan membaca orang lain perlu dihormati. – Ideologi yang dibawa oleh bacaan tertentu, layak diteliti secara kritis, tapi tidak boleh diasumsikan akan begitu saja mempengaruhi pembaca, seakan-akan pembaca itu sekadar penerima yang pasif.
14. kemungkinan dalam meneliti fiksi populer gabungan antara kajian tektual dan etnografi – fokus pada proses produksi kerja penerbit, hubungan penerbit dengan penulis dan dengan pembaca sejarah genre (msl.: Mengapa di Indonesia pasca reformasi, lahir genre fiksi pop islami?) – fokus pada teks
15. kemungkinan lain: Klasifikasi sebagai Sastra atau fiksi populer, selalu terjadi dalam konteks spesifik tertentu, dan bersifat politis. Klasifikasi itu bisa diper- tanyakan, dan bisa diubah.
16. Apa wacana publik tentang fiksi populer, dan bagaimana wacana itu bisa diteliti? Dalam beberapa kasus pemosisian agak ambang, msl. Ayat-ayat Cinta, Laskar Pelangi. Ini sastra atau novel pop? – Apa yang dipertaruhkan? Mengapa ingin diakui sebagai sastra? – Bagaimana ciri teksnya, khas Sastra atau fiksi populer?