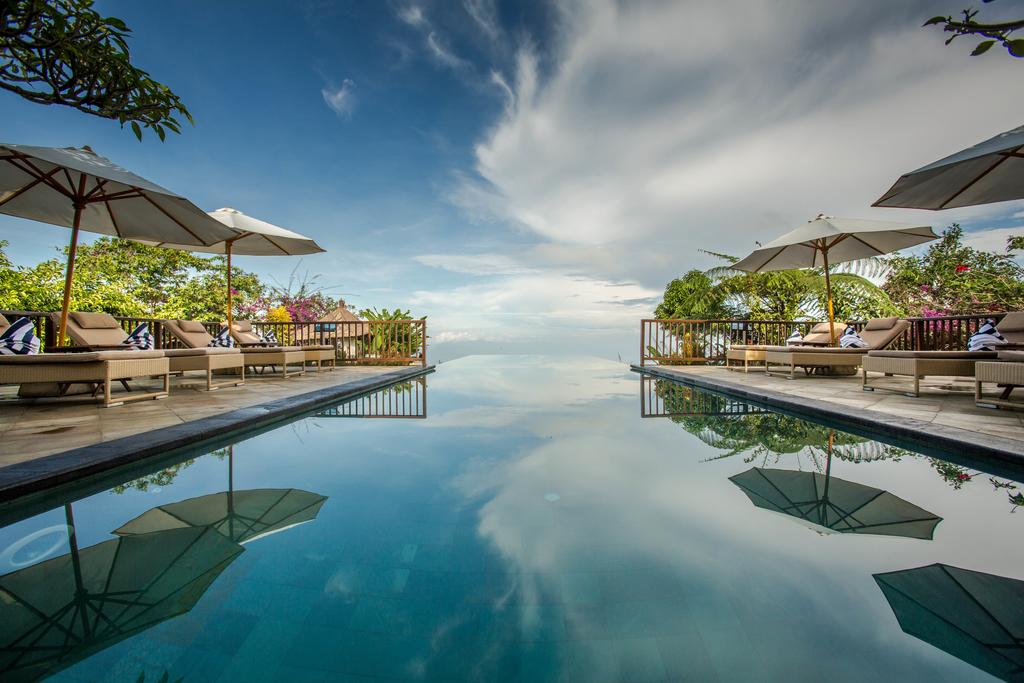 Kolam Renang di Bali — Berenang; kegiatan yang dikategorikan olah raga air ini merupakan salah satu olah raga yang sangat digemari oleh banyak orang di mana pun. Hari ini, berenang telah mendapat pemaknaan tambahan. Tidak hanya dimaknai sebatas kegiatan olah raga saja, namun saat ini berenang juga bisa dimaknai untuk rekreasi.
Berenang bisa dimaknai untuk rekreasi tidak lepas dari manfaatnya yang dapat membuat siapa pun yang melakukan kegiatan berenang akan merasa terhibur atau bahagia. Berenang dipercaya memberikan rasa rileks, atau dijadikan kegiatan alternatif yang ampuh untuk menghilangkan penat dan capek, yang dapat dilakukan di waktu senggang, di tengah-tengah kesibukan menjalani aktivitas pekerjaan.
Liburan di Kolam Renang
Seiring dengan adanya tambahan pemaknaan berenang sebagai rekreasi, kolam renang sebagai wahana melakukan kegiatan berenang pun saat ini dapat dikreasi bentuknya hingga sedemikian rupa. Bentuk yang dibuat untuk membuat kolam renang, saat ini tidak hanya monoton berbentuk persegi saja. Bentuk persegi memanjang maupun persegi dengan panjang sisinya sama.
Tren kolam renang saat ini, dibuat dengan membentuknya sesuai dengan yang diinginkan, dipadukan dengan konsep artistik tertentu. Dibuat dalam satu kesatuan konsep taman atau alam, maupun dibuat dengan diberi penambahan-penambahan ornamen yang menghasilkan kesan indah, sehingga layak disebut kolam renang yang menunjang kebutuhan rekreasi.
Tren kolam renang yang dibuat sedemikian indah tentu akan membuat orang-orang merasa tertarik, menjadikan kolam renang sebagai tempat alternatif untuk berekreasi, menggantikan pantai, dan wisata alam-wisata alam yang lainnya. Orang-orang tertarik memilih berenang di kolam renang yang menawarkan konsep untuk rekreasi selain karena kebutuhan olahraga, di sana juga orang-orang dapat mengabadikan moment berenang sekaligus berekreasi di kolam renang dengan cara swafoto (selfie) dengan latar kolam renang yang indah nan apik.
Bali dikenal sebagai daerah wisata. Keindahan Pulau Dewata Bali menjadi daya tarik wisatawan untuk berlibur. Wisatawan yang menjadikan Bali sebagai tujuan liburan tidak hanya masyarakat dalam negeri saja. Orang-orang dari luar negeri (mancanegara) juga banyak yang tertarik untuk berlibur ke Bali.
Sekali lagi, apa lagi jika bukan karena keindahan yang ditawarkan Bali kepada para wisatawan, sehingga Bali sangat diminati untuk tujuan berlibur. Mulai dari panjang pantai di Bali yang rata-rata sangat eksotis, hingga segi kebudayaan dan kesenian khas Bali juga menjadi hal yang menarik para wisatawan untuk datang dan melihat langsung ke Bali.
Tren kolam renang yang menawarkan konsep rekreasi sebagaimana dibahas di awal, menambah alternatif-alternatif berlibur di Bali bagi Anda. Ketika Anda ingin mencoba hal baru selain pantai atau wisata-wisata alam lainnya, rekreasi ke kolam renang bisa menjadi pilihan.
15 Kolam Renang di Bali Full instagramable
Berikut ini rekomendasi 15 kolam renang di Bali Full Instagramable:
1.     Kolam Renang Bali Komaneka Resort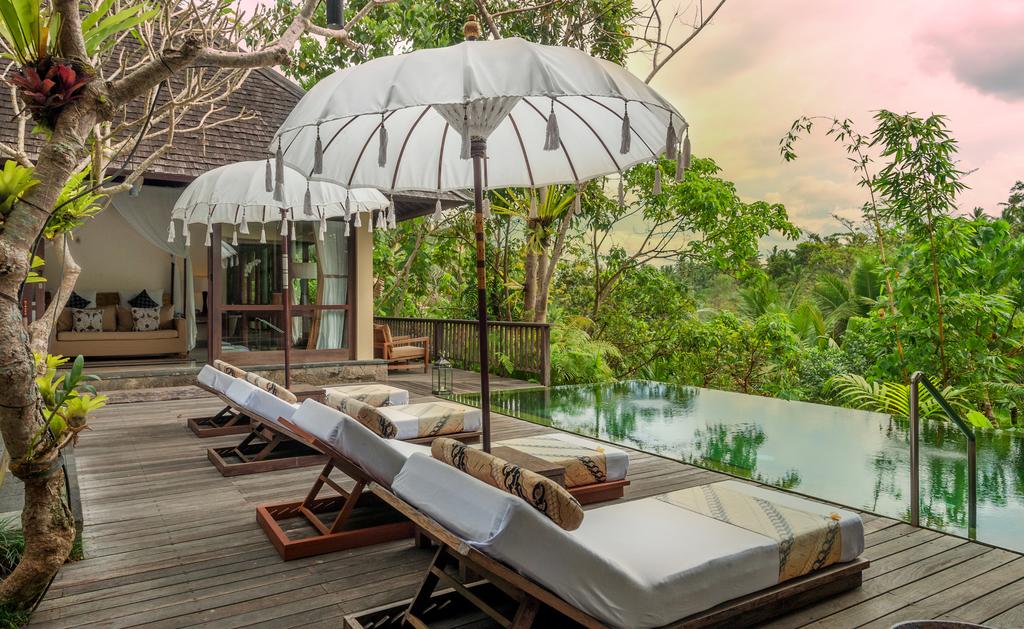 Akomodasi menuju Kolam Renang yang terdapat di Hotel Komaneka Resort, Monkey Forest, Ubud, Gianyar, Bali ini, dari Bandara Internasional Ngurah Rai anda harus menempuh jarak 30 km. Sedangkan jika dari Puri Ubud dan Pasar Ubud, untuk sampai ke Komaneka Resort harus menempuh 1,2 km.
Lokasi Komaneka Resort dikelilingi oleh puluhan pohon kelapa khas pulau tropis, Di sini anda akan dimanjakan oleh pemandangan asri dan menenangkan. Melakukan kegiatan berenang di tempat yang memiliki panorama alam secantik ini pasti akan membuat siapapun mempunyai kenangan tersendiri dengan tempat ini. Tentu, kolam renang Komaneka Resort ini sangat instagramable. Dan Anda tentu boleh sesuka hati mengabadikan moment rekreasi anda di sini.
2.     Kolam Renang Bali The Edge Bali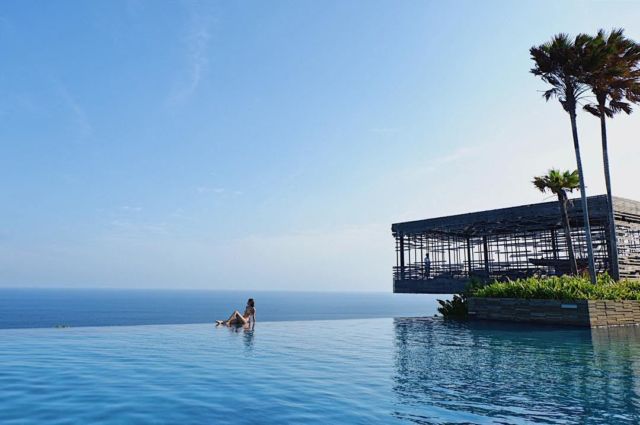 Kolam Renang selanjutnya, yang tentu Instagramable dan perlu anda coba terdapat di Pecatu, Uluwatu, Kuta Selatan, Badung, Bali. Sedikit bocoran untuk meyakinkan mengapa Anda harus berkunjung ke sini, berdasarkan lansiran Tribun Batam, The Edge Bali Resort disebut sebagai resort dengan kolam renang terbaik di dunia.
Dibangun di pinggir tebing dan terbuat dari kaca, kolam renang The Edge Bali Resort menawarkan pemandangan laut di bawahnya. Tidak perlu khawatir oleh letaknya yang berada di pinggir tebing. Pihak The Edge tentu mempertimbangkan keamanan pengunjung yang berenang. Kolamnya terbuat dari kaca setebal 3,5 inci, jadi sangatlah aman jika anda berenang di sini.
Letaknya yang berada di atas tebing setinggi 152 meter, kolam renang yang terdapat di The Edge ini menawarkan untuk anda kesempatan berenang yang tak terlupakan dan tentunya akan membuat anda betah berlama-lama menhabiskan waktu libuan. Di sini anda dapat berenang dan melihat keindahan laut dan tebing, dengan pemandangan menakjubkan. Jadi amat cocok, dan tentunya instagramable untuk diabadikan, dan anda bagikan pengalaman anda berenang di The Edge Resort ini.
3.     Kolam Renang Bali Sthala Ubud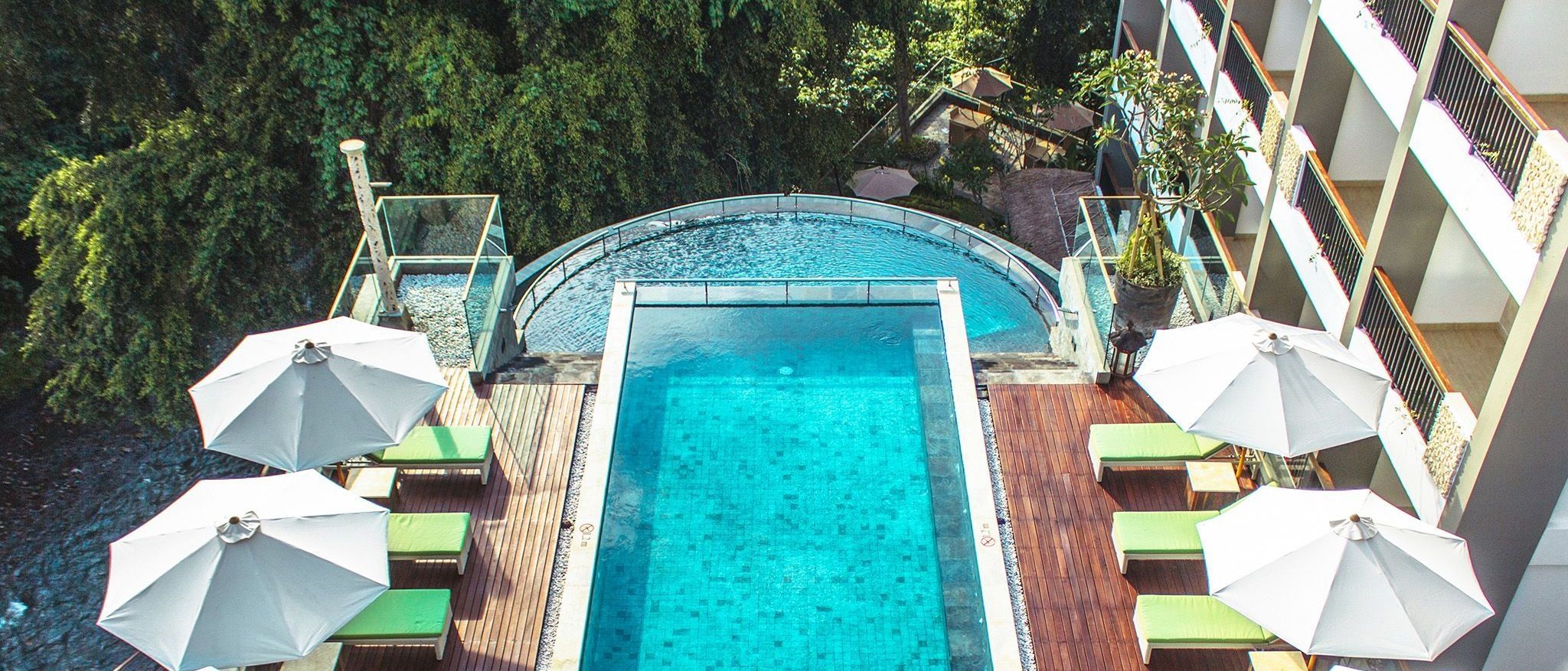 Selanjutnya, Kolam Renang Sthala Ubud. Berada di kawasan hotel Sthala Ubud, Mawang Kelod, Lodtunduh, Ubud, Bali. Kolam renang ini sedikit berbeda dari konsep kolam renang sebelumnya. Berenang di kolam renang Sthala Ubud anda akan dijanjikan bisa berenang ditemani oleh jernihnya sungai khas Bali.
Sebagaimana dilansir di laman Sthala Ubud Bali, pengunjung dibebaskan untuk memilih dua ruangan kolam renang besar. Matahari dan Panorama Renang dan Sundeck Lounge. Menawarkan fasilitas 1,2 meter dengan panorama, valey hijau dan sungai dari dek. Semuanya mengusung konsep yang sangat instagramable yang akan memenuhi kebutuhan rekreasi anda.
4.     Kolam Renang Bali Be Bali Stay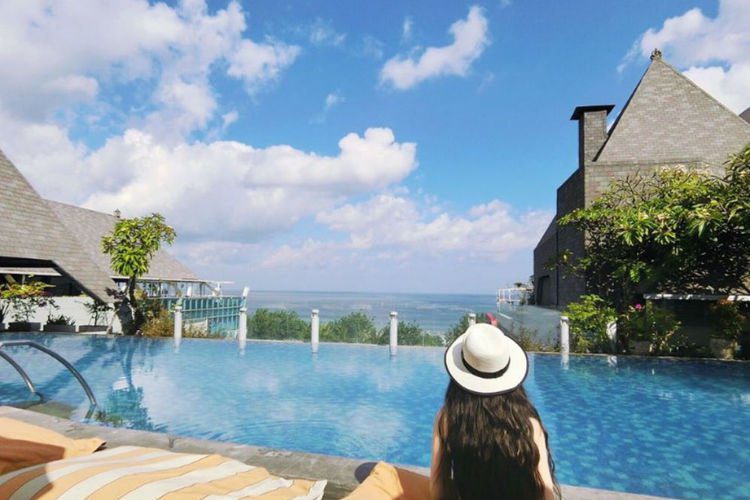 Jika tadi anda sudah mengetahui kolam renang dengan pemandangan gunung, laut, dan juga sungai, kolam renang yang satu ini menawarkan pemandangan indah berupa uniknya persawahan terasering khas Pulau Dewata. Lokasai Be Bali Stay sendiri terletak di Wenara Wana, Ubud, Kab. Gianyar, Bali. Kesegaran air kolam renang, hijaunya persawahan terasering, serta sejuknya angina sangat menunjang kebutuhan berlibur anda. Konsep yang diusung tentu menawarkan background eksotis untuk anda bisa berfoto-foto ria. Artinya kolam renang ini sangat instagramable.
5.     Kolam Renang Bali Hanging Garden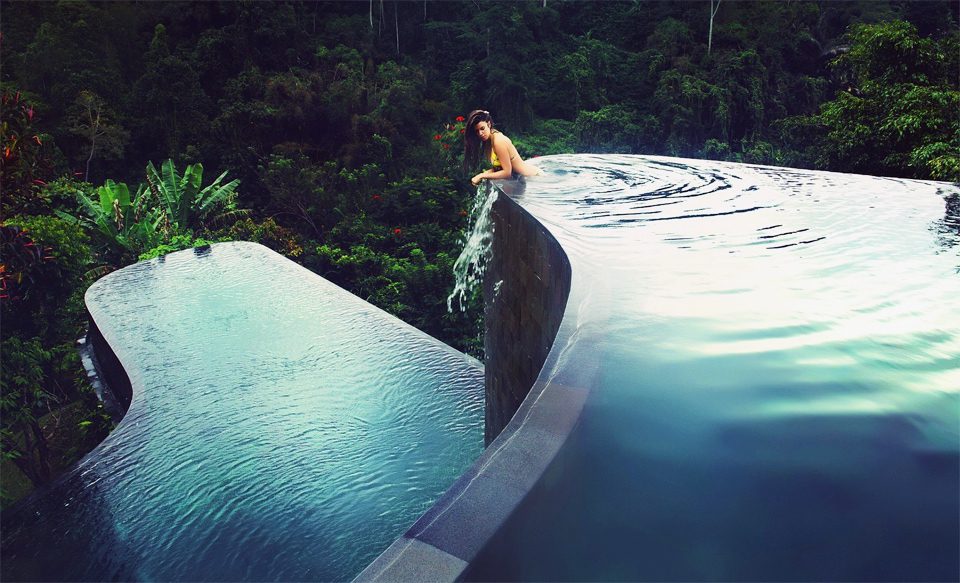 Kolam renang dengan konsep di ketinggian selanjutnya berada di Hotel Hanging Gardens, Banjar Susut, Desa Buahan, Payangan, Gianyar, Bali. Kolam renang yang tentu sangat instagramable ini berada di ketinggian kurang lebih 15 meter dari kolam renang yang berada di tingkat pertama.
Tentunya konsep yang ditawarkan ini akan mampu membuat suasana rekreasi anda menggembirakan. Selain karena panorama alamnya yang begitu menenangkan, di kolam yang terletak di ketinggian ini, juga menjajikan kesejukan dari asrinya alam sekitar. Suasana alam sekitar yang asri, sangat cocok untuk dijadikan background foto anda.
6.     Kolam Renang Bali Kamandalu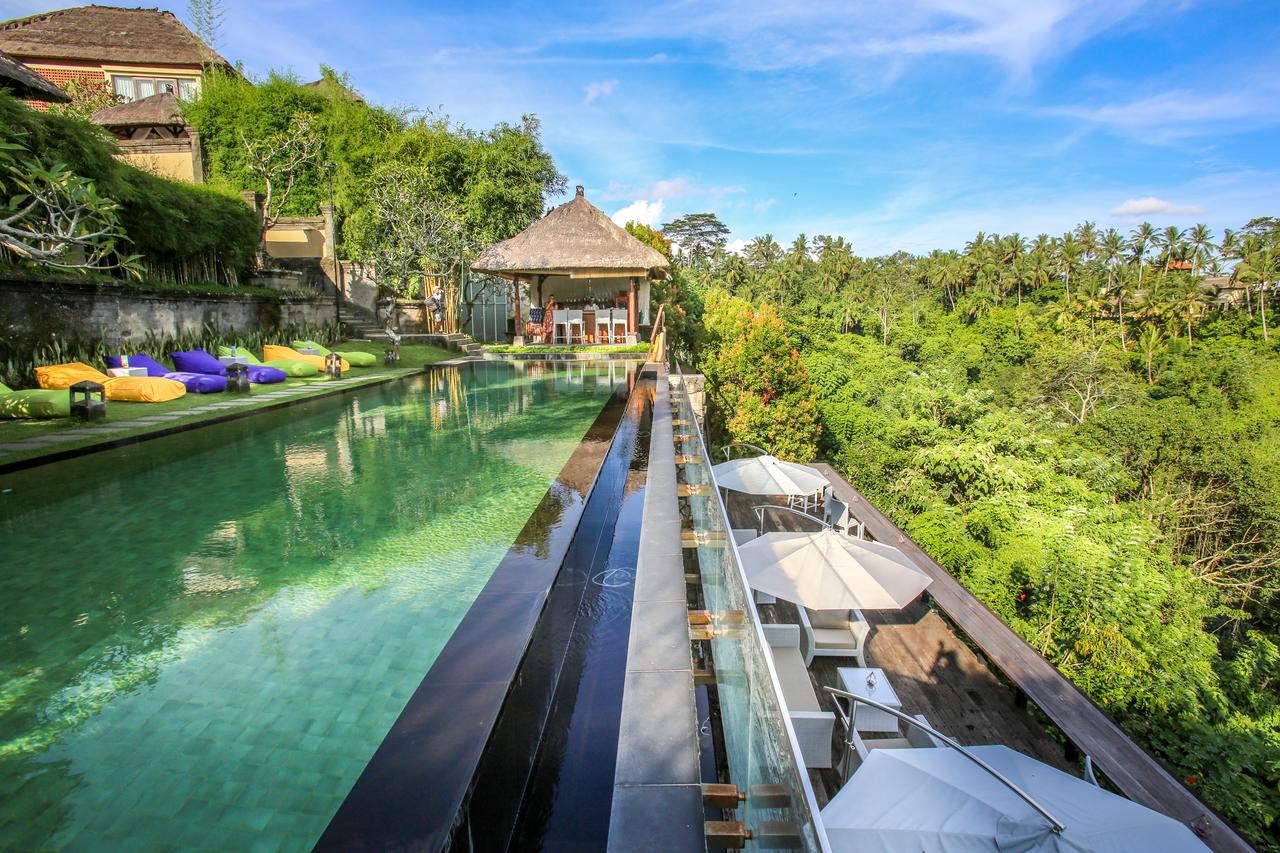 Desain kolam renang berbentuk lancip serta menjorok ke arah jurang ini, akan membuat adrenalin anda sedikit terpompa. Namun anda tidak perlu khawatir, indahnya panorama alam Ubud justru akan langsung membuat anda merasa rileks, terlebih setelah anda kembali dari hiruk pikuk perkotaan. Kolam renang unik dan instagramable ini berada di kawasan hotel Kamandalu. Anda  bisa langsung mengunjunginya dengan datang ke Jalan Raya Andong, Banjar Nagi, Ubud, Gianyar, Bali.
7.     Kolam Renang Bali Karma Kandara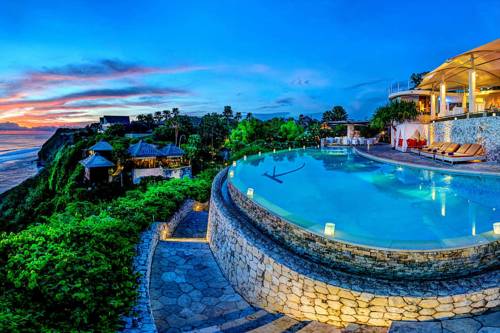 Kolam renang instagramable selanjutnya terdapat di Villa Kandara, Banjar Wijaya Kusuma, Desa Unggasan, Kuta Selatang, Badung, Bali. Keeksotisan pantai di Karma Kandara dapat dinikmati sembari berenang di kolam renang ini. Pasalnya  konsep kolam renang Karma Kandara ini berada di bibir tebing yang menghadap langsung ke lautan lepas. Angin pantai dan birunya lautan lepas dapat sekaligus anda nikmati sebagai alternative liburan anda.
8.     Kolam Renang Bali Dara Ayu Villas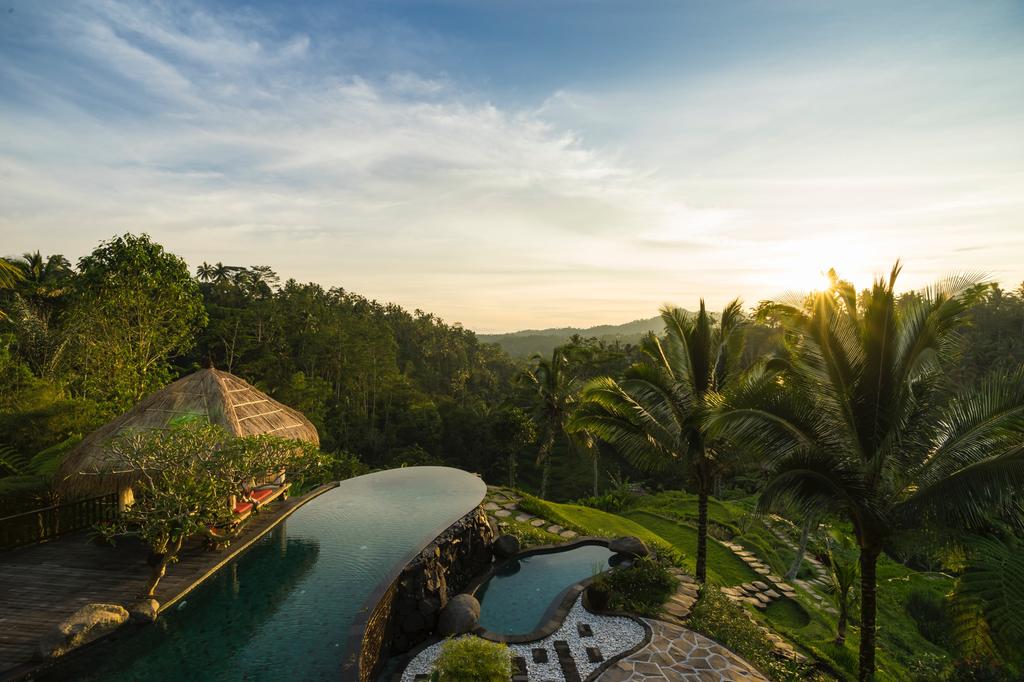 Kolam renang selanjutnya yang juga tidak kalah instagamable adalah yang terdapat di Dara Ayu Villas. Untuk dapat bersantai di kolam renang yang elok ini dan tentunya dapat memanjakan mata anda ini, anda harus menuju ke Majangan, Desa Buahan Kaja, Kecamatan Payangan, Gianyar, Bali.
Kolam yang memiliki dua tingkat ini dijamin akan bakal mampu membuat anda rileks dari penatnya rutinitas. Dengan panorama hijau perbukitan serta lembah-lembah yang masih alami, tempat ini sangat cocok, maka sangat direkomendasikan sekali untuk anda jadikan spot foto. Kolam renang ini sendiri letaknya berada di kawasan Dara Ayu Villas Bali.
9.     Kolam Renang Bali El Kabron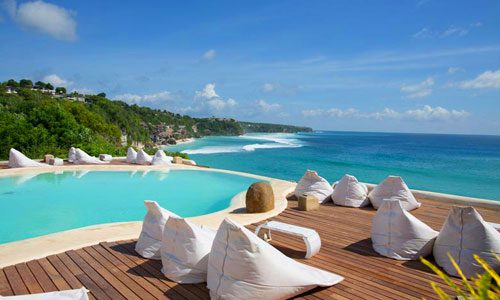 Bali memiliki banyak sekali destinasi wisata kolam renang dengan konsep pemandangan laut lepas. Di antaranya di El Kabron. Kolam renang di El Kabron ini memiliki pemandangan yang langsung menghadap ke arah laut. Sehingga pengunjung dapat sekaligus memandang lautan lepas sembari berenang.
Kolam renang instagramable yang berada di kawasan resort El Kabron ini menjadi destinasti wisata populer yang kerap dikunjungi oleh para wisatawan. Jika anda berkeinginan untuk datang berlibur, El Kabron Berlokasi di Pantai Cemongkak, Desa Pecatu, Kuta Selatan, Badung, Bali. Kolam renang ini sungguh cocok sekali untuk anda jadikan spot foto, apalagi jika matahari sedang terbenam.
10.  Kolam Renang Bali Eco-resort Munduk Moding Plantation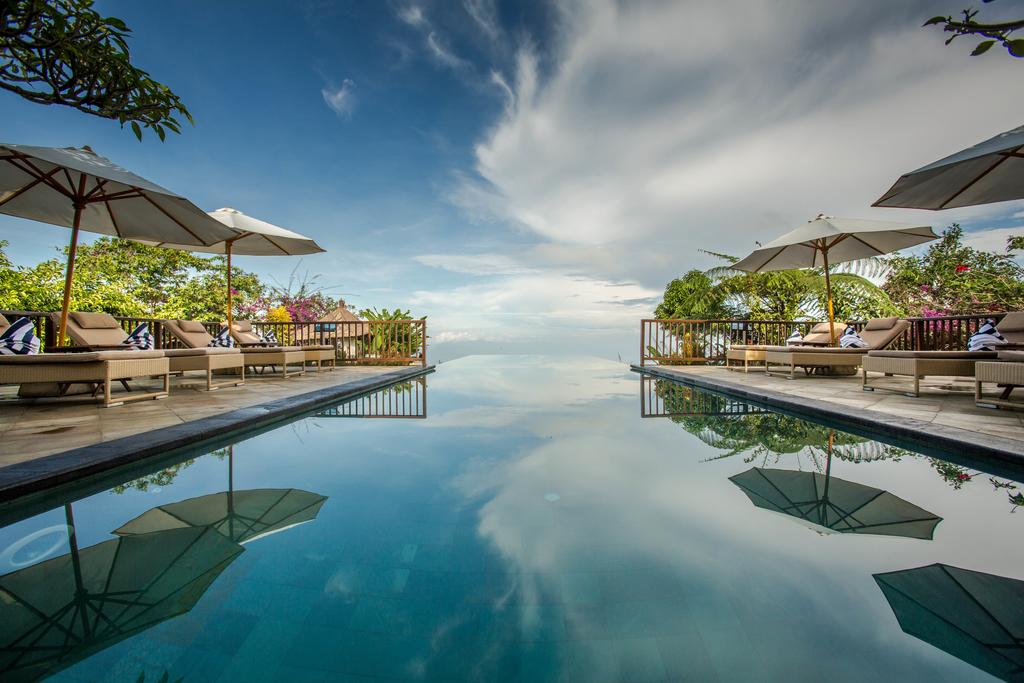 Seakan tidak ingin kehabisan konsep untuk ditawarkan sebagai tempat rekreasi, Eco-resort Munduk Moding Plantation mengkonsep kolam renang dengan menawarkan dua panorama sekaligus. Yakni panorama pegunungan Banjar di sebelah kiri dan hamparan Laut Jawa di sebelah kanan. Konsep dengan didukung keadaan alam yang indah, menjadikan resort atau kolam renang ini perlu untuk anda coba.
Kolam renang yang tentunya instagramable ini sendiri berada di kawasan resort Eco-resort Munduk Monding Plantation yang lokasinya berada di Asah Goblek, Kecamatan Banjar, Buleleng, Bali. Selain dapat menikmati kolam renang dengan view yang begitu cantik, di resort ini nantinya ada juga akan bisa menikmati kopi khas bali yang langsung dipetik dari perkebunan di sekitar resort tersebut.
11. Kolam Renang Bali Four Points Hotel Kuta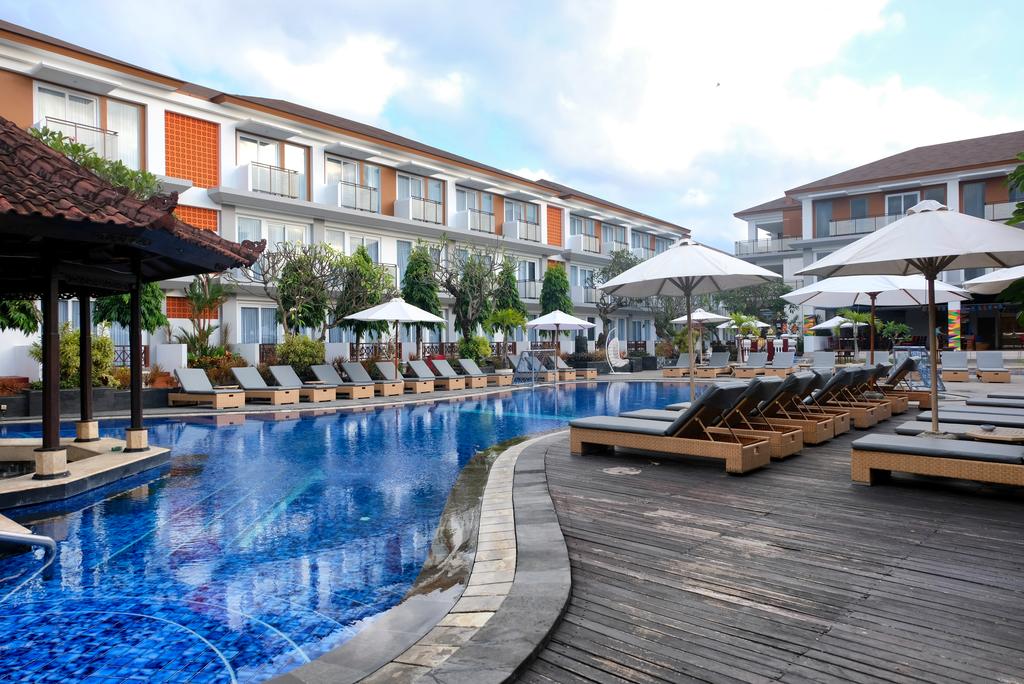 Berenang di kolam renang yang berada di ketinggian, sekaligus melihat dan mengabadikan momen dengan latar belakang matahari terbenam di pantai Kuta, dapat anda lakukan di Vertigo Rooftop Pool Four Points Hotel Kuta. Di tempat ini anda akan merasakan pengalaman rekreasi yang menakjubkan.
Paket berenang di hotel trendy  ini dibuka untuk umum setiap harinya dari jam 11.00 – 19.00 dan tidak akan membuat anda boros, karena harga yang ditawarkan hanya Rp 65.000 termasuk handuk, 1 botol beer dan cheese burger. Dan jangan lewatkan memanfaatkan panorama indah di kolam renang satu ini dengan berfoto.
12. Kolam Renang Bali Kila Infinity8 Hotel Jimbaran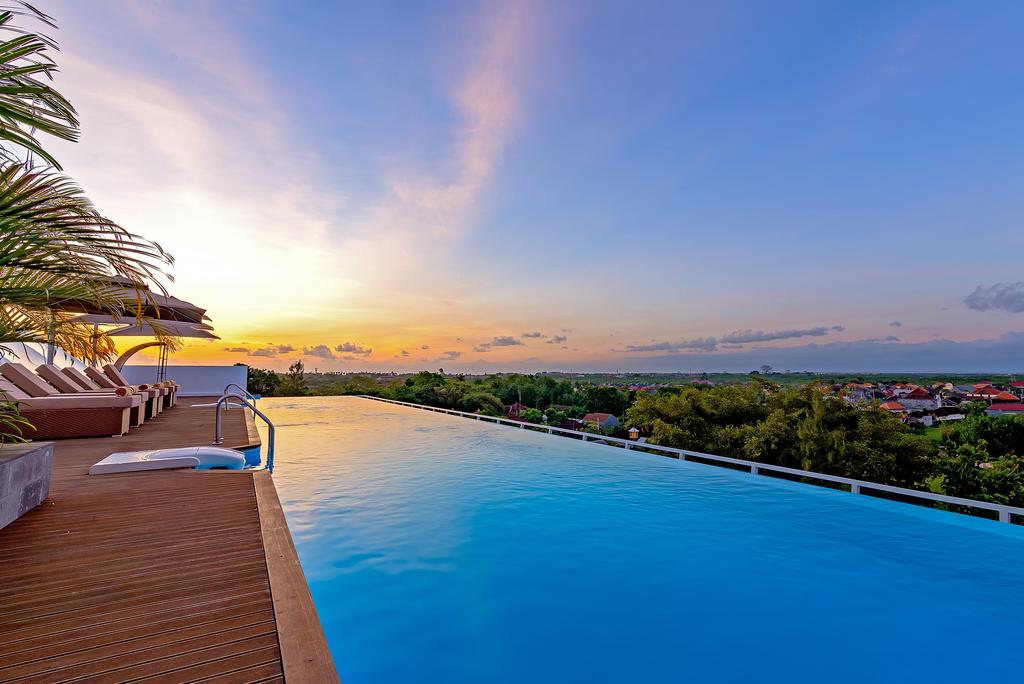 Rekomendasi kolam renang selanjutnya, yang perlu anda coba yang tentunya tidak kalah instagramable adalah Infinity Pool Kila Infinity8 Hotel. Kolam renang ini juga mengusung konsep berada di ketinggian, di mana anda bisa melihat pemandangan Bali yang indah.
Di tempat ini anda dapat merasakan sensasi berenang dan juga menyaksikan matahari terbenam yang tidak bisa anda lupakan. Konsep kolam renang di ketinggian ini tergolong sangat instagramable bagi anda yang hobi berfoto. Anda cukup membayar Rp 85.000 dan akan mendapatkan fasilitas handuk, secangkir teh atau kopi dan snack sekaligus bisa mengabadikan keindahan suasananya.
13. Kolam Renang Bali Jimbaran Bay Beach Resort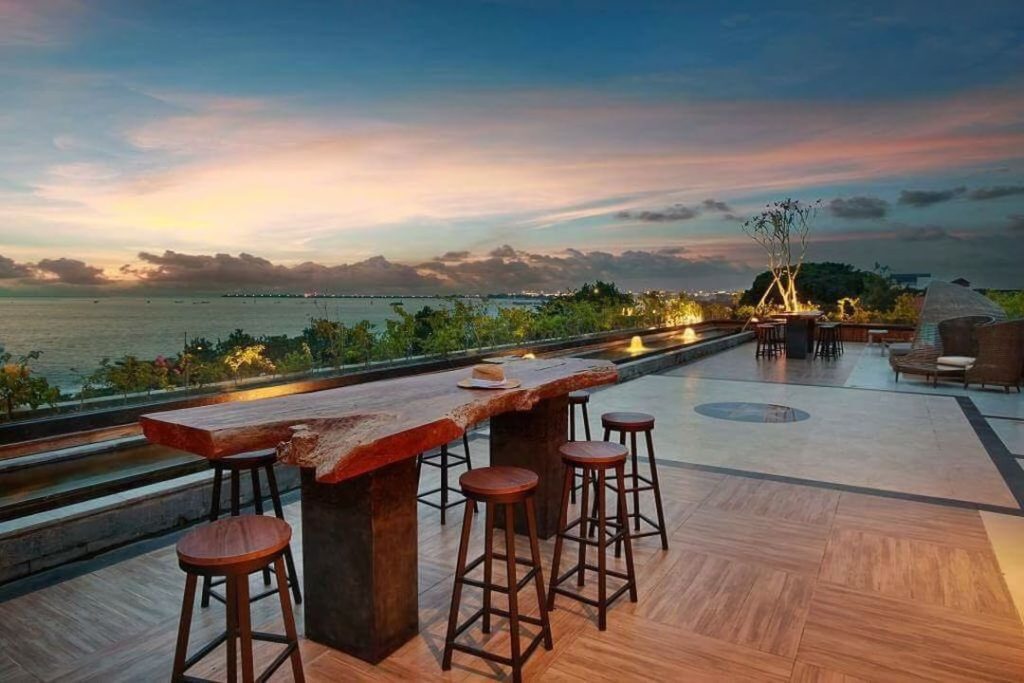 Jimbaran, yang terkenal dengan seafoodnya ini juga memiliki kolam renang yang dikonsep untuk rekreaasi. Anda dapat berenang dan bersantai, serta menikmati menu hidangan yang disajikan di tempat ini. Berada di tepi pantai, anda sekaligus dapat menikamti suasana pantai.
Adapun paket yang disediakan untuk anda dapat berenang di Jimbaran Bay Beach Resort, waktunya dibuka dari jam 7.00 – 21.00, dipatok dengan harga Rp 100.000 termasuk anda akan mendapatkan fasilitas handuk dan juga satu menu makan yang disediakan chef handal di resort ini plus anda juga bisa gunakan fasiltas gymnya dan fasilitas konsep dengan panorama yang indah untuk berfoto.
14.  Kolam Renang Bali Hanging Garden Ubud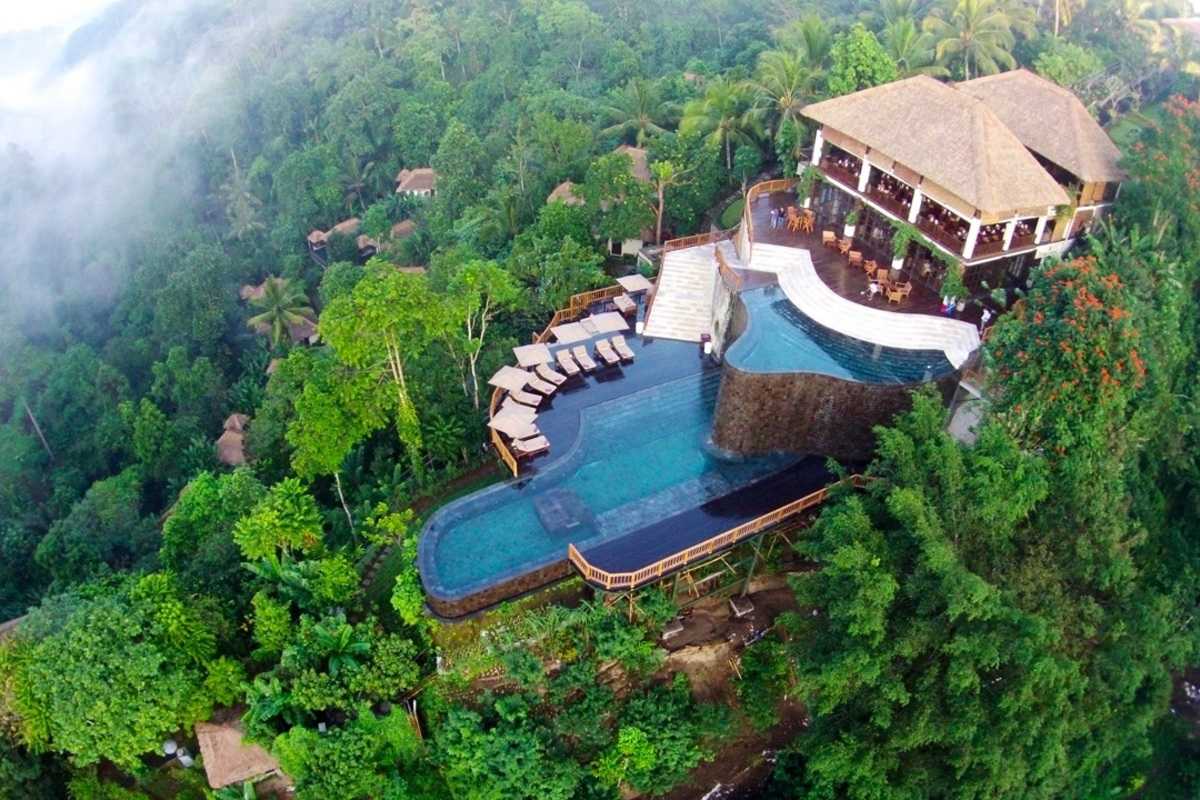 Kolam renang infinity di Hanging Garden Ubud memang jadi salah satu kolam renang terindah di dunia. Kolam renang bertingkat dan menghadap langsung ke hutan ini tampak begitu sejuk dan menenangkan. Anda bisa menikmatinya dengan bujet 5 jutaan per malam. Harga yang tentunya sebanding dengan fasilitas yang disajikan.
15.  Kolam Renang Bali Unique Rooftop Bar, RIMBA Jimbaran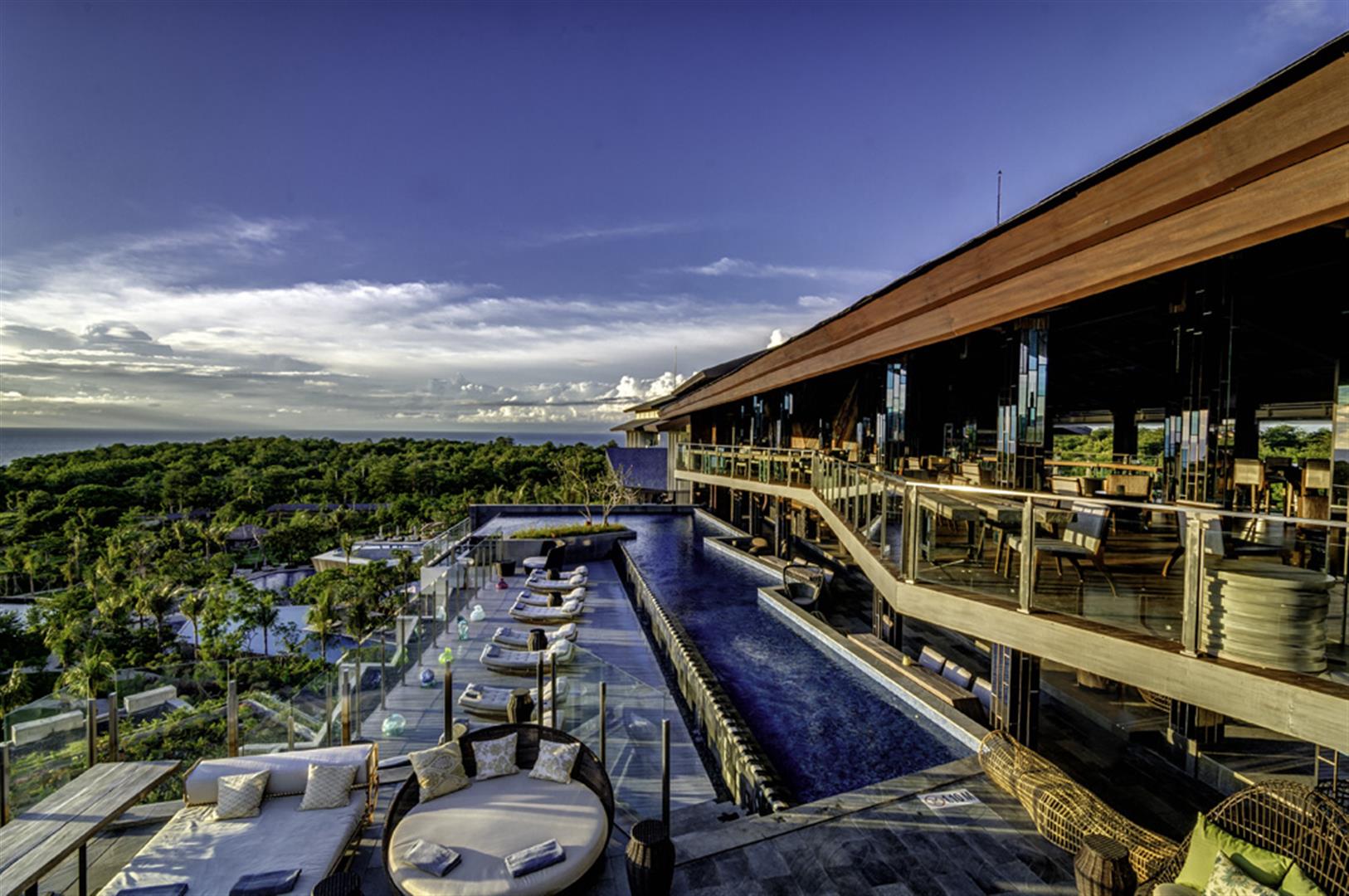 Sesuai dengan namanya, Unique Rooftop menyajikan konsep resort dengan kolam renang di ketinggian. Unique Rooftop Bar, Rimba Jimbaran yang langsung mengahadap ke perbukitan hijan memberikan kesan alam yang begitu nyata bagi setiap pengunjung.
Berenang dengan diselingi menikmati hidangan makanan serta minuman akan menjadikan rekreasi anda begitu berkesan. Konsepnya yang apik dengan latar belakang pemandangan hijau, cocok sekali untuk tempat berfoto lalu untuk diunggah di social media. Untuk dapat berenang anda tentunya harus masuk ke Resort terpadu Unique Rooftop Bar, Rimba Jimbaran.
Kolam Bali Swimming Pool Contractor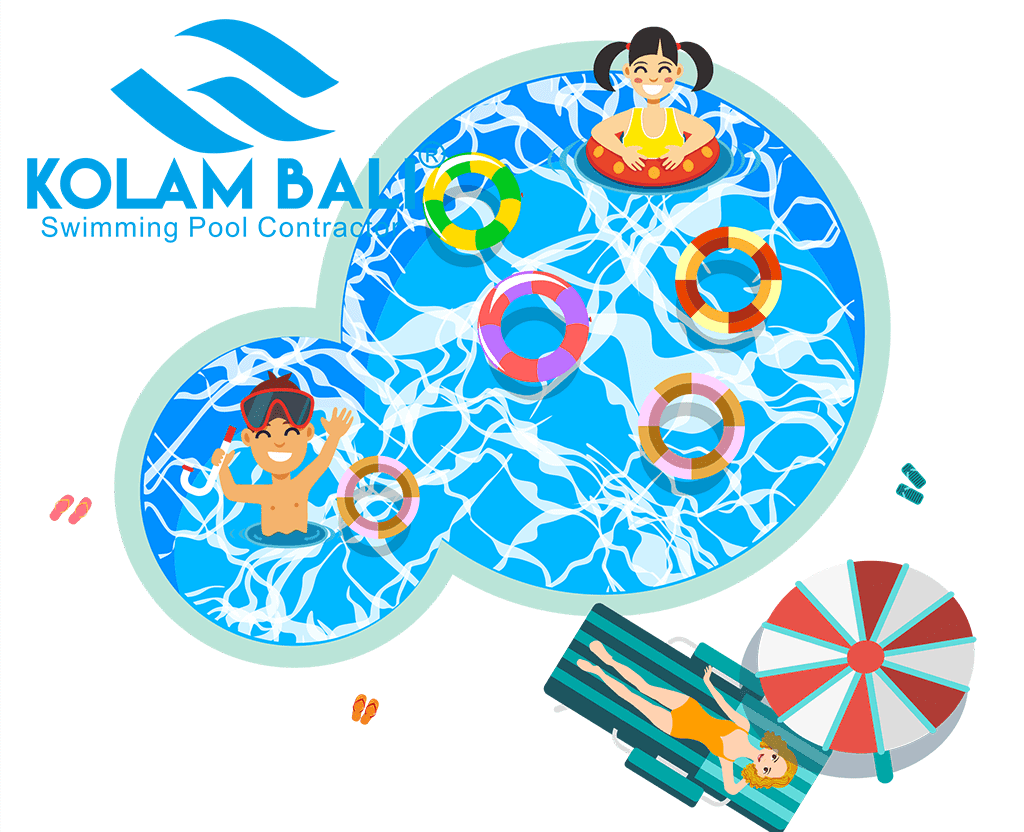 Dari sekian banyak kolam renang di Bali yang dirilis di sini, kita dibuat takjub dengan beragam konsepnya yang sungguh mengagumkan. Konsep kolam renang di ketinggian, kolam renang menghadap ke laut lepas, kolam renang di pinggir sungai, semuanya menyajikan pengalaman berenang yang menyenangkan, yang tentu menjadi pilihan untuk kita berlibur.
Tren infinity pool sebagaimana yang dirilis di sini, kini siapa pun dapat memilikinya. Membuatnya untuk kebutuhan pribadi, kolam renang untuk kebutuhan fasilitas hotel, kolam renang untuk villa, kolam renang wisata (water boom), semuanya dapat dikonsep sendiri sesuai keinginan dan dikonsultasikan melalui jasa kontraktor yang telah berpengalaman dan dipercaya menghadirkan kolam renang untuk segala macam konsep.
"Kolam Bali Swimming Pool Contractor" merupakan perusahaan penyedia jasa pembuatan Kolam Renang yang terdapat di Bali, yang layak dipercaya untuk mengerjakan pembuatan kolam renang anda. Anda dapat menghubungi KOLAMBALI untuk medapatkan info lebih detail.