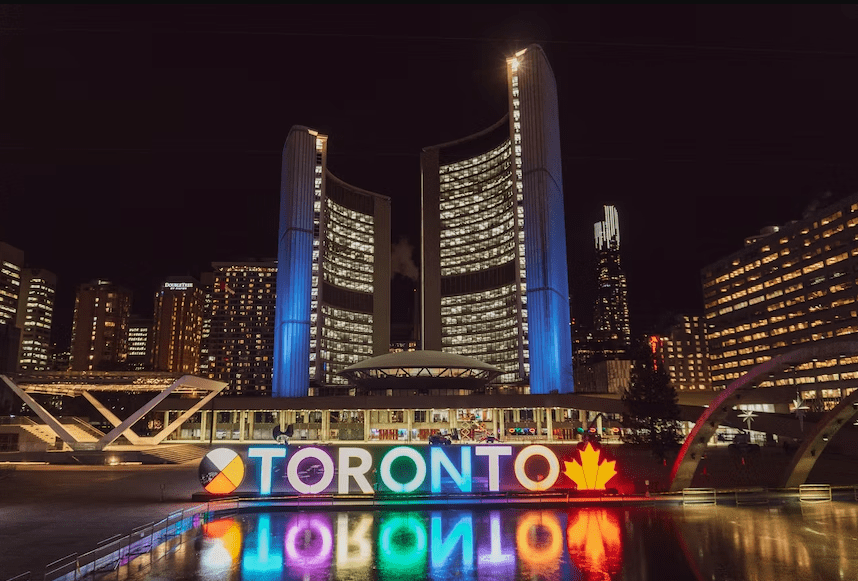 If you're looking for a vacation destination with a perfect blend of urban sophistication and natural beauty, Toronto is an excellent choice. Toronto, the provincial capital of Ontario, Canada, is known for its multicultural neighborhoods, stunning architecture, vibrant nightlife, and exciting tourist attractions. The city's enchanting beauty and captivating allure draw millions of tourists every year. In this blog post, we will explore some of Toronto's top tourist attractions that are worth visiting on your next vacation.
Tourist Attractions in Toronto: A Must-Visit Destination for Every Traveler
1. CN Tower
The CN Tower is the most iconic landmark in Toronto and one of the most recognizable structures in the world. Measuring 553 meters, it was once the tallest freestanding structure globally and an engineering marvel in its time. The tower features an observation deck with glass floors that give you a thrilling view of the city and Lake Ontario. The restaurant at the top, 360, is a revolving dining experience offering fine dining with breathtaking views.
2. Ripley's Aquarium of Canada
Explore the awe-inspiring world of marine life at the Ripley's Aquarium of Canada. With more than 16,000 aquatic animals on display, the aquarium is a fascinating attraction for all ages. Be sure to check out the impressive Dangerous Lagoon, where you'll find freshwater and saltwater fish swimming together among bamboo sharks, giant sea turtles, and a variety of rays.
3. Toronto Islands
The Toronto Islands are a group of small islands located off the coast of Toronto's downtown core. The islands feature stunning landscapes, beaches, and picnic areas perfect for family outings. You can also bike, kayak, or enjoy a leisurely stroll through the lush greenery. It's a great way to take a break from the hustle and bustle of the city and immerse yourself in nature.
4. Royal Ontario Museum
The Royal Ontario Museum (ROM) is a must-visit destination for history and art enthusiasts. The museum features a vast collection of over six million objects spanning art, culture, natural history, and science. Highlights of the museum include the dinosaur exhibit and the Discovery Gallery, where you can see rocks, minerals, and meteorites up close.
5. Art Gallery of Ontario
The Art Gallery of Ontario (AGO) is another attraction worth visiting in Toronto. The museum houses over 90,000 works of art, making it one of the most impressive art collections in North America. Some notable pieces in the collection include works by Canadian artists Tom Thomson and Emily Carr. The museum also features contemporary art exhibits that showcase innovative works by emerging artists from around the world.
6. High Park
High Park is a massive urban park in Toronto, spanning 400 acres and offering a variety of outdoor activities. Whether you're looking for a picnic area, hiking trails, playgrounds, or a serene environment to enjoy nature, High Park is an excellent choice. The park is also home to the High Park Zoo, a small animal sanctuary that is a favorite among kids.
7. St. Lawrence Market
A trip to Toronto is incomplete without visiting the St. Lawrence Market, a historic venue offering fresh produce, meats, and artisanal food. The market has been around since 1803 and is a hub of activity that attracts locals and tourists alike. Stop by the farmer's market section to sample some fresh produce, or browse the stalls selling baked goods, cheeses, seafood, and international cuisines.
8. Toronto Zoo
The Toronto Zoo is the largest zoo in Canada and one of the top-rated zoos in North America. The zoo features over 450 species from around the world and is a favorite among families. Highlights of the zoo include the Giant Panda Exhibit, the Africville exhibit, and the Tundra Trek, where you'll find polar bears, wolves, and Arctic foxes.
9. Distillery District
The Distillery District is a pedestrian-only area located in downtown Toronto and is an excellent place to explore unique architecture, boutiques, restaurants, and galleries. The district was once a distillery, and many of the original buildings still stand today, giving it a charming Victorian-era vibe.
10. Casa Loma
Casa Loma is a Gothic Revival-style castle built in the early 20th century and is a popular tourist attraction in Toronto. The castle features stunning architecture, beautiful gardens, and a fascinating history. Explore the secret passageways, stately rooms, and elegant ballrooms while learning about the castle's rich history.
11. Hockey Hall of Fame
For all the sports enthusiasts out there, no trip to Toronto is complete without a visit to the Hockey Hall of Fame. The museum celebrates the history and achievements of hockey players from around the world and features interactive exhibits, memorabilia, and the Stanley Cup.
12. Kensington Market
Kensington Market is a bustling neighborhood in Toronto that offers a unique blend of culture and creativity. The neighborhood is notorious for its vibrant street art, eclectic boutiques, and independent cafes. Take a leisurely stroll through the market to sample some delicious street food, browse the vintage shops and engage with the local community.
13. Queen's Park
Queen's Park is a lovely park located in downtown Toronto and is home to Ontario's legislative buildings. The park is a popular spot for picnics, walks, and jogging, with plenty of green space, trails, and fountains. Be sure to check out the impressive statue of Queen Victoria at the center of the park.
14. Ontario Science Centre
The Ontario Science Centre is a fascinating museum of science and technology that offers a hands-on experience for visitors of all ages. The museum features interactive exhibits that explore the human body, outer space, and the environment. The center also hosts regular workshops, shows, and special events that are sure to inspire curiosity and wonder.
15. Toronto City Hall
Toronto City Hall is an impressive piece of modern architecture that is as interesting on the outside as it is within. The building features a circular structure with two towers and hosts a range of events, exhibits, and cultural programs throughout the year. Be sure to check out the series of public artworks by Canadian artists when visiting the building.
In conclusion, Toronto is a city that offers a fascinating experience for every traveler. From picturesque neighborhoods to world-class museums, there is something for everyone in this vibrant city. Whether you're traveling solo or with family, be sure to add these must-visit destinations to your itinerary and make the most of your trip to Toronto!
Get Proof 2-4