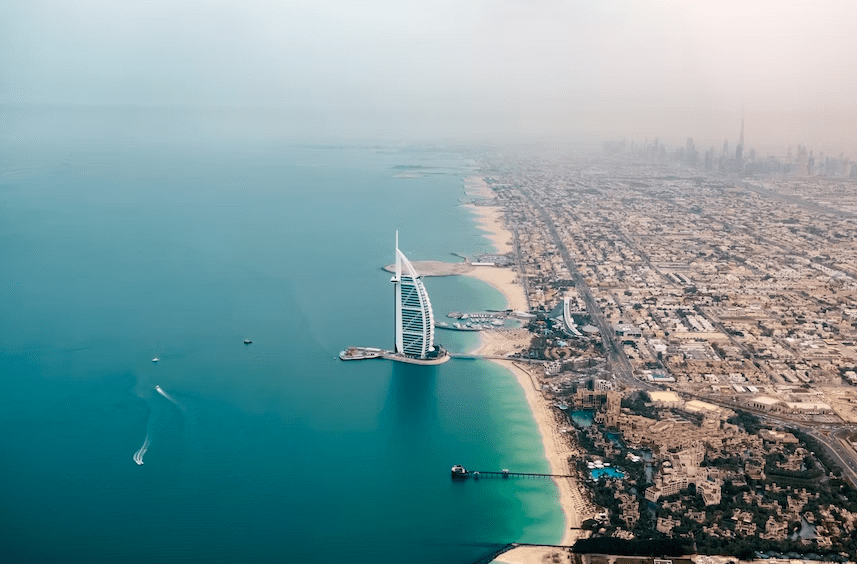 Dubai is a city that is known for its luxurious lifestyle and grandeur. It is a city that has something to offer for everyone, be it the breathtaking architecture, exotic beaches, luxurious shopping malls and boutiques, or the adventure sports like desert safari and skydiving. Dubai is a paradise for tourists, with a host of tourist attractions that leave one spellbound. In this blog, we will take you through the top tourist attractions in Dubai that are a must-visit.
Tourist Attractions in Dubai: Experience the Grandeur and Extravagance of the City
1. Burj Khalifa
Burj Khalifa is one of the most iconic landmarks in Dubai, and it is the tallest building in the world. It stands at a whopping height of 828 meters and has 163 floors. Visitors can reach the observation deck, which is located on the 124th floor, and enjoy the breathtaking panoramic view of the city.
2. Dubai Aquarium and Underwater Zoo
Dubai Aquarium and Underwater Zoo are located in the Dubai Mall, and together they are one of the world's most remarkable aquariums. This aquarium allows visitors to experience marine life up close, with over 33,000 marine animals and 140 species on display. The Underwater Zoo offers visitors a chance to interact with marine animals like penguins, otters, and crocodiles.
3. Dubai Miracle Garden
Dubai Miracle Garden is a flower garden that is a manmade marvel located in the heart of Dubai. The garden features over 45 million flowers, and visitors can take a stroll through themed gardens and creative structures made of flowers. The garden is open from November to May, and it is a sight to behold. It is personalized with a different theme every year.
4. Dubai Mall
Dubai Mall is the largest shopping mall in the world, and it is not just a mall, it is a destination in itself. It houses 1200 stores, a massive aquarium, an ice rink, and an indoor theme park. It is the perfect destination for shopaholics and families with kids.
5. Palm Jumeirah Island
Palm Jumeirah Island is an artificial island shaped like a palm tree that is one of Dubai's most thrilling attractions. It is home to some of the most luxurious hotels, beaches, and shopping malls and offers stunning views of the Arabian Gulf.
6. Dubai Fountain Show
Dubai Fountain Show is located outside the Dubai Mall and is an experience not to be missed. The fountain show is a choreographed water, light, and sound show that offers a fantastic and mesmerizing experience. Visitors can enjoy the show from the decks or from the restaurant terraces.
7. Ski Dubai
Ski Dubai is an indoor ski resort located in the Mall of Emirates, and it is a one-of-a-kind snow park in the desert. Visitors can ski, snowboard, and enjoy various snow activities like tobogganing and snowball fighting, and a lot more at minus degree Celsius temperatures inside.
8. Dubai Creek
Dubai Creek is a natural waterway that was once the center of trade and commerce in Dubai. Visitors can take a ride on the traditional water taxis called Abras to enjoy the beautiful views of the city and explore the traditional spice and gold souks of Dubai.
9. Global Village
Global Village is an open-air exhibition that combines shopping, dining, and entertainment from countries worldwide. It is located in the outskirts of the city and is open from November to April. This exhibition offers visitors a glimpse into the diverse cultures, cuisines, and artifacts from all around the world.
10. Dubai Museum
Dubai Museum is located in the Al Fahidi Fort and is one of the oldest buildings in Dubai. It offers visitors a glimpse into the rich cultural heritage of Dubai, with a collection of artifacts and exhibits that depict the history of the city graphically.
11. Dubai Opera
Dubai Opera is a world-famous opera house that has hosted some of the most extraordinary performances in the world. The opera house has become an iconic building of Dubai, and visitors can enjoy a variety of performances like opera, ballet, and music concerts.
12. Burj Al Arab
Burj Al Arab is the world's most luxurious hotel, and its iconic sail-shaped structure is synonymous with Dubai's grandeur. The hotel offers a 5-star experience with the most exceptional service in the world and an opportunity to dine at one of the world's best restaurants, Al Mahara.
13. Dubai Parks and Resorts
Dubai Parks and Resorts is located in the outskirts of the city and is one of the most popular theme parks in Dubai. It consists of three theme parks – Motiongate Dubai, Legoland, and Bollywood Parks, offering entertainment to all age groups.
14. Jumeirah Beach
Jumeirah Beach is a picture-perfect beach that stretches over seven kilometres and is one of Dubai's most famous beaches. Visitors can enjoy various water sports, swim in the crystal-clear waters, relax on the beach loungers, and enjoy the beautiful sunset views at the beach.
15. Dubai Frame
Dubai Frame is an architectural gem that is a testimony to Dubai's progress and growth. It is located in Zabeel Park and is a massive frame-shaped structure that offers visitors the best skyline views from the city. The frame is made of steel, and visitors can take an elevator up to the top of the frame, where they can enjoy spectacular views of the city.
Dubai is a city that offers a magical experience, and the tourist attractions in Dubai are a reflection of the grandeur and extravagance of the city. From the world's tallest building, Burj Khalifa, to the iconic Burj Al Arab, from the manmade marvel Dubai Miracle Garden to the natural beauty of Jumeirah Beach, Dubai has it all. It is a city that is worth visiting, experiencing, and exploring. If you have not visited Dubai yet, it is time to book your tickets and explore this magical city. You will undoubtedly fall in love with its high-end lifestyle and cultural heritage.