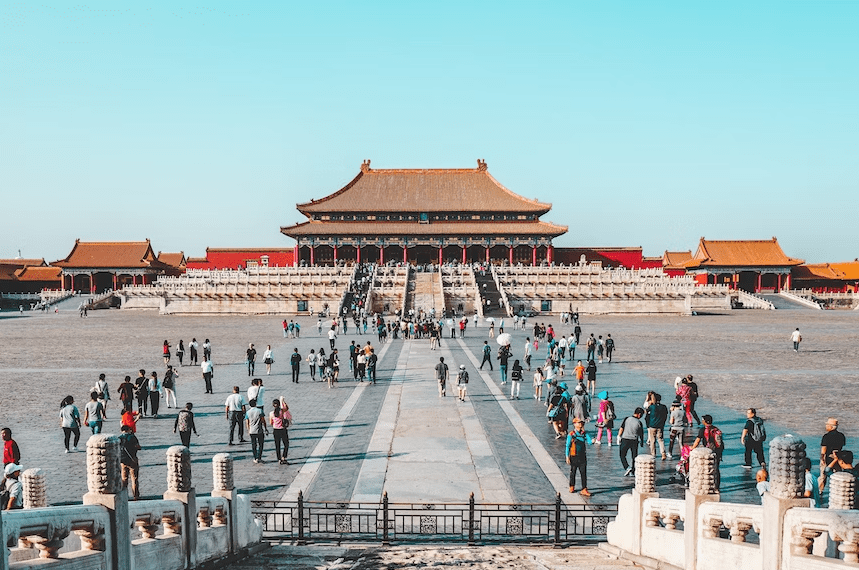 If you are looking for a travel destination full of culture, history, and a touch of adventure, look no further than China. With its breathtaking landscapes, ancient architecture, and unique gastronomy, China offers something for every type of traveler. Whether you are a history buff, a foodie, or a nature lover, this vibrant country promises an unforgettable experience. In this blog post, we will take you on a step-by-step journey through some of the most exciting tourist attractions in China.
Tourist Attractions in China: A Step-by-Step Guide to Discover the Wonders of the Far East
1. The Great Wall of China
The Great Wall of China is arguably one of the most iconic structures in the world, and it's no surprise that it is at the top of our list of tourist attractions in China. This ancient wall is over 13,000 miles long and took over 2,000 years to build. With its panoramic views and stunning vistas, it is no wonder that the Great Wall is considered one of the Seven Wonders of the World. The most popular sections to visit are Badaling and Mutianyu, but if you're looking for a more off-the-beaten-path experience, you might consider hiking the wild and un-restored sections of the wall that are less touristy.
2. The Forbidden City
The Forbidden City in Beijing, also known as the Palace Museum, is another must-see attraction. This impressive palace was home to the Ming and Qing dynasties for over 500 years and is now a UNESCO World Heritage Site. With over 9,000 rooms, 980 buildings, and a rich history, the Forbidden City is a testament to China's imperial past. Don't miss the chance to see the impressive Throne Hall and the stunning Imperial Garden.
3. Yangshuo
If you're looking for a more laidback side of China, Yangshuo is the perfect destination. This charming small town is located in Guangxi Province, nestled between karst hills and crystal-clear rivers. Visitors can ride a bamboo raft along the Yulong River, watch the locals fish with cormorants, or hike up to moon hill for a breathtaking panoramic view of the town below.
4. Terracotta Warriors
The Terracotta Warriors of Xi'an are a marvel that you cannot miss when visiting China. Discovered in 1974, this archeological site is a collection of over 8,000 life-sized warriors, horses, and chariots that were buried with the first emperor of China, Qin Shi Huang. Be amazed by the meticulous details of each figure and the grandeur of the entire scene. Tip: consider hiring a guide to learn more about the history of this remarkable place.
5. Giant Pandas
Who doesn't love pandas? Located in Sichuan Province, the Chengdu Research Base of Giant Panda Breeding gives visitors the chance to see these adorable creatures up close. The base houses over 100 pandas and is dedicated to breeding and conservation of these endangered species. If you're lucky, you might even be able to hold a baby panda.
6. Huangshan Mountain
Huangshan or Yellow Mountain is another natural wonder of China. Located in the Anhui Province, Huangshan is known for its picturesque peaks that seem to float on a sea of clouds and mist. With its stunning scenery and a rich history, it is no wonder that Huangshan is often called the most beautiful mountain in China. If you're seeking a more challenging trek, consider hiking through the scenic West Sea Canyon.
7. Zhangjiajie
Located in Hunan Province, Zhangjiajie is home to one of the most unique landscapes in China. Millions of years of erosion have created towering rock pillars, deep valleys, and stunning waterfalls. The area is also home to the world's longest glass bridge, which offers spectacular views of the surrounding mountains. Book a guided tour for a chance to explore the park's hidden pathways and experience the best of Zhangjiajie.
8. Li River
The Li River is one of the most famous rivers in China. It flows through Guilin and Yangshuo, so a popular way to experience its beauty is by taking a river cruise. As you float down the river, you'll be mesmerized by the majestic karst peaks and tranquil scenery that surrounds you.
9. The Summer Palace
Another must-see attraction in Beijing is the Summer Palace, an imperial garden that served as a retreat for emperors during the Qing Dynasty. The palace grounds cover over 700,000 square meters, including a large lake and multiple pavilions. Don't miss the chance to see the famed Marble Boat or take a walk along the iconic stone arch bridge.
10. Tibet
Located on the roof of the world, Tibet is a unique destination that offers a glimpse into a fascinating culture and a chance to see the sacred Mount Kailash. Visitors can also explore the stunning Potala Palace, Nakchu Horse Festival, and the colorful monasteries of Lhasa.
11. Beijing Hutongs
The Beijing Hutongs are a network of narrow alleyways lined with traditional courtyard houses. These unique streets offer a glimpse into the daily lives of Beijing locals and are a fascinating way to explore China's capital city. Book a guided tour or rent a bicycle to explore these charming neighborhoods.
12. The Bund
The Bund is Shanghai's most iconic waterfront promenade. It boasts stunning views of the Shanghai skyline and is home to some of the city's most famous landmarks. The pastel-colored buildings and elegant colonial architecture make for a perfect photo opportunity.
13. Qinghai Lake
Qinghai Lake is the largest saltwater lake in China and is located on the Tibetan Plateau. Visitors can take a scenic drive around the lake and explore the nearby grasslands and wetlands. Don't miss the chance to visit the Bird Island, a sanctuary for migratory birds.
14. Stroll around Chinese cities
Exploring the local cities in China is an experience in itself. Each city in China has something unique to offer, from street food in Chengdu to the shopping district in Shanghai. A trip to China would not be complete without exploring local markets, trying out street food, and interacting with locals.
15. Chinese Cuisine
Lastly, if you're a foodie, Chinese cuisine will not disappoint you. With its rich flavors, fresh ingredients, and diverse regional specialties, China has something to offer every palate. Sample famous dishes like Peking Duck, Dim Sum, or hot pot to name a few.
In conclusion, China is a vast and fascinating country that offers an endless array of sights, sounds, and experiences. Whether you're seeking natural beauty, rich history, or culinary delights, China promises an unforgettable journey. With so many amazing tourist attractions to choose from, this list is just the beginning of what you can discover in one of the world's most unique nations. So pack your bags, grab your passport, and get ready to explore the wonders of the Far East.