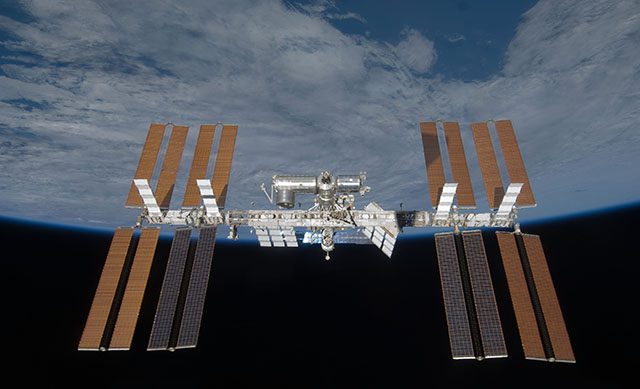 Stasiun Panel Surya Ruang Angkasa, Masa Depan Energi Terbarukan (Gambar: NASA.GOV)
Saat ini kita memulai era baru dimana kendaraan bermesin di masa depan akan menggunakan energi terbarukan sebagai pengganti bahan bakar fosil. Untuk menjawab tantangan tersebut, para ilmuwan di The European Space Agency punya ide untuk membangun stasiun panel surya ruang angkasa. Nantinya tenaga solar atau matahari tersebut dielektrifikasi dan dapat ditransfer ke bumi.
Ide yang lebih mirip cerita non-fiksi ini tengah merealisasikan ide ini dengan mencari pendanaan penelitian dan pengembangan ini. Melansir dari halaman Live Science (22 November 2020), pertimbangan seperti teknologi energi terbarukan, improvisasi dan rendahnya biaya menjadi alasan munculnya ide ini.
Alasan lainnya ialah pengisian tenaga matahari di bumi hanya bisa dilakukan ketika cuaca cerah, atau ketika musim panas tengah berlangsung. Sementara jika sudah berganti musim, hal tersebut jelas tidak bisa dilakukan.
Terlebih kebutuhan akan teknologi terbarukan semakin meningkat, yang diantaranya membutuhkan ide "radikal" untuk memenuhi kebutuhan tersebut di masa depan.
Stasiun Panel Surya Ruang Angkasa: Kronologi
Ide ini sebetulnya sudah ada sejak tahun 1920. Seorang ilmuwan Rusia –yang waktu itu bernama Uni Sovyet-, Konstantin Tsiolkovsky, adalah ilmuwan pertama yang mengemukakan ide ini.
Tepat satu abad kemudian atau saat ini, ide ini mulai direalisasikan. Logikanya adalah, matahari menyinari bumi secara penuh selama 24 jam. Jika stasiun tenaga matahari luar angkasa dibangun, maka ia akan menangkap energi dari sinar matahari tersebut secara penuh.
Atmosfer di bumi juga menyerap dan memantulkan kembali sebagian cahaya matahari. Sehingga stasiun pengisian di atas atmosfer tersebut dapat menghasilkan energi lebih banyak ketimbang panel solar di bumi.
Namun ada beberapa tantangan yang harus dilalui para ilmuwan dan pengembang untuk merealisasikan ide tersebut. Tantangan tersebut berupa bagaimana perancangannya, peluncurannya dan penerapan strukturnya.
Sebagai gambarannya, sebuah stasiun panel surya akan memiliki ukuran paling tidak 10 kilomter persegi. Setara dengan 1.400 lapangan sepakbola. Pengunaan bahan yang ringan juga harus dipertimbangkan mengingat nantinya tidak murahnya biaya peluncurannya ke ruang angkasa dengan roket.
Pengembangannya Sejauh Ini
Untuk  mengatasi kendala-kendala tersebut beberapa penelitian dan usulan sudah digelar oleh para ilmuwan diseluruh dunia.
California Institute of Technology (CIT) misalnya, pada tahun 2017 lalu mereka merilis desain sebuah stasiun tenaga modular dengan ribuan panel surya. Mereka juga mendemonstrasikan sebuah prototipe tersebut yang hanya memiliki berat sebesar 280 gram saja, yang setara dengan berat kartu.
Sedangkan ilmuwan di University of Liverpool, Inggris merilis bagaimana produksi panel bertegangan tinggi ke dalam layar surya menggunakan 3D printing. Terobosan ini sebetulnya cukup menjawab tantangan mengenai berat dan bobotnya.
Layar surya tersebut rencananya dapat dilipat, ringan dan sangat reflektif sehingga mampu memanfaatkan tekanan dari radiasi matahari. Fungsinya adalah untuk mendorong pesawat ruang angkasa tanpa bahan bakar.
Tantangan yang juga tidak kalah penting adalah bagaimana mentransmisikan tenaga dari ruang angkasa tersebut ke bumi. Japan Aerospace Exploration Agency merupakan lembaga yang memiliki penelitian ke arah itu.
Gambarannya adalah nantinya tenaga surya tersebut akan dikonversi menjadi gelombang energi. Nantinya gelombang energi tersebut akan dikirim menggunakan daya elektromagnetik untuk mentransfernya ke bumi. Gelombang tersebut lalu ditangkap antena di bumi dan dikonversi kembali menjadi listrik. Canggih ya?
Ide-ide tersebut nampaknya akan menjadi kenyataan. Baru-baru ini peneliti dari China telah mendesain sebuah sistem bernama "Omega", yang akan dirilis pada tahun 2050. Rencana stasiun panel surya ruang angkasa tersebut akan memiliki tenaga sebesar 2 Giga Watt yang nantinya ditransfer ke bumi. Kekuatannya setara dengan 6 juta panel surya di bumi. Wow!
Sumber:
Live Science