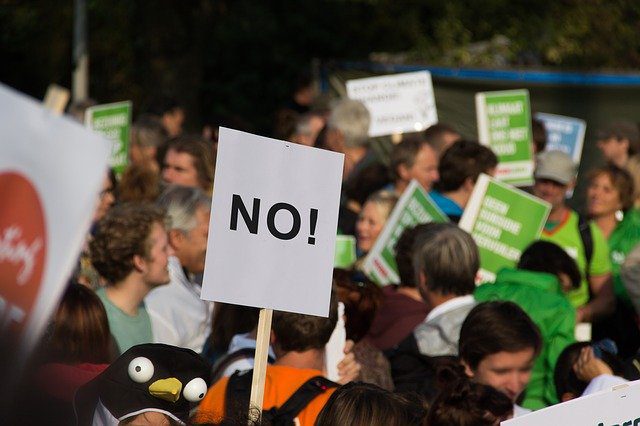 Mosi Tidak Percaya (Pixabay.com)
Sejak RUU Cipta Kerja atau Omnibus Law disahkan oleh anggota DPR pada tanggal 6 Oktober 2020 protes dari kalangan pekerja dan mahasiswa masih berlangsung. Muncul beberapa usulan seperti judicial review dan salah satunya adalah Mosi Tidak Percaya pun melayang kepada DPR.
Beberapa mahasiswa pun mencoba menggalang dukungan melalui #MosiTidakPercaya pada situs Change.org. Sejauh ini sudah mendapat dukungan sekitar 98.775 ketika tulisan ini diposting.
Mosi Tidak Percaya dinilai sebagian kalangan tepat mengingat kerja dewan parlementer yang sangat mengecewakan publik. Kekecewaan bertambah mengingat Omnibus Law sendiri mulai dari pembahasan sampai disahkan menjadi undang-undang penuh drama dalam waktu singkat. Bahkan draft UU-nya pun belum disampaikan ke publik.
Namun disisi lain kita mungkin harus mengetahui terlebih dahulu apa itu Mosi Tidak Percaya dan kaitannya dengan pemerintah. Harapannya tulisan ini dapat memberikan penjelasan tepat mengenai Mosi Tidak Percaya beserta fungsi dan kegunaannya, terutama kaitannya dengan politik.
Mosi Tidak Percaya: Konsep
Mosi Tidak Percaya dalam pemahaman secara global dikenal dengan istilah Motion of No Confidence. Secara literal arti mosi sendiri berarti hasil keputusan rapat (menurut Kamus Besar Bahasa Indonesia, KBBI), sehingga jika diartikan Mosi Tidak Percaya berarti keputusan untuk tidak mempercayai.
Secara umum Mosi Tidak Percaya adalah keputusan untuk tidak mempercayai program, konsep dan kerja pemerintah yang sebelumnya diakui dan dipilih secara demokratis. Artinya jika Mosi Tidak Percaya diajukan, maka pemerintah tidak lagi mendapat dukungan dalam menggelar politik apalagi pemerintahan.
Dalam prakteknya yang paling umum, Mosi ini diajukan oleh dewan parlemen untuk menunjukkan bahwa parlemen tidak lagi memercayai pemerintah. Kasarnya, diharapkan pemerintah yang ada untuk mengundurkan diri atau setidaknya Presiden atau Perdana Menteri dapat lengser dari jabatannya.
Cara atau mosi tersebut juga merupakan opsi yang sebetulnya cukup "lunak" dalam melengserkan Presiden dan Perdana Menteri. Ini dikarenakan komponen yang dibutuhkan tidak melibatkan massa. Cukup parlemen yang bergerak hal itu bisa dilakukan dengan suara mayoritas parlemen.
Saking lunaknya, ada Presiden atau Perdana Menteri yang mengundurkan diri terlebih dahulu sebelum pemungutan suara mosi ini di parlemen. Hal ini dikarenakan mosi ini tidak memakai kekerasan dalam pelengeserannya atau bisa dibilang "dipaksa secara halus".
Namun, Mosi ini bisa juga kita jumpai pada pemilihan ketua partai maupun komponen dasar politik seperti organisasi, kelompok swadaya bahkan klub sepakbola. Anda tahu saat ini Presiden Barcelona, Joan Laporta sedang menghadapi Mosi Tidak Percaya dari anggota klub?
Keputusan yang sepintas berbau politis ini bisa sangat bervariasi. Kenyataannya, di Indonesia saat ini Mosi Tidak Percaya justru ditujukan kepada anggota DPR, praktek yang sebetulnya jarang dalam sebuah negara. Namun secara demokrasi diperbolehkan tentu dengan syarat tertentu.
Bagaimana Prosesnya?
Saya tadi menjelaskan sedikit sebetulnya bagaimana Mosi Tidak Percaya ini berjalan. Namun seperti istilah ilmiah pada umumnya, dalam prakteknya tidak semudah apa yang ada dalam defenisi. Ada beberapa syarat meloloskan mosi ini. Dalam hal ini saya menjabarkan hal yang umum dilakukan dalam pengajuan Mosi Tidak Percaya. Bisa jadi prosesnya berbeda-beda di setiap negara.
Pertama adalah pengajuan mosi. Hal ini adalah hal yang paling mendasar dikarenakan kepentingannya. Biasanya proses ini bisa diusulkan oleh ketua atau anggota parlemen dengan melihat keinginan publik. Ya, keinginan publik atau rakyat adalah termasuk sentral dalam hal ini. Keinginan publik ini biasanya bisa dibaca dari lembaga survey independen.
Kedua, persetujuan untuk melakukan pemungutan suara. Pemungutan suara dilakukan hanya apabila Mosi Tidak Percaya disetujui oleh separuh dari anggota parlemen. Ingat, ini belum penentuan suara namun baru persetujuan.
Hal ini biasanya membutuhkan proses lebih lama dikarenakan sebelum mosi disetujui biasanya anggota parlemen akan diberi waktu untuk menjabarkan argumen yang tidak jarang mengarah kepada perdebatan serius. Setelah pengajuan dan jajak pendapat parlemen disetujui, maka mosi bisa dilakukan atau tidak.
Sebagai contoh tentang bagaimana Mosi Tidak Percaya berjalan di Australia, biasanya oposisi pemerintah diberi kesempatan terlebih dahulu selama 30 menit untuk membela diri. Begitu jjuga dengan Sang Perdana Menteri, baru setelah itu anggota parlemen yang lain (Melansir dari aph.gov.au).
Ketiga, pemungutan suara atas Mosi Tidak Percaya. Setelah mosi disetujui maka diadakanlah pemungutan suara. Perbedaannya adalah saat ini semua anggota parlemen harus menentukan suaranya dalam dua opsi. Opsi tersebut adalah "ya" dan "tidak". Sebagaimana halnya pemilu, suara yang terbanyaklah yang dapat disetujui.
Apabila opsi "ya" mendapat suara terbanyak, maka dewan parlemen berhak menyatakan bahwa suara mayoritas parlemen menyatakan Mosi Tidak Percaya ke pemerintah. Namun apabila hasilnya tidak, maka pemerintah harus tetap menghormati hasilnya.
Mosi Tidak Percaya: Negara Lain dan Tanah Air
Tidak ada data pasti apakah terdapat negara yang sering melakukan mosi ini. Namun jika berdasarkan pengelompokan negara, negara Persemakmuran Inggris (Commonwealth, seperti Australia, Kanada, Selandia Baru dan tentunya Inggris sendiri) mungkin adalah yang paling sering melakukan hal tersebut.
Mengapa saya mengatakan begitu? Hal ini dikarenakan di negara-negara tersebut biasanya dalam prakteknya pemimpin partai politiklah yang memegang jabatan Perdana Menteri. Uniknya juga, Mosi ini di negara-negara tersebut juga dalam beberapa kasus justru "dijatuhkan" partainya sendiri.
Australia adalah salah satu contoh bahwa Perdana Menteri bisa dijatuhkan hanya dari partai politiknya. Malcolm Turnbull (2015-2018) mendapatkan mosi ini beberapa tahun yang lalu dari partainya sendiri serta parlemen dan digantikan oleh Scott Morrison. Ketika banyak kebijakan Perdana Menteri dianggap berlawanan dengan garis program partai, maka dengan mudah anggotanya dapat mengajukan opsi tersebut.
Bagaimana dengan di Indonesia? Negara kita memang tidak mengatur secara khusus mengenai Mosi Tidak Percaya ini. Namun pada dasarnya hal itu bisa dilakukan jika belajar dari bagaimana Menteri Keuangan era Susilo Bambang Yudhoyono (SBY), Sri Mulyani diboikot oleh beberapa parpol di DPR pada tahun 2010. Waktu itu ia harus dicopot dari jabatannya akibat kasus Bank Century yang kontroversial.
Apa artinya, pada dasarnya hal tersebut bisa dilakukan jika memang itu dikehendaki oleh parlemen. Contoh diatas bukanlah seratus persen sama, namun prosesnya kurang lebih sama dengan pangajuan mosi tersebut.
DAFTAR PUSTAKA:
Parliament of Australia, Motions of No Confidence and Censure. https://www.aph.gov.au/About_Parliament/House_of_Representatives/Powers_practice_and_procedure/Practice7/HTML/Chapter9/Motions_of_no_confidence_and_censure. Diakses 13 Oktober 2020.