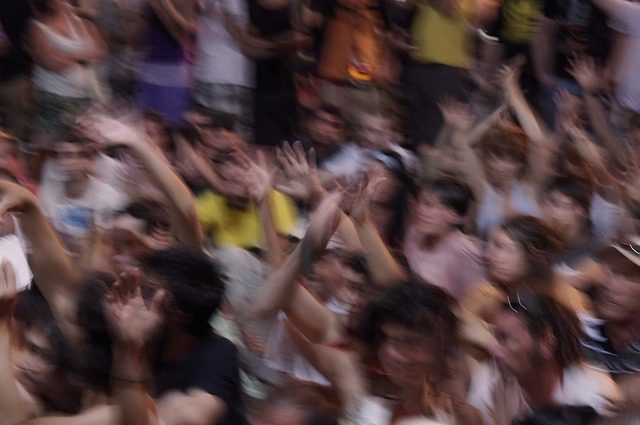 UU Cipta Kerja atau Omnibus Law jika dirunut dari kronologinya merupakan usulan Pakdhe Presiden untuk direvisi dengan klaim agar menciptakan nuansa usaha yang baik. Namun seperti yang sudah diketahui sebelumnya, Omnibus Law ini justru memicu gelombang demo pekerja. Omnibus Law dan demo pekerja adalah tema yang terus diperbincangkan sampai hari ini.
Pemerintah baik dari Menteri Perindustrian, Airlangga Hartarto, Menteri Ketenagakerjaan, Ida Fauziyah sampai Pakdhe Presiden menarasikan hal yang sama. Indonesia tengah butuh investasi di tengah pandemi Covid-19, sementara gelombang pengangguran naik.
Asumsi pemerintah adalah revisi UU Omnibus Law diharapkan bisa mendorong pembukaan lapangan pekerjaan baru dengan regulasi yang disederhanakan.
Namun kenyataannya banyak pasal dihapus dan "diselipkan" beberapa poin baru yang dinilai banyak kalangan lebih menguntungkan elit. Mahasiswa pun tidak tinggal diam dengan mengajukan Mosi Tidak Percaya kepada Pemerintah via petisi di Change.org.
Belakangan ada beberapa investor asing yang juga tidak setuju atas beberapa poin Omnibus Law. Mereka melihat bahwa Omnibus Law kurang memperhatikan masalah lingkungan dan kemanusiaan disisi lain. Kedua isu itu kebetulan juga menjadi sensitif akhir-akhir ini di luar negeri. Bukti bahwa investor juga "melek" lingkungan dan kemanusiaan.
Omnibus Law dan Demo Pekerja: Kronologi
Omnibus Law hanya mengulangi kejadian sebelumnya saat mahasiswa protes mengenai RUU KPK yang sama kontroversialnya. Hanya saja saat ini demo yang dilakukan tergolong skala yang lebih besar lagi dikarenakan elemen mahasiswa dan buruh bersatu dalam paduan melodi.
Sorot utama saya dalam hal ini adalah bagaimana cara pemerintah mengkomunikasikan Omnibus Law ini selama ini. Munculnya demo pekerja saat ini bisa dibilang ada masalah bukan hanya di peraturan, namun juga bagaimana pemerintah menyeleksi suara dalam Omnibus Law.
UU Omnibus Law sejak awal pembahasan banyak dikritik dikarenakan tidak sesuai dengan prosedur yang berlaku. Misalnya ketika draft RUU Cipta Kerja ini sebelum diunggah ke publik di bulan Februari 2020 sudah ada kritik.
Pembahasannya terkesan tertutup dan tidak melibatkan unsur buruh. Bahkan ada laporan yang masuk ke Ombudsman RI bahwa anggota satgas menandatangani surat yang berisi bahwa anggota dilarang mempublikasikan draft RUU Cipta Kerja ini ke publik.
Setelah draft RUU Cipta Kerja ini dipublikasikan, polemik bertambah santer lantaran tulisan draft memuat ketentuan yang dinilai sembarangan. Salah satunya adalah kewenangan Pemerintah Pusat yang dapat mengubah undang-undang di Pasal 170.
RUU Cipta kerja ini juga diprotes oleh jurnalis di bulan yang sama. Aliansi Jurnalis Independen mengajukan protes lantaran selain tidak melibatkan pers dalam pembahasan, sejumlah peraturannya dalam UU Pers dalam Omnibus Law dinilai merugikan pers. Pada akhirnya UU Pers dikeluarkan dari Omnibus Law walaupun AJI tetap menganggap Omnibus Law tetap bermasalah bagi pekerja media.
Dari Demo sampai Endorse Influencer
Dari bulan Maret sampai Agustus 2020, gelombang protes masih berlangsung. Utamanya digerakkan oleh organisasi pekerja yang juga diikuti oleh mahasiswa. Artinya kita sudah bisa melihat bahwa gelombang demonstrasi pekerja adalah suatu pertanda tidak beresnya cara pemerintah mengkomunikasikan Omnibus Law dari awal sampai pucuk pembahasan.
Bahkan entah apa yang dipikirkan pemerintah kala itu, mereka mengundang sejumlah influencer untuk mempromosikan RUU Cipta Kerja ini. Kalau menurut saya sih, ini adalah cara pemerintah untuk membungkam kritik publik. Ini dikarenakan Influencer rata-rata bergerak pada sektor hiburan ketimbang politik.
Para Influencer ini pada akhirnya justru dijatuhkan netizen kita sendiri yang memang kritis, kalau tidak mau dibilang kedjam. Sekali lagi, Pemerintah gagal dalam berkomunikasi soal Omnibus Law.
Terakhir draft UU yang saat ini disahkan belum keluar draft aslinya. Walhasil draft UU Omnibus Law ini jelas bermasalah, logikanya adalah bagaimana mungkin sebuah peraturan disahkan sedangkan kita justru tidak tahu?
Omnibus Law bagaimanapun adalah suatu hukum yang mengikat, dimana nantinya aturan turunannya menjadi vital untuk dilaksanakan. Jika suatu hukum saja masih diragukan, maka aturan yang nantinya diturunkan dalam prakteknya bisa dipastikan hanya menguatkan struktur tertentu. Mengapa? Karena hukum tersebut hanya menguntungkan salah satu pihak saja, tidak secara keseluruhan terakomodir.
Strukturasi Politis
Anthony Giddens, seorang pakar sosiologi menyebutkan bahwa pada dasarnya manusia adalah free agent yang menginginkan kebebasan. Namun disisi lain manusia juga membutuhkan keterikatan sosial. Sisi berlawanan ini bisa kita jumpai dalam kehidupan sehari-hari dimana manusia selalu punya waktunya sendiri dan kapan harus bergerak dengan orang lain (Giddens, 1984:5).
Strukturasi menjadi kunci dalam pembahasan Omnibus Law ini dimana ia memiliki peran untuk memproduksi sistem sosial yang nantinya muncul dari sebuah aturan dalam struktur (disarikan dari Giddens 1984:25).
Jika melihat kronologi tadi, maka jelas struktur lebih banyak dilakukan untuk menekan buruh meskipun buruh diberikan suara. Mengapa? Karena dengan pekerja yang demo berulang kali maka artinya masih ada hal yang lain yang tidak diindahkan oleh DPR dan Pemerintah.
Salah ketik draft, mengundang influencer untuk promosi sampai draft RUU yang belum keluar namun sudah disahkan adalah sederet masalah tanpa konklusi dan menambah ketidakpastian, alih-alih meyakinkan publik. Akumulasi yang berulang itulah mengapa pekerja terus melakukan demonstrasi dan tidak berhenti sampai hari ini.
Jika pemerintah memang ingin membantu masyarakat seharusnya suara pekerja adalah yang didahulukan saat ini. Mereka adalah korban pertama penerapan Omnibus Law jika memang nantinya diturunkan. Judicial Review bukanlah jawaban tepat meski dibutuhkan.
Seharusnya pemerintah sadar bahwa penolakan publik adalah bentuk komunikasi aktif masyarakat atas ketidakpuasan pekerja dan menerimanya sebagai masukan yang lalu dilaksanakan. Bukan lalu ditolak dengan alasan hoax, disinformasi apalagi curiga atas oknum tertentu. Bukankah setiap demo berlangsung pemerintah saat ini sudah sering menggunakan alasan tersebut dan selalu mengklaim tahu siapa saja dalangnya? Fokus pemerintah dalam menyanggupi pekerja adalah hal utama yang harusnya dijawab.
DAFTAR PUSTAKA
Giddens, Anthony. (1984). Theory of Structuration: Outline of the Theory of Structuration. Cambridge:Polity Press.