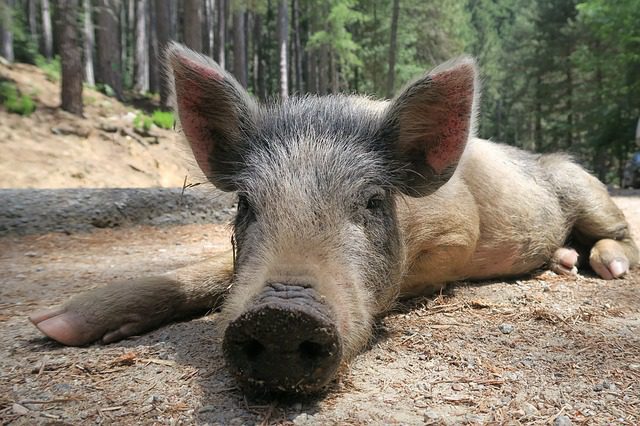 "Babi Ngepet" dan Bagaimana Kecemburuan Sosial Menggerakkan Mitos (Gambar: Pixabay/bertomic)
Awal bulan Mei ini kita dikejutkan dengan adanya berita media seputar penangkapan seekor babi berwarna hitam yang ditangkap warga di daerah Depok. Babi tersebut dilabeli babi jadi-jadian a.k.a "babi ngepet" oleh yang menangkapnya lantaran kabarnya merupakan sosok manusia yang berubah menjadi babi. Sontak babi tersebut ditangkap dan disembelih untuk membuktikan apakah benar babi tersebut adalah manusia, yang kenyataannya tidak terbukti.
Belakangan ada juga seorang warga yang mengaku telah kehilangan sejumlah uang jutaan rupiah dan menuduh warga lainnya ada di balik babi ngepet tersebut. Dugaan warga yang semakin menguat lantaran warga yang dituduh tidak memiliki pekerjaan yang jelas. Skenario yang nampak semakin rumit ini akhirnya menemui titik terang. Singkat cerita polisi melakukan penyelidikan dilakukan dan terbongkar skenario menyesatkan.
Ustadz yang pertama kali membeberkan cerita tersebutlah yang justru membuat skenario tersebut dengan dalih untuk menguatkan iman masyarakat sekitar. Bahkan babi tersebut ia beli dari pecinta hewan untuk menyempurnakan cerita tersebut. Warga yang tadinya menuduh warga lain pun meminta maaf setelah kejadian tersebut. Ironisnya adalah hal ini terjadi melibatkan aktor intelektual dan mitos tersebut bergerak seolah menjadi nyata.
Ada Struktur Kuasa yang Berperan
Bagi saya kasus ini menarik bukan karena babi yang ditangkap merupakan babi "jadi-jadian", tetapi adalah narasinya yang menarik. Dari kesemua saksi tersebut ada seorang pemuka agama (ustadz) yang membuat semua skenario tersebut menjadi nyata bak film The Da Vinci Code yang pelakunya ternyata sejarawan terkemuka. Ia justru membantu tokoh protagonis memecahkan misteri cawan suci yang sebetulnya ia rancang untuk kepentingannya sendiri.
Saya bahkan tidak habis berpikir, nekat sekali ustadz tersebut sampai membeli babi dengan harga 900 ribuan untuk menyempurnakan ceritanya tersebut. Lalu membuat sebuah pernyataan retoris yang cukup untuk meyakinkan masyarakat. Ia dengan meyakinkan menyebut bahwa babi tersebut sebelumnya merupakan manusia yang berubah wujud menjadi babi. Itu saja banyak yang percaya ucapan ustadz tersebut sampai diamini oleh warga lain yang kehilangan uang.
Mengenai bagaimana skenario tersebut bisa bergerak, mempengaruhi sampai terjadinya aksi tersebut mungkin kita harus melihat dari sudut pandang struktur sosial yang ada. Anthony Giddens (1986), seorang pakar sosial menyatakan dalam bukunya "The Constitution of Society: Outline of the Theory of Structuration" bahwa dalam struktur sosial terdapat tiga elemen yang mengikat masyarakat yaitu signifikansi (penanda), dominasi dan legitimasi. Ketiganya membentuk struktur sosial yang ada dengan peraturan yang diterjemahkan dan mempengaruhi dalam kehidupan sosial (Giddens, 1986:31).
Peran Otoritas dalam Struktur Sosial
Setiap struktur sosial menurut Giddens sudah pasti memiliki makna dan implementasi gerakan yang menaunginya. Hal ini biasanya ditandai dengan bergeraknya agen dan struktur yang ada di lingkungannya. Hal inilah yang bisa disebut sebagai signifikansi, yaitu penandaan otoritas. Otoritas inilah yang lalu menilai dan memberi aba-aba akan suatu kejadian yang tidak biasa dan sesuai dengan kepentingannya yang diterjemahkan melalui interpretasi dalam komunikasi.
Dalam hal kasus babi ngepet ini adalah sumber otoritatif keagamaan sebagai agent active-nya. Ia yang mengarahkan struktur untuk bergerak, berkomunikasi dan menetapkan aturan. Sang agen mungkin melihat adanya suatu kesempatan untuk bertindak dengan mobilitas dan menanamkan pemahaman tentang paham keagamaan, termasuk diantaranya hal-hal berbau mistis. Ia juga menarasikan dalam komunikasinya berupa norma dan sanksi terhdap perilaku yang dianggap menyimpang. Hal ini lalu mengarah pada legitimasi dan dominasi untuk menggerakkan struktur lebih jauh dan menjadi kebiasaan baik dari segi norma dan cara berpikir.
Hal inilah yang mungkin menjadi suatu kebiasaan di masyarakat bahwa babi ngepet merupakan fenomena magis yang dianggap biasa di masyarakat. Artinya menyalahkan orang lain dalam suatu struktur disadari atau tidak merupakan bentuk legitimasi dan dominasi dari aturan yang ada di masyarakat. Hal ini sudah tertanam dalam kebiasaan sehari-hari termasuk kebiasaan berpikir.
Namun bagaimana hal tersebut dapat memengaruhi pemikiran sehari-hari?  Posisi sosial bisa jadi merupakan hal yang mempengaruhi dalam hal ini. Posisi sosial diasosiasikan sebagai titik pertemuan antara signifikansi, dominasi, dan legitimasi beragam agen. Sebuah posisi sosial dapat mendefenisikan identitas ke dalam jaringan sosial yang ada (Giddens, 1986:83).
Nilai Sebuah Posisi
Jika dilihat dari segi posisinya, seorang ustadz merupakan salah satu tokoh yang selalu dipandang alim dan kedalaman ilmunya dapat diandalkan oleh masyarakat. Oleh karena itulah dalam beberapa hal sebagai active agent, perkataan seorang ustadz akan diikuti dan menjadi standar aksi sosial. Lazimnya biasanya seorang ustadz juga ikut mengawal pergerakan etis masyarakat.
Namun dalam perjalanannya, keputusan seorang ustadz saat ini juga dipengaruhi oleh banyak faktor seperti politik dan sosial kemasyarakatan. Hal inilah yang membuat pergerakan seorang ustadz bisa lebih leluasa untuk menggabungkan berbagai konteks. Tujuannya yaitu untuk membuat aturan dimana hal tersebut ditaati dan disepakati bersama dengan masyarakat secara etis. Dalam hal ini termasuk dengan cara yang meyakinkan nan manipulatif.
Bahkan saat ini masih banyak masyarakat yang memukul rata keahlian seorang ustadz beserta mazhab yang diikutinya. Hal inilah yang membuat di satu sisi masyarakat "keblinger", kalau tidak mau dikatakan telah ditipu. Babi ngepet merupakan mitos yang tepat untuk mendudukkan tatanan sosial yang memapankan struktur masyarakat, bahkan agen sosialnya.
Babi Ngepet ada Karena Kecemburuan Sosial?
Mitos babi ngepet jika ditinjau dari segi "mistiknya" sendiri sebetulnya tidak jauh dari bentuk fenomena pesugihan lainnya. Penggunaan tuyul, tali pocong atau bahkan jimat misalnya erat kaitannya dengan kekayaan secara instan dan supranatural. Namun, khusus untuk babi ngepet ini memiliki sejumlah perbedaan baik dari segi bentuk dan kemunculannya.
Pertama, babi ngepet merupakan bentuk pesugihan satu-satunya yang mengandalkan binatang sebagai mediumnya. Dalam masyarakat di pulau Jawa pada umumnya, babi identik sekali dengan binatang yang jorok, liar, haram untuk dimakan dan jarang ditemui. Jika ditilik dari tatanan kesepakatan sosial masyarakat kita, binatang ini tidak ubahnya seperti pertanda sial dan hama bagi masyarakat agrikultural. Kesan umum tersebutlah yang membuat babi menjadi salah satu hewan yang disalahkan atas berbagai kondisi sosial dan pada akhirnya dihubungkan dengan hal mistik seperti halnya kucing berwarna hitam.
Namun jika ditilik dari kemunculannya, mitos babi ngepet ini agak berbeda dengan jenis "pesugihan" lain yang biasanya muncul tiba-tiba. Ia muncul ketika jurang permasalahan sosial semakin meninggi antara kaya dan miskin di masyarakat perkotaan. Hal ini yang membedakan dengan mitos pesugihan lainnya yang cenderung bergerak di pedesaan dan bersifat tiba-tiba.
Anda mungkin masih ingat kasus penggandaan uang yang dilakukan oleh Dimas Kanjeng. Target sasarannya adalah jelas yaitu masyarakat yang tua dari segi umur dan tinggal di daerah-daerah Jawa Timur yang sebagian besar adalah lahan pertanian. Sedangkan untuk mitos babi ngepet ini agak lain, kejadiannya di perkotaan. Meskipun tidak selalu diliput media, mitos ini selalu bergerak di masyarakat pekerja utamanya jika dilingkungannya terdapat kesenjangan sosial.
Media sebagai Pelindung Mitos Babi Ngepet
Saya masih ingat ketika di medio 2000-an banyak sinetron kala itu menampilkan cerita mengenai babi ngepet tersebut. Isi skenario opera sabun tersebut tidak jauh berbeda dengan mitos yang beredar di masyarakat saat ini. Ada manusia yang berubah wujud menjadi babi dan menggoyangkan badannya serta menembus rumah orang kaya. Tujuannya untuk mendapatkan rupiah dan emas yang didapat dengan cara instan, amat mudah dan ghoib. Siapa musuh babi ngepet sekaligus pahlawan dalam sinetron tersebut? Siapa lagi kalau bukan ustadz alim dengan doa-doa makbulnya.
Ironisnya adalah waktu itu sinetron tersebut justru ditayangkan oleh Televisi Pendidikan Indonesia (TPI) yang sekarang sudah berubah menjadi MNCTV. Ya anda tidak salah, televisi pendidikanlah yang justru mengenalkan mitos ini secara lebih luas. Saya tidak bisa bayangkan kalau sinetron sejenis tayang di TVRI ketika adik-adik kita sedang belajar di rumah. Bisa geger dunia pendidikan kalau itu terjadi.
Sinetron "Babi Ngepet" waktu itu hadir dengan beberapa seri cerita yang berbeda. Sayang sekali saya lupa apa judul sinteron tersebut. Tapi dari segi waktu, kondisi sosial dan kepopulerannya waktu itu terdapat beberapa kemiripan dengan yang saat ini terjadi.
Kala itu kondisi masyarakat kita masih begitu terdampak akibat perubahan ekonomi yang labil dari tahun 1998. Masih ada sebagian masyarakat kita kala itu yang menyalahkan pihak lain yang memiliki pendapatan lebih di tengah pendapatan masyarakat umum yang lebih minim. Hal ini dialami oleh kelas pekerja bawah maupun menengah.
Konteks Mitos Babi Ngepet Saat Ini
Bagaimana dengan saat ini? Situasinya bisa dikatakan mendukung skenario tersebut. Pagebluk Covid-19 sudah terbukti membuat jurang pemisah antara kaya dan miskin semakin melebar. Ekonomi yang selalu diklaim pemerintah membaik, tak begitu signifikan terlihat jika melihat ekonomi masyarakat perkotaan.
Hal inilah yang membuat sebagian masyarakat curiga dengan orang kaya atau berkecukupan. Lebih-lebih jika orang tersebut tidak jelas pekerjaannya namun memiliki materi yang kontras dengan masyarakat sekitarnya.
Korbannya pun sama, yaitu masyarakat kelas pekerja dari segala segmen industri. Babi ngepet kembali disalahkan atas kondisi sosial dengan maksud untuk menjadi penjelas sesuatu yang tidak pasti. Satu yang membedakan mitos "Babi Ngepet" hari ini adalah pahlawannya adalah polisi dan tersangkanya justru seorang ustadz. Fakta ironis tersebut sangat berkebalikan dengan sinetron babi ngepet yang saya lihat pada tahun 2000-an.
Kesimpulan
Babi Ngepet merupakan salah satu fenomena penanda adanya kuasa sosial yang bergerak atas ketidakpuasan pribadi dan tidak segan melibatkan struktur sosial untuk legitimasinya. Nilai ekonomi sangat berpengaruh di dalamnya dalam hal kesenjangan sosial kaya-miskin. Dalam masyarakat perkotaan mitos tersebut bergerak untuk kepentingan pribadi si pembuat ceritanya, alih-alih warga yang dituduh. Melibatkan nilai otoritatif keagamaan yang dilakukan oleh agent active adalah kunci mengapa kecemburuan sosial dapat menggerakkan mitos tampak nyata meski faktanya sangat manipulatif.