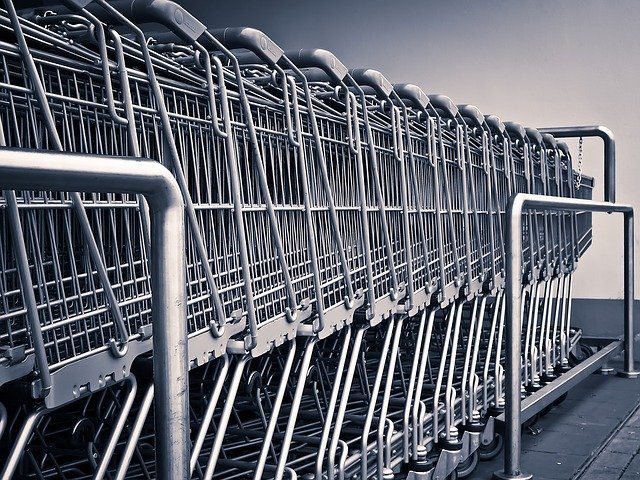 7 Pola Konsumsi selama Pandemi: Bukan Hanya Makan-Makan (sumber: Pixabay.com)
Masih ingat panic buying yang terjadi di Bulan Maret 2020? Masker habis di pasaran, sayur, obat bahkan kebutuhan rumah tangga habis di beberapa tempat disaat bersamaan. Bersamaan dengan itu, pandemi Covid-19 mulai melanda Indonesia. Pola konsumsi di saat pandemi menjadi layak untuk diperbincangkan.
Saya pun menaruh rasa curiga mendalam ketika vitamin C1000 miligram dari segala merk habis di pasaran. Bagaimana mungkin vitamin yang tadinya jarang orang membelinya bisa habis dalam waktu singkat? Saya biasa membelinya lebih dikarenakan untuk menjaga badan biar tidak ambruk. Saya gampang sekali kena flu, radang tenggorokan dan kawan-kawannya seperti demam yang menyiksa seperti di padang pasir.
Pada akhirnya saya mendapatkan vitamin itu ketika hari kedua saya mencarinya di sebuah apotek. Itupun saya hanya boleh membelinya satu kardus isi lima bungkus, tidak boleh lebih. Sepertinya pemilik toko tahu vitamin itu berharga di saat seperti ini dan berusaha membatasinya dari orang-orang yang pragmatis soal kesehatan.
Belakangan hal semacam itu sudah tidak terjadi. Namun bisa jadi ketika pandemi ini berlangsung, pola konsumsi kebutuhan masyarakat sudah berubah. Hal ini bisa dilihat dari kasus saya diatas. Rasanya produk kesehatan sekarang punya tempat tersendiri dalam rantai kebutuhan primer.
7 Pola Konsumsi saat Pandemi: Riset
Memang bagi sebagian orang, Pandemi Covid-19 membuat kita lebih berhati-hati mengeluarkan dan membelanjakan uang. Ini dikarenakan pendapatan yang berkurang di saat pandemi, terutama ketika ada negara yang mewajibkan kebijakan lockdown. India misalnya, menurut penelitian Mehta dkk (2020) menyatakan sebanyak 76% responden mengaku berhati-hati dalam mengeluarkan uang.
Namun realitanya sangat berbeda ketika bergeser kepada pola konsumsinya sendiri. Kenyataannya dalam penelitian itu juga mengungkap pola baru konsumsi selama pandemi, yaitu meliputi edukasi, makanan segar, kesehatan, koneksi internet, asuransi dan produk rumahan (diringkas dari Mehta dkk, 2020:294).
Bagaimana dengan di Indonesia? Tidak jauh berbeda. Berikut 7 Pola Konsumsi saat Pandemi yang saya dapat dari berbagai sumber:
Makan-Makan di Rumah
Kita mulai dari yang enak-enak terlebih dahulu. Kenyataannya sektor kuliner (restoran) merupakan salah satu sektor yang juga berkurang pendapatannya selama pandemi (Mehta, 2020:294). Pengeluaran di bidang ini memang banyak berkurang, namun tidak dengan pola konsumsi di rumah.
Kenyataannya berdasarkan penelitian lembaga Nielsen di Indonesia, selama 7-10 Maret 2020 pola memasak di rumah meningkat 49% (Riset Nielsen, 14 April 2020). Apa artinya? Artinya pola konsumsi masyarakat justru telah bergeser dari yang tadinya konsumsi di luar rumah menjadi di dalam rumah.
Tidak hanya itu, pola konsumsi di rumah ini juga membuat pola makanannya berubah. Permintaan akan sayur, telur dan daging selama pandemi juga meningkat bervariasi antara 8 sampai 25 % selama pandemi (Riset Nielsen, 14 April 2020).
Artinya saat ini walaupun masyarakat cenderung berhati-hati dalam mengeluarkan pengeluaran, namun konsumsi domestik justru meningkat demi efisiensi budget yang tidak perlu. Makan di luar rumah dinilai lebih mahal daripada membuat sendiri, sehingga pola konsumsi dalam rumah meningkat. Selain itu makanan rumah dinilai lebih sehat daripada makanan di luar sehingga konsumsinya juga naik di tengah pandemi Covid-19 ini.
Beli Obat dan Vitamin Apapun Itu
Salah satu isu hangat konsumsi selama pandemi adalah produk kesehatan yang menjamur. Mulai dari vitamin, suplemen obat sampai produk kesehatan untuk penyakit apapun itu. Salah satu alasannya adalah belum adanya vaksin Covid-19 yang tersedia di pasaran, membuat orang mau tidak mau harus stok obat minimal untuk jaga badan atau imun tubuh.
Melansir dari lembaga amal di Skotlandia, Crew.Scot. menyatakan bahwa 57.3% dari 300 responden di Eropa menggunakan obat-obatan lebih sering daripada sebelum pandemi. Ini disebabkan oleh kecemasan, stres dan kebosanan selama pandemi.
Jika mendasarkan riset diatas, sebetulnya lebih merujuk pada obat anti depresan, obat penenang atau semacamnya. Dalam penelitian itu, variabel alkohol juga dimasukkan sebagai indikatornya. Alkohol memang bisa dimasukkan dalam kategori anti depresan. Lalu bagaimana dengan vitamin atau suplemen?
Penelitian lembaga konsultan ilmu pengetahuan asal Inggris, L.E.K mencatat dalam penelitiannya terdapat kenaikan permintaan akan vitamin, mineral dan suplemen. Kebanyaka vitamin yang dicari adalah vitamin C dan vitamin D yang memang mendukung sistem imun (Evans dkk, 1 Mei 2020).
Permintaan akan obat dan vitamin artinya sama-sama meningkat di tengah pandemi. Jelasnya kebutuhan agar badan tidak stres dan supaya sistem imun tetap terjaga berkorelasi dengan permintaan akan keduanya yang meningkat. Ini juga menjelaskan mengapa saat ini banyak produk kesehatan diiklankan dan dicari. Menjadikannya salah satu dari 7 Pola Konsumsi saat Pandemi yang paling krusial untuk saat ini.
Kuota Internet is Everything
Semua pasti sepakat bahwa selama pandemi anda mengeluarkan biaya banyak pada kuota internet untuk apapun juga. Mulai dari anak sekolah sampai guru, semuanya butuh kuota internet demi pembelajaran online yang berjalan selama pandemi.
Menurut data yang dihimpun dari Comscore.com, penggunaan data untuk internet selama bulan Maret kemarin meningkat 18% jika dibandingkan pada bulan Maret 2019. Lumayan signifikan dan data tersebut diambil dari penutupan sekolah di Amerika Serikat.
Namun data mengejutkan justru datang dari penggunaan data gadget selama pandemi. Comscore.com mencatat bahwa penggunaan data pada gadget meningkat sangat signifikan di angka 53%. Angka yang sebetulnya tidak mengejutkan jika digunakan untuk penggunaan dalam rumah, sementara kondisi di sekitarnya terisolasi alias lockdown.
Hal itu belum ditambah borosnya pengeluaran penggunaan data internet pada tablet. Data dari Comscore mencatat penggunaannya meningkat menjadi 33% jika dibandingkan bulan Maret 2019. Dengan kata lain, penggunaan perangkat digital juga terpengaruh dengan adanya penggunaan kuota internet.
Informasi di Check Berkali-kali
Meskipun negara kita tidak memberlakukan lockdown secara ketat, namun tetap saja konsumsi informasi mengenai Covid-19 meningkat juga. Kalau ini bisa dikatakan wajar mengingat para peneliti saja masih banyak mengetahui seluk beluk virus ini, apalagi masyarakat yang juga ingin tahu.
Menurut data dari lembaga Nielsen, sebanyak 61% responden melakukan pencarian berita lebih sering setiap hari selama pandemi. Artinya keingintahuan masyarakat tentang virus dan dan pandemi ini meningkat. Namun, dari mana mereka mendapatkan informasi mengenai pandemi ini?
Menariknya adalah masih menurut lembaga Nielsen, Media Sosial (80%) menempati posisi pertama sebagai sumber pencarian terbanyak. Lalu secara berturut-turut menonton televisi (77%) dan mesin pencarian (56%) menempati posisi masing-masing kedua dan ketiga (Riset Nielsen, 14 April 2020).
Artinya para netizen secara umum masih mengandalkan media sosial seperti Facebook, Twitter, Instagram, Whatsapp, atau bahkan TikTok sebagai sumber referensi utama. Bahkan berita di televisi saja jika menurut penelitian diatas masih kurang dinilai kurang lengkap jika dibandingkan penelitian di atas.
Menarik mengingat asumsinya selama ini adalah televisi sebagai saluran utama informasi. Artinya telah bergeser perannya sebagai konsumsi selama Pandemi Covid-19.
Mainan dan Games Laris
Pada negara yang melakukan lockdown secara total, tentu sangatlah membosankan jika di rumah hanya dihabiskan untuk menonton televisi atau streaming internet seperti di atas. Nah karena itulah sektor permainan ini juga mencatatkan kenaikan baik dari pendapatan dan penggunaan.
Menurut data yang dihimpun Criteo.com dari berbagai sumber mencatat bahwa konsumsi akan permainan pada pertengahan bulan Maret 2020 mencapai 75%. Data ini diperoleh dari responden di Amerika Serikat.
Selain itu data tersebut sudah mencakup seluruh permainan yang bersifat langsung seperti puzzle, lego, dan lain sebagainya. Lalu bagaimana dengan e-sports yang baru digandrungi anak muda saat ini?
Well ternyata kenaikannya juga tak jauh berbeda. Dikutip dari economist.com beberapa game konsol juga mengalami peningkatan yang bervariasi. Misalnya, Nintendo penggunanya naik 45% dan situs Twitch juga naik 50% pada periode Maret.
Artinya konsumsi permainan baik permainan langsung maupun game konsol juga naik seiring hadirnya Pandemi Covid-19. Dalam beberapa hal mungkin permainan atau games sama pentingnya dengan obat penenang dari stres akibat lockdown.
Asuransi tiba-tiba Jadi Penting
Peningkatan masyarakat yang saat ini banyak membeli kebutuhan akan kesehatan juga ternyata berdampak pada pendapatan asuransi. Padahal disaat bersamaan perusahaan asuransi kesehatan saat ini termasuk bidang yang tertekan akibat pandemi. Kok bisa?
Dikutip dari Kontan.co.id, asuransi kesehatan mendapatkan kenaikan premI asuransi kesehatan naik 13,2% sepanjang tahun ini dihitung sampai bulan Agustus 2020. Aneh? Tidak juga jika kita mengingat bahwa saat ini kesehatan sudah menjadi salah satu sektor penting selama pandemi berlangsung.
Memang, saat ini asuransi kesehatan tengah bergelut dengan kinerja internal dimana dana yang keluar lebih banyak ketimbang dana yang masuk. Namun kebutuhan akan asuransi yang selama ini menyasar kalangan menengah ke atas menjadikannya tetap bertumbuh meskipun di tengah ketidakpastian. Perannya tetap sama pentingnya dengan produk kesehatan lainnya jika melihat kenaikan diatas.
Online adalah Kebutuhan Primer
Seolah-olah di saat pandemi ini kebutuhan apapun harus ada dalam platform online. Jika kita tadi melihat kebutuhan akan informasi dan penggunaan kuota internet maka harusnya kita sudah mengetahui bahwa penggunaan data meningkat.
Namun hal itu belum termasuk Dompet digital, e-commerce, sampai layanan antar jemput barang dan jasa sepertinya laku bak kacang goreng. Dilansir dari morganstanley.com bahwa diperkirakan pada bulan April 2020 layanan e-commerce misalnya naik sekitar 58% sepanjang tahun atau year-over-year. Data ini adalah data perkiraan saat ini di Amerika Serikat.
Ketergantungan masyarakat akan belanja online sebetulnya sudah meningkat. Akan tetapi dikarenakan pandemi "memaksa" orang untuk tetap berada di rumah, membuat beberapa perusahaan menyediakan layanan jasa untuk belanja dari rumah.
Bagaimana di Indonesia? Dikutip dari katadata.id bahwa masyarakat di Indonesia menurut penelitian startup kurator Shopback akan mengeluarkan dana sekitar 70% lebih banyak ketimbang tahun kemarin. Hmm, makin konsumtif saja ya?
Itulah 7 Pola Konsumsi selama Pandemi Covid-19. Menurut anda apalagi pola konsumsi selama Pandemi ini berlangsung?
Sumber:
Mehta Seema., Saxena, Tanjul., Purohit, Nehtu. (2020). The New Consumer Behaviour Paradigm amid COVID-19: Permanent or Transient?. London: Sage Publications, Journal of Health Management 22(2) 291-301.
https://www.nielsen.com/id/id/insights/article/2020/berpacu-dengan-covid-19-melihat-lebih-dalam-bagaimana-konsumen-indonesia-bereaksi-terhadap-sang-virus
https://www.crew.scot/covid-19-survey-month-one-summary /
https://www.lek.com/insights/ei/impact-covid-19-vitamins-minerals-and-supplements
https://www.comscore.com/Insights/Blog/In-Home-Data-Usage-Increases-During-Coronavirus-Pandemic
https://keuangan.kontan.co.id:443/news/ada-pandemi-covid-19-premi-asuransi-kesehatan-naik-132-yoy-hingga-agustus-2020
https://www.criteo.com/blog/coronavirus-toy-trends/
https://www.economist.com/international/2020/06/27/the-pandemic-has-accelerated-the-growth-of-e-sports
https://www.morganstanley.com/ideas/coronavirus-ecommerce-retail-shopping
https://katadata.co.id/desysetyowati/digital/5e9a503379b70/riset-rerata-konsumen-indonesia-belanja-rp-39-juta-di-e-commerce