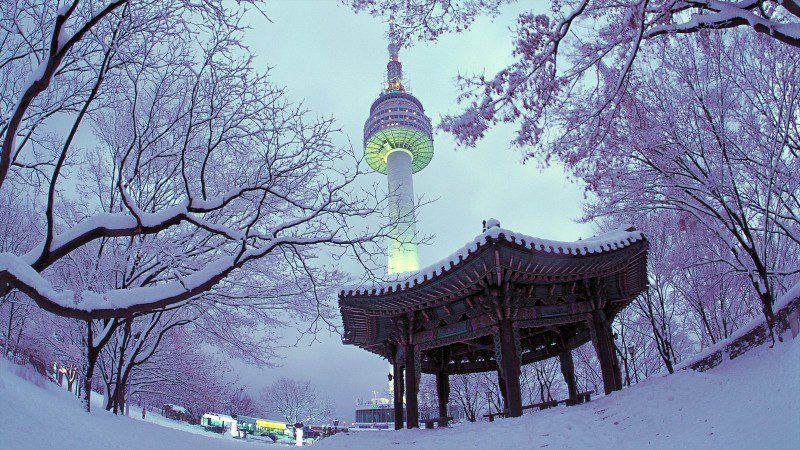 Banyak yang mengklasifikasikan Korea Selatan sebagai negara ketiga alias masuk dalam negara ketiga alias negara merdeka yang baru berkembang. Padahal kenyataannya sekarang Korea Selatan adalah negara maju dengan pertumbuhan ekonomi salah satu yang terbaik di Asia.
Bahkan, negara yang terbelah antara selatan dan saudara "komunisnya" yang di sebelah utara itu punya sejuta pesona pembangunan terutama sumber daya manusianya (SDM). Misalnya, siapa sekarang yang tidak kenal KPop atau Boyband?
Siapa yang tidak kenal Park Ji Sung si pemain sepak bola yang pernah main di MU? Atau siapa Sekjen PBB yang berasal dari Korea Selatan? Pertanyaan itu membuktikan bahwa Korea Selatan punya SDM yang unggul.
Disiplin yang sama ketatnya dengan Jepang mungkin salah satu yang menjadikan Korea Selatan sebagai negera yang berbeda. Bahkan pelajar di sana sejak usia dini sudah dituntut untuk berbicara bahasa asing.
Jangan heran apabila Anda ke sana, Anda akan dihampiri anak sekolah yang berusaha berbicara dengan kita dengan bahasa Inggris. Ini pernah penulis baca kisahnya di koran nasional. Salah satu bentuk adaptasi Korea Selatan dalam menyiapkan SDM-nya di masa depan.
10 Univesitas Terbaik di Korea Selatan
Nah berbicara soal pendidikan tinggi di sana, dibawah ini ada daftar 10 universitas terbaik di Korea Selatan versi Webometrics bulan Juli 2017 yang dikomparasi dengan berbagai sumber lain.
1. Seoul National University (Seoul Daehakgyo)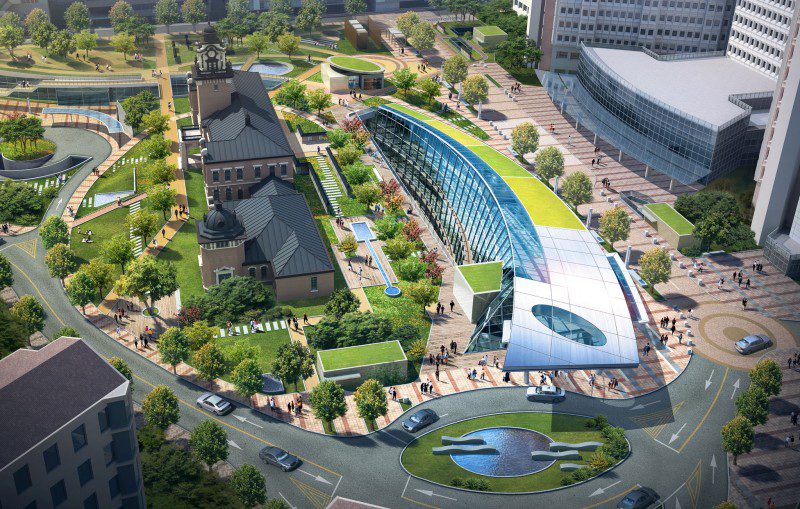 Kita langsung menuju ibukota negeri Ginseng ini, yaitu Seoul. Ada universitas terbaik di negeri ini dan masuk 100 universitas terbaik di dunia. Penasaran?
Universitas ini berdiri pada tahun 1946. Meskipun begitu akar perguruan tinggi ini sudah ada sejak zaman Dinasti Joseon, yang juga sering kita lihat dalam film atau sinetron Korea yang berlatar belakang sejarah di televisi kita. Hehehe,.. Ceritanya pada masa Raja Gojong dari dinasti Joseon ingin  memordenisasi institusi perguruan tinggi di Korea.
Nah lalu berdirilah akademi pertama di negeri itu bernama Beopkwan Yangseongso pada tahun 1895. Aslinya adalah sekolah hukum, hingga pada akhirnya berdiri akademi lain yang meliputi keilmuan kedokteran dan sekolah guru yang tahun berdirinya juga berdekatan dengan akademi hukum tersebut. Singkat cerita setelah Perang Dunia II, nama perguruan tinggi ini berubah seperti yang sekarang kita lihat ini.
Cukup banyak mahasiswa yang berkuliah di sini, yaitu sekitar 27.000 mahasiswa. Ada 17 setingkat college serta 16 sekolah yang meliputi keilmuan hukum, kedokteran, ekologi, ekonomi dan bisnis, seni, musik, administrasi publik, politik, kesehatan publik, teknik, humaniora, ilmu sosial dan sebagainya. Itu belum termasuk jurusan untuk program master dan doktoral yang tersedia lebih dari 90 jurusan.
Oh ya bagi Anda yang ingin belajar ilmu linguistik (kebahasaan) ada kabar baik, karena universitas ini ada di urutan 16 dunia untuk jurusan bahasa modern menurut QS University Subject Rankings. Selain itu jurusan farmasi ada dalam 20 peringkat besar dunia untuk jurusan tersebut versi lembaga yang sama. Pilihan tepat bagi Anda yang hendak melanjutkan studi di negeri Ginseng ini.
Alumninya kebanyakan adalah businessman terkemuka di negeri ini. Sekjen Perserikatan Bangsa-Bangsa alias PBB (UN) yaitu Ban Ki-Moon Juga merupakan alumni terkenal dari universitas ini. Wah…
2. Korea Advanced Institute of Science and Technology (KAIST/Hanguk Gwahak Gisurwon)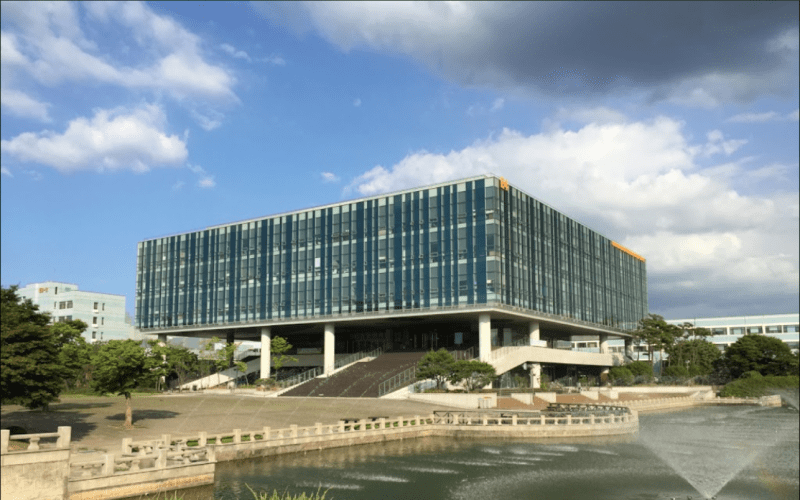 Kita serang ke kota Daejeon, lebih tepatnya di distrik Daedeok. Ada satu perguruan tinggi yang mengkhususkan diri pada pengembangan keilmuan sains dan teknologi. Bisa dibilang inilah institut kembarannya MIT dari tanah Ginseng, hehehe…
Perguruan tinggi ini sebenarnya berdiri berkat kerja sama antara pemerintah Korea Selatan dengan Amerika Serikat pada tahun 1971. Desain perguruan tinggi ini sendiri ketika awal berdiri didesain oleh dua akademisi bernama Frederick E. Terman, yang ketika itu menjabat wakil presiden Universitas Stanford dan Chung Geum-Mo, seorang profesor di institusi Politeknik Brooklyn. Praktis jadilah universitas yang orientasi sains Barat dan institut pertama yang berdiri di Korea.
Mahasiswa yang berkuliah di sini ada sekitar 10.000 mahasiswa. Terdapat sekitar 6 college, 13 departemen setara jurusan dan 14 sekolah yang terdiri atas keilmuan sains, matematika, ilmu hijau/lingkungan, bisnis dan manajemen, ilmu nuklir, informatika dan media, teknik, biologi, kimia, ilmu keplanetan dan sebagainya.
Spesialisasi utamanya ada di teknik dan komputer, di mana institut ini masuk ke dalam peringkat 30 besar dunia untuk keilmuan tersebut versi QS University Subject Rankings. Pilihan tepat buat Anda yang ingin belajar keilmuan sains dan teknologi.
Alumninya juga kebanyakan tidak jauh-jauh dari keilmuan sains dan teknologi. Yi So-Yeon seorang astronaut pertama dari negeri Ginseng Sang Soo Oh, penemu tombol panggilan (DialPad) pada telepon internet merupakan alumni institut ini. Wehh, apa jadinya telepon sekarang tanpa tombol panggilan?
3. Yonsei University (Yeonse Dehakgyo)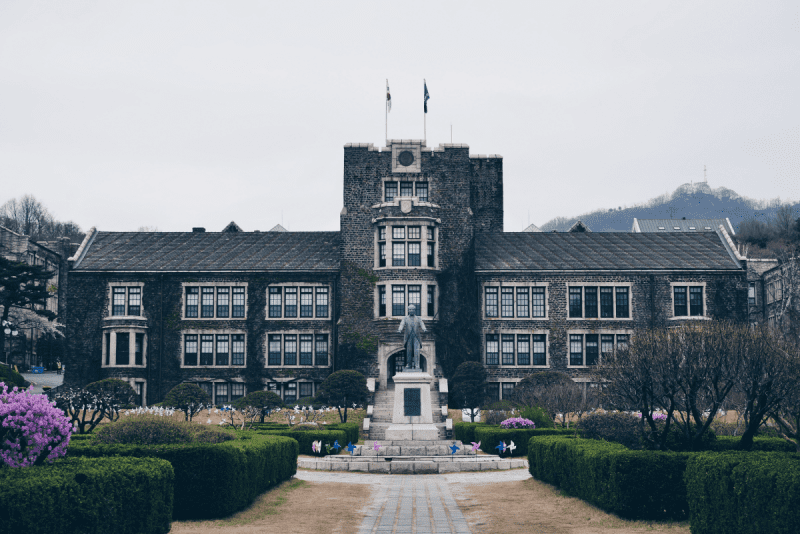 Kembali ke Seoul, ada universitas swasta terbaik yang manjadi bagian dari 10 universitas terbaik di korea selatan. Bahkan ada yang mengatakan universitas ini adalah salah satu yang tertua di Korea Selatan.
Universitas ini didirikan pada tahun 1885. Didirikan oleh seorang pendeta Kristen Protestan aliran Presbyterian bernama Horace Newton Allen. Awalnya ia mendirikan universitas ini bersamaan dengan pendirian rumah sakit Barat di Korea dengan nama Gwanghyewon. Nah sedangkan universitasnya awalnya dinamai Yonhi College.
Jadi induk keilmuan awalnya adalah kedokteran lengkap dengan rumah sakitnya. Unik ya? universitas ini juga sampai saat ini masih berafiliasi dengan gereja Presbyterian dan pernah merger dengan perguruan tinggi serupa, sehingga namanya serupa dengan yang sekarang ini kita lihat.
Mahasiswa yang berkuliah di sini jika dibandingkan universitas lain di Korea Selatan juga sangat banyak, mencapai sekitar 38.000 mahasiswa. Memiliki sekitar 16 college dan 18 sekolah yang meliputi keilmuan kedokteran, teologi, seni, hukum, bisnis, seni, ilmu sosial-kesejahteraan sosial, komunikasi, media, ilmu humaniora, sains, farmasi, biologi dan sebagainya.
Untuk keilmuan kedokterannya sendiri mereka memiliki lima rumah sakit. Sangat sempurna bagi Anda yang ingin menyelami ilmu kedokteran. Oh ya, universitas ini ada pada peringkat 36 versi Reuters dalam hal universitas paling inovatif di dunia. Wuihh…
Alumninya sendiri kebanyakan malah berkecimpung di dunia entertainment. Artinya jurusan seni di sini juga bagus buat Anda yang ingin melanjutkan karier sebagai seniman. Tertarik?
4. Korea University (Goryeo Daehakgyo)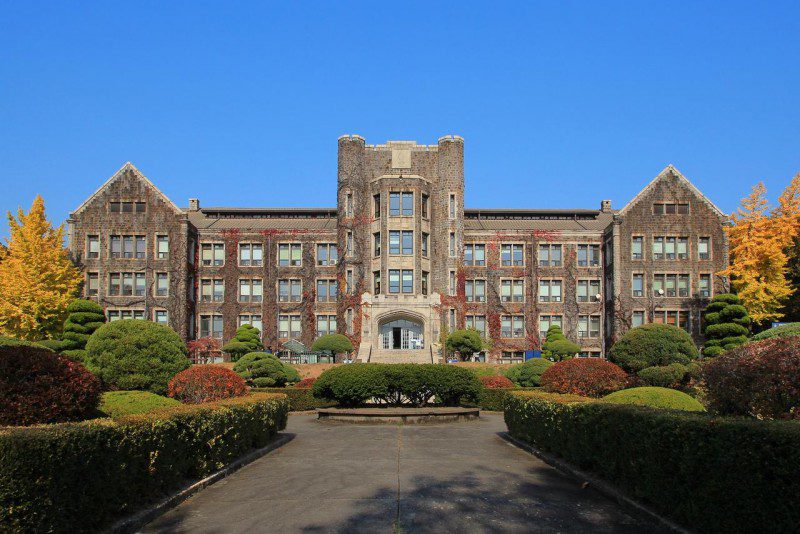 Kalau yang ini merupakan salah satu institusi perguruan tinggi tertua dan terkemuka di Korea Selatan. Punya nama yang bersifat menyatukan (Korea, kita tahu Korea terbagi atas wilayah Selatan dan Utara yang masing-masing punya pemerintahan sendiri, Red), sehingga namanya bukan "South Korea University" tapi "Korea University". Jadi kesannya ada pesan tersirat dari penggunaan nama universitas ini.
Nama aslinya ketika berdiri bernama Bosung College. Didirikan pada tahun 1905, universitas ini merupakan salah satu universitas paling beken di negeri ginseng. Pada masanya perguruan tinggi ini merupakan simbol nasionalisme Korea selama penjajahan Jepang. Banyak kaum nasionalis Korea awal merupakan pengajar dan juga alumni universitas ini.
Perguruan tinggi ini memiliki lebih dari 28.000 mahasiswa. Memiliki 17 sekolah maupun college yang terdiri atas berbagai jurusan keilmuan sains, hukum, bisnis, keperawatan, bioteknologi, politik, ekonomi, jurnalistik, informatika, keguruan, studi internasional dan lain sebagainya.
Di Korea sendiri, universitas ini dikenal memiliki jurusan hukum yang terbaik di negeri ginseng. Pilihan tepat bagi Anda yang ingin belajar ilmu hukum. Selain itu universitas ini juga dikenal paling selektif untuk urusan penerimaan mahasiswanya. Jadi benar-benar disaring dan pilihan layaknya universitas papan atas dunia.
Tak salah memang, kebanyakan alumninya adalah para lawyer alias pengacara dan politisi di negeri ginseng ini. Presiden Korea Selatan ke 10, Lee Myung-Bak juga merupakan alumni universitas ini.
5. Hanyang University (Hanyang Daehakgyo)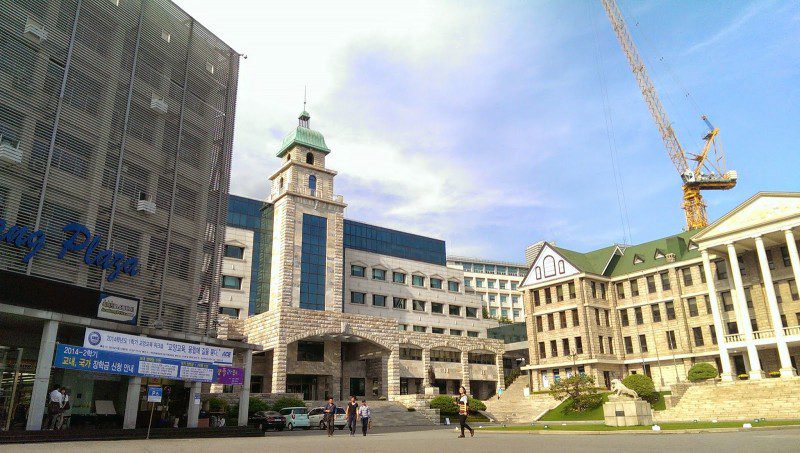 Satu lagi universitas swasta di pusat ibukota Korea Selatan, Seoul. Kelihatannya di sana tidak ada istilah kota pelajar dan hampir seluruh universitas beken di sana "numpuk" di ibukotanya. Yah namanya juga kota metropolitan, seluruh fasilitas termasuk pendidikan justru harus ada. Hehehe..
Universitas yang satu ini mengambil nama lain kota Seoul di masa dinasti Chosun yang pernah berkuasa di tanah ginseng ini. Yap, ibukota Korea Selatan ini sebenarnya punya nama lain yaitu "Hanyang". Praktis kan? Hehe… jadinya universitas yang berdiri di tahun 1939 ini menggunakan nama ini sejak berdirinya hingga sekarang.
Nah, ngomong-ngomong soal "berdirinya hingga sekarang" ini (ribet banget ya? hehehe…) perguruan tinggi ini punya spesialisasi di bidang teknik. Pilihan tepat bagi Anda yang ingin berkuliah teknik di negeri ginseng ini.
Mahasiswa yang berkuliah di sini bisa dibilang cukup banyak dan menyaingi universitas Yonsei untuk urusan jumlah, yaitu sekitar 34.000 mahasiswa. Terdapat 15 sekolah yang menaungi ratusan jurusan mulai dari teknik, komunikasi, ilmu sosial, hukum, biomedis, studi internasional, komunikasi dan jurnalistik, informatika, bisnis, seni dan lainnya.
Uniknya beberapa jurusan yang diperuntukkan bagi mahasiswa Internasional, terdapat program English-Chinese program. Program ini memungkinkan bahasa yang digunakan dalam perkuliahan terdiri atas bahasa Inggris dan Tiongkok.
Jadi diharapkan ketika lulus nanti Anda tidak hanya mahir dalam keahlian yang digeluti, namun juga mahir dalam berbahasa asing utamanya Inggris dan Tiongkok. Menarik ya? Oh ya universitas ini ada di peringkat 193 dunia versi QS World Academic Rankings di tahun 2015. Weeehh…
Alumninya kebanyakan merupakan petinggi perusahaan dan businessman di negeri ginseng. Serta tak ketinggalan banyak artis boyband/girlband yang juga alumnus universitas ini. Namanya juga Korea, pasti ada saja lulusannya yang jadi artis boyband. Hehehe…
6. Sungkyunkwan University (Seonggyungwan Daehakgyo)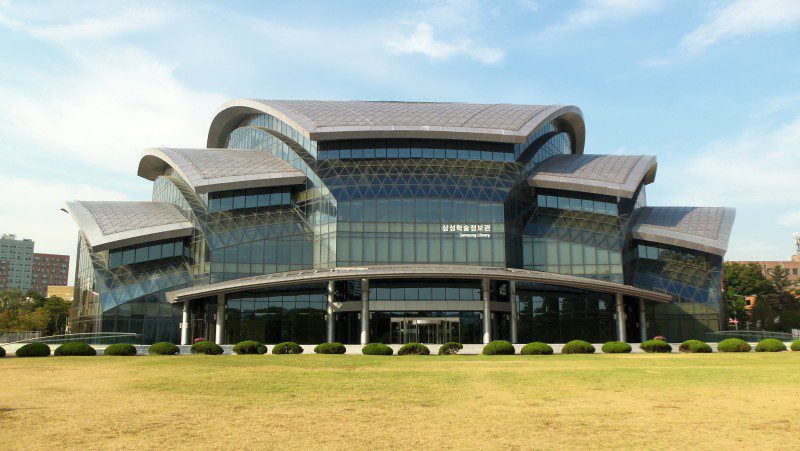 Perguruan tinggi yang satu ini bisa dikatakan adalah universitas tertua di negeri ginseng. Tapi ya itu, di Seoul lagi. Yap, meskipun begitu ada keunikan lain yang akan penulis eksplor di sini.
Sejatinya universitas ini sudah berdiri pada tahun 1398. Bayangkan, sudah 600 tahun lebih universitas ini berdiri dan tepat ketika dinasti Joseon bermula di tanah Korea!. Saat ini bahkan umurnya mengalahkan dinasti Joseon sendiri yang berumur "hanya" 5 abad. SeAndainya para pendiri dinasti Joseon dibangkitkan dari kubur, apa kata mereka ya? hehehe…
Nah, berbeda dengan institusi perguruan tinggi modern lainnya di Korea, universitas ini tetap mempertahankan ideologi Konfusianisme-nya sebagai ciri khas kampus ini. Ini juga tergambar dalam motto perguruan tinggi ini yaitu Humanity (Kemanusiaan), Righteousness (Kebaikan/Kebajikan), Propriety (Kesopanan), dan Wisdom (Kebijaksanaan). Jadi adem ya lihat motto-nya?
Ada sekitar 27.000 mahasiswa yang berkuliah di sini. Terdapat 12 sekolah dan 4 college yang meliputi keilmuan kedokteran, ilmu sosial, humaniora, ilmu alam dan sebagainya. Bagi Anda yang ingin belajar ilmu bisnis, universitas ini bisa jadi pilihan tepat. Karena menurut lembaga Financial Times Global MBA Rankings, universitas ini menduduki peringkat 1 di Korea untuk urusan ini.
Selain itu universitas ini memiliki relasi kuat dengan perusahaan terkemuka di Korea seperti Samsung. Jadi bisa meng-upgrade lulusannya sesuai perkembangan industri di sana. Keren ya?
Alumninya kebanyakan adalah politisi dan entertainer di negeri ginseng ini. Tercatat tiga perdana menteri Korea Selatan merupakan alumnus universitas ini. Jangan kaget, aktor sekelas Song Joong-Ki juga lulusan universitas ini lho. Wah…
7. Pohang University of Science and Technology (POSTECH/Pohang Gonggwa Daehakgyo)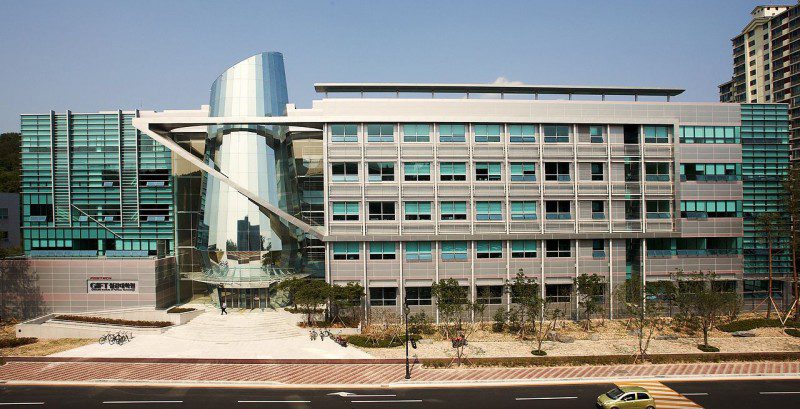 Nah, sekarang kita pergi ke kota Pohang di letaknya ada di Provinsi Gyeongbuk atau Gyeongsang Utara. Kota yang dikenal sebagai kota pelabuhan sekaligus kota terbesar ketiga di Korea Selatan ini punya universitas yang tak kalah bagusnya.
Jika dibandingkan dengan perguruan tinggi lainnya di Jepang, universitas ini termasuk yang paling muda. Baru berdiri pada tahun 1986 dan didirikan oleh perusahaan besi dan baja di Korea Selatan bernama POSCO.
Waktu itu pendiri perguruan tinggi ini menginginkan sebuah universitas dengan area teknologi tinggi. Untuk mewujudkan ambisi tersebut, para pendirinya mempelajari sistem pembelajaran di California Institute of Technology (CIT, salah satu institut perguruan tinggi terkemuka di Amerika Serikat selain MIT, Red).
Jadilah universitas ini mengaplikasikan sistem pembelajaran di CIT plus bantuan dari beberapa perusahaan terkemuka di Korea dan negara lain seperti Inggris. Sampai-sampai Perdana Menteri Inggris saat itu, Margaret Thatcher yang terkenal dengan julukan "Wanita bertangan besi" itu pernah datang ke universitas ini.
Nah, jika di Seoul kita menemukan berbagai universitas dengan daya tampung mahasiswa yang banyak, sedangkan di sini adalah yang paling sedikit. Hanya sekitar 3.500 mahasiswa saja. Cocok bagi Anda yang menginginkan kampus yang tenang dan jarang penduduknya, eh mahasiswanya hehehe.
Karena berkonsentrasi pada pengembangan sains dan teknologi, universitas ini terdapat 22 departemen setara college dan sekolah yang meliputi keilmuan sains, seperti matematika, kimia, fisika, ilmu alam, mekanik, teknik, informatika alias IT, ilmu alam, ilmu angin nuklir, biosains dan lain sebagainya. Sangat sempurna bagi Anda para "maniak sains" yang ingin belajar di negeri ginseng ini.
Namun ada satu sekolah yang menurut penulis sangat unik, yaitu sekolah ilmu/energi angin. Ilmu yang tidak pernah kita dengar sebelumnya dan sangat prospektif untuk dikembangkan di tanah air mengingat kita punya banyak sumber angin di tanah air. Hehehe…
Untuk urusan peringkat, universitas ini boleh berbangga. Karena menurut lembaga Times Higher Education alias THE menempatkan universitas ini pada urutan 1 dunia untuk urusan 100 universitas terbaik-termuda di bawah usia 50 tahun di tahun 2014. Widih…
Tak heran, alumninya kebanyakan adalah para ilmuwan saintis di negeri ginseng ini di segala bidang. Salah satu universitas yang patut dipertimbangkan bagi Anda yang ingin menggeluti bidang saintis.
8. Kyungpook National University (Gyeongbuk Daehakgyo)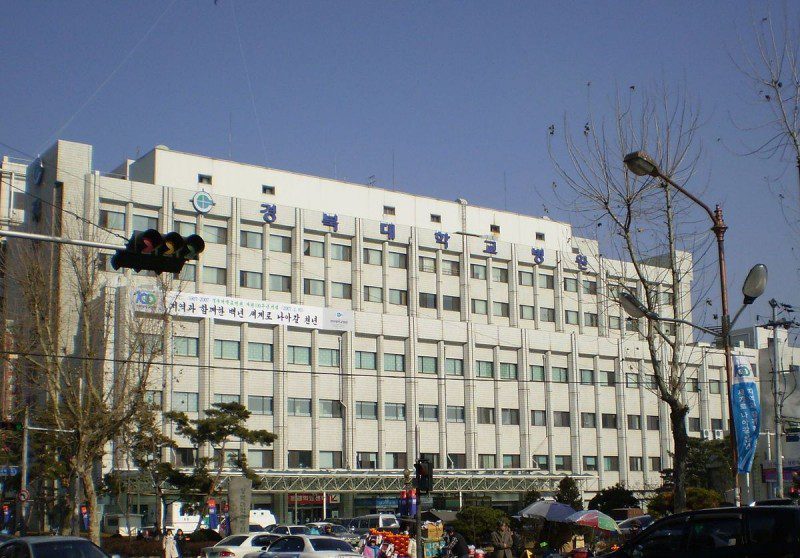 Masih di provinsi Gyeongbuk, ada satu universitas nasional yang berdiri di kota Daegu. Kota Daegu sendiri dikenal sebagai kota tekstil serta disebut juga "Milan-nya Korea" karena hal tersebut.
Universitas ini berdiri 1946, meskipun begitu akar perguruan tinggi ini sendiri sudah ada sejak 1907 alias ketika Korea dikolonisasi oleh Jepang. Jadi pada tahun 1946 perguruan tinggi ini mengalami penggabungan dengan beberapa sekolah tinggi yang ada di kota Daegu. Alhasil jadilah perguruan tinggi besar dan tinggal menjalankan sistem yang ada.
Sedangkan nama universitas ini diambil dari nama "Gyeongbuk" yang sudah mengalami romanisasi penyebutan kata. Dari nama dan sejarahnya agak berbau pragmatis ya? hehehe…
Tidak salah memang, universitas ini jumlah mahasiswanya juga terbilang gemuk. Ada sekitar 38.000 mahasiswa yang berkuliah di sini. Jumlah college dan sekolah-nya juga terbilang gemuk, ada 17 college dan 34 sekolah dengan ratusan jurusan dan program. Keilmuannya meliputi ilmu sosial, kedokteran, biomedis, ilmu kesehatan, teknik, politik, hukum, seni, humaniora dan sebagainya
Bagi Anda yang tertarik dengan keilmuan biomedis dan ilmu kesehatan ada kabar baik. Karena universitas ini merupakan salah satu dari 10 universitas terbaik di Korea Selatan versi Leiden Rankings untuk jurusan tersebut. Jadi bagi Anda yang ingin jadi dokter, perawat dan konsultan kesehatan khususnya, universitas ini bisa jadi pilihan tepat.
Alumninya kebanyakan merupakan politisi yang ada di negeri ini. Tentunya, ada juga yang jadi entertainer, alumni khas negeri ginseng. Hehehe….
9. Pusan National University (Busan Daehakgyo)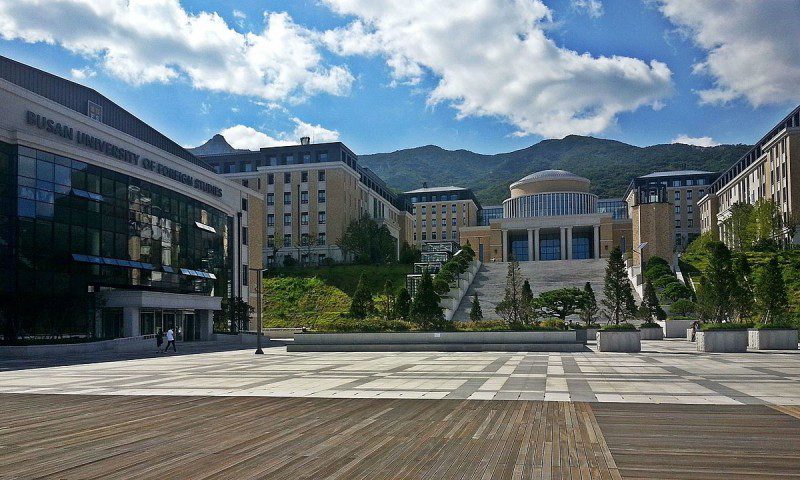 Sekarang kita melangkah ke tenggara Korea Selatan, tepatnya di kota Busan. Kota metropolitan sekaligus pelabuhan. Penulis jadi ingat bahwa kota ini juga memiliki stadion sepakbola yang desainnya termasuk nyentrik ketika Piala Dunia 2002. Hehehe…
Perguruan tinggi ini berdiri satu tahun setelah Jepang dikalahkan pada Perang Dunia II alias di tahun 1946. Waktu itu mereka hanya buka dua fakultas saja, yaitu fakultas humaniora dan perikanan. Jika dilihat dari awal pendiriannya, universitas ini terlihat sekali ingin mendukung perkembangan kota Busan sebagai kota pelabuhan.
Tak salah, bahkan sekarang terbukti kota Busan sendiri adalah kota pelabuhan tersibuk ketiga di dunia. Jurusan yang tepat di tempat yang tepat, hehehe…
Ada sekitar 30.000 mahasiswa yang berkuliah di sini. Perguruan tinggi ini memiliki 13 college dan 6 sekolah yang meliputi keilmuan humaniora dan ilmu sosial, kedokteran, seni, olahraga, teknik, sains dan lain sebagainya yang bersifat interdisipliner.
Selain jurusan perikanan dan humaniora yang dijadikan referensi untuk Anda, ada jurusan ilmu sosial dan manajemen yang merupakan salah satu yang terbaik di negeri ginseng ini versi QS Top Universities Rankings di tahun 2010.
Tapi bagi penulis, ada satu keilmuan yang unik untuk diangkat di sini. Universitas ini memiliki jurusan ilmu forensik (forensic science). Di Indonesia sendiri, jurusan ini lekat kaitannya dengan kedokteran atau kalaupun ada hanya tersedia di akademi kepolisian atau militer. Satu lagi keilmuan yang jarang terdengar dan dibutuhkan di tanah air.
Alumnus universitas ini kebanyakan berprofesi sebagai entertainer dan businessman. Meskipun begitu banyak juga politisi negeri ginseng yang merupakan alumnus universitas ini.
10. Kyung Hee University (Gyeonghui Daehakgyo)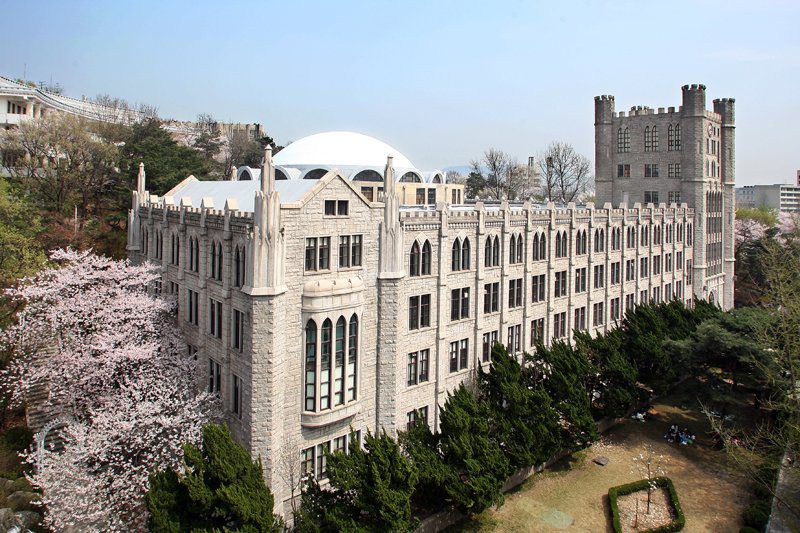 Nah penutup perjalanan mengenai 10 universitas terbaik di Korea Selatan adalah sebuah universitas swasta di Seoul. Yap, kembali lagi ke ibukota negeri ginseng ini ada universitas yang sering menjadi tempat forum besar dunia. Tertarik?
Mengusung konsep pendidikan tinggi yang mengedepankan demokrasi kampus dan berperadaban, universitas ini berdiri pada tahun 1949. Didirikan oleh seorang doktor ilmu hukum bernama Dr. Young Seek Choue.
Doktor Young di Korea sendiri dikenal sebagai seseorang yang memiliki visi jauh ke depan mengenai pendidikan dan perdamaian. Padahal saat itu pemerintah Korea Selatan baru gencar-gencarnya memperbaiki ekonomi yang hancur pasca perang Korea. Tak heran ia menerima banyak penghargaan perdamaian dunia karena hal itu. Sedangkan nama universitas ini diambil dari nama sebuah istana di Korea yang berdiri pada dinasti Joseon, Istana Gyeonghuigung.
Universitas ini cukup besar dan dihuni lebih dari 31.000 mahasiswa yang berkuliah di sini. Perguruan tinggi ini memiliki 24 college dan 16 sekolah yang terdiri atas keilmuan bisnis, jurnalisme dan komunikasi, kebijakan publik, ilmu kesehatan, studi internasional, studi perdamaian, kedokteran, studi pariwisata dan sebagainya.
Universitas ini memiliki satu jurusan menarik yaitu tentang studi perdamaian. Satu jurusan yang mempelajari perdamaian sesuai dengan spirit universitas ini ketika awal berdiri. Kalau di Indonesia hampit mirip dengan jurusan resolusi konflik. Satu keilmuan yang dibutuhkan di tanah air mengingat banyak kejadian di tanah air yang membutuhkan perhatian untuk yang satu ini.
Di Korea sendiri, universitas ini terkenal akan jurusan arsitekturnya yang menurut data Kementerian Pendidikan di Korea Selatan adalah yang terbaik pada Industry University Evaluation di tahun 2016. Kabar baik bagi Anda yang ingin belajar ilmu arsitektur. Sedangkan untuk peringkat dunianya ada di peringkat 270 dunia versi QS World Academic Rankings di tahun 2010.
Tercatat satu presiden Korea Selatan bernama Moon Jae-In merupakan alumni universitas. Kebanyakan alumninya adalah olahragawan dan seniman entertaintment. Nih bagi penggemar KPop ada nama Byung Baek-Hun, Park Chanyeol, Suho (EXO), Kang In dan Kyuhyun (Super Junior) adalah alumni universitas ini. Weee….
Sampai Jumpa di Universitas Terbaik di Dunia Lainnya
Oke, itulah universitas terbaik di Negeri Ginseng, Korea Selatan. Keilmuan sains, bisnis dan humaniora kebanyakan adalah jurusan yang paling banyak ditawarkan di sini. Namun ada juga keilmuan yang jarang kita dengar di tanah air seperti ilmu forensik dan studi perdamaian.
Satu yang membedakan Korea Selatan dengan negara lain adalah adanya harmoni, sebuah kata yang cukup untuk menggambarkan pendidikan di Korea Selatan jika menilik motto dan visi-misi universitas di negeri ginseng ini. Tapi, tetap pilihan ada di tangan Anda. Tertarik untuk belajar di negeri dinasti Joseon ini?
Baca juga Perjalanan ilmiah menelusuri Universitas Terbaik di Dunia