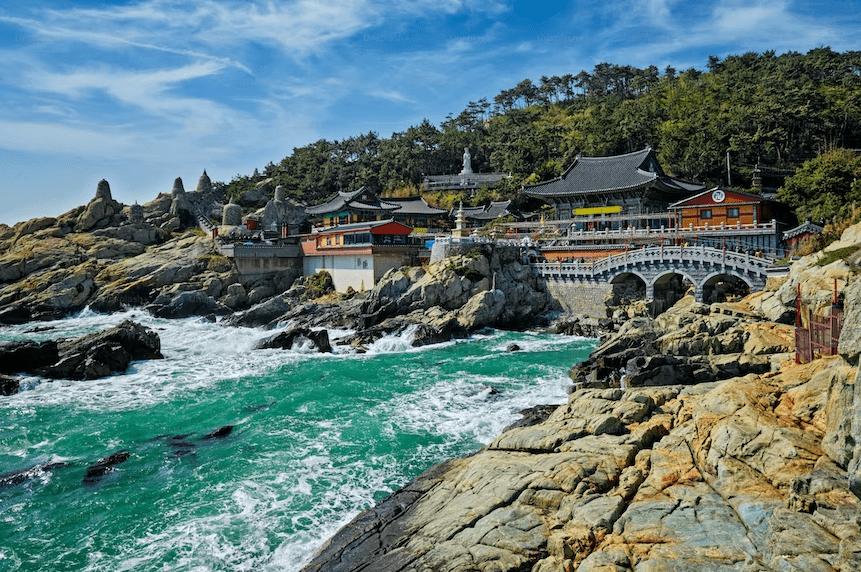 South Korea is a country that offers a perfect blend of tradition and modernity. With its vibrant culture, delicious food, picturesque landscapes, and ultra-modern cities, it has become one of the world's most popular tourist destinations. Home to K-pop, Korean dramas, and beautiful heritage sites, South Korea is a traveler's paradise!
In this blog post, we will take you on a journey through the Land of the Morning Calm, and explore the top tourist attractions that should be on your South Korea itinerary.
Tourist Attractions in South Korea: A Journey Through the Land of the Morning Calm
1. Seoul: The Heart and Soul of Korea
Seoul, the capital city of South Korea, is a bustling metropolis that mixes ancient palaces, towering skyscrapers, and vibrant shopping districts. As the center of business, culture, and politics of South Korea, Seoul has much to offer visitors. From the bustling shopping districts like Myeong-dong and Gangnam to more traditional cultural areas like Insadong, visitors will find everything they are looking for in this city. Gyeongbokgung Palace is also a must-see for those interested in Korean history and culture.
2. Jeju Island: Korea's Hawaiian Paradise
Jeju Island is home to some of South Korea's most beautiful beaches and is often referred to as Korea's Hawaii. It's a volcanic island surrounded by turquoise waters that offer travelers a chance for a peaceful getaway. This island's natural beauty is awe-inspiring, from the waterfalls tumbling over the lush hillsides to the sparkling waters of Spirited Garden. You can also visit the UNESCO World Heritage Site of Jeju Island's Lava Tubes, which are a series of underground passages created by the cooling of lava.
3. Busan: The Coastal City
Busan, the second-largest city in South Korea, is located on the southeastern tip of the country and is famous for its beaches, hot springs, and delicious seafood. Busan is also known for its stunning temples. One of the most famous is Haedong Yonggungsa Temple, which is perched on a rocky outcropping overlooking the sea. Visitors can enjoy the stunning views from the temple and witness the intricate architecture.
4. Seoraksan National Park: Hiking in Natural Beauty
Seoraksan National Park is home to some of South Korea's best hiking trails and is one of South Korea's most popular tourist attractions. Located in the northeastern region of the country, the park offers visitors an opportunity to explore the stunning natural beauty of the area. Seoraksan is the country's third-highest mountain range, boasting a variety of hiking routes with different difficulty levels. The park is also home to hot springs, waterfalls, and unique rock formations.
5. Gyeongju: The Ancient Capital
Gyeongju is known as the "museum without walls" and is one of the best places to experience the rich history and culture of Korea. The city is filled with ancient temples, burial mounds, and palaces from the Silla Dynasty, making it a UNESCO World Heritage site. Visitors can explore Gyeongju's history and culture by visiting spectacular sights such as Bulguksa Temple, Cheomseongdae Observatory, and Anapji Pond.
6. DMZ: The Demilitarized Zone
The Demilitarized Zone (DMZ) is the most heavily fortified border in the world, separating North and South Korea. A visit to the DMZ is not only an educational opportunity highlighting the tension between the two countries but it is also a unique experience. Here, visitors can witness military outposts, observe North Korean soldiers on the other side of the border, and even enter one of the tunnels that North Korea dug in an attempt to invade South Korea.
7. Korean Food: A Culinary Delight
Korean cuisine is as diverse as Korean culture and has become increasingly popular around the world. From kimchi to barbeque, Korean food is a must-try for everyone visiting South Korea. Start with Korea's traditional rice dish, bibimbap, which is topped with a range of vegetables, meat, and egg. Korean barbeque, where diners cook their own meat over hot coals, is also a famous dish that shouldn't be missed! Korean street food is another staple of Korean cuisine, offering a variety of dishes that can be enjoyed while on-the-go.
8. The Han River: Nighttime Views in Seoul
The Han River is the most famous river in South Korea and is a popular spot for locals and tourists alike. The river boasts beautiful nighttime views of the city, with colorful lights illuminating the famous bridges and buildings along its banks. Visitors can take a leisurely cruise down the river or enjoy a riverside picnic with family and friends.
9. Nami Island: A Romantic Getaway
Nami Island, located near Seoul, is one of South Korea's most romantic tourist attractions. It's a small, beautifully maintained island that offers visitors a chance to experience nature's tranquility. The island became famous after being featured in a Korean drama called "Winter Sonata." Couples can enjoy a stroll along the tree-lined pathways or rent bikes to explore the island's beauty.
10. Traditional Villages: Hanok Villages
South Korea has several traditional villages that allow visitors to experience life as it was centuries ago. The ancient houses found here are beautifully preserved and showcase the country's traditional architecture. Visitors can enjoy traditional Korean cuisine, shopping for handmade crafts, and participate in cultural events. Jeonju Hanok Village, located in Jeonju City, is one of the most popular Korean traditional villages.
South Korea is a destination with something for everyone, from culture enthusiasts to adventure seekers. With so much to see and do, it's no wonder it attracts millions of visitors every year. Whether you're traveling solo or with family and friends, South Korea offers endless adventure opportunities. With its unique blend of tradition and modernity, one thing is for sure: South Korea should definitely be on your travel bucket list!