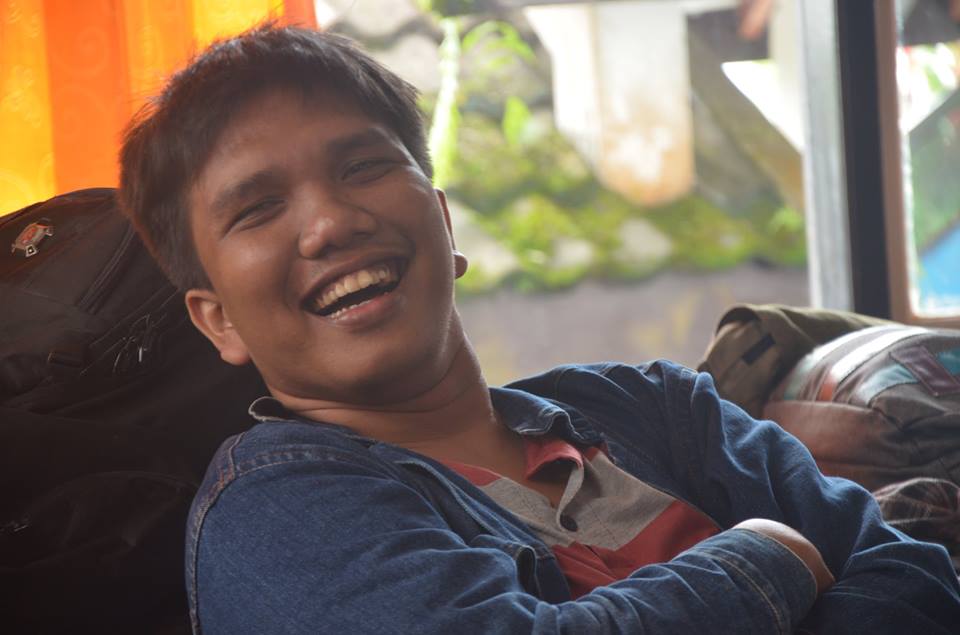 Joseph Sebastian Nazareno Silaen
Lulusan Univeritas Negeri Yogyakarta, jurusan Sejarah, menyukai isu-isu kekinian dan pemikiran sosialis.
Akun Twitter : @tapakbumi
Ceritanya dimulai saat saya mengerjakan skripsi pada awal 2015, Ibu saya mulai menonton acara santai serial India. Uttaran, demikian kisah drama negeri India. Diawali ANTV, stasiun TV tersebut membuat tren tayangan sendiri, mulai dari menayangkan drama tv dari India, Turki, dan Filipina.
Dalam persaingan merebut pangsa masyarakat, siaran televisi ANTV tidak terlalu ambil pusing, mereka cukup mengandalkan editan suara dan durasi untuk menyihir penonton. Lain hal dengan RCTI yang berusaha menyaingi dengan acara-acara reality show, Trans TV dengan Katakan Putus atau SCTV yang mengambil formula seimbang bak 4-4-2 dalam sepak bola.
SCTV sendiri masih saja asyik menyamakan produk sendiri dengan produk impor baik dari India maupun Turki. Indosiar mulai mengincar acara FTV rumah tangga, kompetisi dangdut dan stand up comedy.
Televisi dan Kemajuan Teknologi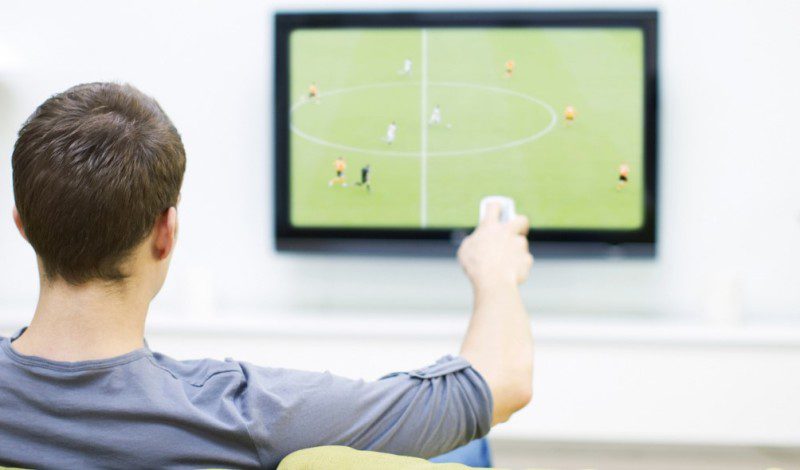 Hadirnya stasiun televisi di Indonesia sejatinya untuk menghibur dan mendidik masyarakat. Tidak bisa disangkal bahwa TV menjadi barang wajib dari rumah makan hingga kamar kost. TV seakan menjadi barang yang wajib dimiliki. TV menjadi mudah dinikmati dengan hanya membutuhkan dua hal: aliran listrik dan pemancar (antena).
Seiring perkembangan zaman, teknologi semakin memudahkan. Anda tinggal membeli booster TV dan memasangnya dengan monitor komputer akan jauh lebih murah. TV yang bertahan pada pemancaran gelombang pemancar dengan pemasangan sejumlah tower untuk mendukung frekuensi.
Indonesia secara umum bertahan pada jenis UNF, jenis ini memungkinkan pencarian antena untuk mendapatkan siaran yang diinginkan. Maka tak heran bila TV pantas dijuluki sebagai saluran informasi yang menyentuh pada pangsa masyarakat langsung.
Mendedah Siaran yang Baik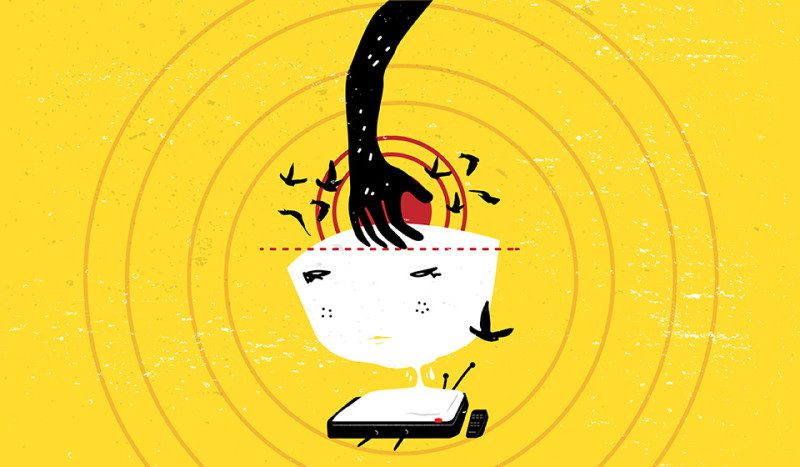 Sejatinya, setiap TV yang dijual sudah memiliki kemampuan dalam menyimpan saluran yang terhubung langsung people meter. Sebuah alat yang mengirimkan sinyal ke antenna apa frekuensi yang ditangkap atau dipilih untuk ditonton konsumen.
Masyarakat kita adalah konsumen dari acara tersebut bersedia duduk berjam-jam untuk menikmati siaran televisi yang disajikan stasiun TV. Semakin sering sebuah TV bertahan suatu frekuensi maka semakin sering siaran televisi dalam suatu stasiun TV ditonton. Maka demikian Rating diukur sebagai pencatat amal acara TV yang akan mendukung stasiun TV masing-masing.
Sebenarnya kenapa perang-perang siaran televisi dilakukan stasiun TV berlangsung subur di Indonesia. Kondisi tidak berbeda jauh dengan kondisi India dan Meksiko yang memiliki drama. Bahkan di Amerika terjadi kondisi bagaimana TV series yang memiliki cerita berkelok-kelok memancing kriktikan dari masyarakat. Walaupun TV adikuasa ini memiliki kekuatan untuk ditiru TV dunia ketiga.
Kembali ke Indonesia semua acara TV yang berjuang meningkatkan stasiun TV berkiblat teori dari seorang Nilesen. Nielsen adalah biang kerok bagimana semua ini terjadi subur di Indonesia. Teori tentang rating and share menjadi salah satu alasan stasiun TV mau membodohi masyarakat demi tingginya angka. Sebagai contoh Ganteng-Ganteng Serigala (GGS) atau Uttaran adalah contoh nyata, kedua adalah produk layar kaca yang mengundang masyarakat untuk menikmatinya.
Uttaran lahir dari gaya drama Cinderella atau strafikasi sosila tertutup. Sedangkan GGS yang mengambil cerita fiksi ala Amerika dengan pembelokan cerita yang ruwet. Uniknya masyrakat kita menyukainya dan rela teralienasi dengan tayangan tersebut.
Usaha masyarakat dan pemerintah untuk menyaingi masyarakat dengan bahaya tayangan tersebut bisa dikatakan lumayan. Ketika kita melihat lebih lanjut, industri layar kaca kita jauh dari katakan produktif, sehingga aturan yang terlihat teralu baku dan membingungkan.
Komisi Penyiaran Indonesia (KPI), bisa dikatakan hanya mampu memainkan moment dari pada bermain peran. Ketika GGS dicekal beberapa hari, toh dicekal bukan alasan untuk hancur acara. Hanya YKS yang mampu dikalahkan, GGS hancur karena gagal bersaingnya tanyangan siaran SCTV dengan 7 Manusia Harimau siaran RCTI.
Jauh sebelum KPI berdiri, masyarakat kita mudah terkena fenoena layar kaca, dimulai dari tayangan india dari pagi,siang yang diputar di TPI, RCTI dan SCTV. Impor-impor tayangan luar negeri dari drama sabun Meksiko, drama Jepang, drama Mandarin, drama Filipina, FTV Indonesia, dan drama Korea.
Mulai kita mengenal Andy Lau, Saeko, Lee Min Ho, Gabriella Spanic, Thalia, dan masih banyak lagi. Bisa dikatakan masyarakat kita sudah kadung punya tradisi menikmati drama dan alieniasi.
Ketika FTV muncul dengan dalam sekejap mendekatan jarak pantai depok dan malioboro atau denpasar dengan pantai kuta. Semua untuk membangun stigma kehidupan mimpi dengan suatu kenyataan yang dipikir "bisa-bisa saja" terjadi.
Dalam The Constitution of Society karya Anthony Giddens mengatakan bahwa "Kejadian-kejadian yang  jauh diakrabi SMA atau bakan lebih penting dibandingkan dengan kejadian yang dekat dan intergrasikan dalam kerangka pengalaman pribadi".
Masyarakat Indonesia memang memikirkan bahwa Internet, Radio, Media Cetak adalah sumber informasi lainya. Tapi menimbang kebiasaan mendownload film atau menonton Youtube bisa dikatakan masih jauh dibandingkan waktu menonton TV.
Saat masih tingginya minat  masyarakat menonton TV, kekuataan pengawas TV dibutuhkan kekuataan optimal untuk memberikan tayangan TV yang baik. KPI memang memiliki kekuataan namun menurut saya kurang dibandingkan kekuataan TV yang memiliki pangsa pasar lebih besar. Menilik penilaian KPI terakhir, hanya berberapa stasiun TV memiliki nilai yang baik.
KPI kurang bergigi tajam menghadapi tayangan dari stasiun TV besar sehingga hanya moment yang tepat yang mampu meruntuhkan tayangan. Sulit untuk mengatakan parameter lain selain Amerika dan keumpulan negara maju lain.
Negara ini perlu memiliki KPI yang tegas dan selalu merevolusi aturan untuk mengetatkan aturan baku, sedangkan kita memiliki aturan namun hanya bisa melakukan tindakan tegas pada satu dan dua tayangan yang banyak acara anak 1980an-1990-an.
Siaran yang jauh sebelum diberlakunya aturan KPI tentang tayangan yang baik. Harusnya KPI mampu mengembalikan aturan yang lebih kuat, dengan melibatkan banyak lapisan masyarakat.aturan yang sesuai citra dengan masyarakat.
Dalam Pembukaan UUD 1945, pada alinea keempat sebetulnya mengadung sistem Walfare. Seperti yang diutarakan Lawrence M. Friendman dalam Jurnal Umum, Walfare State atau negara kesejateraan. Dimana negara menjamin kesejateraan masyarakat dalam banyak sektor. Kebutuhan masyarakat akan tayangan baik,menikmati tayangan yang baik menjadi penting.
Membangun Tayangan Lebih Baik
Dalam mendukung tayangan yang baik dengan berkiblat dengan Walfare State, mestinya dibangun segaris dengan masyarakat. Inovasi acara TV menandakan perkembangan masyarakat. Dalam mendukung peran negara menjalankan Walfare State.
Baik pemerintah,stasiun TV, dan segala lapisan masyarakat. Perlu adanya penyesuai format kembali secara ketat bukan pemotongan durasi, membeikan poin merah dan lainnya.
Sensor yang dilalukan KPI bahkan tidak mencerminkan peranan masyarakat dan pemerintah dalam membangun tayangan yang baik. Saya lebih suka kembali ke format lama SU, BO, Dewasa, dan 17+; yang membuat masyarakat melakukan Kontrol. Masyarakat toh akan turut mendorong aktif dalam mengontrol people meter TV-nya masing-masing.
Mewujudkan kesejateraan masyarakat Indoneia bukan hanya melakukan booming media di online, koran dan majalah. Ketika masyarakat kita lebih masih membutuhkan TV sebagai penghibur juga sarana mendapatkan informasi.
Kirim tulisan Anda baik meliputi catatan hikmah kehidupan Anda, cerpen, puisi, artikel, materi pelajaran atau yang lainnya. Tulisan dapat Anda kirim ke [email protected] dengan jumlah kata antara 500 kata sampai 2000 kata.