Perkembangan organisasi di dunia pendidikan pada dasarnya menjadi salah satu hal yang tak terpisahkan. Rasa-rasanya tidak lengkap jika dalam suatu sektor masyarakat tidak didirikan berdasarkan sistem keorganisasian yang mumpuni.
Pelajari juga sejarah lengkap berdirinya PMII (Pergerakan Mahasiswa Islam Indonesia)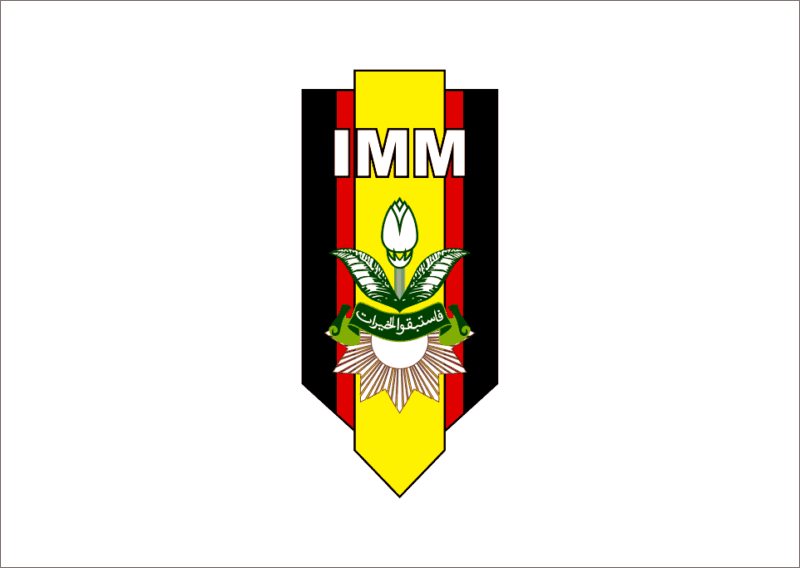 Di ranah pendidikan sendiri, keorganisasian menjadi barang yang hukumnya sunnah bahkan wajib. Apalagi menjejaki wilayah perguruan tinggi. Para mahasiswa yang sedang dalam pencarian jati diri kebanyakan memanfaatkan keberadaan organisasi ini sebagai wilayah pencarian jati diri mereka.
Sejak era kolonialisme Belanda hingga masa-masa kemerdekaan, ada banyak sekali organisasi  yang terbentuk di Indonesia. Baik itu independen dari masyarakat, para mahasiswa, hingga organisasi keagamaan. Beberapa organisasi berawal dari perkumpulan mahasiswa dengan tujuan yang sama dan latar belakang yang mirip juga.
Dari beberapa kesamaan, mereka yang merasa perlu ruang lebih luas memilih membentuk suatu badan organisasi yang lebih riil. Dominasi organisasi yang terbentuk pra hingga pasca reformasi merupakan bentukan dari kesamaan ras atau agama. Mereka yang mempunyai pemahaman agama sama akan membentuk barisan masing-masing.
Pembentukan organisasi-organisasi itu tentu bukan bermaksud memecah belah kesatuan Indonesia. Melainkan untuk mempertegas hak kebebasan masing-masing, sebagai wujud dari keberagaman yang ada di tiap wilayah. Nah, dari macam-macam organisasi dengan latar belakang keterkaitan idealisme, kita akan mengulas sedikit mengenai IMM.
Ikatan Mahasiswa Muhammadiyah (IMM) merupakan gerakan mahasiswa Islam yang beraqidah Islam bersumber Al-Qur'an dan As-Sunah. Gerakan ini terbentuk tentu tidak dalam kurun waktu satu malam saja. Melainkan melalui serangkaian proses yang melibatkan banyak elemen masyarakat dan keorganisasian.
Di Indonesia, organisasi IMM atau Ikatan Mahasiswa Muhammadiyah tentunya tidak asing. Apalagi bagi para mahasiswa yang notabene terlibat langsung dalam dunia perkuliahan. Terbentuknya IMM tentu tidak jauh-jauh dengan sejarah perjalanan Muhammadiyah. Bisa dibilang hal itu sejalan dengan faktor kelahiran Muhammadiyah itu sendiri.
Faktor dan Motivasi Pendirian Ikatan Mahasiswa Muhammadiyah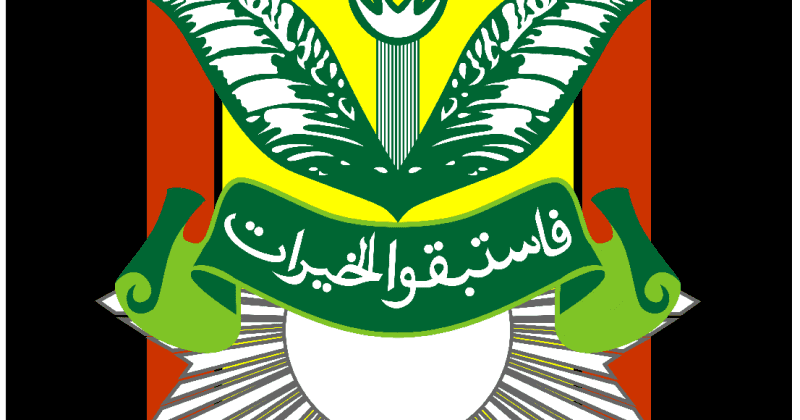 Mengupas sejarah Ikatan Mahasiswa Muhammadiyah, kita akan mengetahui beberapa hal yang tanpa disadari ternyata saling terikat satu sama lain. Hal tersebut berawal dari permasalahan ummat pada masa itu (sekitar tahun 1960-an). IMM pada akhirnya diresmikan di tanggal 29 Syawal 1384 H bertepatan dengan tanggal 14 Maret 1964 M di Yogyakarta.
Bagi yang menyenangi dunia sejarah, tentu pembaca paham bagaimana situasi yang terjadi di Indonesia pada tahun 1960-an. Nah, di tahun-tahun itulah para mahasiswa berbasis organisasi Muhammadiyah mulai menentukan arah geraknya.
Pada tahun 60-an itu, secara komparatif mahasiswa merupakan tokoh-tokoh elit dari kalangan para intelektual. Namun pasca terjadinya bom sarjana pada tahun 70-an dan pada awal 80-an, mahasiswa seolah tidak lagi mempunyai predikat yang istimewa. Salah satunya adalah Ikatan Mahasiswa Muhammadiyah.
Organisasi ini didirikan oleh salah seorang tokoh bernama Drs. Moh. Djasman Al-Kindi ketua pertama Ikatan Mahasiswa Muhammadiyah atas restu Pimpinan Pusat Muhammadiyah yang diketuai oleh H.A. Badawi. Jika menggolongkan sebab musabab berdirinya IMM, sebetulnya hanya ada dua faktor integral saja yang terlibat. Yaitu faktor internal dan eksternal.
Faktor internal bersumber dari kondisi Muhammadiyah sendiri, sedangkan aspek eksternal disebabkan kondisi di luar Muhammadiyah, yaitu realitas umat Islam dan bangsa Indonesia pada umumnya.
Telaah lebih dalam ikhwal Lambang HMI (Himpunan Mahasiswa Islam)
A. Aspek Internal Kelahiran IMM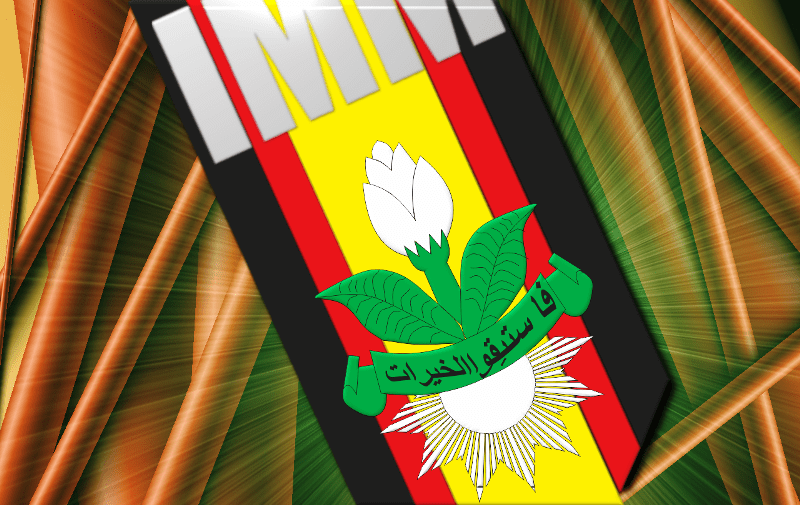 Motivasi mengenai pewadahan dan pembinaan organisasi  ini sebetulnya tidak terjadi secara kebetulan. Melainkan telah terrencana sejak lama dan berdasarkan keinginan yang kuat. Yaitu adanya keinginan untuk mendirikan perguruan tinggi Muhammadiyah pada Kongres Seperempat Abad Muhammadiyah di Betawi  Jakarta pada tahun 1936.
Pada saat itu, Pimpinan  Pusat Muhammadiyah diketuai oleh KH. Hisyam (periode 1934-1937). Harapan tersebut memang logis dan realistis, sebab keluarga besar  Muhammadiyah semakin banyak. Apalagi Muhammadiyah terkenal dengan sistemnya yang bagus dalam wilayah pendidikan.
Mengenai gagasan pembinaan serta pembentukan kader di lingkungan  mahasiswa sebenarnya sudah ada sejak lama. Hal itu tertuang dalam bentuk penghimpunan dan pembinaan langsung yang selaras dengan kehendak serta harapan pendiri Muhammadiyah, K.H. Ahmad Dahlan.
Beliau sempat berpesan  bahwa dari kalian (pengikut Muhammadiyah) nanti akan ada yang jadi dokter, meester, insinyur, tetapi kembalilah kepada Muhammadiyah (Suara Muhammadiyah, nomor 6  tahun ke-68, Maret || 1988, halaman 19).
Dengan   demikian, pada dasarnya Muhammadiyah sudah  memikirkan bahwa kader-kader muda yang profesional harus memiliki basis keislaman yang tangguh. Makna tangguh sendiri dipertegas lagi yaitu dengan kembalinya mereka ke Muhammadiyah.
Selain faktor di atas, penyebab internal munculnya Ikatan Mahasiswa Muhammadiyah lebih dominan pada idealisme untuk mengembangkan ideologi Muhammadiyah. Yaitu faham dan cita-cita Muhammadiyah atau visi-misi itu sendiri.
Dalam gerakan dakwahnya, Muhammadiyah pada awalnya telah memiliki organisasi otonom (ortom). Riilnya adalah mereka membentuk organisasi Pemuda Muhammadiyah dan Nasyi'atul Aisyiyah. Pembentukkan tersebut dianggap cukup mampu menampung dan membina mahasiswa dan putra-putri Muhammadiyah untuk melaksanakan aktivitas.
Kegiatan tidak terpusat hanya masalah keilmuan keagamaan saja, tapi juga kemasyarakatan. Tapi, pada Muktamar Muhammadiyah ke-25 di Jakarta tahun 1936, terpetik suatu keinginan untuk mendirikan perguruan tinggi Muhammadiyah.
Tujuannya agar mampu menghimpun mahasiswa Muhammadiyah di dalam sebuah wadah organisasi otonom. Meski begitu, kenyataannya cita-cita itu terendapkan seiring sejarah pergerakan kemerdekaan Indonesia. Bahkan sampai dirintisnya Fakultas Hukum dan Filsafat PTM di Padang Panjang tahun 1955 dan Fakultas Pendidikan Guru di Jakarta tahun 1958.
Di lain sisi, Pemuda Muhammadiyah sendiri dalam Muktamar Muhammadiyah tahun 1956 menginginkan untuk menghimpun pelajar dan mahasiswa Muhammadiyah menjadi organisasi terpisah dari pemuda Muhammadiyah.
Pada akhirnya dalam Konferensi Pimpinan daerah (KOPINDA) Pemuda Muhammadiyah diputuskanlah untuk mendirikan Ikatan Pelajar Mahasiswa (IPM). Kegiatan yang dilakukan se-Indonesia di Surakarta itu diadakan dimana mahasiswa Muhammadiyah tergabung di dalamnya. Pasca lahirnya beberapa PTM pada akhir tahun 1950-an mendorong semakin kuatnya keinginan untuk mendirikan organisasi mahasiswa Muhammadiyah.
B. Aspek Eksternal Kelahiran IMM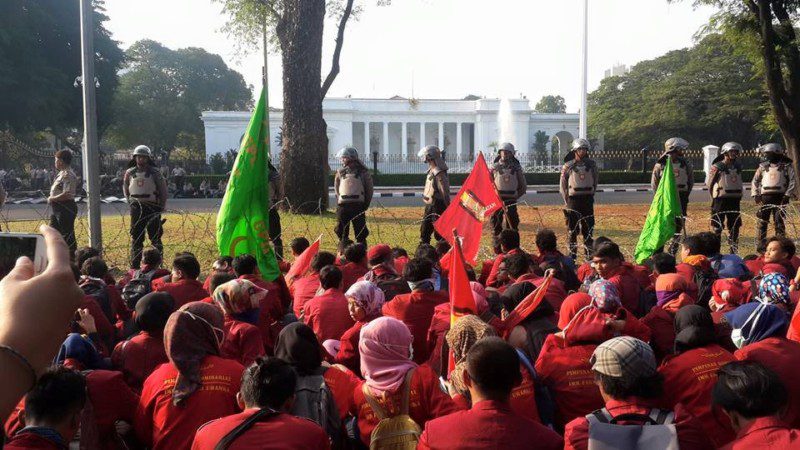 Seperti yang disebutkan sebelumnya, ada dua hal pokok yang melandasi berdirinya IMM. Alasan kedua ini merupakan sebab yang terjadi di luar keorganisasian Muhammadiyah. Tidak semua poin pendukung pembentukkan IMM berasal dari area dalam saja. Bahkan jauh lebih banyak sebab musabab yang berasal dari dunia luar Muhammadiyah.
Merujuk pada era di mana badan keorganisasian mahasiswa ini berdiri, yakni tahun 1960-an, maka faktor eksternalnya tentu tidak lagi asing. Hal-hal itu tidaklah jauh dari dunia perpolitikan, ekonomi, sistem pemerintahan, hingga alur pendidikannya. Di lain sisi, faktor keorganisasian dengan latar belakang agama juga turut serta menjadi penyebabnya.
Situasi politik yang kala itu tidak dalam keadaan stabil, juga pemerintahan yang otoriter dan serba tunggal, serta adanya ancaman komunisme di Indonesia. Menyebabkan banyak mahasiswa meragukan sistem pemerintahan. Beberapa di antara mereka mulai menyiapkan diri untuk menyusun visi-misi yang menurut mereka sesuai dengan Indonesia sebenarnya.
Selain karena faktor politik, hal lain yang memicu munculnya Ikatan Mahasiswa Muhammadiyah adalah terpecah-belahnya umat Islam datam bentuk  saling curiga dan fitnah. Lebih jauh, kehidupan politik ummat Islam yang semakin buruk juga menjadi alasan bagi pembentukan organisasi ini.
Jika dua hal sebelumnya adalah situasi global di Indonesia, mari kita kerucutkan lagi ke ranah pendidikan yang menjadi lahan pendirian IMM ini. Pada sektor perkuliahan, kehidupan kampus (mahasiswa) seolah-olah terbingkai-bingkai. Mahasiswa dalam dominasinya masing-masing memilih untuk berorientasi pada kepentingan politik praktis.
Alasan lainnya adalah sedikitnya pembinaan dan pendidikan agama  dalam kampus, serta masih kuatnya suasana kehidupan kampus yang sekuler. Bagi para pencari ilmu yang tidak benar-benar teguh pendirian akan sulit berada dalam kondisi macam itu. Tanpa pembinaan, dan penonjolan aktivitas keduniawian justru memperburuk keadaan kampus.
Di masyarakat umun, kehidupan beragama semakin kacau dengan merosotnya akhlak, dan semakin tumbuhnya materialisme-individualisme. Mereka yang saat itu sudah masuk era kebebasan tentu ingin mengikuti apa itu namanya perkembangan. Namun tidak jarang masyarakat yang salah mengapresiasikan diri dalam kebebasan itu.
Riskannya pilihan ummat terhadap kehidupan kala itu menjadi semakin kontras. Apalagi masih membekasnya ketertindasan imperialisme penjajahan dalam bentuk keterbelakangan, kebodohan, dan kemiskinan. Seolah-olah ada dua dunia berbeda dalam satu negara yang sama.
Perbedaan secara umum itu ternyata merembet ke zona teologi manusia. Sifat alami manusia untuk mempercayai Tuhannya tentu tidak bisa diabaikan. Tapi apa jadinya jika masih banyaknya praktik-praktik kehidupan yang serba bid'ah, khurafat, bahkan kesyirikan? Lalu bagaimana pula dengan meningkatnya misionaris-Kristenisasi era itu?
Fakta-fakta tentang kehidupan ekonomi, sosial, dan politik terasa semakin memburuk. Poin-poin itulah yang kemudian memicu mahasiswa dari kalangan Muhammadiyah  untuk membuat suatu perbedaan. Semangat mereka untuk mewadahi dan membina kembali para mahasiswa terasa semakin membara.
Ketika suatu alur terbentuk, tentu tidak akan lepas dari suatu masalah. Apalagi sejarah mengenai Ikatan Mahasiswa Muhammadiyah ini tergolong suatu himpunan yang tidak main-main. Dalam perjalanannya, pendirian IMM tidak selancar berkendara di jalan tol. Ada alur-alur tak terduga dan tebaran halangan selama pembentukan perhimpunan ini.
Lika-liku Berdirinya IMM
Mengenai gagasan pembibitan organisasi mahasiswa, semasa itu masih tergolong sangat muda. Pasalnya jumlah mahasiswa yang ada di lingkungan Muhammadiyah belum terlalu banyak. Dengan demikian, pembinaan kadermahasiswa Muhammadiyah dilakukan dalam dua wadah.
Satunya melalui wadah Pemuda Muhammadiyah (1932) untuk mahasiswa putera dan metalui Nasyiatul Aisyiyah  (1931) untuk mahasiswa puteri. Keinginan pembentukan perguruan tinggi Muhammadiyah sempat digalakkan pada Muktamar Muhammadiyah ke-31. Namun lagi-lagi karena berbagai hal, cita-cita itu tertunda lagi.
Pada Muktamar Muhammadiyah ke-33 tahun 1956 di Palembang, gagasan pendirian perguruan tinggi Muhammadiyah baru bisa direalisasikan. Meski begitu gagasan untuk mengelola mahasiswa Muhammadiyah dalam satu himpunan belum bisa diwujudkan.
Ketika itu, ide mengenai pembentukan Ikatan Mahasiswa Muhammadiyah menjadi polemik yang cukup panas di kalangan mahasiswa. Adanya resistensi mengenai ide pendirian IMM awalnya dikarenakan hubungan antara Muhammadiyah dengan H MI.
Setelah mengalami polemik yang cukup serius tentang gagasan untuk mendirikan IMM, maka pada tahun 1956 polemik tersebut mulai mengalami pengendapan. Sejak saat itu, IMM mulai merengreng sistematika keorganisasian mereka secara bertahap. Sampai pada tahun 1961, gagasan tentang pendirian IMM digulirkan secara terang-terangan.
Tahun 1963 dilakukan penjajagan untuk mendirikan wadah mahasiswa Muhammadiyah secara resmi oleh Lembaga Dakwah Muhammadiyah. Lembaga Dakwah Muhammadiyah inilah yang menjadi embrio lahirnya Ikatan Mahasiswa Muhammadiyah dengan terbentuknya IMM lokal Yogyakarta.
Sejarah terbekas jelas ketika pada akhirnya IMM diresmikan tanggal 14 Maret 1964 M. Tiga bulan setelah penjajagan, Pimpinan Pusat Muhammadiyah meresmikan berdirinya Ikatan Mahasiswa Muhammadiyah pada tanggal 29 Syawal 1384 H. Penandatanganan dilakukan Ketua Pimpinan Pusat Muhammadiyah saat itu, yaitu KHA Badawi.
Tujuan, serta Visi-Misi IMM
Setelah resmi mendirikan Ikatan Mahasiswa Muhammadiyah, Drs. Moh. Djazman Al-Kindi membuat suatu deklarasi. Beliau yang juga merupakan koordinator dan sekaligus ketua pertama IMM melakukan Muktamar IMM yang pertama pada 1-5 Mei 1965 di kota Barat, Solo. Hal itu menghasilkan suatu deklarasi sebagai berikut:
IMM adalah gerakan Mahasiswa Islam
Kepribadian Muhammadiyah adalah Landasan perjuangan IMM
Fungsi IMM adalah sebagai eksponen mahasiswa dalam Muhammadiyah (sebagai stabilisator dan dinamisator).
Ilmu adalah amaliah dan amal adalah Ilmiah IMM.
IMM adalah organisasi yang syah-mengindahkan segala hukum, undang-undang, peraturan dan falsafah negara yang berlaku.
Amal IMM dilakukan dan dibaktikan untuk kepentingan agama, nusa dan bangsa.
Seperti yang dirumuskan dalam AD IMM, tujuan didirikannya IMM adalah: "Mengusahakan terbentuknya akademisi muslim yang berakhlak mulia dalam rangka mencapai tujuan Muhammadiyah".
Tujuan ini kemudian dijabarkan dalam bentuk misi yang wajib diemban oleh setiap kader ikatan. yang terdiri dari misi keagamaan, keintelektualan, dan kemasyarakatan. Selain tujuan, ada juga visi dari organisasi mahasiswa ini.
Visi merupakan seperangkat pengetahuan yang diyakini kebenarannya di mana akan memberi arah tujuan yang akan dicapai sekaligus arah proses untuk mencapai tujuan. Dalam konseptualisasi gerakan ini visi yang dicita-citakan harus senantiasa terpelihara secara kokoh di dalam "state of mine".
Misi dan Visi gerakan IMM Tertuang dalam Tri Cita, yaitu :
Keagamaan (Religiusitas)
Sebagai organisasi kader yang berintikan nilai-nilai religiusitas, IMM senantiasa memberikan pembaruan keagamaan menyangkut pemahaman pemikiran dan realisasinya, dengan kata lain menolak kejumudan. Menjadikan Islam dalam setiap proses sebagai idealitas sekaligus jiwa yang menggerakkan. Motto yang harus diaktualisasikan adalah :
"Dari Islam kita berangkat (landasan & semangat) dan kepada islam lah kita berproses (sebagai cita-cita)"
Keintelektualan (Intelektualitas)
Dalam tataran intelektual Ikatan Mahasiswa Muhammadiyah berproses untuk menjadi "centre of excellent", pusat-pusat keunggulan terutama sisi intelektual. Organisasi ini diharapkan mampu menjadi sumber ide-ide segar pembaharuan.
Sebagai kelompok intelektual, kader IMM harus berpikir universal tanpa sekat eksklusivisme. Produk-produk pemikirannya tidak bernuansa kepentingan kelompok dan harus bisa menjadi rahmat untuk semua umat.
Kemasyarakatan (Humanitas)
Di dalam setiap gerakan, ada perjuangan untuk mewujudkan idealitas (manifestasi gerakan). Kader IMM harus senantiasa berorientasi objektif, agar idealitas dapat diwujudkan dalam realitas. Namun perlu dicatat, membangun peradaban tidak dapat dilakukan sendirian (ekslusif), dalam arti kita harus menerima dialog dan bekerjasama dengan kekuatan lain.
Lambang IMM dan Filosofisnya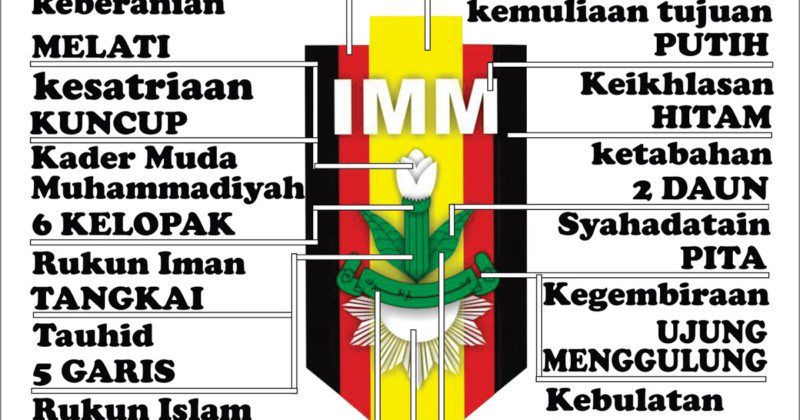 Ingin tahu Apa itu Mahasiswa? Jadilah mahasiswa teladan seutuhnya. Baca di artikel tautannya.
Sebagai organisasi yang tergolong besar, Ikatan Mahasiswa Muhammadiyah tentu memiliki lambang yang terbentuk dengan suatu makna tertentu. Dan berikut adalah makna dari lambang IMM.
Bentuk                                    : Perisai Pena, berarti lambang orang yang menuntut ilmu.
 Berlapis tiga maknanya     : Iman, Islam dan Ikhsan atau Iman, Ilmu dan Amal.
WARNA
Hitam              : Kekuatan, ketabahan, dan keabadian.
Kuning            : Kemuliaan tujuan.
Merah              : Keberanian dalam berfikir, berbuat dan bertanggung jawab.
Hijau               : Kesejahteraan.
Putih                : Kesucian
GAMBAR
Sinar Muhammadiyah : Lambang Muhammadiyah.
Melati : IMM sebagai kader muda Muhammadiyah
Tulisan dalam pita : Fastabiqul Khairat (berlomba-lomba dalam kebajikan)
Basis Ideologi  dan Identitas IMM
IMM terbentuk bukan dengan ciri gerakan aksi seperti KAMMI atau gerakan politik vertikal seperti HMI. Ikatan Mahasiswa Muhammadiyah sejak penggagasannya mendeklarasikan diri sebagai gerakan intelektual sekaligus gerakan sosial politik, dengan semboyan "Unggul dalam Antelektualitas, Anggun dalam Moralitas".
Sehingga ciri ini menempatkan IMM pada posisi yang agak jauh dari pergumulan kekuasaan 'orde baru' yang berakhir dengan reformasi 1998. Seperti juga organisasi mahasiswa lainnya, identitas merupakan ciri khas yang membedakan dengan lainnya, (ideintiatas IMM) yaitu:
IMM adalah organisasi kader
IMM merupakan organisasi kaderisasi yang bergerak dibidang keagamaan, kemahasiswaan, dan kemasyarakatan dalam rangka mencapai tujuan Muhammadiyah.
IMM sebagai Ortom Muhammadiyah
IMM merupakan organisasi otonom Muhammadiyah, menjiwai semangat Muhammadiyah sebagai gerakan dakwah khususnya di tengah-tengah mahasiswa, yaitu menegakkan Amar Ma'ruf Nahi Munkar.
IMM sebagai gerakan Religius & Intelektual
Aktualisasi yang dilakukan merupakan proses integrasi dari nilai-nilai religius dan ilmiah, artinya pola gerakan yang dibangun senantiasa mengedepankan wacana dzikir dan fikir.
Setiap Kader IMM harus Mencirikan:
Tertib dalam ibadah sebagai wujud ke-taqwa-an
Tekun dalam mengkaji dan mengamalkan ilmu
Konsisten dalam perjuangan keagamaan dan kemasyarakatan
Dan dalam memegang teguh identitas, Ikatan mahasiswa Muhammadiyah di setiap gerak perjuangannya telah meletakkan beberapa dasar falsafah:
Semua amal gerak harus diabadikan untuk Allah SWT semata
Keikhlasan menjadi landasannya
Ridho Allah harus menjadi ghoyah terakhir, karena tanpa ridho-Nya tidak akan pernah ada hasilyang akan dicapai
Tenaga praksis (power of action) sangatlah menentukan, karena nasib kita akan sangat tergantung pada usaha dan perbuatan kita sendiri.
Mars IMM