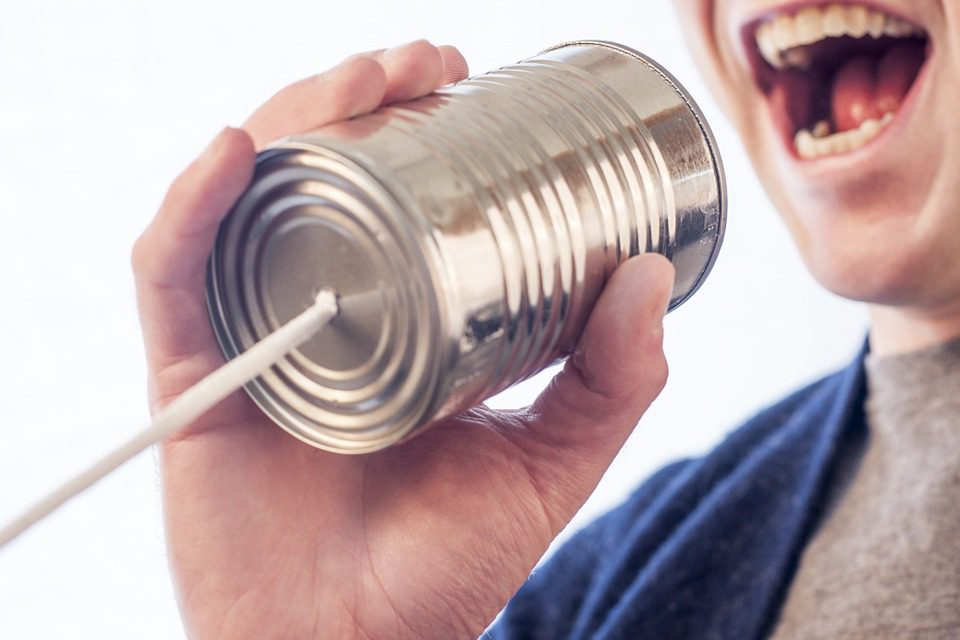 Manusia adalah makhluk sosial yang tak terlepas dari komunikasi. Baik verbal maupun nonverbal, manusia membutuhkan yang namanya komunikasi. Adapun bentuk-bentuk komunikasi sangat bermacam-macam sesuai kondisi antara komunikator, pesan dengan informan. Kali ini, kami hanya akan berfokus pada komunikasi publik yang meliputi komunikasi retorika. Di sini kita akan mempelajari ilmu retorika, mulai dari pengertian retorika hingga hukum retorika.
Sebagaimana yang kita tahu bahwa komunikasi publik merupakan komunikasi yang dilakukan di ruang publik. Dalam artian, komunikasi publik memilih komunikan yang lebih luas dan dampak yang lebih luas pula.
Pengertian Retorika
Adapun jenis komunikasi publik yang pertama adalah retorika. Pengertian retorika berasal dari Yunani yaitu rhetorikos. Artinya rhetor yang berarti pembicara publik sedangkan rhema berarti perkataan. Dengan demikian, retorika bisa bermakna pembicara publik yang menyampaikan pesannya melalui kata-kata (perkataan).
Adapun di dalam bahasa Inggris, pengertian retorika berasal dari kata rhetoric yang bersumber dari perkataan lain rhetorica yang artinya ilmu bicara. Sedangkan di dalam Islam sendiri, retorika sering sama penyebutannya dengan khutbah maupun muhadhoroh.[1]
Masih di bukuya Fitriana Dewi Utami, retorika juga dipaparkan melalui ungkapan Aristoteles yang diambil dari buku bertajuk 21st Century Communication: a Reference Handbook karya Karyn Charles Rybacki dan Donal Jay Rybacki. Katanya,
"Aristotle's concept of retoric cataloged means by which elements of the speaker's character (ethos), emotional appeals (pathos), logical argument (logos) could be brought to bear for persuasive effect".[2]
Adapun terkait hal di atas, Aristoteles juga menyebutnya sebagai the art of speaking yang artinya seni dalam hal berbicara. Senada dengan hal tersebut, retorika sebenarnya bukan hanya bermakna asal bicara, namun beretorika dengan seni yang bisa dicapai melalui talenta maupun keterampilan teknis.[3]
Tegasnya, seorang sejarawan sekaligus negarawan George F. Kennedy mendefinisikan bahwa retorika merupakan bagian dari sebuah cara untuk mempengaruhi khalayak.
"The energy inherent in emotion and thought, transmitted through a system of signs, including language to other of influence their decisions or actions"[4]
Jenis-jenis Retorika
Sebagaimana komunikasi-komunikasi lainnya, komunikasi publik dalam hal ini retorika pun memiliki jenis-jenisnya sendiri. Dalam hal ini, jenis retorika dipandang dari perspektif kepentingan dan juga tujuannya.
Pertama, retorika persuasif. Retorika jenis yang pertama ini adalah retorika yang memiliki tujuan untuk membujuk orang lain agar mengikuti percakapannya. Misalnya, bila Anda lihat orang berjualan obat di lapangan atau di acara sekatenan, tentu orang tersebut "menghalalkan" segala kata untuk menarik simpati dan mau membeli obatnya.
Kedua merupakan retorika dialektika. Jenis retorika ini sering disebut sebagai retorika psikologi. Maksudnya, retorika jenis ini adalah retorika yang sangat memperhatikan aspek psikologi, maka dalam penyampaiannya pun sangat memperhatian nilai-nilai kebenaran pesan, moralitas dan kebajikan. Jenis kedua ini cenderung menekankan pada pembinaan spiritual sehingga bentuk-bentuk retorika jenis ini sering digunakan dalam ceramah-ceramah agama.[5]
Hukum Retorika (The Five Canons of Rhetoric)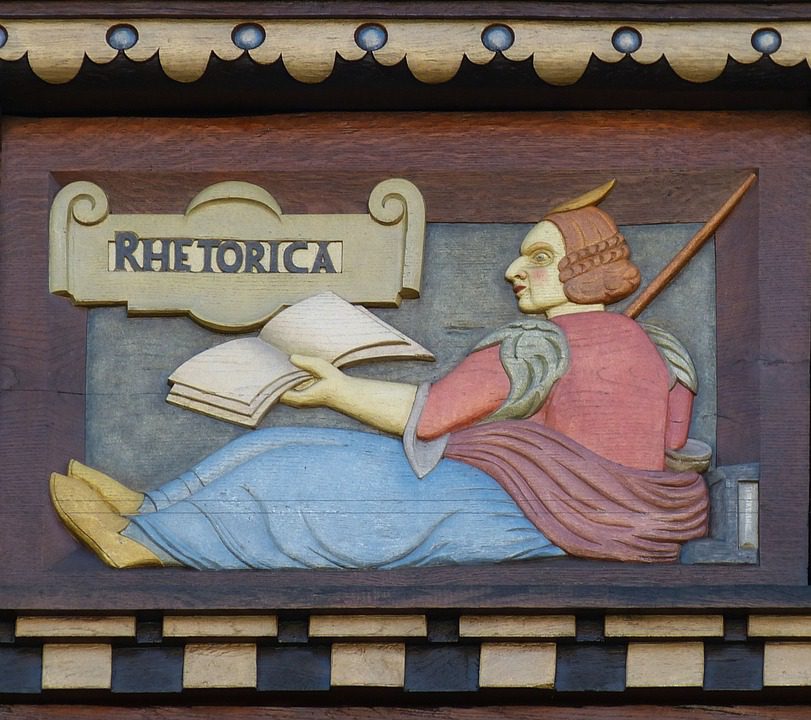 Di dalam ilmu komunikasi publik, terlebih retorika terdapat hukum yang dijalankan bagi seorang orator. Tujuannya, agar pesan yang disampaikan tidak bias dengan penerimaan masyarakat.
Dengan demikian, agar antara orator dengan komunikan bisa mutual understanding dalam ha berkomunikasi, Jalaludin Rakhmat di dalam bukunya berjudul Retorika Modern, Pendekatan Praktis telah membuat 5 tahap penyusunan pidato.[6]
1. Penemuan
Hal yang harus dipikirkan seorang pembicara publik tentunya bukan hanya berkutat di dalam dirinya sendiri. Dalam artian, apa yang disampaikan juga perlu mempertimbangkan hal-hal yang berkaitan dengan tema yang akan dibawakannya. Misalnya, seorang pembicara perlu tahu bagaimana budaya, politik, agama, dan sektor-sektor lainnya.
Dari adanya usaha penemuan di atas diharapkan seorang komunikator mampu membuat sebuah konseptualisasi matang apa yang akan disampaikannya. Memilah fakta-fakta yang belum ada sehinga komunikan nantinya bisa tertarik dengan materi yang disampaikan.
2. Penyusunan
Hal yang kedua adalah penyusunan. Kegiatan ini dilakukan manakala seorang komunikator telah menemukan apa yang akan disampaikannya. Tentu saja dalam kegiatan ini diperlukan ketelitian dan ketekunan untuk menghasilkan pesan atau materi yang runtut dan sistematis  agar dapat diterima khalayak dengan baik.
Di dalam kegiatan ini, seorang komunikator juga bisa memulai dengan pengaturan simbol-simbol yang akan disertakan di dalam komunikasi. Nantinya, simbol-simbol inilah yang dapat memperkuat  pesan yang akan disampaikan.
3. Gaya
Kegiatan ketiga ini bermaksud mengenai sebuah model yang akan dipakai ketika komunikasi publik dilaksanakan. Apa pentingnya? Sebuah pesan tentunya mempunyai tujuan untuk merayu sekaligus membujuk para audiens untuk menerima dan akhirnya melakukan apa yang disampaikan komunikator.
Oleh karena itu, gaya dalam hal beretorika sangatlah penting untuk menjalin ikatan batin terlebih dahulu. Buat diri seorang komunikator seperti yang khalayak inginkan, sehingga distribusi pesan bisa berjalan lancar. So, usahakan sharing dulu baru selling.
4. Penyampaian
Proses yang keempat adalah praktek penyampaian. Dalam tahap ini, seorang komunikator memposisikan dirinya sudah menjadi orator sehingga apa yang telah disusun pada tahap sebelumnya bisa dipraktikkan.
Intinya, di dalam penyampaian ini seorang orator mampu melakukan perwujudan berbagai simbol baik verbal maupun nonverbal. Plus juga mencakup bagaimana pesan disampaikan, apakah melalui media slideshow, power point dan lain sebagainya.
5. Daya Ingat
Seorang orator juga perlu memiliki daya ingat yang kuat. Dalam hal ini, sang orator bisa menghafalkan teksnya sampai tingkat hafal luar kepala. Keuntungannya, orator tidak terpatok pada teks sehingga bisa lebih leluasa memainkan peran nada suara maupun intonasinya.
Selain hal di atas, seorang orator juga bisa menyamakan frekuensinya dengan komunikan mengingat tempat penyampaiannya seringkali berbeda tempat. Dengan penyamaan frekuensi, audiens bisa lebih nyaman dalam menerima pesan.
[1] Fitriana Utami Dewi, Public Speaking; Kunci Sukses Bicara di Depan Publik (Yogyakarta: Pustaka Pelajar, 2013), hlm, 59.
[2] Ibid, hlm, 60.
[3] Dori Wuwur Hendrikus, Retorika; Terampil berpidato, berdiskusi, beragumentasi dan bernegosiasi (Yogyakarta: Penerbit Kanisius, 2003), hlm, 1.
[4] Fitriana Utami Dewi, Public Speaking; Kunci Sukses Bicara di Depan Publik (Yogyakarta: Pustaka Pelajar, 2013), hlm, 61.
[5] Fitriana Utami Dewi, Public Speaking; Kunci Sukses Bicara di Depan Publik (Yogyakarta: Pustaka Pelajar, 2013), hlm, 62-63
[6] Fitriana Utami Dewi, Public Speaking; Kunci Sukses Bicara di Depan Publik (Yogyakarta: Pustaka Pelajar, 2013), hlm, 69.