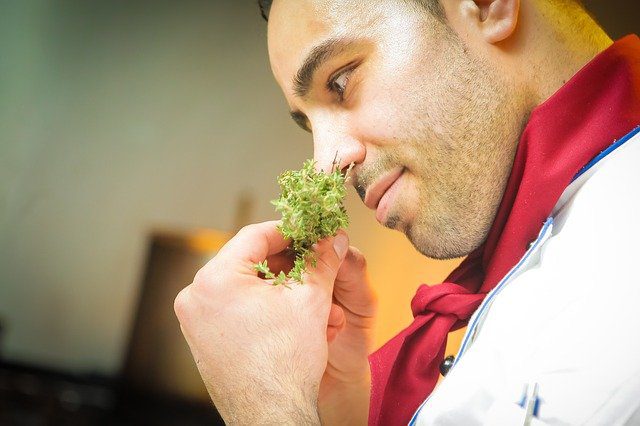 Hilangnya Bau dan Rasa Indikasi Awal Seseorang Terinfeksi Covid-19 (Gambar: Pixabay)
Ada beberapa indikasi mengenai gejala Covid-19 seperti demam, batuk dan flu seperti yang dikatakan dokter maupun kampanye pemerintah. Namun baru-baru ini ilmuwan menemukan bahwa hilangnya bau dan rasa justru lebih sering terjadi pada seseorang ketika terinfeksi Covid-19.
Bahkan hilangnya bau dan rasa ini dirasakan lebih cepat lima hari sesudah seseorang terinfeksi Covid-19. Indikator ini bisa dijadikan indikasi awal infeksi dan penyebaran Covid-19 di lingkungan sekitar.
Melansir dari halaman Science Daily, sejumlah peneliti internasional merilis penelitian mereka yang berjudul "Smell and Taste Changes are Early Indicators of The COVID-19 Pandemic and Political Decision Effectiveness". Penelitian ini diterbitkan dalam jurnal Nature Communications.
Penelitian gabungan ini melibatkan 24 ilmuwan dari lintas negara Eropa seperti Perancis, Italia dan Amerika Serikat yang akan dipublikasikan pada tanggal 14 Oktober nanti.
Hilangnya Rasa dan Bau Indikasi Awal Seseorang Terinfeksi Covid-19: Kronologi
Para ilmuwan sebelumnya mencurigai bahwa perubahan atau hilangnya bau dan rasa berkaitan dengan kelebihan beban rumah sakit (overload) saat Covid-19 mulai menginfeksi.
Penelitian ini sebetulnya dianalisis dari data yang terkumpul dalam Global Consortium fo Chemosensory Research Survey. Sebuah lembaga survey yang menyediakan data online lebih dari 35 bahasa berbeda.
Menurut Veronica Pereda-Loth, pemimpin penelitian di Universite Paul Sabatier Toulouse III di Perancis menuturkan ada dua tujuan dalam penelitian ini.
"Tujuan utamanya adalah untuk menguji asosiasi antara laporan perubahan bau dan rasa dengan indikator tekanan kepada rumah sakit seperti rawat inap Covid, penerimaan unit resusitas perawatan kritis dan tingkat kematian di setiap wilayah administratif Perancis selama tiga bulan terakhir", katanya.
"Tujuan sekundernya adalah untuk memeriksa hubungan temporal antara puncak perubahan bau dan rasa dalam populasi dan puncak kasus Covid-19 dan penerapan lockdown".
Data yang digunakan para ilmuwan dalam penelitian ini adalah data yang dikumpulkan pada tanggal 7 April-14 Mei 2020.
Sebagai pembanding utamanya, peneliti menggunakan data dari Pemerintah Perancis dikarenakan data tersebut lebih detail menjelaskan variasi geografi ketika pandemi Covid-19 melanda negeri anggur itu. Variasi geografi yang dimaksud adalah pembagian daerah merah (tinggi) dan hijau (rendah) sebagai indikator.
Sebagai catatan, di Perancis indikator merah diukur dari tingkat penyebaran virus aktif, tekanan tinggi pada rumah sakit dan penurunan kapasitas pemeriksaan. Ukuran inilah yang dijadikan dasar prioritas penanganan disana.
Temuan dan Implikasi
Setelah itu data tersebut dikomparasikan dengan data yang berasal dari Italia dan Inggris. Tujuannya yaitu untuk menemukan apakah hilangnya bau dan rasa dapat difungsikan sebagai indikasi awal seseorang telah terinfeksi Covid-19.
Data tersebut juga dibandingkan dari tingkat penguncian wilayah (lockdown) dikarenakan perbedaan penerapannya di negara-negara tersebut.
Peneliti lantas menemukan bahwa perubahan rasa dan bau berkorelasi dengan banyaknya pasien COVID-19 untuk ke rumah sakit. Hilangnya bau dan rasa ini dirasakan setidaknya empat hari sesudah lockdown diterapkan sejumlah wilayah di Perancis.
Pemerintah Perancis sebetulnya sudah memiliki indikator tersendiri dimana indikator seseorang terinfeksi Covid-19 adalah 11 hari. Akan tetapi penelitian ini bisa mengubah indikator tersebut.
John Hayes, Professor Ilmu Gizi dari Penn State University  menyatakan bahwa gejala hilangnya bau dan rasa tersebut sejalan dengan data terkait Covid-19. Ini juga menjawab mengapa perubahan bau dan rasa erat kaitannya dengan kelebihan beban rumah sakit. Perubahan atau hilangnya bau dan rasa tersebut dirasakan hanya dalam beberapa hari dari infeksi awal seseorang terkait Covid-19.
"Mereka (peneliti) menyarankan laporan diri tentang bau-rasa terkait kelebihan beban rumah sakit dan merupakan penanda awal penyebaran infeksi Covid-19", tuturnya. Ia menambahkan bahwa dengan temuan ini potensi wabah dan kemanjuran lockdown bisa diukur dari pelacakan perubahan bau dan rasa itu.
Sumber:
https://www.sciencedaily.com/releases/2020/11/201111153107.htm