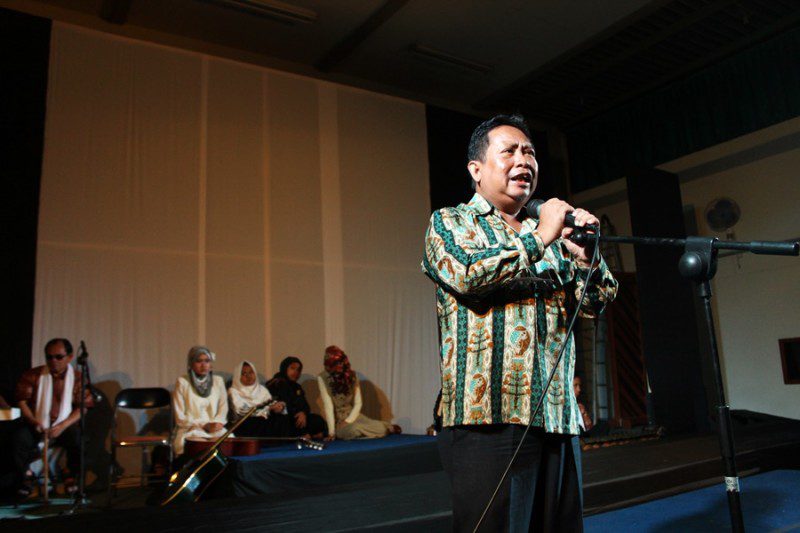 Nama Lengkap: Adriano Rusfi
Jenis Kelamin: Laki-laki
Tempat & Tanggal Lahir: Bukittinggi, 4 Maret 1964
Agama: Islam
Alamat Rumah: Villa Harmony Palagan B-1, Jl. Palagan Tentara Pelajar km 9, Danikerto, Sariharjo, Ngaglik, Sleman, Yogyakarta.
Pendidikan Terakhir: Profesi Psikologi
Pekerjaan: Konsultan SDM dan pendidikan
Status Marital: Menikah, jumlah anak : 4 orang
Bagi Anda kaum muda, tentu Anda tidak asing lagi dengan istilah Menikahlah Sebelum Mapan. Istilah tersebut penulis jumpai ketika mengenal Bapak Adriano Rusfi, atau lebih akrabnya sering dipanggil Bang Aad.
Pertama kali kenal, penulis lupa di mana. Yang jelas, saat itu penulis sedang mencari khotib Jumat karena khotib yang telah dijadwalkan telah mengkonfirmasi tidak bisa hadir.
Biasanya, sebelum menghubungi khotib, penulis sering membuat outline terlebih dahulu satu bulan ke depan akan membahas tema terkait apa. Karena saat itu sedang terjadi banyak isu bahwa pergaulan anak muda semakin bebas, maka penulis menganggap tema itulah yang tepat untuk disampaikan di khutbah Jumat pecan depan.
Penulis pun mencari informasi terkait bagaimana cara mendidik anak, dalam istilah ilmiahnya sering disebut parenting. Penulis pun menemui dua orang yang tepat untuk menyampaikan tema tersebut, salah satunya yakni seorang pakar Psikologi Bang Aad.
Lewat berbagai tulisannya, penulis mencoba berdiskusi  terkait tema yang tepat untuk disampaikan pada khutbah Jumat pekan depan. Penulis pun langsung request bahwa jamaah saat itu sedang butuh materi terkait dunia parenting. Jumat pun  tiba, beliau naik mimbar dan membawakan khutbah bertajuk Generasi Akil Baligh.
Alhamdulillah, sambutan hangat pun cukup luar biasa terutama dari kalangan kaum muda yang saat itu masih mahasiswa. Kepulangan Bang Aad pun sempat tertunda lantaran ada beberapa mahasiswa yang ingin mengajak diskusi langsung di masjid itu. Mereka penasaran dengan munculnya fase remaja dalam dunia Islam.
Penulis terka, mereka adalah anak muda yang haus akan ilmu pengetahuan sehingga sangat disayangkan bila melewatkan moment begitu saja. Hampir satu jam kami pun berdiskusi, hingga akhirnya penulis menawarkan akan menulis kembali tema yang tadi telah disampaikan Bang Aad.
Bersambung…
RIWAYAT PENDIDIKAN
1969 – 1970       TK Pertiwi Bukittinggi
1971 – 1976       SD Matraman Raya 115 Jakarta
1977 – 1980       SMPN 3 Jakarta
1980 – 1983       SMAN 8 Jakarta
1983 – 1990       F Psikologi UI Jakarta
1992 – 1993       F Psikologi Unidha Malang
RIWAYAT PEKERJAAN
1989 – 1992       Pimpinan Umum Majalah Wanita UMMI
1994 – 1995       Ka Div Program P3UK
1995 – 1998       Direktur Program Sinergi Indonesia
1998 – 2002       Direktur Program INVENTRA
2000 – skr           Senior Consultant PPSDM Consultant
2002 – 2004       Direktur Utama PT. Sajadah Edutama Indonesia
1995 – skr           Konsultan SDM & Pendidikan independen
KLIEN PERUSAHAAN YANG PERNAH DITANGANI
Pulau Laut Group
Kramayudha Ratu Motor
Bhakti Adies Sejahtera
Wirashangga Group
Purwa Wisata Karsa
Shafira Corporation
Pos Indonesia
Sistelindo Mitralintas
PT Rajawali Sakti Utama
Glorius Internusa
Krakatau Steel
LAPI Divusi
Daya Makara
MyIndo Cyber Media
PT Mega Daya Motor
PT Jabetto
Citra Tanamas
Industira
Chevron
Perum Perhutani
Angkasa Pura I Makassar
PDAM Malang
Bangka Putra karya
Indomatrix
Infinys System Indonesia
Pertamina
Telkom Divre II
Kalla Group
Pupuk Kaltim
Riau Airlines
Bank Mandiri Training Center
Mobil Oil Bojonegoro
KLIEN PEMERINTAHAN YANG PERNAH DITANGANI
Dinas Kepegawaian Pemda Kabupaten Tangerang
Dinas Kepegawaian Pemda Kotamadya Tangerang
Kementerian Riset dan Teknologi Republik Indonesia
Kantor Diklat Pemda DKI
Dinas Pertambangan Pemda DKI
Dinas Peningkatan SDM Pemda Kotamadya Cirebon
Dinas Peningkatan SDM Pemda Kotamadya Bandung
Dinas Pendidikan Kabupaten Indramayu
Pusat Kesehatan Jasmani DEPDIKNAS
Direktorat Pendidikan Masyarakat Ditjen PLS DEPDIKNAS
Deputi Sumber Daya IPTEK, Kemenristek
Direktorat PTKPNF Ditjen PMPTK DEPDIKNAS
Biro Kepegawaian KEMENKUMHAM
Dharma Wanita Pemda Kabupaten Bangka Tengah
Dinas Pendidikan Pemda Kabupaten Bangka Tengah
Badan Meteorologi Klimatologi dan Geofisika
Fakultas Teknik Universitas Indonesia
Mahkamah Agung
Komisi Yudisial
Badan Narkotika Nasional Propinsi DKI Jakarta
Institut Teknologi Bandung
Kementerian Koperasi dan UKM
Direktorat Perbankan Syari'ah, Bank Indoneaia
Kantor Diklat Pemda Kota Depok
TISDA Badan Pengkajian dan Penerapan Teknologi (BPPT)
Komisi Pemberantasan Korupsi (KPK)
Dinas Pendidikan Kabupaten Bangka Barat
INSTITUSI PENDIDIKAN YANG PERNAH DITANGANI
Yayasan Bina Anak Shaleh, Yogyakarta
Yayasan Bina Anak Pertiwi, Jakarta
Yayasan Lentera Insan, Depok
Yayasan Amal Bhakti Ananda, Sukabumi
Yayasan Pendidikan Abdi Negara, Tangerang
D'Vastu Islamic Entrepreneurship School, Klaten
Sekolah Alam Tangerang, Tangerang
SMA Negeri Jatinangor
Yayasan Pendidikan Islam Asy-Sukriyyah, Tangerang
Sekolah Alam Entrepreneur, Sepatan, Tangerang
Prudent School, Tangerang
Sekolah Alam Baiturrahman, Bontang
SD Salman Alfarisi, Bandung
SMA Negeri 1, Sungailiat, Bangka
SMP Negeri 2, Sungailiat, Bangka
SMA Negeri 1 Kelapa Kampit, Belitung Timur
SMA Negeri Merawang, Pangkalpinang
SMA Negeri 3 Jember
PLMPM Gontor, Mantingan
Fakultas Psikologi Universitas Wisnuwardhana, Malang
Pesantren Ibnu Abbas, Cibubur, Jakarta Timur
SMP Al-Azhar 8, Kemang Pratama, Bekasi Barat
SMP Al-Azhar 30 Bandung
Sekolah Avicenna Jagakarsa, Medco Foundation
Yayasan Wanita Kereta Api
Yayasan Pendidikan AlMusthofa, Kebon Nanas, Tangerang
Sekolah Alam Bangka – Belitung, Bangka-Belitung
Sekolah Alam Harapan Kita, Klaten, Jawa Tengah
Yayasan Pendidikan Perintis, Sepatan, Kabupaten Tangerang
Madrasah Aliyah Negeri Insan Cendekia, Bangka Tengah
Pondok Pesantren Babakan Ciwaringin, Kabupaten Cirebon
Universitas Pekalongan
PRODUK YANG DIHASILKAN
Modul Kompetensi PT. Krama Yudha Ratu Motor
Analisis Jabatan Dinas Pertambangan Pemda DKI jakarta
Employee Qualification Rating (EQR) System
Evaluasi Jabatan Yayasan Asy-Syukriyah, Tangerang
Spiritual-emotional Creativity Training (SpECTra)
The Seven Tower Achievement Training
Together With Disaster (Twister) Training
Fantastic Reinventing (Fanta Rei) Training
Labour Motivational Development Spiritual (LMD's) Training
Life-skill Education System
Modul Physical Life-skill Education
Office Laboratory-Library System (Labrary)
Sistem Kaderisasi Masjid Salman ITB
Sistem Orientasi Mahasiswa Baru ITB
Sistem Evaluasi Implementasi Diklat Pemda DKI
Professional Managing System of Employee (Promise)
System on Absence
Sistem Penilaian Kinarya
Corporate for Community Development Program (CCDP) Training
The Mystery Characterizing Center for Outdoor Edutainment
Tes Indikator Kepribadian Rentan Narkoba (TIKREN)
Tes Potensi Intelektual (TPI)
Islamic Spirituality Test (IST)
Professional Personality Test (PPT)
Assessment Center Hakim Tindak Pidana Korupsi
Assessment Center Hakim Agung
Assessment Center Logistic Senior Manager
Evaluasi Jabatan PT Myindo Cyber Media
Emphatic – Progressive – Attractive (EPA) Test
Normal School Readiness Assessment (NSRA)
Tes Gaya Belajar (TGB)
Parent's Educational-Care Inventory (PECI)
KURIKULUM YANG TELAH DIHASILKAN
Kurikulum pelatihan 17 kompetensi Soft-skill PT Krama Yudha Ratu Motor
Kurikulum Induk Yayasan Pendidikan Abdi Negara, Tangerang
Kurikulum Life-skill SMP-SMA Internat Alkausar, Yayasan Amal Bhakti Ananda, Parungkuda, Sukabumi, Jawa Barat
Kurikulum Manajemen Perkantoran SMK Pelita Bangsa, Yayasan Adhi Putra, Tangerang, Banten
Kurikulum Induk Yayasan Pendidikan Islam Asysyukriyyah, Tangerang Banten
Kurikulum SMA IPA se Kabupaten Indramayu, Dinas`Pendidikan Kabupaten Indramayu, Jawa Barat
Kurikulum SMA Oasis School, Yayasan Marba, Carita, Banten
Kurikulum Integrasi SMPIT Ittihadul Muwahhidin, Yayasan BIAS, Kudus
Kurikulum Integrasi SMAIT Ittihadul Muwahhidin, Yayasan BIAS, Kudus
Kurikulum Pesantren Anak Jalanan, Pesantren Kota, Yayasan Bina Anak Pertiwi, Pasar Minggu, Jakarta Selatan
Kerangka Kurikulum Pondok Pesantren Babakan Ciwaringin, Kabupaten Cirebon, Jawa Barat
Pengembangan Kurikulum Akademi Entrepreneurship AlBiruni, Babakan Ciwaringin, Kabupaten Cirebon, Jawa Barat
Kurikulum Pendidikan Baby Caretaker, Lembaga Muslimah Salman, Masjid Salman ITB, Bandung Jawa Barat
Kurikulum & Modul Spiritual Treatment, Direktorat Perbankan Syariah, Bank Indonesia, Jakarta
Kurikulum SD, SMP, SMA Avicenna, Jagakarsa, Medco Foundation
Kurikulum SMA Negeri Jatinangor, Sumedang, Jawa Barat
Kurikulum Sekolah Alam Tangerang
Sistem Pendidikan TK Rumah Imaji
Kurikulum SD, SMP, SMA YWKA, Bandung, Jawa Barat
Sistem Pendidikan Yayasan Wanita Kereta Api
Kurikulum Fakultas Psikologi, Universitas Wisnuwardhana, Malang
Kurikulum Sekolah Alam Baiturrahman, Bontang
Kurikulum Sekolah Alam Entrepreneur, Sepatan, Tangerang
Kurikulum Program Inisiasi Mahasiswa Baru Beasiswa Bidik Misi ITB
Kurikulum Pelatihan 13 Kompetensi Soft-skill Kemenkumham
Kurikulum Latihan Mujtahid Dakwah, Masjid Salman, ITB, Bandung
Dll.
KETERLIBATAN DALAM ORGANISASI
Psikologi & Pengembangan Sumber Daya Indonesia (PPSDM) Consultant, Jakarta
MyIndo Human Consulting, Jakarta
Salman Insani Consulting, Bandung
Badan Narkotika Propinsi (BNP) DKI Jakarta
Syna Consulting, Bandung
PsychoSense Consulting, Malang
Linkage Syariah Consulting, Yogyakarta
The Grage Institute, Cirebon
Yayasan Psikologi Malang, Malang
Yayasan Lembaga Bantuan Pendidikan Indonesia (YLBPI) Jakarta
Yayasan Propexta, Jakarta
Indonesia Entrepreneur Society (IES) Jakarta
Adriano & Partners Consulting, Malang
Yayasan Pembinaan Imaratul Masajid, Jakarta
Yayasan Pembina Masjid Salman, ITB, Bandung
Solidaritas Alumni Psikologi (Solusi) Unidha, Malang
Himpunan Psikologi Indonesia (Himpsi) – Jakarta Raya
Psychology Professional Club (PsyPro Club), Jakarta
Innovators Club of Indonesia, Bandung
Pelangi People Development Consulting, Sungailiat, Bangka
Truly Media, Yogyakarta
PAUD Development Center, Cibinong, Bogor
Gerakan Indonesia Bersekolah
Yayasan Rumah Ilmu Indonesia, Bandung
Islamic Psychology Community (IPCom)
Lab IDE, Sungailiat, Bangka
Yayasan Psikologi Malang
Ikatan Guru Indonesia (IGI)
Center for Betterment of Education (CBE)
Dewan Pakar Masjid Salman ITB
Dll.
TRAINING ACTIVITIES YANG PERNAH DIDESAIN DAN DITANGANI
Map of Mine (Ujian akhir SMA Alkausar, Parungkuda, Sukabumi)
The Seven Tower (Achievement Motivation Outbound)
The Soprano (Social Entrepreneurship Adventurial Outing)
Watch (Wanapreneurship Adfunture Training & Coach)
Become (Beach-side Creative Outdoor Meeting)
Spectra (Spiritual-emotional Creativity Training)
Fanta Rei (The Fantastic Reinventing)
Goosebump : Misteri Guci Khasiat
Together With Disaster (Twister)
The Symphony Orchestra (Curriculum Design for Teacher)
The Indonesian Dream (Alamveva Jayamahe)
Buruan… Bangsa nunggu Loe !!! (for mhs. Pertambangan ITB)
The Vision Camp (for Rumah Amal Salman ITB)
Man of Vision (Leadership Training for Top Management)
The Fantastic Four (Outbound for Disable Person)
Flexter Grow Adventurous Training
The Mystery (Thematic Youth Scientific Discovery)
Internal Motivation Training
Leadership With Heart
Sangkuriang (Corporate Culture Outbound)
The Lost City (LMD 167)
In Harmonia Communicatio (LMD 168)
Law of Abstraction (LMD 166)
.Dream…Bed of Home (LMD 169)
The Perfect Puzzle (LMD 170)
Labour Motivational Development Spiritual (LMD's) Training
Say No to Bullying Teen Training