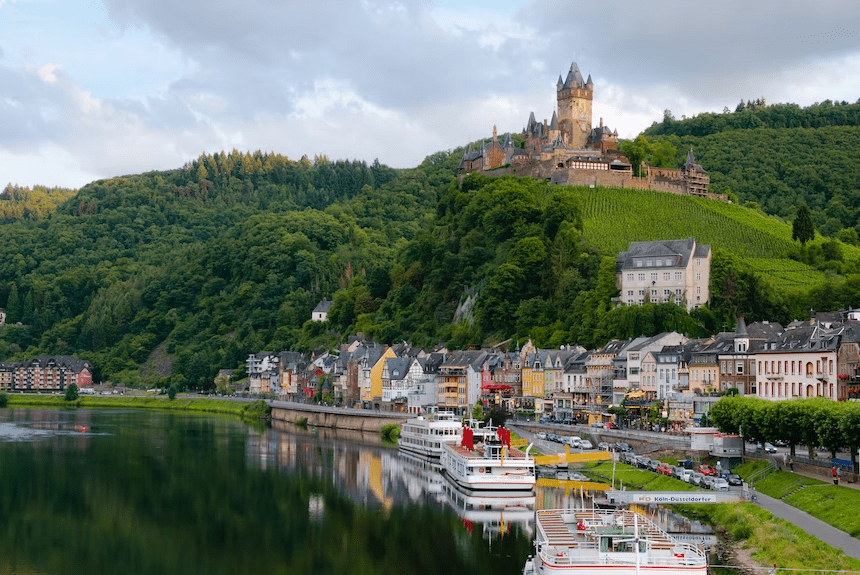 Germany – a country with a rich and turbulent history, breathtaking landscapes, and vibrant cities. From the scenic Alps in the south to the bustling metropolis of Berlin in the north, there are plenty of tourist attractions in Germany to discover. Whether you're looking for culture, history, food, or adventure, Germany has something to offer every traveler. In this guide, we'll take a closer look at some of the country's top tourist destinations, so let's get started!
Tourist Attractions in Germany: A Guide to the Best Destinations
1. Berlin – A City Rich in History and Culture
No list of tourist attractions in Germany would be complete without mentioning Berlin. As the capital and largest city of Germany, Berlin has an abundance of history and culture to explore. From the iconic Brandenburg Gate to the Berlin Wall Memorial, there are plenty of historical landmarks to visit in the city. For art lovers, the Museum Island is a must-visit destination. This complex of five museums is home to countless masterpieces from all over the world. If you're looking for a more vibrant and trendy atmosphere, head to the hip quarters of Kreuzberg and Neukölln, known for their street art, charming cafes, and bustling nightlife.
2. Munich – A City of Tradition and Beer
Are you a beer lover? Then Munich is the perfect destination for you. This Bavarian city is famous for its Oktoberfest, the world's largest beer festival, which attracts millions of visitors each year. But there's more to Munich than just beer. With its charming Old Town, picturesque Marienplatz square, and stunning Nymphenburg Palace, Munich is a city full of tradition and history. For a true taste of Bavarian culture, don't miss the famous Hofbräuhaus beer hall, where you can enjoy traditional food and drink to live folk music.
3. Neuschwanstein Castle – A Fairytale Destination
If you're a fan of fairytales, a visit to Neuschwanstein Castle is a must. This picturesque palace nestled in the Bavarian Alps was built by King Ludwig II in the 19th century as a homage to the romanticism of the Middle Ages. With its turrets, towers, and stunning surroundings, it's no wonder that Neuschwanstein Castle is often referred to as the "Disney castle." Visitors can take a guided tour of the palace's opulent rooms, and enjoy stunning views of the Alps from the castle's terrace.
4. The Romantic Road – A Scenic Drive Through Southern Germany
The Romantic Road is a scenic route that runs through southern Germany, linking picturesque towns and villages like a string of pearls. This 350-kilometer-long road is perfect for a road trip, allowing you to take in breathtaking landscapes and charming towns at your own pace. Along the way, you'll encounter medieval castles, half-timbered houses, and stunning churches. Don't miss the charming town of Rothenburg ob der Tauber or the impressive Wieskirche church.
5. The Black Forest – A Haven for Hikers and Nature Lovers
The Black Forest is a beautiful mountain range in southwestern Germany, known for its dense forests, sparkling lakes, and charming villages. The region is a haven for hikers and nature lovers, with countless trails winding through the forests and hills. Don't miss the stunning Triberg Waterfalls or the picturesque town of Baden-Baden, famous for its thermal baths and ancient Roman ruins.
6. Heidelberg – A City of Culture and Tradition
Heidelberg is a picturesque city in southwestern Germany, known for its historic University and charming Old Town. The city is home to the world-famous Heidelberg Castle, a stunning palace built in the 13th century that offers breathtaking views of the Neckar River. Heidelberg is also a city of culture and tradition, home to many museums, galleries, and music festivals. Don't miss the Heidelberg Philharmonic Orchestra or the tradition-rich student fraternities.
7. The Rhine Valley – A Scenic Journey Through Western Germany
The Rhine Valley is a breathtaking region in western Germany that stretches from Koblenz to Bingen. The river is flanked by picturesque towns and vineyards, making it the perfect destination for a scenic boat ride. Along the way, you'll encounter countless castles and fortresses, including the famous Marksburg Castle in Braubach. The region is also famous for its wine, with countless vineyards and wine cellars to explore.
8. Dresden – A City of Baroque Beauty
Dresden is a city located in the eastern state of Saxony, known for its stunning Baroque architecture. The city is home to countless landmarks, including the iconic Frauenkirche, the Zwinger Palace, and the Semperoper Opera House. Dresden is also a city of culture and art, with many galleries and museums showcasing works by famous painters like Caspar David Friedrich. Don't miss the Dresden Christmas Market, one of the oldest and most picturesque in Germany.
9. Hamburg – A City of Music and Water
Hamburg is a vibrant city located in northern Germany, known for its lively music scene and picturesque harbor. The city is home to many cultural landmarks, including the Elbphilharmonie concert hall and the Kunsthalle Museum. For a true taste of Hamburg, try some of the city's famous fish dishes, such as pickled herring or smoked eel. If you're looking for a unique experience, take a boat tour of the harbor or visit the Miniatur Wunderland, one of the world's largest model railway exhibitions.
10. The Baltic Coast – A Haven for Beachgoers and Nature Lovers
The Baltic Coast is a stunning region in northeastern Germany, known for its sandy beaches and pristine nature reserves. The region is home to many charming seaside towns, including the famous resort of Warnemünde. Don't miss the opportunity to sample fresh fish straight from the Baltic Sea at one of the many local fish restaurants. For nature lovers, the Jasmund National Park is a must-visit destination, home to stunning chalk cliffs and dense beech forests.
Germany has so much to offer visitors, from stunning natural landscapes to vibrant cities full of history and culture. Whether you're looking for adventure, relaxation, or a bit of both, there are plenty of tourist attractions in Germany to discover. From the Romantic Road to the Baltic Coast, from Berlin to Munich, there's something for everyone in this beautiful country. So pack your bags, grab your camera, and get ready for an unforgettable trip to Germany.