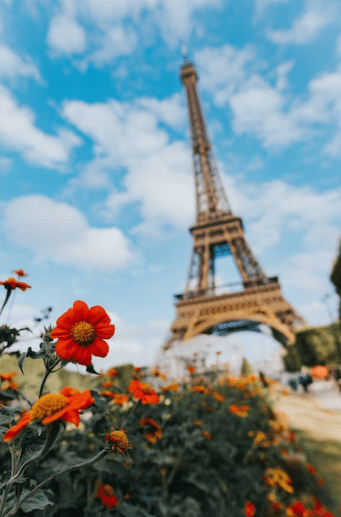 Ah, France! The land of love, art, literature, gastronomy, and fashion. This fascinating country has been a hotspot for tourists for centuries, enticing visitors with its stunning landmarks, rich culture, and unparalleled beauty. From the Eiffel Tower to the Louvre Museum, France boasts an array of world-renowned attractions that are not to be missed. In this article, we will explore the top tourist attractions in France that are bound to leave you awe-struck.
Tourist Attractions in France: An Enchanting Paradise
1. The Eiffel Tower – A Symbol of Love
The Eiffel Tower is a legendary monument that has been synonymous with France since it was built in 1889. This awe-inspiring structure was named after its architect, Gustave Eiffel. Standing 324 meters tall, the Eiffel Tower is the tallest building in Paris and is considered to be a symbol of love and romance, attracting millions of tourists every year. Whether you love heights or architecture, the Eiffel Tower is a must-visit for everyone who comes to Paris.
2. The Louvre Museum – A Haven of Art
The Louvre Museum is one of the world's largest and most famous museums, housing some of the most iconic works of art, including Leonardo da Vinci's Mona Lisa. With over 35,000 pieces of art on display, the Louvre deserves its spot among the top tourist attractions in France. The museum is set in a palace that dates back to the 12th century and holds over half a million square feet of galleries and exhibition space.
3. Notre-Dame Cathedral – A Marvel of Gothic Architecture
Notre-Dame Cathedral is one of Paris's finest examples of architectural beauty, and it's hard to miss with its high tented aisles and stunning stained-glass windows. It is seen as an embodiment of the French Gothic style and took 182 years to complete. Although the cathedral has suffered extensive damage during the 2019 fire, restoration works are underway to preserve this iconic landmark for future generations.
4. Palace of Versailles – A Glimpse into Royalty
The Palace of Versailles is a renowned symbol of the French monarchy and is a must-visit attraction for history buffs and architecture enthusiasts alike. This UNESCO World Heritage Site was initially built as a hunting lodge but later transformed into a palace by Louis XIV, known as the Sun King. The palace features a vast collection of art and artifacts from the 17th and 18th centuries, along with enchanting gardens designed by André Le Nôtre.
5. Mont Saint-Michel – A Melange of Mystique and History
Mont Saint-Michel is a picturesque island situated off the coast of Normandy, known for its breathtaking coastal views and incredible architecture. It was once an important pilgrimage site for Christians, and the island's stunning monastery and cobblestone streets are a testament to its legacy. The Mont Saint-Michel is also listed as a UNESCO World Heritage site and is a fantastic day-trip destination for visitors.
6. Chateau de Chambord – A Perfect Blend of Renaissance and Gothic Styles
The Chateau de Chambord is a stunning palace located in the Loire Valley, known for its impressive architecture and breathtaking gardens. Constructed on the order of King Francis I in 1519, it is the biggest chateau in the Loire Valley and is a proud UNESCO World Heritage site. The palace is a perfect illustration of the harmonious blend of Renaissance and Gothic styles.
7. Gorge du Verdon – A Nat ural Wonder
The Gorge du Verdon is France's answer to the Grand Canyon, known for its stunning turquoise waters and dramatic cliffs. This stunning gorge is the perfect destination for outdoor enthusiasts, with plenty of opportunities to hike, cycle, rock-climb, paddle, and raft. The Verdons River, which runs through the gorge, has carved some truly awe-inspiring natural formations, which makes this a must-visit for those who love nature.
8. French Riviera – A Playground of the Rich and Famous
The French Riviera is a glamorous stretch of coastline that has been attracting the world's elite for centuries. From the azure waters of Cannes to the upscale beaches of St. Tropez, this coastline is a playground of the rich and famous. The Riviera is a fantastic destination for anyone looking for luxury, relaxation, and breathtaking scenery, with its lovely beaches, fashionable boutiques, and indulgent cuisine.
9. The Pont du Gard – A Wonder of Roman Engineering
The Pont du Gard is an ancient Roman aqueduct that spans the Gardon River in Southern France. Reputed to be one of the most significant examples of Roman engineering, it was built in the first century AD and has been preserved to this day. This UNESCO World Heritage site is famous for its incredible architecture and provides a fascinating insight into the advanced technology of ancient Rome.
10. Carnac Stones – A Mysterious Megalithic Site
The Carnac Stones in Brittany are a group of ancient megalithic monuments that date back over 4,500 years. Standing in seemingly random formations across the landscape, these are one of the most significant such sites in the world. This mysterious site is famous for its incredible alignments and vast array of standing stones, making it a must-visit for history buffs, archaeologists, and anyone who loves ancient mysteries.
11. Annecy – An Alpine Paradise
Annecy is a charming town located in the French Alps, known for its stunning scenery and old-world charm. The town's crystal-clear waters, snow-capped peaks, and winding canals make it one of France's most romantic destinations. The town is renowned for its slow pace of life, with plenty of opportunities to indulge in cheese, wine, and outdoor activities like skiing, skating, and hiking.
12. Calanques National Park – A Hiker's Paradise
Calanques National Park is situated on the Mediterranean Coast, and it's a fantastic destination for hikers and those who love the great outdoors. The park boasts a stunning array of limestone cliffs that overlooks the azure waters of the Mediterranean, with plenty of hidden coves and beaches waiting to be explored. This natural paradise is also home to a wide range of flora and fauna, making it a unique destination for nature lovers.
13. Normandy Beaches – A Tribute to History
The Normandy Beaches are a poignant reminder of World War II's sacrifices and are a must-visit for those who are interested in history. These beautiful beaches witnessed the Allied invasion of Normandy on D-Day, and today they stand as a testament to the bravery and sacrifice of those who fought for freedom. Along the coastline, you can find museums, memorials, and cemeteries that offer a moving tribute to those who died in this historic conflict.
14. The Palace of Fontainebleau – A Legacy of Royalty
The Palace of Fontainebleau is one of France's most important royal residences and is a fantastic destination for those who love history and architecture. This UNESCO World Heritage site has been the backdrop for many important events in French history and has been the preferred residence of many French monarchs, including Napoleon Bonaparte. The palace features an array of stunning art and architecture, making it a must-visit destination.
15. Musee d'Orsay – A Showcase of Impressionist Art
Musee d'Orsay is a museum that is home to some of the world's most impressive Impressionist artwork. Housed in a former railway station, the museum showcases over 4,000 works of art, including works from Monet, Van Gogh, and Degas. This incredible museum is an excellent destination for art lovers and those who appreciate the beauty of Impressionist art.
In conclusion, France is a country that has something for everyone. Whether you love art, history, nature, or simply the vibrant culture, France is a country that will leave you spellbound. From dazzling monuments to stunning landscapes, France boasts an incredible range of tourist attractions that are not to be missed. So, book your tickets and start exploring this enchanting paradise today!