Demam telolet sedang viral beberapa waktu belakangan ini. Masyarakat Indonesia bahkan dunia tengah dihebohkan dengan kalimat 'Om Telolet Om'. Menyadur dari medan.tribunnews.com yang melakukan pemantauan di media sosial Twitter hingga pukul 16.05, menyatakan bahwa tagar #omteloletom menjadi trendingtopic no satu di dunia.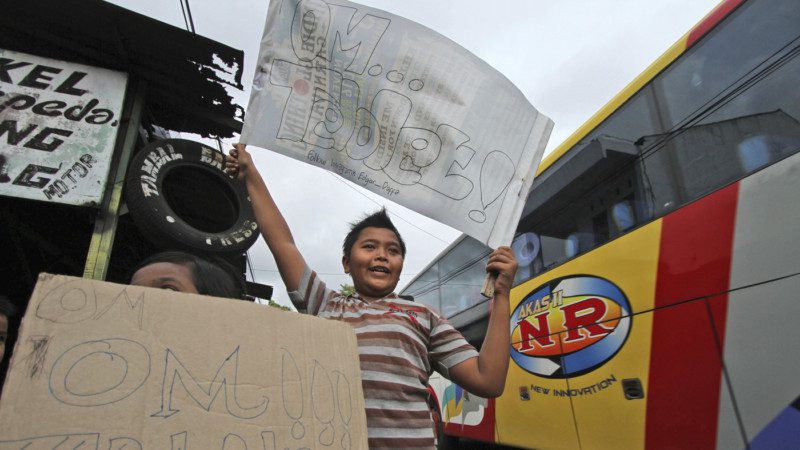 Fenomena ini tak pelak menjadi hal yang mengherankan. Karena hal yang dianggap sederhana bagi sebagian masyarakat Indonesia ternyata mampu menjadi fenomena yang mendunia. Kalimat 'Om Telolet Om' sendiri sebenarnya berasal dari anak-anak di sekitar jalan lintas Jepara-Kudus.
Seperti yang terlihat dalam video viral di media sosial, anak-anak tersebut memanggil sopir bus dengan sebutan 'Om' dan meminta mereka untuk membunyikan klakson bus. Video anak-anak tersebut banyak tersebar di Youtube dengan judul 'Bis Telolet'. Hingga saat ini kebiasaan anak-anak tersebut menjadi fenomena yang men-dunia.
Anak-anak dari kota lainpun tak mau kalah dan turut membuat video 'memburu telolet'. Bahkan komunitas berburu telolet sudah ada di beberapa kota Yogyakarta, Wonosobo, Magetan, Bekasi, dan Ungaran. Tidak hanya berburu klakson 'Telolet' mereka juga membuat video atas aksinya dan mengunggahnya di Youtube.
Demam 'Om Telolet Om"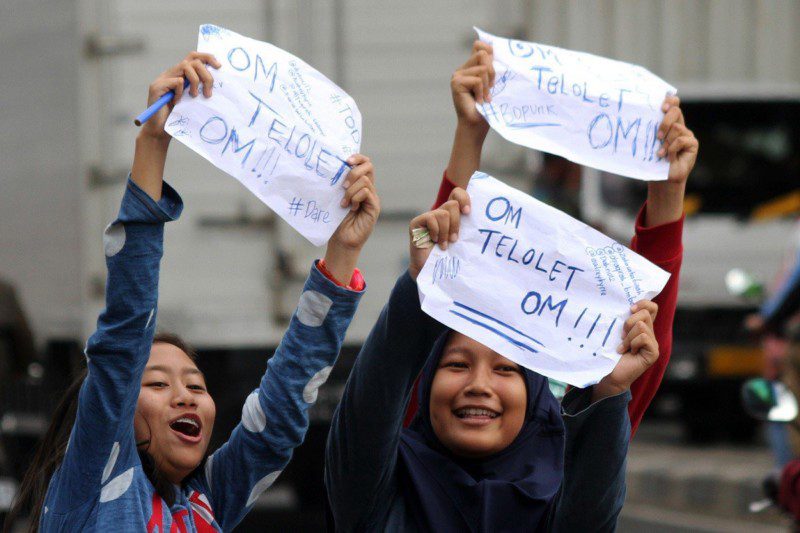 Selain banyaknya video anak-anak berburu 'Telolet', komentar 'Om Telolet Om' juga membanjiri akun media sosial artis dan tokoh ternama dunia. Hal ini kemudian menimbulkan banyak reaksi dari berbagai pihak. Salah satunya Mentri Perhubungan (Menhub) Budi Karya Sumadi yang mengatakan pihaknya akn menggelar kontes Bus 'Telolet' dalam waktu dekat.
Tidak hanya tanggapan baik dari Mentri Perhubungan. Banyak artis dunia yang juga ikut meramaikan fenomena tersebut. Setelah media sosial mereka dibanjiri komentar viral tersebut, mereka balas membuat status tersebut. Beberapa artis luar negeri yang terkena demam 'Telolet' diantaranya adalah,
1. Dj Snake
Dj yang terkenal sejak meriis single 'Turn Down For What' di tahun 2013 ini membuat kicauan di akun Twitternya yang berbunyi,
"Om Telolet Om"
Status tersebut diunggah pada tanggal 20 Desember 2016 pukul 22:32. Selain membuat status, DJ Snake bahkan berkomentar di akun Twitter Donald Trump. Sontak hal tersebut membuat banyak orang tertawa dan merasa konyol.
2. Zedd
Pria tampan yang berprofesi sebagai Producer, Dj, dan Musisi ini juga turut terkena demam telolet. Hal ini terlihat dari kicauannya di Twitter yang di unggahnya pada 21 Desember 2016 pukul 20:55. Di sosial medianya Zedd menuliskan,
"Om Telolet Om
INDONESIA recap video is finally here"
Selain membuat status Zedd juga mengupload video Bus 'Telolet'.
3. Marshmello
Selain kedua Dj tampan sebelumnya, Dj yang hobi menyembunyikan wajahnya ini juga terserang demam 'Telolet'. Sama seperti Dj Snake, Marshmello juga membuat status di Twitter yang berbunyi,
"Om Telolet Om"
Tidak hanya itu, Marshmello bahkan membuat remix 'Telolet' yang dipadukan dengan jingle dari Susu Murni Nasional.
4. Dillon Francis
Dj yang lahir di Los Angels pada 5 Oktober 1987 ini tidak mau kalah dengan Marshmello. Melalui akun Twitternya @DILLONFRANCIS, ia mengunggah video mash up 'Telolet'-nya dengan caption " BUN UP THE TELOLET"
5. Martin Garrix
Martijn Garritsen, dikenal dengan nama panggung Martin Garrix, adalah Dj/ produsser asal Belanda. Setelah akun Twitternya banjir dengan komentar 'Om Telolet Om', Martin balas berkicau,
"what is Om Telolet Om?"
6. The Chainsmokker
Grup band yang terkenal dengan lagunya 'Closer' turut meramaikan Twitter dengan kicauan,
" What does om telolet om mean?"
7. Steve Aoki
Musisi berdarah Jepang namun berkewarganegaraan Amerika ini turut berkicau
"Om Telolet Om!!!!"
Di akun Twitternya pada 21 Desember 2016 pukul 22:53.
8. Dj Firebeatz
Dj asal Netherlands ini tidak hanya berkicau tentang 'Telolet'. Dirinya juga membuat video singkat hasil remix 'Telolet' miliknya yang diunggah di akun Instagram pribadi miliknya.
9. Michael Ballack
Atlet bola asal Jerman ini terkena imbas komentar tentang telolet di akun media sosialnya. Menanggapi hal tersebut, Michael balas berkicau
"i keep receiving #omteloletom comments (pena) (kertas) can someone explain the #telolet trend? Thats all i found on reviews simple website #indonesia"
10. Marc Marquez
Atlet Moto Gp ini juga tidak mau kalah dengan sederet artis dan atlet lainnya. Melalui akun Twitternya @marcmarquez93 ia berkicau
"OM TELOLET OM (bus) (headphone) (laugh) #indonesia
Nama-nama diatas merupakan 10 bintang dunia yang terkena imbas 'Telolet' dari Indonesia. Humor sederhana yang berasal dari Jl Jepara-Kudus ini ternyata mampu mempengaruhi dunia. Bisa saja melalui humor sederhana ini mengangkat nama Indonesia di mata dunia.
Selain dikenal dengan keindahan pulau dan pantainya di Bali, Lombok, dan Sulawesi. Juga surga diving di wakatobi, kini Indonesia juga dikenal dunia dengan tagar 'Om Telolet Om'. Seperti fenomena pada umumnya di Indonesia, fenomena ini kemudian menjadi ladang bagi para kreator Meme untuk berkarya.
Selain komentar dan tagar di Facebook, Instagram, dan Twitter. Banyak meme dan kompilasi video Bus 'Telolet' yang viral di media sosial. Bahkan ada komentar-komentar lucu mengenai bus telolet, seperti " Dear Jokowi jangan sampai 'Telolet' di klaim negara tetangga'.
Tidak bisa dipungkiri jika 'Telolet' memang sedang gempar di tanah air bahkan dunia. Banyak anak-anak hingga orang dewasa yang berdiri di pinggir jalan untuk berburu 'Telolet'.
Hal tersebut sah-sah saja sebagai media hiburan masyarakat, namun keselamatan diri juga harus menjadi perhatian utama. Mentri Dinas Perhubungan juga menghimbau agar membunyikan 'Telolet' ketika Bus tidak sedang beroprasi, agar meminimalisir kemungkinan terjadinya laka lantas.