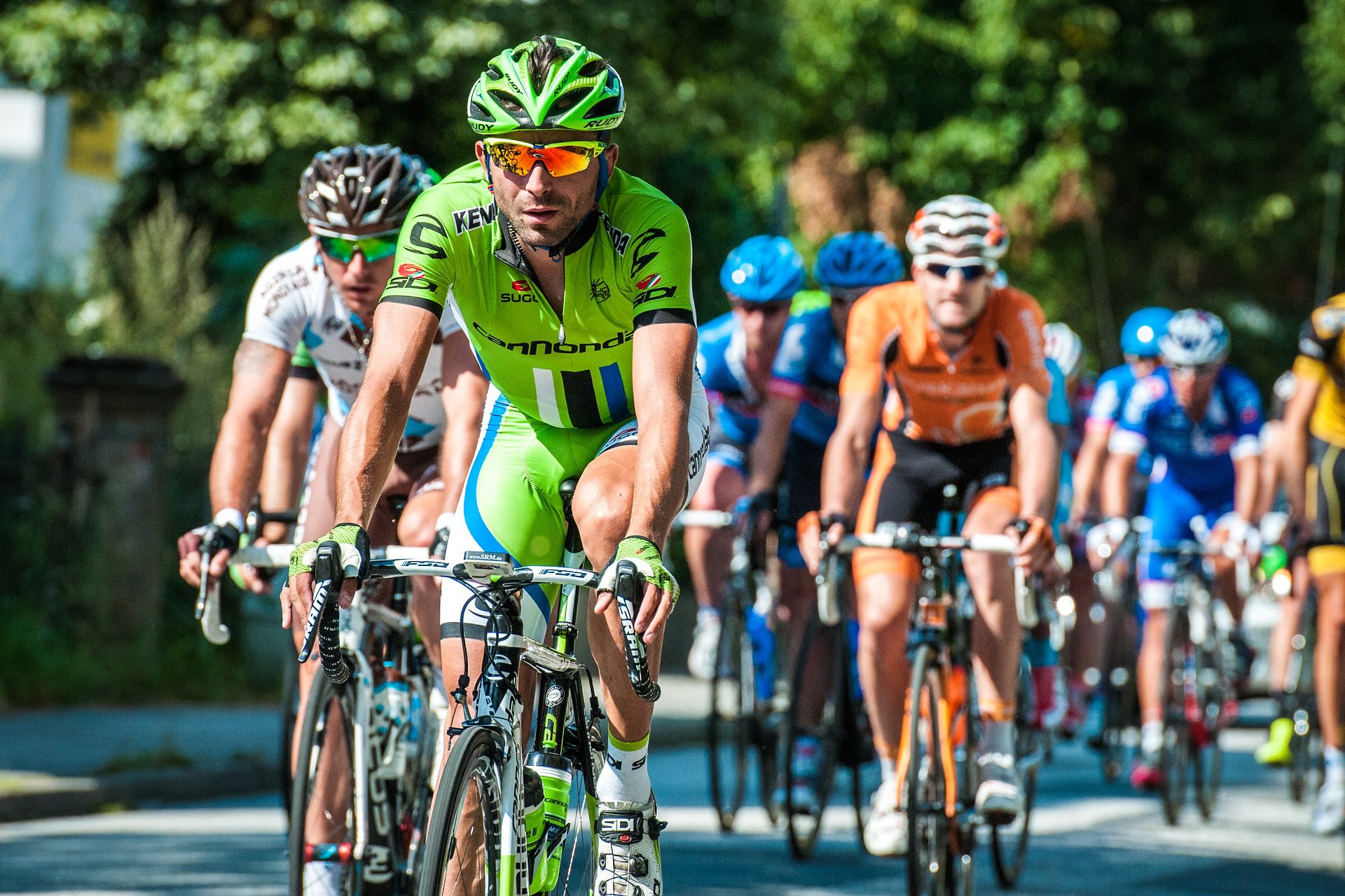 Sebelum membahas lebih dalam tentang olahraga balap sepeda, ada baiknya kita paham dulu bagaimana sejarah dari sepeda itu sendiri. Untuk Anda ketahui awal mulai di ciptaan sepeda secara jelas bertujuan untuk memudahkanm manusia dalam transportasi dan meringkas waktu untuk pergi kesuatu tempat, namun seiring berjalannya waktu fungsi itu berubah.
Karena merupakan sebuah olahraga yang menyehatkan akibat aktifitas fisik dari proses mengayuh sepeda, maka pada abad ke-19 orang-orang mulai memainkan sepeda sebagai sebuah pertandingan dan hal ini terus berlanjut sampai tercetus kompertisi balap sepeda tingkat dunia.
Awal kemunculan sepeda dimulai sekitar tahun 1817 dimana pengembangnya bernama J.K Starley yang adalah seorang lelaki dari Inggris. Seperti yang dilihat pada buku-buku pelajaran bentuk sepeda pertama yang ditemukan berbeda dengan sekarang. Jenis sepeda yang pertama kali hadir dengan roda depan yang besar dibanding roda belakang. Namun sekarang kita lihat roda sepeda seimbang satu sama lain, dan beberapa mengalami inovasi.
Sejarah Olahraga Balap Sepeda
Sebenarnya ada banyak jenis perlombaan balap sepeda yang di bagi sesuai dengan jalur yang ditempuh peserta dalam kejuaraan balap sepeda. Olahraga balap sepeda sendiri dimulai pada 13 Mei 1868 kala itu merupakan pergelaran balap sepeda pertama kali dengan lintasan sejauh 1200 km yang digelar di Parc de st. Cloud, Paris, Prancis. Kejuaraan balap sepeda 1200 km tersebut dimenangan oleh seorang lelaki Inggris yang menetap di Prancis bernama James More.
Berselang satu tahun setelah nya pada 1869 di gelar kembali perlombaan balap sepeda yang rute nya lebih pendek hanya 125 km acara ini sukses dimenangkan James More kembali yang mana acara balap sepeda kali ini telah dielar di jalan raya.
Pada tahun 1891 juga sempat digelar lagi perlombaan balap sepeda mengingat antusias yang banyak ada 300 orang yang berpartisipasi pada pergelaran kali ini, tidak digelar di Paris lagi Bordeaux ambil alih menjadi tuan rumah pergelaran tersebut, dan berhasil menaikan pembalap sepeda Inggis bernama GP Mills keatas podium kemenangan .
Karena minat masyarakat dengan balap sepeda semakin berkembang sejak saat itu membuat banyak ajang internasional yang di usung.
Salah satunya adalah kejuaraan dunia ini merupakan pergelaran pertama digelar pada tahun 1893 yang mengikutkan peserta dari berbagai negara dengan mempertandingkan kategori balap sepeda nomor sprint Arthur Zimmerman pada saat itu keluar sebagai juara dari pergelaran balap sepeda yang diselenggarakan di Kopenhagen, Denmark.
Pada tahun 1921 di tempat yang sama kejuaraan kembali diadakan pada nomor jalan raya yang memenangkan pembalap asal Swedia, Gunnard Skold pada jarak 120 km. Sejak kemunculan berbagai pertandingan balap sepeda banyak negara yang diperhitungkan atas keikutsertaannya karena kerap menghasilkan pembalap yang handal.
Negara seperti Belgia, Perancis, Italia, Swiss, Denmark dan beberapa negara lain selalu diperhitungkan atas kesertaannya dalam berbagai lomba dan kerap menduduki tempat pertama pada beberapa nomor olahraga balap sepeda.
Sedangkan di Indonesia sendiri awal mula perkembangan sepeda berasal dari ekspansi yang dibawa oleh penjajah barat ke Indonesia, seperti pada Belanda dan Inggris yang memiliki trend transportasi dengan sepeda. Namun seiring berjalannya waktu banyak bangsawan lokal juga ikut menggunakan sepeda hingga trend ini sangat tinggi pada masyarakat Indonesia saat itu terutama pada abad ke 18. Sebelumnya transportasi yang terkenal di Indonesia berupa gerobak atau delman.
Setelah sepeda dikenal luas oleh pribumi banyak komunitas sepeda yang bermunculan hingga tercetuslah trend balap sepeda di beberapa kota besar seperti Semarang dan Bandung. Trend tersebut berhasil menarik perusahaan untu mensponsori perlombaan balap sepeda. Namun pada masa Jepang olahraga yang berkaitan dengan sepeda vakum, barulah setelah merdeka sekitar tahun 1948 beberapa klub sepeda kembali hidup seperti Super Jet yang berasal dari Bandung.
Beberapa pecinta sepeda mengikuti jejak Super Jet dengan membentuk komunitas sepeda di kotanya masing-masing seperti Jakarta, Medan, Semarang, Yogyakarta dan kota-kota lainnya. Tahun 1958 Bandung yang cukup disegani klub sepedanya membuat perlombaan Tour de Java 1 dengan memperlombakan balap sepeda taraf internasional dari sinilah Indonesia di sebut sebagai pelopor balap sepeda pertama di Asia.
Ada banyak jenis cabang balap sepeda yang disukai masyarakat Indonesia seperti balap sepeda gunung, balap sepeda di jalan raya, tracking dan BMX. Namun akhir-akhir ini saat BMX mendapat perhatian cukup besar dan banyak di gandrungi kaum milenial sebagai sebuah hobi.
Teknik Dasar Olahraga Balap Sepeda
Sama seperti olahraga lainnya olahraga balap sepeda juga membutuhkan teknik dasar . Anda diharuskan berlatih dengan rutin yang sangat berguna mambangun daya tahan tubuh karena otot tubuh yang mulai bekerja akibat mengayuh sepeda. Latihan yang ringan tanpa memperhatikan jarak tapi secara rutin lebih baik dari pada langsung berlatih dengan berat. Berlatih kurang lebih 15 menis sehari secara konstan sudah cukup untuk mulai menekuni olahraga balap sepeda.
Jika sudah dapat membentuk daya tahan otot maka Anda bisa meningkatkan latihan dengan menambah jarak dan waktu tempuh dari kayuhan sepeda. Setiap latihan yang menunjukkan peningkatan seterusnya bisa di tambahkan lagi untuk menantang diri Anda. Jangan lupa saat bersepeda sebaiknya menyediakan air putih sebagai bekal untuk menghalang dehidrasi dan mengembalikan lagi energi Anda saat bersepeda.
Jenis dan Kategori Olahraga Balap Sepeda
Untuk Anda ketahui olahraga balap sepeda terdapat berbagai jenis dan kategori yang selalu dibawa dan ikut serta dilombakan oleh pihak penyelenggara kompetisi balap sepeda, diantara jenis-jenis balap sepeda dan kategori balap sepeda adalah :
Sepeda Gunung
Untuk jenis balap sepeda satu ini sudah sangat umum di Indonesia dimana melintasi berbagai jalanan off road. Biasanya sepeda gunung memakai jalanan alami maupun tracking buatan dan memiliki banyak pecinta untuk jenis olahraga balap sepeda satu ini.
Balap sepeda gunung pertam kali hadir pada tahun 1996 . Ada banyak kategori atau nomor pada sepeda gunung diantaranya adalah :
1. XC : Cross-Country
Kategori balap sepeda satu memakai medan pertandingan yang cukup menantang dengan jalanan yang tidak rata dan ada juga yang melewati aspal . Kategori ini biasanya memakai tracking buatan maupun alami. Dalam Cross Country ini dibagi lagi menjadi beberapa jenis diantaranya Cross-country Olympic (XCO), Cross-country marathon (XCM), Cross-country eliminator (XCE), Cross-country short circuit (XCC), Cross-country poin-to-point (XCP), Cross-country stage race (XCS), Cross-country time trial (XCT), dan Cross-country team relay (XCR).
2. 4X : Four Cross
Olahraga balap sepeda satu ini juga sering disebut bikercross peraturan biasanya peserta saling bersaing untuk menjadi yang tercepat dengan downhill yang sama waktunya 1 menit saja. Pemenang dengan pengumpul poin terbanyak akan maju ke babak selanjutnya.
3. END : Enduro
Enduro cukup populer beberapa waktu ini dimana perlombaan yang terdapat beberapa tahapan baik tahapan liason (kegiatan mengangkat sepeda, bersepeda di lintasan atau keduanya), ataupun tahapan waktu. Kedua tahapan ini nanti akan dijumlahkan dan disebut dengan total waktu tempuh.
Medan yang digunakan untuk balap sepeda endure tergantung event bisa jalur sempit dan lebar, jalur dengan permukaan off-read berbeda ataupun jalur cepa atau lambat beberapa memakai tanjakan dan downhill atau jalan turunan.
4. DH : Downlhill
Nomor sepeda gunung kali ini sudah sangat akrab terdengar bagi masyarakat awam sekalipun. Downhill adalah perlombaan balap sepeda yang memakai track jalan offroad menurun. Penilaian permainan satu ini pada waktu, siapa yang mempunyai waktu tercepat dialah pemenangnya.
Lintasan yang dipakai kategori ini maksimal 3500 m dengan waktu kurang dari 5 menit. Ada beberapa jenis pembagian kategori Downhill diantaranya adalah downhill individual ( DHI) dan downhill marathon.
5. Super D- (SD)
Merupakan kategori sepeda gunung yang mengkombinasikan dua kategori sepeda gunung antara downhill dan crosscountry. Sepeda yang dipakai biasanya jenis sepeda crosscountry dan lebih banyak memakai track downhill.
6. 24 hour mountain bike races
Perlombaan ini memakai waktu 24 jam untuk balap sepeda dan siapa peserta yang menempuh jarak terjauh dia lah yang akan keluar sebagai pemenang.
7. Dual Slalom
Perlombaan kali ini terinspirasi dari olahraga ski yang mana pembalap diadu dengan dua track sejenis secara bersamaan. Track yang dipakai buan jenis track alami melainkan track yang sudah direkayasa.
8. Mountain Bike orienteering (MTBO)
Kali ini ada lomba balap sepeda yang lebih focus untuk menilai freestyle peserta dan ramp and jump yang dirancang lebih lebar dan besar peserta akan sering berganti-ganti sepeda pada saat permainan berlangsung.
9. Bike Trials
Cabang olahraga sepeda satu ini terkenal unik dimana peserta yang berlomba dengan lambat dan terdapat sanksi bagi rider yang menjejakkan kakinya ketanah pada saat perlombaan berlangsung.
10. FR : Free Ride
Hampir sama dengan MTBO, kali ini free ride lebih mengedepankan gaya yang dibuat oleh peserta dan tidak balapan lintasan yang unik akan disajikan baik menanjak, ramp, menurun dan lain sebagainya. Pada saat melintasi track unik tersebutlah peserta melakukan freestyle terbaiknya.
11. DJ :Dirt Jumping
Ini adalah cabang balap sepeda lain yang juga mirip dengan freeride namun track yang dipakai berupa ramp and jump yang lebih besar dan lebar. Karena track yang berbeda untuk itu jenis sepeda yang dipakai antara freeride dan dirt jump juga berbeda.
Road Race
Ini adalah jenis balap sepeda dengan menguatamakan siapa yang paling cepat menguasai perlombaan. Mulai dipertandingkan pada 1896 di Olimpiade Modern Athena . Terdapat beberapa jenis kategori balap road race diantaranya adalah One Day Race, Individual Time Trial, Stage Race, Individual Race, Ultramarathon, Criteriums,
Track Race
Seperti yang kita ketahui dari namanya balap ini menggunakan track atau bahasa lainnya adalah velodrom . Jenis balap ini lebih banyak mengandalkan sprint ada berbagai kategori pada track race diantaranya adalah sprint, keirin, team sprint, dan kilometre.
Endurance
Untuk jenis lomba Endurance dibagi keberapa kategori diantaranya adalah team pursuit, individual pursuit, omnium, poins race, madison dan scratch race.
Cylocross
Merupakan salah satu cabang balap sepeda yang sering diadakan pada negara empat musim. Sirkuit yang digunakan mulai 2,5 km hingga 3,5 km. Jalan untuk peserta melewati sirkuit ini juga bervariasi mulai dari tanah lumpur, perbukitan, jalan rumut dan lain sebagainya. Karena beberapa rintangan yang sulit mengharuskan peserta mengangkat sepeda untuk melewati rintangan.
Ukuran Lintasan Balap Sepeda
Sebenarnya untuk olahraga balap sepeda karena memiliki banyak jenis dan kategori. Maka lintasan yang dibuat pun bervariasi namun untuk perlombaan seperti Olympic atau kompetisi kelas dunia beberapa cabang menggunakan velodrom yaitu sebuah lintasan khusus yang dirancang untuk melakukan balap sepeda, biasanya velodrom berbentuk lonjong atay oval dengan jalur urus putaran 180 derajat.
Velodrom yang dibuat pun beragam dari segi ukurannya namun umumnya velodrom memiliki jalan lurus 12 deajat dan 42 derajat untuk tikungan . Dalam perhelatan kejuaraan dunia velodrom digunakan berbagai perlombaan olahraga balap sepeda baik yang dilaksanakan secara individu ataupun secara beregu.
Peralatan Balap Sepeda
Jika Anda sudah tertarik untuk memulai mengikuti berbagai olahraga balap sepeda, jangan pernah lupakan perlengkapan-perlengkapan penting bagi seorang atlet sepeda diantaranya adalah helm yang merupakan peralatan teroenting, kemudian dudukan dibagian depan untuk meletakkan botol minuman untuk mencegah dehidrasi ketika menyapu track balap sepeda. Phone holder jangan lupa dipasang sebagai alat komunikasi biasanya terleta di setang sepeda.
Apabila Anda ingin tampil lebih kece, Anda bisa bikin jersey sepeda balap dan sapu tangan yang terbuat dari bahan khusus untuk meminimalisr cedera saat perlombaan dan jangan lupa memakai sepatu saat sedang melakukan kompetisi sepeda.
Peraturan dalam Balap Sepeda
Untuk jenis aturan yang berlaku pada perlombaan balap sepeda sebenarnya bervariasi tergantung kategori dan cabang yang dimainkan. Biasanya peraturan tersebut dibuat oleh international UCI yang bisa saja diperbarui sesuai dengan ketetapan penyelenggara event saat itu.
UCI ( Union Cycliste Internationale ) sendiri merupakan badan tertinggi dunia yang bertugas untuk membawahi olahraga bersepeda pada setiap perhelatan.
Aturan yang diberikan oleh setiap event meliputi bagaimana seharusnya peserta berperilaku saat lomba berlangsung, beberapa larangan seperti penggantian frame dengan syarat dan ketentuan, memotong track, bermain dengan tidak sportif, penggunaan doping, dan lain sebagainya yang diatur menurut ketentuan perlombaan masing-masing.
Setelah mengetahui lebih jelas tentang segala hal mengenai olahraga balap sepeda. Tak ada salahnya Anda coba untuk ikut berkompetisi jika tertarik namun perlu diingat untuk menjadi pembalap yang handal harus diimbangi dengan latihan berkala dan pertandingan yang sportif.
Atlet Terkenal dalam Balap Sepeda
Sama seperti olahraga lainya balap sepeda juga sering menghadirkan atlet-atlet dengan kompetensi yang tidak bisa dianggap remeh lagi. Sehingga mereka sering memenangkan berbagai kompetisi besar. Raihan mereka inilah yang membuat namanya bersinar dalam dunia olahraga balap sepeda ada berbagai nama.
Untuk atlet yang terkenal dalam dunia balap sepeda diantaranya adalah Jan Ulrich merupakan pembalap sepeda yang berasal dari Jerman , Lance Armstrongg yang adalah pembalap professional dari Amerika Serikat prestasinya telah berhasil memenangkan Tour de France tujuh kali berturut-turut . Untuk kalangan pembalap wanita ada Letizia Patersnoter yang cukup muda ia banyak memenangkan perlombaan seperti pada UEC European Track. Dan masih banyak atlet dunia lain.
Sedangkan untuk atlet balap sepeda Indonesia banyak yang cukup disegani mereka merupakan pembalap yang sering hilir mudik pada perhelatan olahraga internasional seperti Asian games, sea games dan perhelatan bergengsi lainnya. Beberapa nama yang cukup terkenal seperti Rusli Hamsjin, Hendrik Broks, Tulus Widodo Kalimonto, Bernard Ban Aery, Nurhayati dan lain sebagainya.