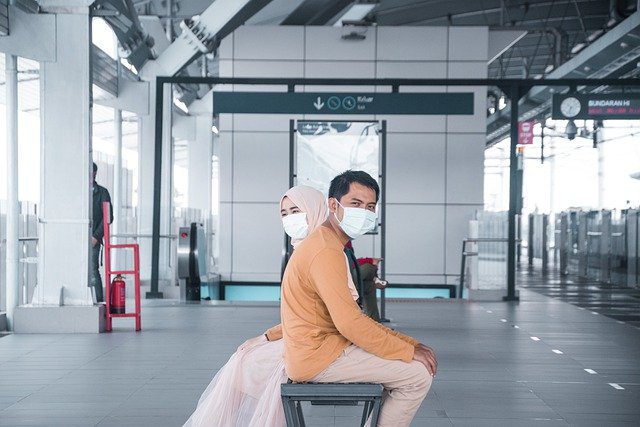 Jaga Jarak Ternyata Lebih Efektif Melawan Covid-19, Studi Ini Menjelaskannya (Gambar: Pixabay/iqbalnuril)
Hampir setahun sudah kita berhadapan dengan Covid-19. Jaga jarak, memakai masker dan mencuci tangan adalah kebiasaan dalam "normal baru" yang harus diterapkan. Ternyata ada kabar baik mengenai kebiasaan baru ini, terutama hubungannya dengan jaga jarak.
Jaga jarak selama pandemi Covid-19 ini menurut penelitian terbaru lebih efektif dalam melawan Covid-19. Sementara penggunaan masker dan social bubbles juga dinilai efektif dengan syarat dan ketentuan tertentu, seperti yang dikutip oleh Science Daily (20 November 2020).
Hal ini termuat dalam jurnal berjudul "Event-Specific Interventions to Minimize COVID-19 Transmissions. Penulisnya adalah Paul Tupper dan Caroline Colijn dari Simon Fraser University. Jurnal ini dimuat oleh Proceedings of the National Academy of Sciences of The United States of America (PNAS).
Pengujian
Para ilmuwan dalam penelitian ini sebetulnya ingin melakukan pengukuran tentang efektivitas cara-cara yang selama ini digunakan untuk menepis paparan virus. Beberapa diantaranya adalah jaga jarak, memakai masker dan social bubbles (berkelompok) ketika diberlakukan dengan aturan tertentu sebagai variabel.
Lalu mereka memperkenalkan sebuah konsep yang mereka namai sebagai "kejadian R". Konsep ini digunakan untuk mengetahui berapa orang yang terpapar virus dalam satu kejadian ketika mereka menggunakan variabel tadi.
Dalam penelitian ini para ilmuwan juga mempertimbangkan beberapa faktor seperti intensitas transmisi, durasi paparan, kedekatan individual, dan faktor kombinasi. Hal ini untuk melihat seberapa efektif pencegahan transmisi dalam sebuah lingkungan.
Sedangkan untuk lokasi penelitiannya dipusatkan pada kegiatan berjarak, seperti pesta, makan, klub malam, terminal atau tempat transit, dan restoran. Pengategorian tempat pun juga dilakukan ilmuwan dengan membaginya menjadi dua kategori, yaitu saturasi (kemungkinan transmisi tinggi) dan linear (kemungkinan transmisi rendah).
Tempat saturasi dengan kemungkinan transmisi tinggi diantaranya adalah bar, klub malam dan tempat berkumpulnya khalayak ramai. Sementara tempat linear yang kemungkinan transmisinya rendah adalah terminal (dengan pengguna bermasker), restoran (dengan jaga jarak) dan aktivitas bersifat outdoor.
Dalam pengaturannya mereka juga mencoba untuk mencampur faktor kombinasi dengan tempat kemungkinan transmisi tinggi yang memiliki social bubbles. Hal ini dimaksudkan untuk mendapatkan hasil komprehensif dalam penelitian.
Bagaimana Jaga Jarak dapat Melawan Covid-19 Lebih Efektif
Hasilnya peneliti menemukan bahwa social bubbles memiliki efektivitas rendah ketika aktivitas yang bersifat campuran seperti aktivitas outdoor, perkantoran, atau perjalanan. Cara ini juga tidak efektif diterapkan di terminal meskipun individu menggunakan masker.
Mereka juga mencatat bahwa menggunakan masker dan pembatasan sosial juga kurang efektif dilakukan di tempat dengan transmisi tinggi seperti pesta, dan tempat-tempat indoor. Hal ini dikarenakan masker tidak sepenuhnya dapat digunakan untuk menghapus transmisi, namun hanya membatasinya.
Otomatis jaga jarak baik di tempat indoor maupun outdoor lebih efektif dilakukan dimanapun. Tentunya dengan hasil ini kita mengetahui bagaimana cara yang tepat untuk melawan virus Covid-19.
"Akan sangat bagus untuk mulai mengumpulkan informasi dari keterpaparan dan wabah, jumlah peserta, percampuran, kerumunan, tingkat kebisingan dan durasi acara," kata Colijn, ketua Canada Research Chair in Mathematics for Evolution, Infection and Public Health.
Sumber:
Science Daily
Proceedings of the National Academy of Sciences of The United States of America (PNAS)