Siapa yang tidak mengenal Ir.Soekarno? Presiden pertama Republik Indonesia ini adalah pahlawan kemerdekaan bangsa Indonesia. Salah satu pahlawan nasional yang mengharumkan nama bangsa. Mau tahu biografi singkat soekarno? Simak ulasannya di bawah ini.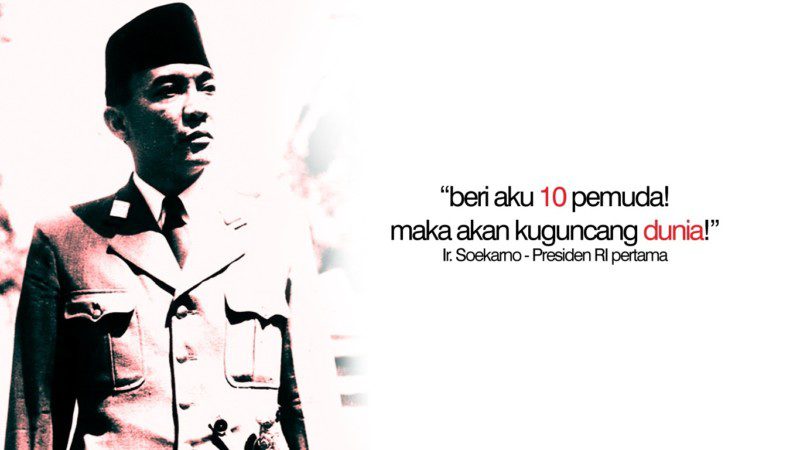 Dengan membaca biografi singkat Soekarno akan memberi kita pengetahuan, seperti apa sosok pahlawan nasional bangsa Indonesia ini? Perjuangan Soekarno untuk mencapai kemerdekan Negara Republik Indonesia sangatlah besar.
Sayang sekali jika kita sebagai bangsa Indonesia tidak mengetahui bagaimana sosok Soekarno ini. Berikut adalah biografi singkat Soekarno :
Kelahiran Soekarno
Ir. Soekarno lahir di Blitar, Jawa Timur, 6 Juni 1901. Ia meninggal di Jakarta, 21  Juni 1970 pada umur 69 tahun. Soekarno adalah Presiden Indonesia pertama yang menjabat pada periode 1945-1966.
Ia mempunyai peranan penting dalam kemerdekaan bangsa Indonesia dari segala penjajahan. Ia pula mendapat sebutan sebagai bapak Proklamator Kemerdekaan Indonesia. Akhir masa jabatan  presiden Soekarno adalah saat ia menandatangani Surat Perintah 11 Maret 1966.
Surat Perintah 11 Maret 1966 atau disingkat menjadi SUPERSEMAR adalah surat yang kontroversial. Di mana isi SUPERSEMAR adalah menugaskan Letnan Jenderal Soeharto untuk mengamankan dan menjaga keamanan negara dan institusi kepresidenan.
SUPERSEMAR menjadi dasar Letnan Jenderal Soeharto untuk membubarkan Partai  Komunis Indonesia (PKI). Letnan Jenderal Soeharto mengganti anggota-anggota PKI yang duduk di parlemen.
Setelah pertanggung jawabannya ditolak Majelis Permusyawaratan Rakyat Sementara (MPRS) pada sidang umum ke empat tahun 1967. Presiden Soekarnopun diberhentikan dari jabatannya sebagai presiden pada Sidang Istimewa MPRS. Lalu MPRS mengangkat Soeharto sebagai Presiden RI selanjutnya.
Arti Nama Soekarno
Nama lengkap Ir.Soekarno ketika lahir adalah Kusno Sosrodiharjo. Ketika ia masih kecil, ia sering sakit-sakitan. Menurut kepercayaan orang Jawa, sakit-sakitan tersebut karena nama Kusno Sosrodiharjo terlalu berat.
Karena orang tuanya sangat menyukai sosok Adipati Karno dalam pewayangan Jawa, oleh orang tuanya nama Kusno Sosrodiharjo diganti menjadi Soekarno.
Beberapa tahun kemudian ketika ia menjadi Presiden R.I. Ejaan  nama Soekarno diganti olehnya sendiri menjadi Sukarno. Hal itu dikarenakan menurutnya nama tersebut menggunakan ejaan penjajah  Belanda.
Namun nyatanya, ia tetap menggunakan nama Soekarno dalam setiap  tanda tangannya. Karena tanda tangan dengan nama Soekarno tersebut adalah tanda tangan yang tercantum dalam Teks Proklamasi Kemerdekaan Indonesia yang tidak boleh diubah.
Riwayat Pendidikan Soekarno
Soekarno dilahirkan dengan nama Kusno Sosrodiharjo. Ayahynya bernama Raden Soekemi Sosrodiharjo, seorang guru di Surabaya, Jawa. Ibunya bernama Ida Ayu Nyoman Rai berasal dari Buleleng, Bali.
Saat masih kecil, Soekarno tinggal bersama bersama kakeknya di Tulungagung, Jawa Timur. Pada usia 14 tahun, seorang kawan ayahnya yang bernama oemar Said Tjokroaminoto mengajak Soekarno tinggal di Surabaya.
Soekarnopun disekolahkan ke Hoogere Burger School (H.B.S). Di sana Soekarno kecil belajar sambil mengaji di tempat Tjokroaminoto. Di Surabaya, Soekarno banyak bertemu dengan para pemimpin Sarekat Islam, organisasi yang dipimpin Tjokroaminoto saat itu. Hingga kemudian Soekarno kemudian bergabung dengan organisasi Jong Java.
Soekarno tamat dari H.B.S. pada tahun 1920, ia lalu melanjutkan sekolahnya ke Technische Hoge School (sekarang ITB) di Bandung. Ia menamatkan kuliahnya pada tahun 1925.
Saat ia belajar di Bandung, ia berinteraksi dengan Tjipto Mangunkusumo dan Dr. Douwes Dekker. Di mana saat itu mereka aalah pemimpin organisasi National Indische Partij.
2 tahun setelah tamat kuliah, Soekarno mendirikan Partai Nasional Indonesia (PNI). PNI didirikan pada tanggal 4 Juli 1927. Kecerdasan Soekarno membuat dirinya terkenal sebagai orator ulung yang dapat membangkitkan semangat rakyat.
Lalu pada bulan Juli 1932, Soekarno bergabung dengan Partai Indonesia (Partindo) yang merupakan pecahan dari PNI. Soekarno kembali ditangkap pada bulan Agustus 1933 dan diasingkan ke Flores.
Di tahun tersebut, Soekarno hampir dilupakan oleh tokoh-tokoh nasional. Namun semangat Soekarno tetap membara untuk memeprjuangkan kemerdekaan Indonesia.
Pada tahun 1938 hingga tahun 1942 Soekarno diasingkan ke Provinsi Bengkulu. Soekarno baru kembali bebas pada masa penjajahan Jepang pada tahun 1942.
Soekarno Saat Masa Penjajahan Jepang
Pada tahun 1942-1945, saat masa penjajahan Jepang, pemerintah Jepang sempat tidak memperhatikan tokoh-tokoh pergerakan Indonesia. Hal ini terlihat pada Gerakan 3A dengan tokohnya Shimizu dan Mr. Syamsuddin yang kurang begitu terkenal.
Namun akhirnya, pemerintahan pendudukan Jepang memperhatikan dan sekaligus memanfaatkan tokoh-tokoh Indonesia. Ya, seperti Soekarno,  Mohammad Hatta dan lain-lain dalam setiap organisasi-organisasi dan lembaga-lembaga untuk menarik hati penduduk Indonesia.
Seperti yang dijelaskan dalam organisasi seperti Jawa Hokokai, Pusat Tenaga Rakyat (Putera),  BPUPKI dan PPKI. Tokoh- tokoh seperti Soekarno,  Mohammad Hatta, Ki Hajar Dewantara,  K.H Mas Mansyur dan lain lainnya disebut-sebut dan terlihat begitu aktif.
Hingga akhirnya tokoh-tokoh nasional bekerjasama dengan pemerintah pendudukan Jepang untuk mencapai kemerdekaan Indonesia. Ya, walaupun ada pula yang melakukan gerakan bawah tanah seperti Sutan Syahrir dan Amir Sjarifuddin karena menganggap Jepang adalah fasis yang berbahaya.
Soekarno dan Perjuangannya Menuju Kemerdekaan Indonesia
Besar sekali perjuangan Soekarno untuk meraih kemerdekaan bagi bangsa Indonesia. Ia bersama tokoh-tokoh nasional mulai mempersiapkan diri menjelang Proklamasi kemerdekaan Republik Indonesia.
Soekarno sangat aktif dalam usaha persiapan kemerdekaan Indonesia. Keaktifan Soekarno  di antaranya adalah merumuskan Pancasila, UUD 1945, dan dasar-dasar pemerintahan Indonesia. Termasuk merumuskan naskah proklamasi kemerdekaan Republik Indonesia.
Setelah Jepang membantu kemerdekaan Indonesia dengan mendirikan Badan Penyelidik Usaha Persiapan Kemerdekaan Indonesia (BPUPKI). Soekarnopun lalu mendirikan Panitia Kecil yang terdiri dari delapan orang.
Panitia kecil yang terdiri dari sembilan orang inipun menghasilkan Piagam Jakarta. Panitia kecil ini juga mendirikan Panitia Persiapan Kemerdekaan Indonesia (PPKI). Soekarno bersama Hatta pun ingin mendirikan Negara Indonesia berdasarkan Pancasila dan UUD 1945.
Soekarno menetapkan moment yang tepat untuk kemerdekaan Republik Indonesia yakni dipilihnya tanggal 17 Agustus 1945. Di mana tanggal itu dipilih sebab bertepatan dengan bulan Ramadhan.
Bulan suci suci kaum muslim di mana bulan Ramadhan adalah bulan turunnya wahyu pertama umat Islam kepada Nabi Muhammad SAW yakni Al-Qur'an. Lalu pada tanggal 18 Agustus 1945, Soekarno dan Mohammad Hatta diangkat oleh PPKI menjadi Presiden dan Wakil Presiden Republik Indonesia.
Setelah itu pada tanggal 29 Agustus 1945 KNIP melakukan pengangkatan Soekarno dan Mohammad Hatta sebagai presiden dan wakil presiden Indonesia yang resmi.
Wafatnya Soekarno
Soekarno wafat pada tanggal 21 Juni 1970 di Wisma Yaso, Jakarta. Ia sakit-sakitan setelah mengalami pengucilan oleh penggantinya yakni Soeharto. Jenazah Soekarno dikebumikan di Kota Blitar, Jawa Timur.
Penghargaan Soekarno
Penghargaan Perdamaian Lenin (1960).
Bintang Kehormatan Filipina (1965).
Doktor Honoris Causa dari 26 Universitas.
The Order  Of The Supreme Companions of OR Tambo (Presiden Af-sel-20015)
Seperti itulah artikel tentang biografi singkat Soekarno. Mari heningkan cipta beberapa menit untuk segala perjuangannya demi kemerdekaan bangsa ini.