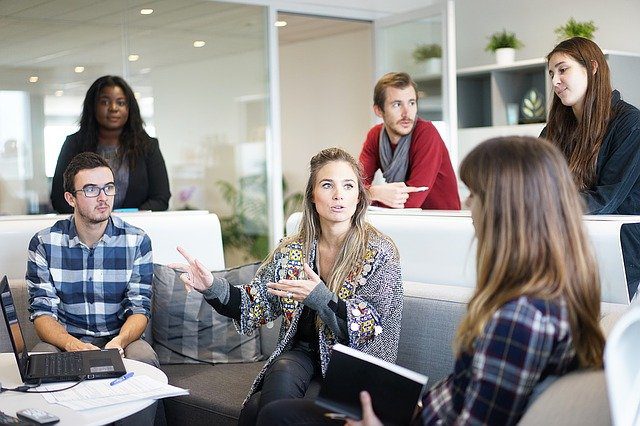 Anda orang yang Ekstrovert? (Gambar: Pixabay/Free-Photos)
Ekstrovert dalam tes Myers Briggs Type Indicator (MBTI) sering didefenisikan sebagai orang yang memiliki energi dari orang-orang di sekitarnya. Walhasil orang yang ekstrovert cenderung lebih membuka dirinya ketimbang orang dengan kepribadian introvert, yang justru sebaliknya. Jika anda orang yang ekstrovert, berarti anda juga memiliki pemilihan kata tersendiri dalam berbicara menurut studi terbaru, seperti yang dikutip dari Live Science (28 Desember 2020).
Studi psikologi yang dilakukan oleh Nanyang Technological University, Singapura berhasil menemukan keterkaitan antara kepribadian ekstrovert dengan pilihan kata yang digunakan sehari-hari. Para ilmuwan disana menemukan bahwa orang yang memiliki kepribadian ekstrovert cenderung kuat menggunakan kata yang lebih bahagia dan positif.
Hal ini tertuang dalam penelitian berjudul "A Meta-Analysis of Linguistic Markers of Extraversion: Positif Emotion and Social Process Words". Penulisnya yaitu Jiayu Chen, Lin Qiu dan Moon-Ho Ringo Ho dari Nanyang Technological University, Singapura. Penelitian ini dimuat dalam Journal of Research in Personality.
Cara Bicara Orang dengan Kepribadian Ekstrovert
Ide awal penelitian ini adalah lebih kepada bagaimana sebuah perusahaan mengubah dan mengadopsi strategi marketing digital. Kenyataannya saat ini banyak perusahaan menggunakan algoritma dalam membantu pelanggan dalam membantu kebutuhan keseharian mereka.
Selain itu banyak perusahaan juga menggunakan data psikologis pelanggan sampai kepada kebiasaan pelanggan. Misalnya ketika pelanggan memiliki pelanggan yang berkepribadian ekstrovert, maka perusahaan akan menyesuaikan hal tersebut dengan menyediakan iklan yang lebih atraktif.
Namun algoritma semacam itu juga memiliki kelemahan, yaitu tidak akuratnya mesin algoritma untuk digunakan dalam hal-hal tersebut. Secara teoritis juga dinilai lemah dikarenakan preferensi kepribadian bukanlah penentu tunggal dalam suksesnya pemasaran melalui iklan.
Tim peneliti dari Nanyang Technological University Singapura menggunakan meta analisis dari 37 studi yang masih memiliki kesamaan dengan topik penelitian. Dalam studi yang banyak tersebut terdapat 80.000 partisipan atau responden yang masih dibagi, antara yang berkepribadian introvert dan ekstrovert.
Peneliti lalu menemukan bahwa orang yang ekstrovert cenderung memiliki gaya bicara sendiri. Mereka lebih memilih kata-kata positif seperti "bahagia", "diberkati" dan "cinta". Selain itu mereka juga menggunakan kata positif yang cenderung optimisme seperti "indah/cantik" atau "bagus".
Mereka juga memilih kata-kata yang berhubungan dengan interaksi antar komunitas seperti "kita", "berbicara", dan "bertemu/pertemuan".
"Ini adalah pertama kalinya hubungan antar orang ekstrovert terjalin dan mereka cenderung menggunakan dua kategori kata," kata Lin Qiu, psikolog dari Nanyang Technological University yang juga merupakan salah satu peneliti studi ini.
"Kerana ini adalah sebuah hubungan kecil, kami percaya bahwa indikator bahasa yang kuat dibutuhkan untuk meningkatkan pendekatan machine learning di tengah minat pada alat semacam itu dalam pemasaran konsumen." tambahnya.
Tujuan Penelitian
Hal ini nampaknya sesuai dengan studi-studi sebelumnya yang menyatakan bahwa orang yang ekstrovert memiliki gaya bicara yang ramah dan bahagia. Sementara Introvert cenderung suka menghabiskan waktu dengan diri mereka sendiri. Gaya bicara introvert cenderung memiliki emosi negatif ketika berkomunikasi dengan orang lain.
Namun penelitian ini bukan bertujuan untuk membedakan cara bicara keduanya meskipun metode penelitian ini terdapat indikator untuk membedakan keduanya. Tujuan penelitian ini untuk mengetahui bagaimana machine learning menjadi trend di perusahaan dalam menjangkau konsumen, sementara algoritma sendiri sifatnya prediktif.
Mereka berharap memberikan kejelasan tentang jenis kata yang memang dapat membantu pengembangan machine learning supaya lebih akurat dalam memprediksi kepribadian konsumen.
Sumber:
Live Science
Journal of Research in Personality