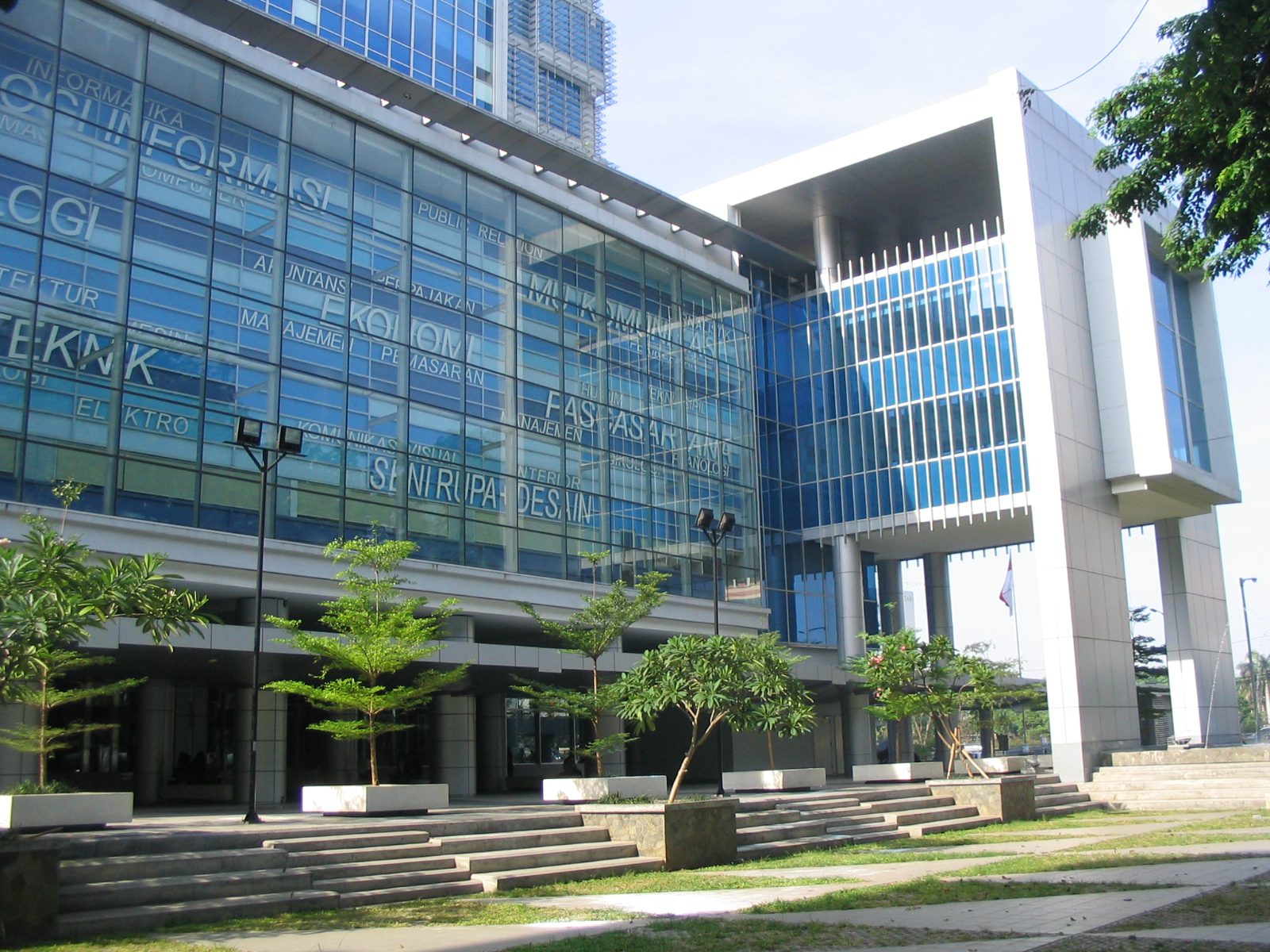 Salah satu kendala seseorang untuk melanjutkan pendidikan di bangku kuliah adalah masalah biaya. Banyak orang enggan melanjutkan pendidikan S1 dan S2, karena takut akan biayanya. Apalagi saat menempuh kuliah di perguruan tinggi negeri pasti mahal. Sementara setiap orang hanya tahu bahwa perguruan tinggi negeri adalah yang terbaik. Padahal, sebenarnya tidak selalu seperti itu. Ada banyak perkuliahan swasta yang juga bagus di Jakarta. Yaitu, Universitas Tarumanagara.
Maka dari itulah, jika Anda adalah lulusan SMA/ SMK/ MA/ sederajat dan ingin melanjutkan kuliah di sebuah perguruan tinggi, sebaiknya perhatikan beberapa hal berikut ini dulu. Karena kali ini kami akan memberikan sedikit informasi tentang biaya perkuliahan di perguruan tinggi swasta terbaik di Jakarta. Yaitu Universitas Tarumanagara. Apa yang harus dibayar ketika melanjutkan pendidikan S1 di perguruan tinggi swasta?
Saat Anda belajar di PTS, umumnya biaya yang wajib dikeluarkan ada banyak. Dari awal semester, Anda harus siap dengan biaya bangunan dulu. Belum lagi masalah biaya perkuliahan setiap semester. Kemudian, ada lagi biaya KTM beserta jas almamater. Bagi yang sudah hampir lulus, Anda harus menyiapkan biaya untuk kerja praktek, seperti KKL/ KKN/ PPL/ KP dan sejenisnya. Selain itu, masih ada lagi biaya untuk UTS dan UAS ataupun proposal dan skripsi, beserta wisuda, dll.
Besaran biaya tersebut bervariasi. Tergantung dari kebijakan masing-masing kampus. Misalnya saja jika Anda akan melanjutkan pendidikan di Universitas Tarumanagara yang letaknya di Jl Letjen S. Parman No. 1 Jakarta Barat 11440, Indonesia. Maka perhatikan dulu pilihan jurusannya. Sehingga, Anda tahu berapa banyak uang yang harus disiapkan. karena beda jurusan, berbeda juga biaya pendidikannya.
Di Universitas Tarumanagara sendiri memiliki banyak sekali fakultas yang bisa dipilh. Di tahun 1959 yang lalu, Yayasan Tarumanagara telah didirikan di tanggal 18 Juni. Dari sinilah kemudian didirikan beberapa jurusan. Yaitu, jurusan ekonomi perusahaan sebagaiawal mula berdirinya Universitas Tarumanagara. Selanjutnya, di tahun 1962 kemudian didirikan sekolah kejuruan teknik arsitektur tanggal 1 Oktober. Dari sinilah sekolah ini kemudian berubah menjadi Fakultas Teknik Jurusan Arsitektur. Hingga kemudian saat ini Universitas Tarumanagara saat ini berhasil menjadi salah satu universitas tertua di Indonesia yang mengemban urusan teknik arsitektur swasta.
Setelah berdirinya fakultas teknik, kemudian dibuatlah fakultas ekonomi, hukum, teknik arsitektur, dan juga fakultas bahasa Inggris. Hingga kemudian beberapa fakultas tersebut membentuk sebuah universitas yang bernama Universitas Tarumanagara. Sejalan dengan komitmen berdirinya Yayasan Tarumanagara di tahun 1965 yang bergerak dibidang kesehatan dan pendidikan, maka kemudian terbentuklah fakultas kedokteran di tanggal 1 Oktober 1965.
Biaya Kuliah Perguruan Tinggi UNTAR berdasarkan Jurusannya
Nah, itu tadi adalah sedikit penjelasan dari serba-serbi sejarah Universitas Tarumanagara hingga dikenal saat ini. Sementara itu, untuk biaya kuliah di tempat ini tentunya terbagi atas beberapa jurusan. Tergantung dari jurusan mana yang ingin diambil. Diluar dari biaya hidup, biaya untuk kos, biaya membeli buku, biaya untuk transportasi, dll. Jadi, biaya yang dikeluarkan untuk sekolah di perguruan tinggi UNTAR adalah sebagai berikut ini:
Jurusan Ilmu Komunikasi
Komunikasi umumnya mempelajari tentang bagaimana cara Anda menyampaikan berita dan pesan secara efektif dan efisien. Supaya bisa mendapat hasil seperti yang diinginkan. Beberapa jurusan yang masuk ke dalam bidang komunikasi adalah linguistik, periklanan, bahasa, jurnalistik, dll. Komunikasi turut berkaitan dengan pemanfaatan teknologi beserta penemuan baru.
Misalnya saja seperti pengaruh media, perkembangan internet, trend hiburan yang populer, dll. Maka dari itulah, karena trend dan teknologi berkembang setiap saat, hal ini membuat penyampaian perkuliahan komunikasi dan kurikulumnya berubah-ubah. Maka dari itulah, ilmu pengetahuan ini menjadi tidak ada ujungnya.
Nah, dari sinilah jika Anda ingin memasuki jurusan ilmu komunikasi di Universitas Tarumanagara, maka siapkan dana SPP sebesar 24 juta rupiah. Kemudian, dana untuk BPP sebesar 7,5 juta rupiah. Uang untuk membayar biaya per SKS sebesar 325 ribu rupiah dari 20 SKS keseluruhan. Sementara itu, untuk biaya keseluruhan SMT 1** adalah 14 jutaan rupiah dan total biaya perkualiahan jurusan ini seluruhnya sebesar 99 jutaan rupiah.
Prospek Kerja Jurusan Komunikasi
Umumnya, lulusan jurusan komunikasi akan bekerja di beberapa bidang. Yaitu, wartawan, broadcasting, public relations, editor, manajemen media, periklanan, komunikasi pemasaran, komunikasi bisnis, dll. Namun meskipun begitu, ternyata ada banyak peluang kerja untuk lulusan jurusan komunikasi. Yaitu:
Menjadi sutradara, produser, copy writer, reporter, dll yang berkaitan dengan dunia penyiaran merupakan sebuah peluang kerja yang bagus di dunia ilmu komunikasi. Seperti yang telah diketahui, bahwa dalam dunia penyiaran itu proses penyampaian pesannya dilakukan lewat media massa. Yaitu, radio, tv, dan surat kabar untuk masyarakat.
Seperti yang diketahui, bahwa jurnalistik merupakan bagian ilmu komunikasi. Dimana Anda akan mempelajari tentang bagaimana caranya mengemas berita dengan baik untuk disebarkan kepada masyarakat luas. Dalam dunia ilmu komunikasi, jurnalistik termasuk mata kuliah wajib yang tidak boleh diabaikan begitu saja. Kemampuan menulis dan selalu peka dengan kondisi sosial, serta menyampaikan berita yang layak adalah hal-hal yang bisa didapatkan setelah mempelajari tentang jurnalistik.
Presenter dan announcer. Kemampuan dalam menyampaikan pesan dengan baik dan bisa menarik perhatian bagi khalayak umum merupakan hal wajib yang harus dipahami oleh lulusan ilmu komunikasi. Sehingga, mereka bisa menjadi seorang presenter dan announcer. Maka dari itulah, setiap lulusan ilmu komunikasi harus bisa berbicara dengan baik supaya dapat menyampaikan maksud dan tujuannya dengan efektif.
Lulusan dari ilmu komunikasi bisa juga menjadi seorang master of ceremony. Untuk yang satu ini ditujukan secara khusus untuk berbagai macam perhelatan event. Namun untuk menjadi seorang MC, Anda harus memiliki kualitas bicara dengan baik dan harus bisa menampatkan diri dengan baik. Dengan begitu, Anda bisa membawa acara seperti yang diharapkan.
Hubungan Masyarakat atau Public Relations Officer. Tugas seorang public relations atau humas adalah menjadi wakil perusahaan di setiap waktu, sekaligus menjaga nama baik perusahaan. Dengan begitu, bisa terwujud hubungan yang harmonis kepada semua klien perusahaan. Profesi yang satu ini cukup menjanjikan sekali untuk lulusan ilmu komunikasi.
Event Organizer. Event organizer bertugas untuk merancang event besar. Kemudian, mengemasnya ke dalam sebuah acara sesuai konsep yang ingin disampaikan. Selain itu, seorang event organizer juga bertugas untuk mengatur sebuah acara supaya bisa meninggalkan kesan yang baik. Seperti itulah cara kerja dari seorang event organizer. Penghasilan seorang event organizer sangat tinggi.
Advertising atau praktisi perikalanan. Seorang lulusan ilmu komunikasi juga berpeluang untukmenjadi advertising. Meskipun terdengar sepele, ternyata advertising ampuh dalam mempengaruhi publik dengan pesan jasa atau produk barang yang disampaikan. Proses penyampaiannya juga sangat menarik. Sehingga, membuat semua orang penasaran. Peluang kerja dibidang advertising untuk lulusan ilmu komunikasi adalah copy writer, project leader advertising, media planner, camera person, dll.
Marketing Communications. Lulusan sarjana ilmu komunikasi juga dapat menjadi pekerja yang hanya duduk manis saja di kantor, kemudian menyusun, sekaligus merancang strategi komunikasi pemasaran di sebuah perusahaan. Karena menjadi seorang marketing communications tidak harus selalu mengedepankan unsur pemasaran dibidang ilmu bisnis saja.
Seorang lulusan dari jurusan ilmu komunikasi seharusnya bisa membuat pemasaran yang menarik dan efektif. Salah satunya dengan cara menyusun sebuah strategi komunikasi yang tepat ditinjau dari segmentasinya. Selain itu, cara penyampaian pesan, media yang digunakan seperti apa, dan seperti apakah tujuannya harus diperhatikan dengan baik. Tentu saja pekerjaan yang satu ini sangat menantang sekali.
Jurusan Teknik Industri
Jika Anda ingin mengambil jurusan teknik industri di Universitas Tarumanagara, maka biaya yang dibutuhkan untuk membayar SPP adalah 18 juta rupiah. Sedangkan, biaya untuk BPP sebesar 7 juta rupiah. Selanjutnya, biaya setiap SKS adalah 325 ribu rupiah per SKS. Dimana jumlah SKS keseluruhannya sebanyak 18. Total biaya perkuliahan jurusan teknik industri SMT 1** adalah 12 jutaan rupiah. Sedangkan, total biaya perkuliahan jurusan ini adalah sebesar 102 jutaan rupiah.
Prospek Kerja Jurusan Teknik Industri
Dengan banyaknya ilmu yang bisa didapatkan oleh mahasiswa jurusan teknik industri membuat lulusan jurusan ini punya peluang kerja yang cukup luas. Ada banyak perusahaan yang sedang membutuhkan lulusan jurusan ini. Baik itu dari industri kecil sampai besar. Banyak peran yang bisa diambil oleh lulusan jurusan teknik industri ini, yaitu:
Divisi Produksi
Dalam sebuah divisi produksi, ahasiswa yang berasal dari lulusan jurusan teknik industri bertugas untuk menangani banyak hal dalam kegiatan produksi di sebuah pabrik. Itu karena ketika kuliah, mahasiswa teknik industri diberi pengalaman tentang proses produksi. Misalnya saja, seperti simulasi sistem, perancangan tata letak pabrik, dll.
Divisi Engineering
Divisi ini bertanggung jawab atas kelancaran mesin produksi supaya bisa beroperasi berdasarkan kapasitas mesinnya. Dalam divisi inilah, lulusan teknik industri diminta untuk menjadi seorang Head of Engineering. Jadi, tanggung jawab mereka nanti adalah harus bisa mengatur tim engineering pada pengaturan mesin produksi. Supaya kondisinya selalu baik.
Seorang divisi engineering juga bertugas untuk mengatur jadwal maintenance pada mesin produksinya. Mereka juga harus bisa memastikan pada setiap part mesin produksi harus sesuai dan berkualitas. Setiap kualitas barang yang dibuat oleh mesin produksi juga menjadi tanggung jawab mereka. Tentunya haru sesuai dengan standart yang ditetapkan.
Divisi PPIC/ Pergudangan
Divisi ini bertanggung jawab untuk membuat jadwal pemakaian mesin. Dari sinilah seorang divisi PPIC juga harus bisa memastikan kebutuhan bahan baku setiap mesin produksinya. Sehingga, stock bahan bakunya bisa sesuai seperti yang dibutuhkan mesin produksi. Tidak hanya itu saja, divisi pergudangan juga harus memastikan setiap bahan bakunya sesuai dengan jumlah yang ditetapkan. Begitu juga dengan kualitasnya.
Divisi pergudangan juga harus memastikan peletakan setiap mesinnya berdasarkan jalur produksinya. Dengan begitu, jalur distribusinya tidak berlawanan. Tidak hanya itu saja, seorang divisi pergudangan juga harus bisa memastikan peletakan barang secara teratur. Supaya setiap bahan baku yang ada di gudang mudah diraih.  Umumnya lulusan teknik industri yang masuk divisi PPIC ditugaskan menjadi head of PPIC atau sebagai head of warehouse. Dimana jabatan ini sangat krusial sekali dalam industri manufaktur.
Divisi SHE
SHE ini singkatan dari safety, health, dan environment. Divisi ini bertanggung jawab atas kesehatan dan keselamatan pekerja di lingkungan industri. Divisi ini memiliki tanggung jawab yang sangat besar. Karena setiap pekerjaan dan kebijakan yang diambilnya berkaitan langsung dengan keselamatan para pekerjanya. Biasanya, mahasiswa dari lulusan teknik industri dijadikan sebagai health safety environment engineer yang tugasnya menganalisis lokasi dan juga prosedur kerjanya terhadap dampak yang terjadi pada pekerjanya.
Divisi Manajemen Sumber Daya Manusia
Divisi ini disebut juga dengan human resources development, atau HRD. Divisi ini bertugas mencari calon pekerja yang dibutuhkan setiap divisi perusahaan. Itu dilakukan supaya perusahaan bisa mendapat orang yang sesuai dengan jabatan dan posisinya. Divisi ini bertanggung jawab untuk memastikan setiap calon pekerja yang dipilih merupakan orang yang tepat.
Yaitu, orang yang memang punya skill sesuai dengna yang dibutuhkan oleh perusahaan demi meningkatkan perusahaan. Bila divisi ini tidak menganggap serius terhadap proses perekrutan calon pekerjanya, dijamin perusahaan itu tidak akan bisa maju. Sehingga, secara tidak langsung akan berdampak buruk pada perusahaan dan bisa menyebabkan sebuah kebangkrutan.
Divisi Pemeliharaan
Divisi yang satu ini berkaitan dengan divisi engineering. Karena  dalam perusahaan manufaktur, keduanya selalu bekerja sama untuk memastikan bahwa setiap mesin produksinya telah beroperasi dengan baik.Bagaimanapun juga, setiap mesin produksi itu meskipun masih baru tetap saja butuh pemeliharaan khusus. Jika tidak, mesin produksi menjadi mudah rusak. Hasilnya, setiap barang produksinya menjadi cacat.
Divisi pemeliharaan memiliki posisi yang krusial sekali. Karena setiap barang hasil produksinya selalu tergantung dari kualitas mesin produksinya. Bila divisi pemeliharaan ini tidak mengerjakan tugas dan tanggung jawabnya dengan baik, dijamin setiap mesin produksinya akan cepat rusak. Akibatnya, hasil produksinya menjadi tidak maksimal.
Divisi Perencanaan Biaya & Cost Control Engineer
Divisi ini memiliki banyak tanggung jawab di sebuah perusahaan. Yaitu, harus bisa membuat kalkulasi waktu, biaya, dan tenaga yang dibutuhkan dalam menjalankan setiap produksinya. Mereka juga bertugas untuk memastikan setiap mesin perusahaan mempunyai jaminan mutu yang baik. Supaya mesin tersebut bisa meningkatkan perusahaan dan memberi profit lebih perusahaan.
Biasanya lulusan teknik industri ditugaskan menjadi cost control engineer dengan pengalaman kerja minimal 5 tahun. Sedangkan gaji minimalnya sebesar 15 juta rupiah per bulan.
Divisi Pengendalian Mutu
Divisi yang satu ini bertanggung jawab atas kualitas barang produksi setiap mesinnya. Divisi ini harus bisa memastikan supaya barang yang dihasilkan sesuai standar yang ditetapkan. Sehingga, setiap konsumen diharapkan bisa menerima barang dalam kondisi yang baik. Tentunya harus sesuai dengan standar yang ditentukan perusahaan.
Biasanya, mahasiswa yang berasal dari lulusan teknik industri dipercaya menjadi quality assurance head. Posisi ini bertugas untuk mengatur setiap bawahannya supaya bisa bekerja secara efektif dan efisien dalam menjaga kualitas hasil produksi dalam kondisi baik.
Bidang Sistem Informasi
Divisi ini saat ini sangat dibutuhkan oleh semua perusahaan di dunia. Entah itu untuk perusahaan manufaktur dan non manufaktur. Itu karena sistem informasi disebut juga dengan IT. Sehingga, sistem ini dibutuhkan sekali dalam dunia teknologi yang semakin berkembang saat ini. Apalagi hampir setiap konsumen saat ini semakin mlek terhadap teknologi.
Hal ini membuat semua perusahaan dituntut untuk selalu mengikuti perkembangan zaman. Yaitu, harus bisa memanfaatkan teknologi dengan baik. Dan tentu saja setiap teknologi pasti butuh orang yang bisa IT. Supaya teknologi yang dibutuhkan bisa diatur sesuai dengan kebutuhan perusahaan. Posisi yang paling sering ditempati lulusan teknik industri adalah IT head, IT supervisor, staf atau supervisor dibagian instalasi sistem informasi, dll. Namun, ada juga beberapa mahasiswa lulusan ini membuka usahanya dibidang IT consultant atau software house.
Divisi Lainnya
Selain beberapa divisi tersebut, masih ada banyak divisi yang lainnya yang butuh lulusan mahasiswa dari jurusan teknik industri. Yaitu, marketing, purchasing, dll. Semua divisi tersebut membutuhkan lulusan teknik industri karena lulusan teknik ini dipercaya mempunyai banyak pengetahuan dan pengalaman yang dibutuhkan perusahaan.
Bahkan, tidak hanya sekedar pengetahuan tentang manufaktur saja. Namun, banyak dari mereka juga sudah dibekali dengan pengetahuan dibidang keuangan, manajemen, dll. Itulah alasannya kenapa setiap mahasiswa dari lulusan teknik industri memiliki nilai lebih bagi perusahaan. Karena tidak hanya sekedar menempati 1 posisi saja. Namun, lulusan ini juga bisa menempati banyak posisi di sebuah perusahaan. Contoh divisi lainnya selain yang disebutkan di atas adalah divisi sales and marketing, divisi customer relationship, divisi purchasing, divisi analyst and research, dll.
Jurusan Teknik Informatika
Jika Anda ingin mengambil jurusan teknik informatika di Universitas Tarumanagara, maka biaya yang dibutuhkan untuk membayar SPP adalah 21 juta rupiah. Biaya BPP sebesar 7 juta rupiah. Biaya setiap SKS adalah 325 ribu rupiah per SKS dari total SKS sebanyak 20 SKS. Biaya SMT 1** keseluruhan sebanyak 13,5 jutaan rupiah. Sedangkan total biaya perkuliahan keseluruhan sebanyak 96 jutaan rupiah.
Prospek Kerja Teknik Informatika
Ada banyak peluang kerja yang bisa diambil oleh lulusan teknik informatika. Peluang gaji yang didapatkan pun juga banyak dan menarik. Berikut ini adalah beberapa prospek kerja untuk lulusan jurusan teknik informatika, antara lain:
Programmer
Programmer merupakan salah satu profesi yang bisa diambil oleh lulusan teknik informatika. Terlebih sekarang ini teknologi semakin berkembang begitu pesat. Maka dari itulah, jika Anda sedang mencari kerja setelah lulus dari teknik informatika, silahkan memulainya dulu dari menjadi junior programmer. Gaji yang bisa didapaktan oleh seorang pemula adalah 5 juta sampai dengan 10 juta rupiah.
System Analyst
Tugas seorang system analyst adalah menganalisis sistem yang digunakan oleh perusahaan. Umumnya setiap analisis sistem akan bekerja sama dengan seorang programmer. Gaji yang didapatkan oleh seorang analisis sistem adalah 6,5 jutaan rupiah sampai dengan puluhan juta rupiah.
IT Consultant
Tugas seorang IT consultant adalah memberikan ide kepada klien tentang pemanfaatan teknologi informasi supaya target bisnisnya bisa tercapai. Seorang IT consultant umumnya mempunyai penghasilan yang cukup besar. Yaitu senialai 6 juta rupiah sampai dengan 11 juta rupiah.
Software Engineer
Tugas seorang software engineer ini sebenarnya hampir sama seperti seorang analisis sistem dan programmer. Seorang software engineer biasanya mendapat gaji senilai 8 juta rupiah untuk seorang pemula. Namun, untuk yang sudah berpengalaman, gaji yang didapatkannya hingga puluhan juta rupiah.
Database Engineer
Seorang database engineer bertugas memonitor sekaligus merancang database kompleks. Gaji yang didapatkan oleh profesi ini bisa mencapai 5 juta rupiah untuk yang masih fresh graduate. Sedangkan bagi mereka yang sudah berpengalaman bisa mendapatkan gaji senilai puluhan juta rupiah.
Software Developer
Profesi seorang software developer ini berperan penting dalam membuat sebuah software. Dimana software ini nantinya digunakan untuk menjalankan sistem. Gaji yang didapatkan oleh seorang software developer ini mencapai 8 juta rupiah.
Web Designer
Seorang web designer bertugas untuk merancang website. Dimana mereka biasanya bekerja secara berdampingan dengan seorang web programmer. Gaji yang didapatkan oleh seorang web designer adalah 4 jutaan rupiah. Namun, gajinya bisa lebih tinggi. Karena jumlah gajinya sesuai dengan proyek yang sedang dikerjakan.
IT Executive
Peluang kerja untuk lulusan teknik informatka adalah menjadi seorang IT executive. Seorang IT executive bertugas memastikan sistem yang diguankan dalam keadaan siap. Sehingga, sistem tersebut bisa dioperasikan dengan baik. Gaji yang didapatkan oleh seorang IT executive sekitar 5 jutaan rupiah sampai dengan 9 jutaan rupiah.
Network Administrator & Network Support Engineer
Network administrator tugasnya adalah menjaga jaringan sistem agar selalu stabil Gaji mereka biasanya mencapai 9 jutaan rupiah. Sedangkan, seorang network support engineer bertugas menganalisis sistem jaringan. Gaji seorang network support engineer biasanya  mencapai 5 juta sampai dengan 9 jutaan rupiah.
Jurusan Sistem Informasi
Lulusan sistem informasi memiliki banyak prospek kerja yang cerah. Untuk bisa masuk ke dalam jurusan ini, dibutuhkan biaya yang cukup besar. Dimana biaya keseluruhan sebesar 96 jutaan rupiah. Biaya kuliah tersebut terbagi atas biaya SPP sebesar 17 juta rupiah, biaya BPP sebesar 7 juta rupiah, biaya setiap SKS sebesar 325 ribu rupiah dari 20 SKS. Selanjutnya, untuk biaya kuliah SMT 1** keseluruhan mencapai 13,5 jutaan rupiah.
Prospek Kerja Sistem Informasi
Mungkin beberapa dari Anda ada yang masih bingung akan menjadi apa setelah lulus dari sistem informasi. Padahal, sebenarnya ada banyak peluang kerja yang terbuka lebar bagi lulusan sistem informasi. Maka dari itulah, jika Anda sekarang ini sedang mencari peluang kerja yang cocok untuk lulusan sistem informasi, maka jawabannya ada di bawah ini:
IT Manager
Peluang kerja ini cocok sekali untuk lulusan sistem informasi. Namun tentunya ini hanya berlaku untuk mereka yang bisa memanajemen dengan baik. Sebagai seorang IT manager, Anda bisa mendapatkan gaji senilai 8 juta rupiah hingga 12 juta rupiah. Tentunya besaran gaji tersebut tergantung dari pengalaman pekerjanya.
Database Administrator
Seorang database administrator bertugas untuk mengelola data perusahaan, sekaligus merapikannya untuk kepentingan perusahaan. Gaji yang didapatkan oleh seorang database administrator senilai 4 juta sampai dengan 6 juta rupiah.
Sistem Analis
Seorang sistem analis tugasnya adalah menganalisis sebuah sistem informasi dan sistem operasi perusahaan memakai sebuah sistem. Karena keahliannya itulah membuat mereka mendapatkan gaji senilai 6 juta sampai dengan 12 juta rupiah.
Konsultan IT
Seorang konsultan IT bertugas dibagian jasa pelayanan konsultasi IT. Mereka bertugas melayani sistem informasi, software, elektronik, dll. Umumnya setiap konsultan IT akan mendapatkan gaji senilai 6 juta sampai dengan 11 juta rupiah.
Web Developer dan System Engineer
Seorang web developer bertugas di dunia pemrograman. Mereka bekerja dalam pembangunan website. Setiap web developer bisa mendapat gaji dari 4 juta sampai dengan 6 juta rupiah. Sedangkan seorang system engineer bertugas untuk pengaturan dan penyusunan sistem yang kompleks. Gaji yang diterima mereka bisa mencapai 8 juta rupiah. Sesuai dengan tingkat kesulitan kerjanya.
Information System Manager dan CEO
Setiap information system manager bertugas untuk mengontrol sistem supaya proses bisnis perusahaan semakin terdukung. Gaji yang didapatidak terbatas.tkan oleh seorang information system manager adalah 9 juta rupiah. Sedangkan CEO merupakan salah satu profesi yang paling diimpikan setiap orang. Beruntungnya, setiap lulusan sistem informasi ternyata berpeluang besar menjadi CEO. Bahkan, Anda bisa memulai perusahaan start up milik Anda sendiri. Tentunya dengan penghasilan yang tidak terbatas.
Network Security & Programmer
Network security bertugas untuk bertanggung jawab terhadap keamanan jaringan yang dipakai oleh perusahaan. Gaji seorang network security sebesar 5 juta sampai dengan 8 juta rupiah. Sedangkan programmer merupakan salah satu profesi paling berpeluang untuk seorang lulusan sistem informasi.
Karena dari awal mereka sudah dibekali oleh pengetahuan tentang dunia programming.  Anda bisa menjadi seorang programmer, yang kemudian mengembangkan kemampuan dan keahlian Anda menjadi seorang programmer handal. Umumnya setiap programmer akan mendapatkan gaji senilai 5 juta rupiah untuk seorang pemula.
Jurusan Perencanaan Kota dan Real Estate
Jurusan yang satu ini membahas tentang keteknikan. Beberapa diantaranya adalah matematika, statistik, pemetaan, sistem transportasi, ilmu geografi dan geologi, dan software pendukung perencanaan tentang sistem informasi geografis. Tidak hanya itu saja, jurusan ini juga membahas tentang teori sosial, sosial ekonomi, sosial budaya.
Selain itu, jurusan ini juga membahas tentang kependudukan, teori perencanaan kota dan wilayah, kajian lingkungan, teori hukum dan politik, ilmu komunikasi, dan perumahan serta pemukiman. Sedangkan materi yang lain meliputi, perencanaan, pengantar ekonomika perencanaan, kependudukan, ekonomika wilayah dan kota, perencanaan, politik, pengembangan komunitas, dll.
Dalam perkuliahan ini, prodi ini umumnya didukung 4 kelompok keahlian. Antara lain, perencanaan wilayah dan pedesaan, perencanaan dan perancangan kota, pengelolaan pembangunan dan pengembangan kebijakan, juga infrastruktur wilayah dan kota. Kemampuan utama lulusan perencanaan kota dan real estat adalah bisa berpikir sistematis.
Karena disaat belajar dalam jurusan perencanaan kota, mahasiswa tidak hanya sekedar mempelajari tentang perencanaan wilayah dan kota. Namun, mereka juga belajar tentang segala proses yang ada. Umumnya, mereka disebut menjadi POAC. Yaitu, planning, organizing, actuating, dan juga controlling.
Setelah membuat rencana, harus ada beberapa proses yang harus dijalankan. Supaya nantinya hasil rencananya bisa berjalan dengan baik. Namun meskipun begitu, pastikan bahwa setiap rencananya berada dalam rel yang benar. Maka dari itulah, setiap rencana yang dibuat harus diimplementasikan dengan baik. Setelah itu, dikelola dan dikontrol dengan baik.
Maka dari itulah, supaya hasilnya bisa memuaskan, dalam membuat rencana tidak boleh sembarangan. Setiap rencana harus disesuaikan dengan kondisi di masa lalu dan juga sekarang.  Hal ini sangat penting sekali supaya rencana yang dibuat bisa membuahkan hasil yang memuaskan. Sama halnya dengan fakultas teknik pada umumnya. Karena lulusan dari teknik perencanaan wilayah dan kota akan mendapat gelar sebagai sarjana teknik.
Untuk masuk ke pendidikan ini, maka biaya yang dibutuhkan untuk kuliah di jurusan ini adalah 15 juta rupiah (SPP), biaya BPP seebsar 6,5 juta rupiah, biaya setiap SKS sebesar 325 ribu rupiah dari 20 SKS, biaya SMT 1** keseluruhan sebanyak 13 jutaan rupiah, dan total biaya perkuliahan *** sebesar 99 jutaan rupiah.
Prospek Kerja
Setelah lulus dari jurusan perencanaan kota dan real estate, setiap alumninya berpeluang besar untuk mendapatkan berbagai macam pilihan kerja. Berikut ini adalah prospek kerja untuk jurusan perencanaan kota dan real estat, yaitu:
Instansi Pemerintah
Dalam instansi pemerintahan, seorang lulusan perencana wilayah dan kota bisa bekerja menjadi seorang peneliti, dosen, Bappenas ( Badan Perencanaan Pembangunan Nasional) atau Bappeda ( Badan Perencanaan Pembangunan Daerah), Bakosurtanal (Badan Koordinator Survey Nasional), Departemen Dalam Negeri,Kementrian PU, BPPT, Pemda, Kementerian Perumahan Rakyat, Dinas Permukiman dan Prasarana Wilayah, dan Dinas Tata Kota atau penentu kebijakan daerah.
Dimana penentu kebijakan daerah ini meliputi walikota, gubernur, bupati, dll. Selain itu, seorang lulusan dari perencana wilayah juga berpeluang bekerja dalam kementrian lingkungan hidup, Kementrian Pembangunan Daerah Tertinggal, BKPM atau Badan Koordinasi Penanaman Modal, dan semua instansi pemerintah yang lain sampai pusat ataupun daerah.
Sektor Swasta
Tidak hanya bisa bekerja di instansi pemerintahan saja, seorang lulusan perencana wilayah juga bisa bekerja dibidang swasta. Misalnya saja sebagai tenaga yang sudah ahli dibidang konsultan, seperti perencanaan, pariwisata, dll. Bisa juga bekerja dibidang statistik atau LSI. Bekerja dibidang pengembangan komunitas untuk kontraktor properti dan developer properti. Bisa juga bekerja dibidang perkebunan, pengajar, penliti di universitas swasta, kehutanan, dll.
LSM
Selain itu, seorang lulusan dari perencana wilayah juga berpeluang menjadi seorang aktivis di sebuah LSM. Karena umumnya setelah lulus dari situ, alumni mahasiswa memiliki ilmu pengetahuan tentang komunitas, ilmu sosial, dan pemerintahan yang cukup. Sehingga, mereka cukup handal dalam hal pemetaan. Karena itulah mereka dapat bekerja di sebuah lembaga swadaya masyarakat.
Diluar Keilmuan
Diluar dari kemampuan yang dapat berpikir secara sistematis dan runtut, seorang mahasiswa yang lulus dari jurusan ini umumnya lebih baik dalam mengenal prinsip dasar manajemen. Sehingga, hal ini membuat seorang mahasiswa yang berhasil lulus dari perencanaan wilayah dan kota dapat bekerja di sebuah bank ataupun sejumlah lembaga keuangan yang lain, beserta perusahaan swasta.
Jurusan Teknik Elektro
Pada dasarnya setiap jurusan teknik elektro itu mempelajari seputar arus kuat dan arus lemah listrik dan juga mempelajari tentang listrik yang searah dan arus bolak balik. Tidak hanya itu saja, ternyata bidang elektronika ini juga mempelajari banyak hal dan tidak sesederhana seperti yang Anda kira. Karena dalam jurusan teknik elektro ini nanti Anda akan mempelajari banyak hal lebih luas tentang ilmu teknik atau rekayasa beserta sifatnya.
Yaitu, elektron dan aplikasi pemanfaatan listrik dalam kehidupan sehari-hari. Dimana listrik itu sendiri umumnya hampir dipakai pada semua bidang yang berkaitan dengan penggunaan teknologi listrik. Bisa dibilang bahwa pendidikan program teknik elektro itu sangat luas. Semuanya bisa dipecah ke dalam banyak konsentrasi, antara lain:
Teknik tenaga listrik, teknik telekomunikasi, teknik sistem kendali, teknik komputer, teknik instrumentasi, dan juga teknik elektronika. Dari semua konsentrasi itu sama-sama saling berkaitan antara yang satu dengan yang lain. Selanjutnya, jika Anda ingin masuk ke dalam jurusan ini, setidaknya Anda harus tahu dulu beberapa hal tentang biayanya.
Karena biaya SPP untuk jurusan ini sebesar 17 juta rupiah. Itupun belum termasuk biaya untuk BPP senilai 6,5 juta rupiah dan biaya setiap SKS sebesar 325 ribu rupiah per SKS. Jumlah SKS untuk jurusan ini sebanyak 19 SKS. Jadi, total biaya untuk kuliah SMT 1** adalah 12,6 jutaan rupiah. Sedangkan, biaya perkuliahan keseluruhan *** sebesar 99 jutaan rupiah.
Prospek Kerja Jurusan Teknik Elektro
Baru-baru ini, peluang kerja untuk teknik elektro semakin luas. Maka dari itulah, tak heran jika jurusan teknik elektro merupakan salah satu jurusan yang memiliki banyak peminat. Khususnya di Universitas Tarumanagara. Bisa dipastikan bahwa setelah berhasil lulus sarjana teknik elektro, kebanyakan dari mereka langsung dilirik oleh banyak perusahaan.
Apalagi jika Anda adalah mahasiswa aktif yang memiliki segudang prestasi. Tentunya akan semakin mudah bagi Anda untuk memilih berbagai macam peluang kerja jurusan teknik elektro seperti yang ada di bawah ini:
Dosen atau Guru
Setelah lulus dari jurusan teknik elektro, Anda bisa bekerja menjadi seorang guru SMA/ SMK ataupun dosen. Namun, jika Anda ingin menjadi seorang dosen, minimal Anda harus lulus dulu sekolah S2. Tentu saja menjadi seorang pengajar adalah pekerjaan mulia. Karena gaji yang didapatkan cukup tinggi. Hal ini sesuai dengan universitas/ sekolah yang ditempati.
PNS atau Pegawai Negeri Sipil
Setelah lulus dari sarjana teknik elektro, Anda berpeluang besar menjadi seorang pegawai negeri sipil. Bagian yang dapat diambil dari jurusan ini umumnya adalah dibidang sumber daya mineral dan energinya. Maka dari itulah, Anda dapat bekerja di sebuah Dirjen Ketenagalistrikan dan juga kementerian energi, beserta sumber daya mineral. Tentu saja gaji untuk seorang PNS cukup tinggi.
BUMN ( Badan Usaha Milik Negara)
Setelah berhasil lulus kuliah, Anda dapat bekerja di sebuah BUMN. Yaitu, perusahaan besar milik negara. Karena tentunya kemampuan Anda sangat dibutuhkan sekali. Bidang pekerjaan yang Anda geluti di BUMN nantinya adalah yang berkaitan dengan energi dan telekomunikasi. Gaji untuk seorang pekerja di BUMN cukup besar. Yaitu, 7 juta rupiah sampai dengan 12 juta rupiah.
Bekerja di Swasta
Saat ini banyak sekali perusahaan swasta sangat membutuhkan lulusan dari jurusan teknik elektro. Beberapa tugas mereka nanti adalah mengerjakan pengembangan software dan hardware, telkom, kominfo, dll. Gaji yang didapatkan tidak cukup tinggi. Namun, ada pula gaji yang tinggi dari sektor swasta. Biasanya perusahaan yang berani menggaji tinggi berasal dari pembangkit listrik, pertambangan, dan perminyakan.
Wirausaha
Jika Anda tidak ingin bekerja ke tempat orang/ perusahaan orang, Anda bisa menjadi seorang wirausaha dan membuka usaha Anda sendiri di rumah. Karena prospek kerja untuk jurusan ini sangat luas. Jadi, Anda memiliki kesempatan besar untuk membuka jasa service komputer, laptop, printer, dll yang berkaitan dengan elektronik sebagai lahan terbaik untuk berbisnis.
Bidang Perminyakan & Pertambangan
Bidang yang satu ini disukai banyak orang. Karena memang teknik elektro adalah termasuk jurusan yang paling dicari dibidang pertambangan dan perminyakan. Khususnya di bidang instrumen engineer dan control engineer. Seperti yang diketahui, bahwa saat ini semua orang butuh listrik. karena sumber listrik dibutuhkan semua orang, sehingga peluang kerja jurusan teknik elektro semakin besar. Gaji yang didapatkan untuk pekerja pertambangna dan perminyakan bervariasi. Bisa mencapai 5 juta sampai dengan 7 juta rupiah.
Telekomunikasi dan Kelistrikan
Kesempatan besar untuk lulusan teknik elektro adalah bekerja dibidang telekomunikasi dibidang elektronika, kontrol tang, instrumen, dan IT. Gajinya cukup besar. Bisa mencapai 10 juta rupiah lebih. Sedangkan, jika Anda bekerja dibidang kelistrikan, maka Anda bisa mendapatkan gaji yang lebih besar dari itu. Karena hanya dari sarjana teknik elektro saja yang dapat merebut pekerjaan itu.
Software Developer dan Manufaktur
Seorang lulusan dari teknik elektro juga dapat mengembangkan software sebagai langkah pengembangan internet of things. Karena umumnya beberapa dari mereka juga menguasai bahasa pemrograman hardware. Sehingga, mereka juga berpeluang bekerja dibidang software developer dan manufaktur.
Jurusan Teknik Mesin
Anda gemar menghitung? Mungkin jurusan teknik mesin adalah pilihan yang terbaik untuk Anda. Bahkan, ternyata sampai saat ini, prospek kerja jurusan ini sangat luas. Tak heran jika jumlah peminatnya semakin banyak dari waktu ke waktu. Teknik mesin sendiri merupakan sebuah ilmu yang mempelajari tentang aplikasi prinsip fisika yang berkaitan dengan manufaktur, desain mesin, analisis, dan pemeliharaan sistem mekanik.
Seperti yang diketahui, bahwa setiap hari ada banyak mesin yang dipakai oleh mausia untuk meringankan beban pekerjaannya. Misalnya saja seperti kendaraan bermotor, mesin pabrik, dan mesin yang dapat menjalankan dirinya sendiri atau robot. Maka dari itulah, tak heran jika jurusan ini selalu dicari-cari oleh beberapa perusahaan besar. Karena memang keahliannya sangat penting sekali. Berikut ini adalah prospek kerja jurusan teknik mesin, antara lain:
Industri dan Perusahaan. Setiap perusahaan pasti butuh engineer teknik mesin untuk membantu mengontrol pengolahan bahan mentah supaya menjadi barang jadi memakai mesin yang ada dalam pabrik. Setiap mesin itu nanti akan selalu dipantau oleh seorang engineer. Maka dari itulah, lulusan jurusan teknik mesin berpeluang besar bekerja di perusahaan dan industri.
Setiap perusahaan yang bergerak dibidang pertambangan tentu saja akan membutuhkan ahli mesin. Karena tugas mereka nanti adalah mengontrol semua proses pertambangan. Baik itu dari pengambilan bahan tambang, dan pengolahannya. Maka dari itulah, peran engineer teknik mesin sangat dibutuhkan oleh perusahaan nasional dan internasional.
Tidak hanya bekerja di perusahaan dan industri pertambangan saja, seorang lulusan teknik mesin juga bisa menjadi seorang pengajar di semua perguruan tinggi. Entah itu negeri dan swasta. Mereka berpeluang besar menjadi dosen teknik mesin. Asalkan lulusan teknik mesin ini berhasil menyelesaikan pendidikan S2 terlebih dahulu.
Dengan keahlian yang dimilikinya itulah, tak heran bila lulusan teknik mesin pasti bisa mendirikan lapangan pekerjaannya sendiri. Entah itu yang ada kaitannya dengan teknik mesin atau tidak sama sekali. Misalnya saja, dengan membuka usaha industri mobil, perhotelan, menjadi seorang desainer mekanik, dll.
Instansi Pemerintah. Prospek kerja lainnya untuk lulusan teknik mesin adalah bisa bekerja dengan instansi pemerintah pusat riset, beserta pengembangan teknologi pemerintah. Maka dari itulah, jangan pernah takut mengambil jurusanini. Karena Anda masih bisa mendapatkan banyak peluang pekerjaan yang menarik untuk dipilih.
Nah, dari sinilah jika Anda ingin mengambil jurusan teknik mesin di Universitas Tarumanagara, jangan lupa persiapkan biayanya dulu. Karena biayanya nanti akan meliputi biaya SPP sebesar 18 juta rupiah. Biaya BPP sebesar 6,5 juta rupiah. Biaya setiap SKS sebesar 325 ribu rupiah dari jumlah keseluruhan sebanyak 18 SKS. Biaya total perkuliahan SMT 1** sebesar 12,3 jutaan rupiah.
Sedangkan biaya untuk total perkuliahan secara keseluruhan sebanya 98 jutaan rupiah. Namun, biaya tersebut bisa berubah setiap saat. Jadi, selalu update informasinya untuk keterangan lebih lanjut. Supaya Anda tahu berapa banyak uang yang harus disiapkan ketika ingin mengambil jurusan teknik mesin di Universitas Tarumanagara.