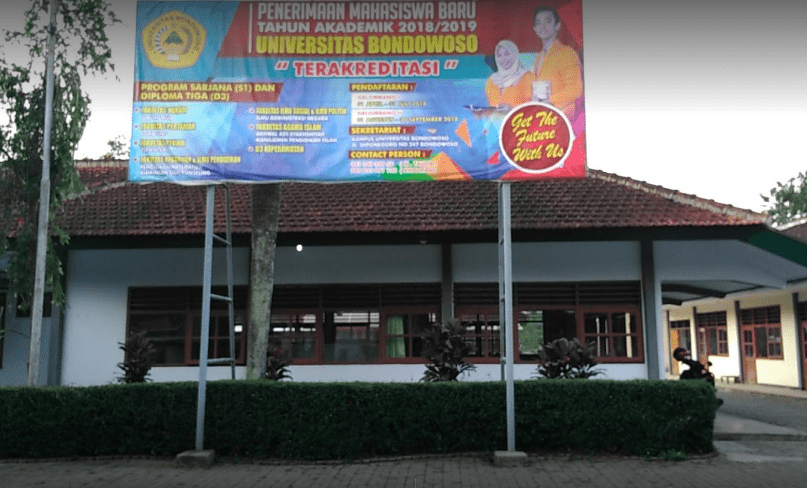 Masa kuliah merupakan sebuah masa pembentukan idealisme dan karakter dalam diri seseorang. Dalam masa ini jugalah terjadi  pada diri saya, sebuah masa yang bagi saya luar biasa dan sekaligus menyenangkan. Pengalaman saya kuliah di Universitas Bondowoso merupakan sebuah periode emas bagi diri saya. Banyak sekali hal positif yang bisa menjadi kenangan saya selama kuliah di sana.
Profil Universitas Bondowoso
Sekilas saya ceritakan tentang Universitas tempat saya menimba banyak sekali ilmu di sana. Universitas Bondowoso ini menurut sepengetahuan saya didirikan pada tanggal 10 Desember 1982. Pada masa itu merupakan satu-satunya Universitas ataupun perguruan tinggi yang ada di kabupaten Bondowoso. Pertama kali dibuka, Universitas Bondowoso ini hanya 1 (satu) program studi S-1 yaitu FKIP.
Pada tahun 1985, maka melalui sebuah keputusan Menteri Pendidikan dan Kebudayaan dengan nomor 515/0/1985 memberikan penjelasan tentang sebuah pemberian status terdaftar jurusan atau program studi pada fakultas-fakultas yang ada di lingkungan Universitas Bondowoso. Dalam masa perkembangannya, maka Universitas ini telah membuka Fakultas-fakultas sampai terdapat 6 Fakultas, 9 program studi dengan rinciannya sebagai berikut :
Fakultas Hukum program studi Ilmu Hukum
Fakultas Pertanian program studi Agribisnis
Fakultas Fisip program studi Ilmu Administrasi Negara
Fakultas Keguruan Ilmu Pendidikan program studi Pendidikan Matematika
Bimbingan Dan Konseling
Fakultas Tehnik program studi Teknik Sipil
Fakultas Agama Islam program studi Kependidikan Islam dan Hukum Keluarga (Ahwal Syakhshiyah)
Dan terdapat satu program diploma program studi D3 Keperawatan
Pengalaman Kuliah di Universitas Bondowoso
Saya kuliah di salah satu program studi tersebut. Pokoknya pengalaman saya kuliah di sini akan saya ceritakan pada kamu semua. Suka duka saya kuliah di sana campur aduk. Tapi sepertinya banyak sukanya jika dibandingkan dengan dukanya. Berkumpul dan bertemu dengan teman-teman merupakan hal yang menyenangkan.
Siapa sangka, kalau lambat laun Universitas ini akan beranjak maju. Sebagian orang memang boleh nyinyir pada Universitas Bondowoso. Tidak apa-apa, itu hak mereka untuk mengatakan apapun. Namun fakta secara administrasi, sejak terakreditasi maka institusi Universitas Bondowoso dengan nomor 3575/SK/BAN-PT/Akred/PT/X/2017 (lihat situs: https://www.banpt.or.id/direktori/institusi) maka Universitas tertua yang ada di kabupaten Bondowoso ini mulai berbenah.
Lambat laun semua prodi-prodi yang ada di lingkungan Universitas Bondowoso sudah terakreditasi. Sebagai sebuah perguruan tinggi, maka tentunya hanya mutu dan kualitas yang akan ditonjolkan. Sama halnya dengan Universitas Bondowoso dengan singkatan UNIBO ini. Segala sektor memang masih dalam pembenahan, mulai dari infrastruktur sampai pada manajerial.
Untuk unfrastruktur misalnya, sudah mulai melengkapi, memperbaiki maupun pengadaan dalam hal menunjang Tri Dharma Perguruan Tinggi. Sebut saja untuk fasilitas perkuliahan, fasilitas microteaching, green house, fasilitas wifi yang bisa diakses ke seluruh wilayah kampus.  Sampai juga pada asrama mahasiswa (Pondok Pesantren) khusus untuk mahasiswa yang menetap di dalam kampus.
Kalau saya lihat sari sisi kegiatan Tri Dharma Perguruan Tinggi, maka geliat kegiatan dosen Universitas Bondowoso juga mulai tumbuh berkembang. Mulai dari berbagai kegiatan, maka beberapa dosen lintas fakultas mulai mengikuti seminar, workshop sampai pelatihan-pelatihan baik di dalam maupun di luar kampus.
Berdasarkan pengalaman, saya juga memperhatikan dalam penelitian dan karya tulis dosen Universitas Bondowoso terbilang cukup melampaui harapan. Disana terdapat beberapa dosen sudah mulai menerbitkan buku-buku maupun tulisan-tulisan yang dimuat dalam jurnal ilmiah. Bisa kunjungi www.ejournal.unibo.ac.id sehingga dari sisi karir dosen kedepan inilah tidak dapat diragukan lagi.
Optimisme yang tinggi ini juga ditunjang dari berbagai faktor, adanya berbagai sarana guna meningkatkan karir dosen. Aplikasi SISTER misalnya, merupakan salah satu dari aplikasi sistem terpadu yang bisa diakses oleh dosen-dosen Universitas Bondowoso. Hal ini dilakukan dalam melengkapi data-data yang dibutuhkan guna bisa memproses jabatan akademik dan juga sebagai syarat sertifikasi dosen secara online.
Terbukti, yang saya ketahui kalau pada tahun 2019 ini, sudah terdapat 2 dosen dalam proses menuju profesional. Memang perlu kerja keras bagi seluruh komponen untuk bisa mewujudkan UNIBO yang maju. Sebagaimana motonya get the future with us dengan geliat aktifitas yang sudah dilalui, bukanlah sebuah hal yang mustahil untuk bisa dicapai.
Nah, ini sedikit ulasan mengenai beberapa sejarah Universitas Bondowoso yang saya ketahui. Sebagai seorang mahasiswa ataupun alumni Universitas inj maka memang sepatutnya untuk mengetahui tentang kampus tercintanya.
Perpustakaan Mahasiswa Universitas Bondowoso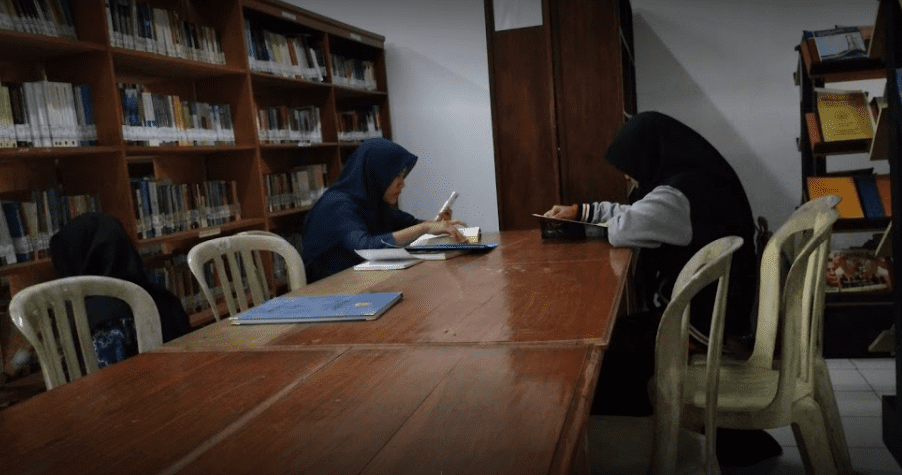 Selanjutnya, saya akan berbagi pengalaman atau bercerita tentang sebuah ruangan yang bagi saya mau sebagian besar mahasiswa disini yaitu ruang perpustakaan.
Ini merupakan salah satu ruangan favorit bagi para mahasiswa yaitu Perpustakaan Umum untuk Mahasiswa. Keberadaan Perpustakaan ini merupakan sebuah ladang belajar bagi para Mahasiswa untuk bisa menyelesaikan berbagai tugas baik itu tugas dari dosen, tugas skripsi dan lain sebagainya.
Perpustakaan ini memberikan kemudahan dan juga memuaskan. Dalam hal peminjaman buku sangatlah mudah dan juga cukup membayar 10K saja. Maka sudah bisa menerima kartu Perpustakaan dan meminjam buku selama maksimal 10 hari untuk satu bukunya.
Adapun untuk beberapa buku yang terdapat didalam perpustakaan umum Universitas Bondowoso ini sangat beragam. Diantaranya yaitu antropologi, Psikologi, Pertanian, ilmu filsafat, kesehatan, dan juga hukum. Ada juga  skripsi berbagai program studi dan masih banyak lagi yang lainnya. So bagi kamu semua bisa kunjungi terus Perpustakaan Umum Universitas Bondowoso.
Suport dan juga kembangkan potensimu untuk orang banyak. Saya juga sangat menyukai ke perpustakaan ini. Ruangan sangat luas dan nyaman. Membaca buku membuat saya lebih enak dan tenang. Apalagi jika ada tugas kampus maka perpustakaan ini bisa menjadi tujuan utama saya. Perpustakaan umum ini akan dibuka pada pagi hari sampai sore hari. Itulah pengalaman saya ketika berada di salah satu ruang favorit saya yaitu perpustakaan umum Universitas Bondowoso.
Pengalaman Ikut Kegiatan Donor Darah
Selanjutnya saya akan berbagi pengalaman lainnya ketika ikut melaksanakan kegiatan donor darah. Kegiatan yang dilaksanakan oleh Prodi Prodi DIII keperawatan Universitas Bondowoso. Kegiatan ini dilaksanakan dalam rangka Dies Natalis ke-14. Donor darah ini diselenggarakan oleh para Himpunan Mahasiswa (HIMA).
Bagi saya acara kali ini sangat menarik sekali dikarenakan banyak sekali keseruan yang ada didalamnya. Salah satunya yaitu telah diikuti oleh beberapa kampus terkemuka yang ada di Bondowoso. Diantaranya yaitu Kampus Unej cabang Bondowoso, Poltek Jember cabang Bondowoso, Universitas Bondowoso, STAI At Taqwa, Akbid Bondowoso, dan lainnya yang ikut serta dalam mensukseskannya.
Acara kali ini dimulai pada pukul 08.00 WIB dan langsung dibuka oleh Dekan Akper DIII Universitas Bondowoso. Dibuka juga oleh kepala PMI Bondowoso yang juga merupakan salah satu alumni dari Universitas Bondowoso.
Kegiatan donor darah ini merupakan kegiatan rutin yang selalu diselenggarakan oleh Hima Akper Universitas Bondowoso dalam jangka 3 bulan sekali. Kegiatan ini selalu diapresiasi oleh kalangan masyarakat Kabupaten Bondowoso terutama oleh para Mahasiswa dan Remaja Bondowoso.
Kegiatan positif seperti ini sangat diapresiasi oleh berbagai pihak. Hal ini bagi saya merupakan kegiatan kemanusiaan yang sangat luar biasa. Karena lewat hal inilah saya bisa membantu banyak orang yang membutuhkan donor darah. " Ayo Donor Darah! Darahmu akan bisa menyelamatkan keluargamu, saudaramu, kekasihmu, bahkan dirimu sendiri. Blood give life "
Pengalaman Bgi Takjil di Universitas Bondowoso
Pengalaman seru lainnya yang pernah saya alami ketika kuliah di Universitas Bondowoso ini yaitu mengikuti sebuah kegiatan bagi takjil dan buka bersama. Kegiatan ini dilaksanakan oleh Mahasiswa Fakultas Agama Islam Universitas Bondowoso Cab. Nurut Taqwa.
Kegiatan kali ini dilangsungkan di tengah-tengah masyarakat Kabupaten Bondowoso. Diselenggarakan oleh para Mahasiswa UNIBO FAI dan kali ini diselenggarakan tepatnya di monumen Gerbong Maut RBA Alun-alun Kabupaten Bondowoso.
Saya lihat dan saksikan sendiri kalau antusias masyarakat Bondowoso dengan adanya berbagi takjil ini sangatlah baik. Hal ini dikarenakan semua golongan kita bagi-bagi secara merata tanpa pandang ras, suku dan yang lainnya. Pada keseruan kali ini diikuti oleh kisaran sekitar 25 orang Mahasiswa. Notabenenya mereka merupakan mahasiswa yang keren-keren dan kece-kece abis.
Kali ini takjilnya juga disediakan sedikitnya sekitar 250 takjil. Dengan waktu yang relatif singkat maka seluruh takjil tersebut habis dibagikan ke masyarakat Bondowoso. Masyarakat yang berlalu lalang di daerah Alun-alun Bondowoso. Setelah selesai membagikan takjil saya dan kawan-kawan sekalian langsung tancap gas untuk buka bersama di Universitas Bondowoso.
Para mahasiswa bersama dekan FAI juga turut andil didalan keseruan berkah ramadhan kala itu. Sangat seru bukan hanya keseruan biasa ini merupakan segelintir keseruan kegiatan yang diadakan di Universitas Bondowoso. Mau ikut berbagai keseruan ini persyaratan awal yaitu dengan berkarya dan berpartisipan untuk menjadi Mahasiswa UNIBO. Dijamin akan seru abis dan bikin semua kalian akan merasakan keseruan tiada tara.
Banyak pengalaman seru yang saya dapatkan selama kuliah di Universitas Bondowoso ini. Selain pengalaman yang diatas maka ada lagi pengalaman yang lainnya. Pengalaman ketika saya mengikuti serah terima jabatan HIMA untuk Prodi DIII Keperawatan. Acara ini dimulai pada pukul 08.00 WIB yang bertempat di Kampus Akademi Keperawatan Universitas Bondowoso.
Acara kemudian diawali dengan menyanyikan lagu kebangsaan Indonesia Raya. Setelah itu dilanjutkan dengan pembacaan laporan pertanggung jawaban dari kepengurusan HIMA tahun 2018-2019. Pembacaan ini dilakukan oleh Aji Maulana Majid selaku Ketua HIMA periode 2018-2019. Mulai dari program kerja yang telah terealisasi dan juga program kerja yang tak terealisasi.
Acara dilanjutkan lagi dengan pembacaan surat keputusan kepengurusan HIMA periode 2019-2020. Disampaikan oleh Bapak Damon Wicaksi, SST, M.Kes sebagai Koordinator Akademik dan Kemahasiswaan. Kemudian dilanjutkan dengan sambutan dari Koordinator Akademik dan Kemahasiswaan. Setelah itu sambutan Ketua Prodi DIII Keperawatan Universitas Bondowoso
Selanjutnya masuk pada acara inti pada hari itu yaitu pelantikan sumpah dan serah terima jabatan (SERTIJAB). Dilakukan dari ketua HIMA periode 2018-2019 dengan ketua HIMA terpilih periode 2019-2020 dan juga penandatanganan berita acara.
Kemudian acara tersebut dilanjutkan dengan sambutan yang dilakukan oleh Sinta Apriliya selaku ketua HIMA 2019-2020. Setelah sambutan dari ketua HIMA terpilih selesai, maka acara selanjutnya yaitu pembacaan doa dan diakhiri dengan foto bersama.
Pra Pengenalan Program Studi
Rangkaian kegiatan yang sangat seru jika diingat. Sangat banyak hal positif yang didapatkan. Sama halnya ketika pengalaman saya yang lainnya yaitu waktu mengadakan penyambutan calon mahasiswa baru (MABA) dalam sebuah kegiatan Pra PPS (Pengenalan Program Studi). Kegiatan Pra PPS ini kemudian dilaksanakan tepatnya di Kampus setiap program studi Universitas Bondowoso yang telah diikuti oleh 62 mahasiswa baru.
Tujuan dari diadakannya kegiatan Pra PPS yang dilaksanakan selama 2 hari ini bertujuan untuk memperkenalkan dunia kampus. Tujuan lainnya memperkenalkan berbagai karakter yang perlu ditanamkan untuk menunjang Program Studi yang dituju kedepannya.
Selain itu, pengenalan pogram studi yang akan diikuti oleh MABA ini untuk bisa saling mengenal sesama mahasiswa baru. Mengenal lingkungan kampus yang baru dan juga memperkenalkan berbagai kegiatan yang akan diikuti oleh mereka kedepannnya. Untuk acara OSPEK ini berlangsung selama 3 hari.
Kegiatan Pra PPS yang pertama dilaksanakan dimulai dengan kegiatan briefing dan juga pembagian kelompok calon mahasiswa. Kemudian dilanjutkan persiapan pembukaan OSPEK 2019. Kegiatan Pra PPS kedua dilaksanakan dengan mengadakan kegiatan Cinta Lingkungan dengan melakukan reboisasi. Setelah itu kegiatan dilanjutkan kembali dengan lomba yel-yel dari masing-masing kelompok. Serta terakhir briefing untuk acara OSPEK yang akan dilaksanakan selama 3 hari.
Kegiatan OSPEK mahasiswa baru Universitas Bondowoso biasanya dilaksanakan selama 3 hari. Dalam kegiatan OSPEK ini para mahasiswa baru akan mendapatkan berbagai materi pembekalan akademik. Terkait dengan administrasi dan proses perkuliahan di Universitas Bondowoso.
Menjalani berbagai kegiatan yang dilaksanakan di Universitas Bondowoso membuat saya semakin semangat dan bahagia. Sungguh sebuah pengalaman yang sangat luar biasa bagi saya dengan mengikuti berbagai hal di kampus ini.
Satu hal yang paling saya banggakan juga dari Universitas Bondowoso ini karena Universitas ini sebagai salah satu Universitas yang telah berhasil melahirkan beribu lulusan terbaiknya. Pada saat ini para alumni tersebut juga telah menempati berbagai posisi penting yang ada di berbagai instansi pemerintah dan perusahaan swasta. Dan tidak sedikit juga dari para alumni tersebut yang saat ini menjadi pengamat ataupun peneliti tentang berbagai hal yang terjadi di Indonesia dan dunia.
Tidak banyak universitas yang memiliki kualitas seperti yang dimiliki oleh Universitas Bondowoso ini. Kampus ini merupakan kampus modern, komprehensif, terbuka, multi budaya, dan juga humanis yang mencakup disiplin ilmu yang luas. Selain itu, UNIBO pada saat ini secara simultan selalu berusaha menjadi salah satu universitas riset atau institusi akademik terkemuka yang berkualitas. Sehingga, merupakan sebuah pilihan yang sangat tepat ketika nanti kamu memilih tempat untuk melanjutkan jenjang pendidikan di UNIBO seperti halnya saya.
Sebagai salah satu dari kampus terbaik maka Universitas Bondowoso ini memiliki visi yang jelas dalam mencerdaskan anak bangsa. Universitas ini juga hadir sebagai solusi tepat bagi yang ingin meningkatkan kualitas intelektual untuk menjadi lebih baik. Sehingga bisa untuk dijadikan sebagai modal dalam hal menghadapi persaingan global dewasa ini yang semakin meningkat dan memanas.
Ada beberapa keunggulan dari Universitas Bondowoso yang menjadi salah satu kebanggaan saya juga diantaranya, yaitu
Universitas Bondowoso ini mempunyai lingkungan asri dan hijau sehingga para mahasiswa bisa belajar sambil melihat pemandangan yang indah. Tata ruang lingkungan UNIBO juga sudah baik. Mahasiswa UNIBO ini  terkenal dengan pemikirannya yang kritis, dan juga terkenal dengan sebutan kampus sejuta aktivis.
Lulusan dari Universitas Bondowoso ini juga sudah diakui oleh dunia Internasional, tak jarang banyak juga lulusan UNIBO sering bekerja di Perusahaan Multi Nasional dan Perusahaan Internasional.
Inilah seputar berbagai pengalaman saya ketika kuliah di Universitas Bondowoso. Bagi saya semua kegiatan dan apapun itu yang berkaitan dengan kampus ini sangat membuat saya bangga dan senang. Berbagai hal positif banyak saya dapatkan di UNIBO ini, jadi bagi saya kampus ini memang sebuah kampus favorit saya dan favorit banyak orang.