Tiap musim pemilihan kepala daerah, atau pemilihan umum, calon-calon yang bertarung di ajang pemilihan tersebut mencantumkan akademik di belakang nama mereka. Atau, ketika sedang musim nikah, undangan yang disebar oleh calon pengantin juga mencantumkan gelar akademik di belakang nama mereka.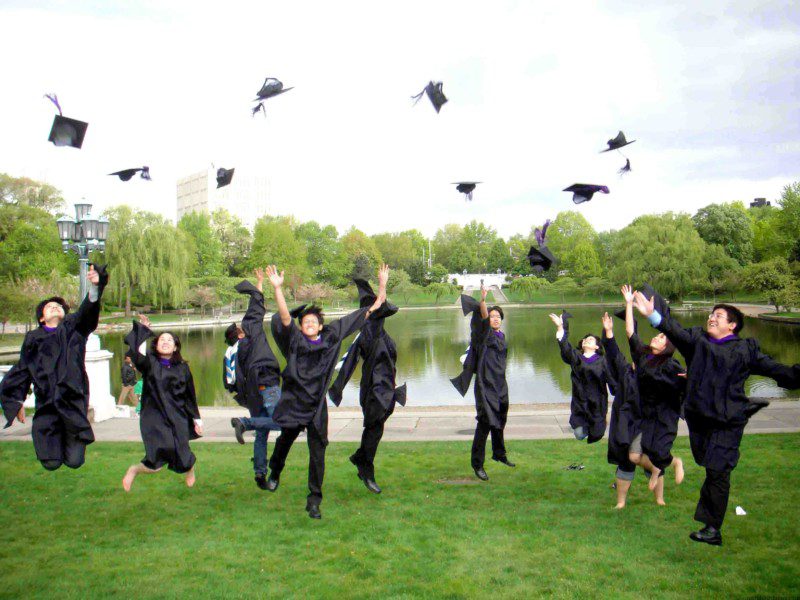 Anda juga bisa membaca tentang Pengertian Akademik
Ada banyak motif yang melatar belakangi seseorang mencantumkan gelar akademik di belakang nama mereka. Menjadi prestise tersendiri ketika khalayak ramai mengetahui gelar yang kita punyai, karena untuk mendapatkan gelar akademik tersebut bukan perkara mudah. Usaha keras bertahun-tahun diiringi doa, keringat, dan air mata yang tertumpah tiap hari.
Suatu ketika di suatu perempatan terpampang baliho besar dari pasangan calon kepala daerah kota X. Namun ketika dicermati, ada perbedaan dari dari penulisan gelar akademik pasangan calon kepala daerah tersebut. Sang calon walikota mencantumkan gelar akademik S.E., M.M., sedangkan pasangannya mempunyai gelar B.A, M.Sc.
Dari baliho tersebut sedikit banyak masyarakat awam akan mengetahui keduanya memiliki gelar yang berbeda. Namun bukan disitu intinya. Pasangan calon walikota dan wakil walikota itu menempuh pendidikan tinggi yang berbeda. Masing-masing menempuh pendidikan tinggi di dalam negeri, sedangkan yang lainnya di luar negeri.
Sebelum melangkah lebih jauh, banyak ditemukan kesalahan ketika seseorang menempatkan gelar akademiknya di depan maupun dibelakang nama mereka. Kesalahan umum yang ditemui adalah penulisan singkatan yang tidak tepat, serta kesalahan penempatan titik dan koma.
Kendati hanya persoalan kecil tetapi kebanyakan orang tidak dapat memahami penulisan gelar yang benar. Penulisan gelar akademik sebenarnyatidaklah sesulit yang dibayangkan, namun juga tidak gampang untuk dilakukan kebanyakan orang.
Cara Penulisan Gelar Akademik yang Benar
Berdasarkan aturan kebahasaan, penulisan gelar akademik adalah pemahaman tentang singkatan. Singkatan, menurut Kamus Besar Bahasa Indonesia adalah kependekan yang berupa huruf, atau gabungan huruf, baik dilafalkan huruf demi huruf, maupun dilafalkan sesuai bentuk lengkapnya.
Selain itu dalam buku pedoman Ejaan Yang Disempurnakan (EYD), penulisan gelar akademik juga disinggung secara intens, dan disertai dengan contoh penulisannya. Namun demikian, masyarakat masih saja banyak yang belum memahami penulisa gelar akademik secara benar.
Jika dianalisis kata per kata, penulisan gelar akademik tak lepas dari teori singkatan. Misalnya, penulisan gelar sarjana pendidikan, yang ditulis benar, Sarjana Pendidikan (S.Pd.) dan ditulis dibelakang nama penyandang gelar.
Huruf S, pada kata sarjana  ditulis dengan huruf balok dan diakhiri dengan tanda titik, maka membentuk satu kata. Kemudian huruf P ditulis dengan huruf balok, dan diakhiri dengan huruf D kecil, senhingga membentuk satu kata.
Lain halnya dengan singkatan gelar akademik yang tanpa menggunakan huruf peluncur sebagai bagian dari rangkaian kata. Contohnya adalah sarjana hukum dan sarjana ekonomi. Jika disingkat, penulisan gelar tersebut tanpa menggunakan huruf peluncur. Sehingga cukup ditulis dua huruf dengan tanda baca adalah tanda titik.
Singkatnya, penulisan gelar sesuai ejaan yang disempurnakan harus mengikuti kaidah-kaidah berikut:
1). Setiap gelar ditulis dengan menggunakan tanda titik sebagai penghubung antar huruf pada singkatan gelar yang dimaksud, 2) Gelar ditulis sebelum atau sesudah nama seseorang, 3) Nama orang dan gelar dihubungkan dengan tanda koma, 4) Jika Seseorang menyandang lebih dari satu gelar, maka gelar-gelar tersebutn dipisahkan dengan tanda koma.
Penulisan Gelar Diploma Dalam Negeri
Di Indonesia, level terendah dari jenjang pendidikan tinggi adalah gelar diploma. Diploma adalah pendidikan profesi atau keahlian yang diselenggarakan oleh perguruan tinggi politeknik maupun universitas.
Tingkatannya terdiri dari Diploma I, Diploma II, Diploma III, dan Diploma IV. Gelar yang disematkan dibelakang nama penyandang gelar diploma pastilah berbeda di tiap jenjang diplomanya.
Diploma I penyebutan profesionalnya adalah ahli pratama (A.P.), lalu untuk Diploma II disebut ahli muda (A.Ma.), ahli madya (A.Md.) untuk Diploma III, dan ahli(A.) untuk lulusan Diploma IV.
Contoh: Sardono, A.Md.Par.
Siti Fadila, A.Md.Kes.
Penulisan Gelar Magister Dan Doktor Dalam Negeri
Penulisan gelar akademik magister ini hampi sama teknisnya dengan penulisan gelar sarjana diatas. Namun kadang terdapat banyak terjadi salah kaprah dalam penulisannya. Kaidah-kaidahnya pun sama dengan penulisan, hanya saja karena ini ada beberapa gelar, maka wajib diperhatikan tanda baca komanya.
Contoh: Endra Prasetya, S.H, M.Hum.
Kurniawan, S.Ag., M.Ag.
Dr. Sukmawijaya, S.E, M.Sc.
 Penulisan Gelar Akademik Luar Negeri
Di awal artikel ini dicontohkan mengenai perbedaan gelar pendidikan tinggi yang dimiliki satu pasangan calon wali kota dan wakil wali kota. Sang calon wali kota merupakan lulusan perguruan tinggi dalam negeri, sedangkan sang wakil adalah lulusan luar negeri.
Ya, untuk contoh diatas, calon wali kota X memiliki gelar Bachelor of Art atau B.A.  untuk jenjang undergraduatenya, sementara gelar graduate, atau masternya adalah Master of Science (M.Sc.).
Penulisan gelar pada jenjang perguruan tinggi luar negeri ini tak jauh beda dengan yang berlaku di Indonesia. Yang patut di perhatikan adalah kaidah-kaidah penulisannya harus sesuai dengan Ejaan Yang Disempurnakan.
Bachelor
Bachelor adalah jenjang pendidikan tinggi setara S1 di Indonesia. Lama waktu belajarnya berkisar 3-4 tahun. Penulisan gelar akademik bachelor sama dengan sarjana di Indonesia, hanya saja menggunakan Bahasa Inggris.
Contoh: Robert Sahuleka, B.Sc. (Bachelor of Science)
Master
Master, di negara yang menganut sistem pendidikan seperti Amerika Serikat dan Inggris setara dengan S2 di Indonesia. Waktu yang dibutuhkan untu mencapai gelar master ini berkisar 1,5-2 tahun.
Contoh: Andi Khairuddin, M.A. (Master of Art)
Habibie, M.Eng.Sc. (Master of Engineering Science)
Doctor
Setelah menyelesaikan jenjang master, adal jenjang lain yang menunggu. Yaitu jenjang Doctorate. Pada jenjang ini, waktu pendidikannya paling tidak selama 3 tahun, termasuk dengan penelitian. Penelitian untuk jenjang doctoral ini disebut dengan disertasi.
Contoh: Nico Simanjuntak, Ph.D. (Doctor of Philosophy)
Imran Maulana, Ed.D. (Doctor of Education)
Semoga bermanfaat informasi dari kami, sahabat Academic Indonesia