Hallo Saintis Muda Indonesia!!!!
Para pemburu lomba karya tulis ilmiah (LKTI), kalian yang punya mimpi untuk mempresentasikan hasil penelitian kalian, atau untuk kalian yang ingin menjajal kemampuan dan menambah pengalaman dibidang kepenulisan ilmiah atau memiliki hobi dan kemampuan dibidang riset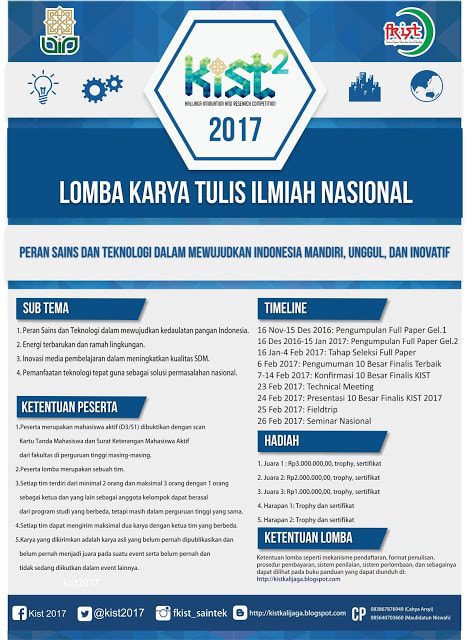 Kabar gembira untuk kalian semua!!
Sekarang Kalijaga Innovation and Research Competition (KIST) hadir lagi. Kali ini KIST mengusung tema baru yang lebih segar dan fantastis yang pastinya juga dengan konsep yang menarik. KIST merupakan lomba karya tulis ilmiah (LKTI) tingkat nasonal yang diselenggarakan oleh FKIST UIN Sunan Kaliaga Yogyakarta.
Lomba karya tulis ilmiah ini melibatkan mahasiswa S1/D3 dari Sabang sampai Merauke. Jadi bagi kalian mahasiswa di seluruh Indonesia, berhak untuk mengikuti perhelatan akbar ini.
`KIST  untuk pertama diselenggarakan pata tahun Februari  2016 lalu. KIST ini merupakan KIST  kedua setelah KIST 2016. KIST merupakan agenda tahunan yang diselenggarakan oleh FKIST UIN Sunan Kalijaga Yogyakarta. Tahun ini KIST  2nd mulai dirilis pada awal November 2016 dengan sistem dua gelombang pendaftaraan.
Saat ini penyelenggaran KIST 2nd bahkan diikuti dengan lomba essay tingkat SMA-sederajat dan seminar nasional dengan tema kegiatan yang senada. Seminar nasional yang diadakan juga mengundang pemateri yang pastinya keren.
Puncak acara Kalijaga Innovation and Research Competition 2nd ini akan dilaksanakan pada bulan Februari mendatang. Pada puncak acara tersebut akan diselenggarakan seminar sekaligus pengumuman pemenang LKTI dan loba essay KIST 2nd.
Fasilitas dan hadiah yang ditawarkan oleh pihak penyelenggara juga tidak main-main lho saintis muda! Salah satunya 10 besar finalis LKTI juga dapat mengikuti seminar yang diadakan dan  fiel trip ke tempat wisata di kawasan Yogyakarta selain uang pembinaan untuk 3 finalis juara.
Nah, untuk kalian para saintis muda Indonesia jadi tunggu apalagi? Segera daftarkan diri kalian di ajang KIST kali ini. Siapa tahu kali ini giliran kalian yang memboyong trophy KIST 2nd dan memenangkan hadiah.
Info lebih lanjut dapat dilihat di link-link di bawah ini:
Facebook         : Kist2017
Twitter             : @KIST2017
Instagram        : @fkist_saintek
E-mail              : [email protected]